Baked Samosas (2 Ways!)
Look out, world.  I finally learned how to make samosas.  Actually, I learned how to make real-deal traditional vegetarian samosas, but then had the idea to also try converting them into a (considerably) quick-and-easier version in mini phyllo cups.  So today I'm sharing two samosa recipes below, which happen to be naturally vegan as well.  More on those in a minute…
First, I want to tell you a story.
You know I love a good story.  And this is one that's full of bravery, strength, justice, beauty, empowerment, and celebration.  And it's a story with a remarkable cast of strong women playing the leading roles.
It's the story of Sseko.
I'm guessing that many of you may already be familiar with Sseko Designs, and their lace-up sandals that have been the buzz of the fashion world the past few years.  But many people don't know the amazing story behind them.  The story of real women on the ground in Uganda working day in and day out to pursue the dreams and break the cycle of poverty and make the world a seriously brighter place right now.  Like, as you read this, lives and communities are being changed for good.  And their bravery is inspiring more bravery in Uganda, and around Africa, and even all the way around the world to my little kitchen in Kansas City….where my good friend Maux and I hosted a dinner with friends last week to join in with the #SsekoBrave movement.  Because good stories like theirs are meant to be celebrated and discussed and learned from.
And all the better over good samosas, right??
First off, I want to say that this is not a sponsored post.  I have loved Sseko ever since I purchased my first pair of Sseko sandals years ago, and have been following their story with interest (and buying more straps for my sandals) ever since.  And while they come up in conversation fairly often with my group of friends, I realized that I have never talked about them on here before.  So today's the day.
Anyway, whenever you have 2 minutes either now or on your lunch break or after work or something, take a second and watch the video above which explains the Sseko story.
Like many companies are doing nowadays, Sseko is all about fashion with a purpose.  Their story began back in 2008 when another brave woman named Liz was living in Uganda, and learned that many of the young women in the community were struggling to find employment to pay for college.  You see, out of 15 million women in Uganda…

70% live below the poverty line
only 17% will go to high school
and less than 2% will go to college
The way it works there is that students have a 9-month gap after high school to try and earn money for university.  But in a male-dominated, impoverished society, most women struggle to find these jobs.  They are motivated, smart, passionate, qualified women who have a tremendous value for education, but the means to pay for it just usually don't exist.
BUT, that's where Sseko comes in.  When a woman works with Sseko, she makes the sandals that we love during those 9 months.  And half of the money she earns goes into a savings account for university tuition.  And then Sseko will 100% match what she saves, and the she will go to university, graduate, get a job in the formal sector, and enjoy the opportunity to pursue her dreams and make her community a brighter place.
AND, in addition to those pursuing a college education, Sseko also employs other women from all walks of life in the community and gives them an opportunity to work in a safe and encouraging environment and earn a fair wage.  And all of this takes place within a financially self-sustaining business model.
Amazing?  Amazing.
(Statistics are from Sseko's site and this video.)
You can meet and read the individual stories of the Sseko women — the full-time veterans, the Sseko graduates, the university bound and Sseko's founder, Liz — on their website, and hear about the beautiful and brave lives they are living.  (Aren't those smiles great?)
Sseko recently started new program called The Sseko Brave Collective for others around the world to join in this movement of bravery and see where it leads.  I admit that those sort of programs aren't always my "thing".  But #SsekoBrave is really quite simple and cool.  It's basically just a collective of people who are interested in learning how to make a positive impact on women around the world, and they encourage participants to do so by taking one "brave" challenge each month.  They call them Sseko Steps, and those steps could include things like…
…or whatever that month's challenge may be.  I'm not always the best at keeping up with these kind of things, but sending an encouraging note to a woman in Uganda?  I can do that.  Pinning one of their latest products?  For sure.  Giving a stranger a compliment?  I love that.  There's also a Facebook page I'm a part of where people are sharing stories and videos and encouraging each other all week long.  And let me tell you, amidst all of the noise on Facebook, it's a refreshing page that I actually enjoy.
So anyway, my friend Maux (who shared yesterday in our 10 Things I've Learned series) and I decided to team up last week to tackle a recent "epicurean" Sseko Step — hosting a Ugandan meal with friends.
I have traveled to Zambia in the past and did some cooking there, but I have never cooked specifically Ugandan food before.  So we decided to consult The Ugandan Cookbook on Sseko's site for some recipes.  And oh man, I think we smelled up my entire loft building with all of those spices.  Everything smelled and tasted incredible!!  We made the recipes for Aunt Sarah's Rice & Cabbage, a huge batch of Samosas for dinner (which were all conveniently vegan/vegetarian, for some of the friends in the group)…
…Maux made Kenyan mandazi (fried bread) for dessert…
…and we sat around for hours and talked and ate and talked and ate and had a lovely night together.
Oh, and the friends who owned Sseko sandals all wore them for the occasion, and even agreed to take the cliche everyone-stand-in-a-circle-and-photograph-our-shoes photo.  (Although not cliche with cool shoes like these.)  ;)
So all that to say, that is the story behind these samosas.  But actually, that's not the end of it because I contacted Sseko and they said that they would love to share a giveaway with you tomorrow featuring some gorgeous products from their new fall line that go way beyond sandals.  So stay tuned for even a little more Sseko goodness to come.
But for now, let's eat!
Samosas, that is.
As I mentioned, I went ahead and decided to share both versions of this samosa recipe on here today — what I call the "traditional" version (the phyllo-wrapped baked triangles) and the "easy peasy" version (my style, with the pre-made little frozen phyllo cups).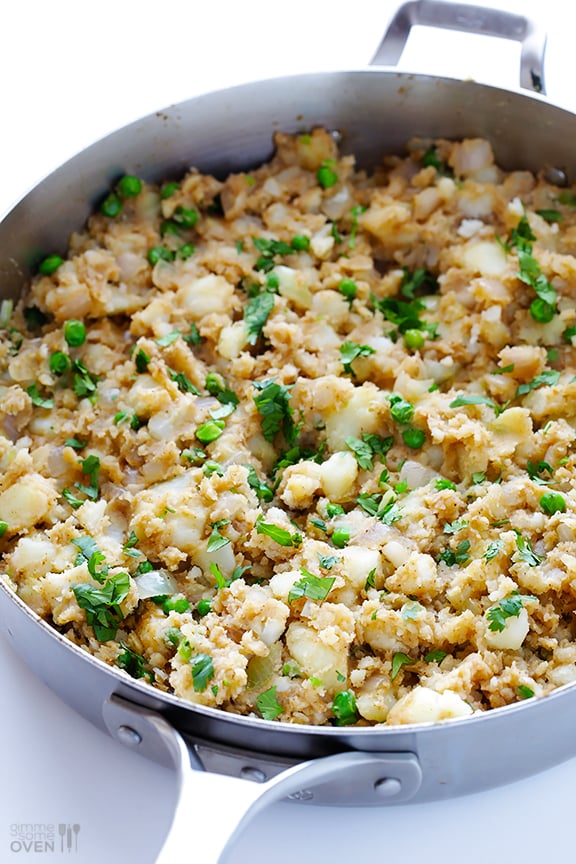 Both are made with the same (naturally vegan) potato filling, which is made with mashed potatoes, peas, fresh cilantro, onion, and the most heavenly combination of spices.  I'm not kidding.  Crazy good.
Then you can either go the easy route and just spoon the filling into some phyllo cups and serve them right away.  (Which totally worked.  And was totally easy and crunchy and delicious and awesome.)
OR you can go the traditional route and use phyllo dough to roll them into nice little butter-brushed triangles.  (If you're going dairy-free, you can use vegan butter or margarine.)
I will be honest, these guys were way too much work for my style of cooking.  They not hard to make, but they're pretty time and labor intensive.  So if you decide to go this route, I recommend tag-teaming it with a few friends or family members and making a big batch together.  Because they taste great.  They're just a lot of work.  (Which makes me respect these women halfway around the world who make samosas every day even more!)
To make samosas the traditional way, lay out your thawed phyllo dough and cover it with a slightly moist towel to keep it from drying out.  Then remove one sheet, and brush it with a little butter, and then fold it in half lengthwise into thirds.  Add a teaspoon of the filling to the bottom end of the rectangle, then fold a corner over to make a triangle.  And then keep folding triangles upon triangles until the samosa is all rolled up and enclosed.  Brush it with a little more butter if needed so that the samosa is sealed and the outside is moist (which will help it brown up in the oven).  Then lay the samosa on a parchment-covered baking sheet, and cover that baking sheet with another moist towel so that it does not dry up.  And then repeat until the dough and filling are used up.
(This recipe makes a big batch!)
Then pop 'em in the oven, and let the phyllo dough work its magic until these become golden, perfectly crispy, buttery triangles of perfection.  And serve them up!
Just be warned that once you put the work into making these, you are going to want to eat them all.  Ahem.  So I recommend inviting some friends over for a Ugandan meal to share.  And hey, look into buying some of Sseko's sandals, or scarves, or totes, or clutches, or bangles, or any of the really exciting items (flats!!) in their new fall line for the occasion.  You know, Sseko-style.  :)
So anyway, big thanks to Maux for initiating and co-hosting our Ugandan feast together, and to Sseko for the recipe and for just being so cool and inspiring.  Happy Samosa-making!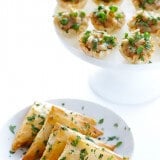 Samosas (The Traditional Way + The Easy Way)
Learn how to make baked samosas the traditional way, or by taking a little shortcut with pre-made mini phyllo cups
Ingredients:
Filling Ingredients:
3 tablespoons vegetable oil
1/2 teaspoon mustard seeds
half a small white onion
1 teaspoon finely-chopped ginger
1/4 cup frozen peas
1 Tablespoon ground coriander
1 teaspoon garam masala
1 teaspoon ground cumin
1 teaspoon salt
¼ teaspoon chili powder
1/4 cup water
1.5 pounds Russet or Yukon Gold potatoes, peeled and boiled until soft, then drained and mashed
1/4 cup chopped fresh cilantro, plus more for garnish if desired
Phyllo Dough (Traditional Triangles) Ingredients:
1 package frozen phyllo pastry dough*, thawed
6 tablespoons melted butter, for brushing
Mini Phyllo Cup Ingredients:
4 (15-count) packages frozen mini phyllo cups*
Directions:
To Make The Filling:
Heat oil in a large saute pan over medium-high heat. Add the mustard seeds and fry for about ten seconds, or until they begin to splutter.
Add the onion and ginger, and saute for 2 to 3 minutes, stirring occasionally. Add the peas, coriander, cumin, chili powder, garam masala and salt. Cook for 2 minutes, stirring occasionally. Then add the potatoes and cilantro, stir to combine, and cook for another 2 minutes. Add a few splashes of water (this may be more or less than 1/4 cup) until the mashed potatoes are slightly moist. Taste the mixture and adjust the seasoning as necessary, then remove from heat.
To Make The Phyllo Dough Triangles:
Preheat oven to 400 degrees F.
Unroll the phyllo pastry dough, cover with plastic wrap and a damp lightweight towel. Peel off one sheet and keep the remaining dough covered so that it doesn't dry out. Lay the pastry sheet flat on a clean surface, and brush lightly with melted butter. Fold in one third of the pastry lengthwise towards the middle. Brush again with the butter and fold in the other side to make a long triple-layered strip.
Place one rounded teaspoon of the filling mixture at one end of the strip. Take the right corner and fold diagonally to the left, enclosing the filling and forming a triangle. Fold again along the upper crease of the triangle. Keep folding in this way making triangles upon triangles until you reach the end of the strip. Brush a little butter on the dough to seal the samosa, and also brush the outer surface so that the outside is lightly coated in butter.
Place the triangle onto a baking sheet and cover with another damp towel while you make the rest of the samosas. Bake in the center of the oven for 20-25 minutes, or until golden and crisp, turning halfway through the cooking time.
Serve warm, garnished with extra chopped fresh cilantro if desired.
To Make The Mini Phyllo Cups:
Spoon about 1 rounded teaspoon of the filling into each mini phyllo cup. You can either serve these immediately, or pop them in a 400-degree oven for a few minutes to warm them up if need be. Serve garnished with extra chopped fresh cilantro if desired.
*If making these vegan, be sure to buy phyllo dough/cups that are vegan.
**Cooking time varies per style of the recipe. These took me about 1.5 hours to make the traditional way, and about 45 minutes to make the easier way, assuming that you are starting with prepared mashed potatoes.
Recipe slightly adapted from Sseko Designs.
All images and text ©
If you make this recipe, be sure to snap a photo and hashtag it #gimmesomeoven. I'd love to see what you cook!