Barbacoa
This homemade beef barbacoa recipe is easy to make in the slow cooker, and it's SO flavorful and delicious!  Perfect for burritos, tacos, salads, quesadillas and more.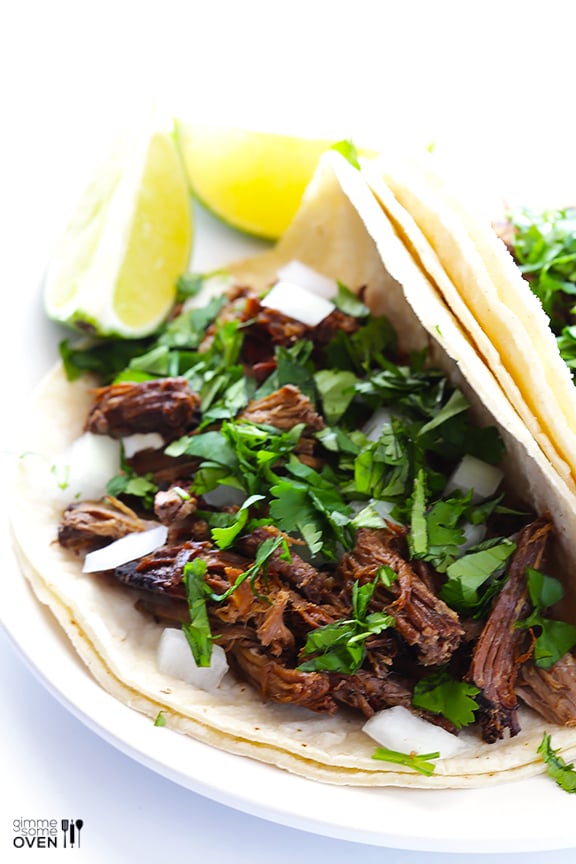 What was the "cool" restaurant you begged your parents to take you to when you were a kid?
Growing up in Wichita in the 80s and 90s, I have to admit that my parents were way ahead of the whole "supporting local restaurants" trend, and we were regulars at our neighborhood Mexican and Chinese restaurants.  But when we were ordering take-out on a busy evening, or going out to dinner with a bunch of family friends, or when we read enough books and earned enough stars on our purple holographic buttons….Pizza Hut was where it was at.  Or more accurately, where we were at.   Yes, many a landmark occasion in my childhood was marked with a Canadian bacon personal pan pizza and an ice cold Pepsi and friends nearby to celebrate.  And then a few days later my sister and I would beg our parents to take us back.  Actually, just a few weeks ago, my aunt ordered Pizza Hut for a family reunion and my inner 10-yr-old came out and I inhaled three pieces of thin pizza like they were the best. food. ever.  Because in my childhood, they pretty much were.
But it seems like times have changed.  When I was teaching kids music lessons for years, I couldn't help but notice that the to-go cup that most frequently accompanied students into the studio was from none other than…Chipotle.  My students were crazy about Chipotle.  It seemed to be the place where their families went for a quick meal on the go, or where they would celebrate together with the team after the soccer game, and where (at age 9!) they could rattle off their preference for a chicken-burrito-bowl-with-black-beans-rice-corn-salsa-extra-cheese-no-lettuce by memory.  And just like my sister and I years ago, they would beg their parents to take them there as often as possible.
Now granted, Chipotle will never have anything as cool as Book-It.  (Sidenote: please tell me that you all read about this very important 30th birthday and the return of Book-It for adults!)  But I have to agree that I find myself popping in nowadays for a barbacoa salad bowl much (much) more than I order a pepperoni pizza.  And I'm thrilled that — of all the fast food restaurants out there — Chipotle all the rage, and has become such a popular, affordable, fresh, generally healthy, and tasty place for a new generation of kids to eat.  And, you know, all of those "kids at heart" too.
But as much as I love and always order the barbacoa salad there, I have to confess that it still doesn't compare to the barbacoa recipe (a.k.a. shredded beef) I make homemade.  It's so flavorful, super tender, and perfect on just about anything.  Also, it can be made simple in the slow cooker, and you can add as much of it to your tacos or burritos or salads or rice bowls as you'd like.  Plus, the cost of making it homemade for a large family (or for leftovers) will probably only be a fraction of what you would pay eating out.
Homemade barbacoa, anyone?
Homemade Barbacoa Recipe | 1-Minute Video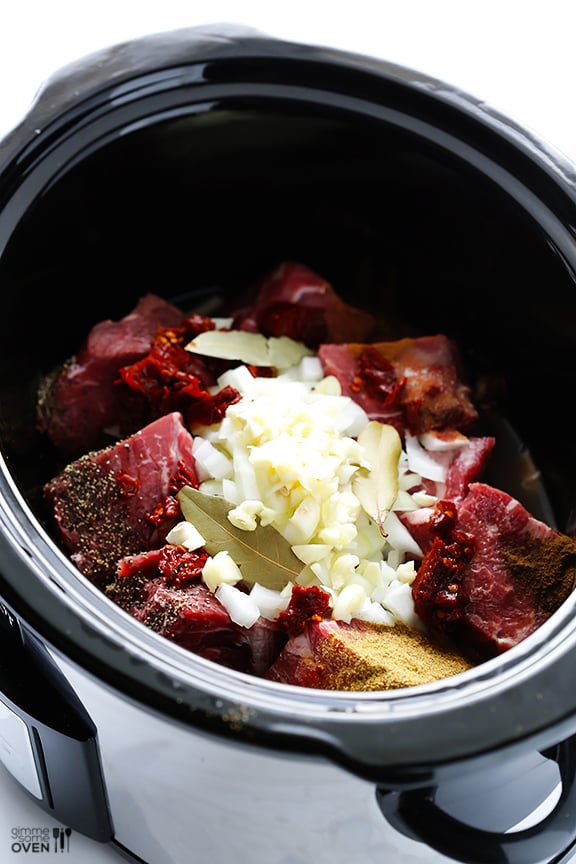 Traditionally, barbacoa is cooked over an open fire, or in a pit dug in the ground that has been covered with maguey leaves.  But I live in a loft building downtown where open fires and pits are, you might say, "frowned upon".  So I go for the next best thing — my slow cooker.
To keep things as easy as possible, this recipe basically just requires you to toss all of your ingredients in the pot and let the slow cooker do all of the work.  It will definitely yield a shredded beef barbacoa that has a few chunks of onion and garlic and green chiles in there, which I don't mind.  But if you want to take an extra step, you can pulse all of the extra non-beef ingredients (minus the bay leaves) together in a food processor or blender beforehand so that there are no chunks.  Your call.
Some people also like to sear the beef in a tablespoon or two of oil in a saute pan before adding it to a slow cooker, which will result in some crispier edges and slightly richer flavor.  But I think this beef is plenty tender and flavorful cooked 100% in the slow cooker.  So also, your call.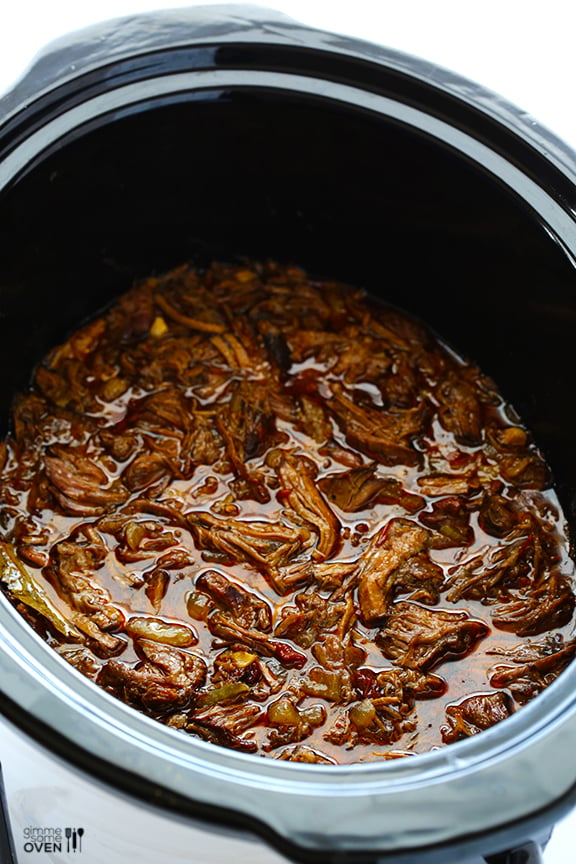 Then once the beef has simmered for hours, it will fall apart easily when you shred it with two forks…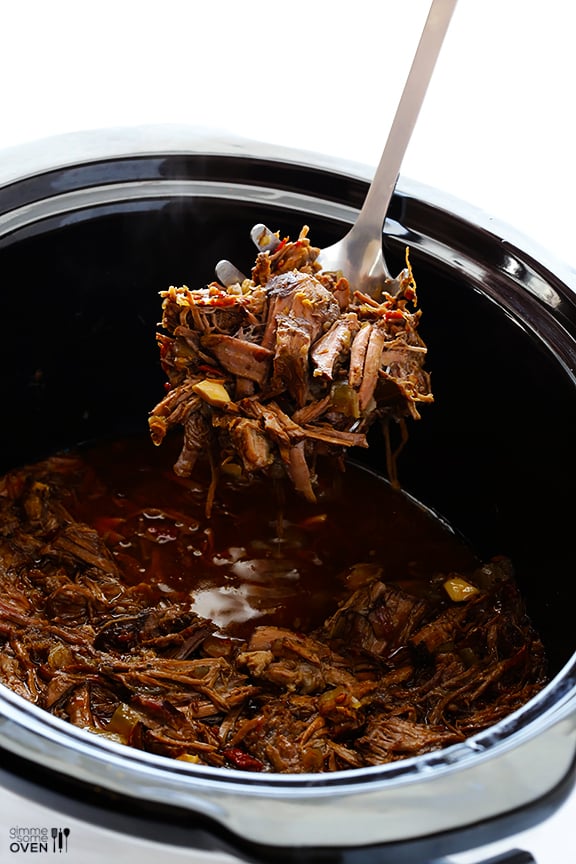 …and you will have the most tender, flavorful, delicious beef ready to serve.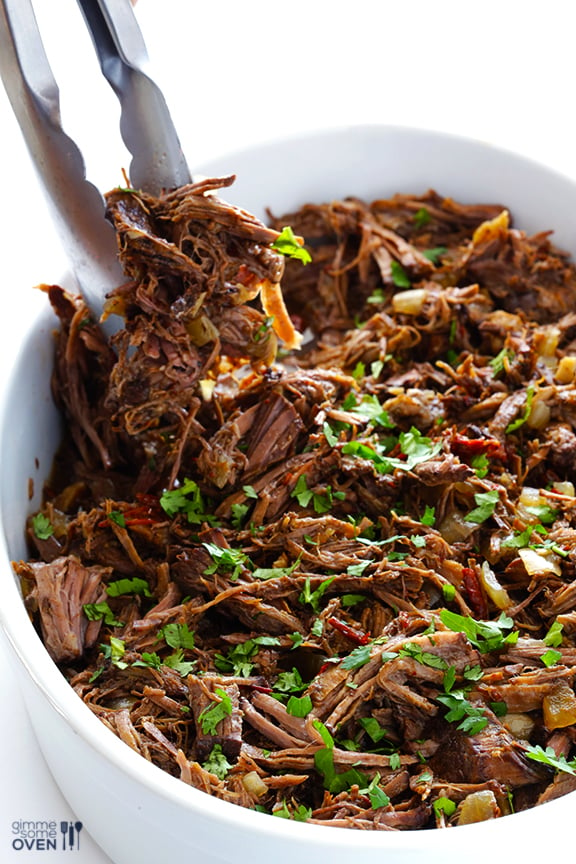 I like my barbacoa to be well seasoned, since I enjoy it most often served Mexican-street-taco-style, with just corn tortillas, chopped white onions and chopped fresh-cilantro (with maybe a sprinkle of cheese).  So this recipe is loaded with easy seasonings — including chipotle peppers in adobo (a must) — that will make your barbacoa stand well on its own.
If you're not into soft tacos, you can definitely serve this barbacoa meat Chipotle-style in a burrito, or "burrito" rice bowl, or a salad, or crispy tacos.  Or it's also great in everything from quesadillas, to enchiladas, to soups, to tostadas, to sandwiches and more.  And, it freezes really well so if you're single like me and want to have it for leftovers, it will be the barbacoa recipe that just keeps on giving.
Enjoy!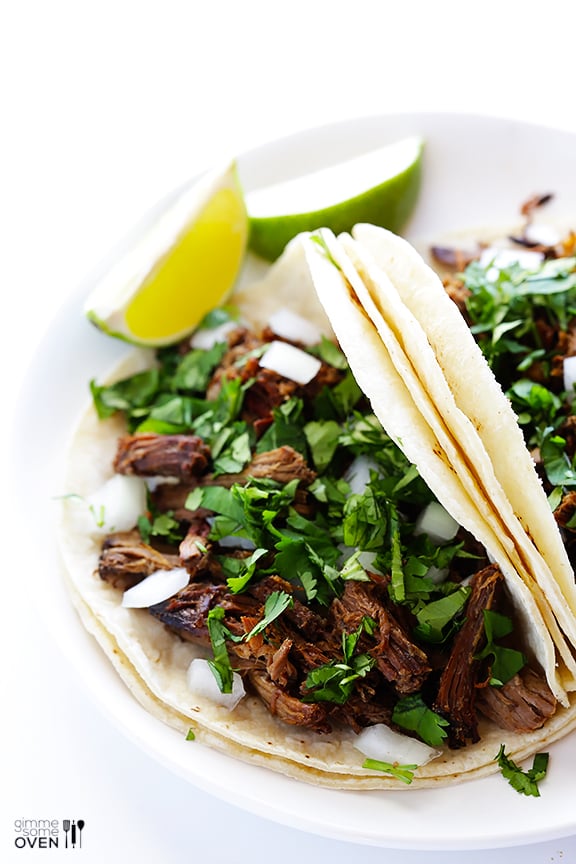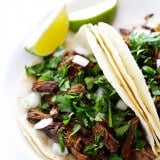 Barbacoa
This barbacoa recipe is simple to make in your slow cooker, and makes the most tender, flavorful, delicious barbacoa beef.
Ingredients:
3 lbs chuck roast (fat trimmed), cut into 2-inch chunks
4 cloves garlic, minced
2 chipotles in adobo sauce, chopped (or more to taste)
1 (4-ounce) can chopped green chiles
1 small white onion, finely chopped (about 1 cup)
1/4 cup fresh lime juice
2 tablespoons apple cider vinegar
3 bay leaves
1 Tablespoon ground cumin
1 Tablespoon dried Mexican oregano (or regular oregano)
2 teaspoons salt
1 teaspoon black pepper
1/4 tsp ground cloves
1/2 cup beef stock or water
Directions:
Combine all ingredients in the bowl of a slow cooker. Toss gently to combine. Cover and cook on low for 6-8 hours, or on high for 3-4 hours, or until the beef is tender and falls apart easily when shredded with a fork.
Using two forks, shred the beef into bite-sized pieces inside of the slow cooker. Toss the beef with the juices, then cover and let the barbacoa beef soak up the juices for an extra 10 minutes. Remove the bay leaves.  Use a pair of tongs or a slotted spoon to serve the barbacoa beef.
If not using immediately, refrigerate the barbacoa beef with its juices in a sealed container for up to 5 days. Or freeze it for up to 3 months.
All images and text ©
If you make this recipe, be sure to snap a photo and hashtag it #gimmesomeoven. I'd love to see what you cook!