Basil, Chicken and Orzo Soup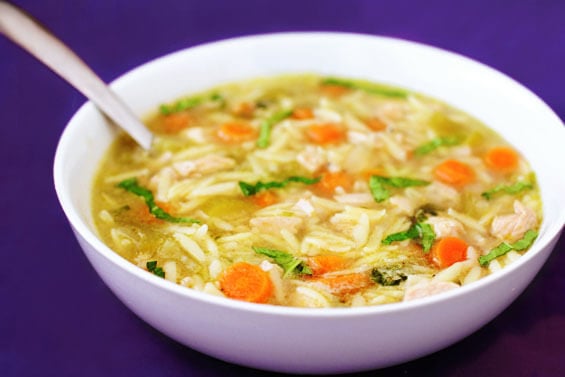 Any of my friends, family, or coworkers will tell you that I'm kind of a ridiculous fan of soup.  Love it.  Love ordering it at restaurants.  Love making it at home.  Love cozying up with a warm bowl in the cold of winter.  And alas…even on brutally hot summer days like we've had this past week (when the rest of the world is dining on popsicles), I can be found in the kitchen….making soup.  :)
(And then I have a popsicle for dessert!!)
Really, though, I just love, love soup.  So in order to use up some more of my still-growing (yay!) fresh basil crop, decided to give this "basil, chicken and orzo soup" recipe a go.  I'm always a fan of chicken noodle, and loved the idea of the orzo (a little easier to spoon up than noodles!) and all of the delicious, fresh basil.
To be honest, the first night I tried it, I realized I didn't use nearly enough basil.  Just tasted like a pretty classic chicken noodle soup.  But the second day when I reheated it (and some of the other flavors had probably had a chance to meld more too!), I added in another handful of basil and it totally rocked!  Wonderfully herb-a-licious.
So if you're a fan of chicken soup, grab some fresh basil and give this variation a go!  I will definitely be making this again soon!  :-)
Basil, Chicken & Orzo Soup
A fun variation to your favorite comfort food! Grab some fresh basil and give this delicious Basil, Chicken & Orzo Soup recipe a try today!
Ingredients:
1 tsp olive oil
1/2 sweet yellow onion, diced
2 stalks of celery, diced
2 carrots, peeled and diced
3 cloves of garlic, minced
8 cups good-quality chicken stock
2 cups cooked chicken, diced into bite sized chunks
2 bay leaves
sea salt and fresh cracked pepper, to taste (I used lots!)
5-6 fresh basil leaves, chopped (chiffonnade)
1 cup dried orzo pasta
Directions:
Heat olive oil in a Dutch oven or large cooking pot over medium-high heat. Once the oil is heated (if you add a drop of water, it will sizzle!), add onion and stir for 1-2 minutes. Then add carrots, celery and garlic then stir for 60 seconds. Stir in chicken stock, diced chicken, and bay leaves, then season with salt and pepper. Let simmer for an hour (or 30 minutes if you're rushed).

Raise heat to medium-high and bring the soup back to a boil. Then add basil and dried orzo pasta and cook per instructions until the pasta is al dente. Taste and re-season with additional salt and pepper (or more basil) if needed. Serve warm.

If you make this recipe, be sure to snap a photo and hashtag it #gimmesomeoven. I'd love to see what you cook!
Ali's Tip:
If you like a super-brothy soup and are concerned about the orzo soaking up too much of the broth, just cook the orzo separately in another saucepan.  Then drain and add to the soup!