Behind The Scenes of Gimme Some Oven: A New Video + Article!
This post may contain affiliate links. Please read my disclosure policy.
Hey friends!
For anyone interested, I thought I would pop in today and share a fun new video and article that were released yesterday about life and the business side of things "behind the scenes" of Gimme Some Oven!
Both are part of a really fun new series called #ShowMeKC (produced by KCPT, our local PBS station) in which 6 local entrepreneurs are being featured who have "tons of local pride and almost crazy national ambition". Anyone who reads this blog knows that I have a big heart for my hometown of Kansas City, and all of the innovative and exciting things happening around the city especially these past few years. So I was beyond thrilled and honored to be included in this series, especially alongside some local influencers I so greatly admire. And the fun part? Since both the video and article are published online, all of you friends outside of Kansas City can tune in!
So for anyone interested, click below for the 5-minute video, and you can catch a glimpse of what life is like beyond just what you see online. We talk extensively about the business side of things (specifically everyone's #1 question with blogging — how do bloggers make money?), you'll get to peek inside my home and kitchen and where I shoot, you can catch a glimpse of my beloved coffee shop next door where I work most mornings, and we also brought the cameras into one of my #neighbornights.
Also, there's a really kind article that KCPT published alongside the video that talks about my work in KC, our recent trip to Austin, and lots more.
Also, if any of you are locals in Kansas City, we're going to have a big meetup this Wednesday night (March 18) at Quay Coffee to screen the video segment, and enjoy snacks and drinks and just mingle and celebrate all things KC. It's open invitation to the city, so if you're around, come by! Would love to meet you!
Anyway, that's the scoop. As always, my biggest thanks go out to all of you who are the ones who make this job possible for me. I can't even begin to tell you how grateful I am for your encouragement and awesomeness, and for the countless times you come back and click on this site to try new recipes. You all are the best. So from the bottom of my heart, thank you!
Hope you enjoy!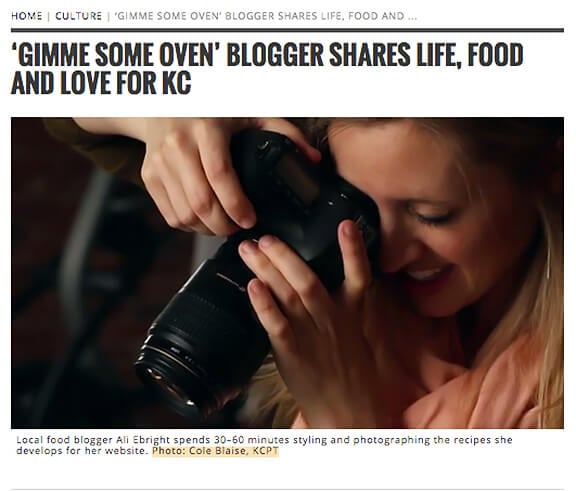 Be sure to also follow KCPT on Facebook, Twitter and Instagram for more updates on the #ShowMeSeries!