Blueberry Avocado Muffins
These blueberry avocado muffins are tasty, healthier, and surprisingly simple!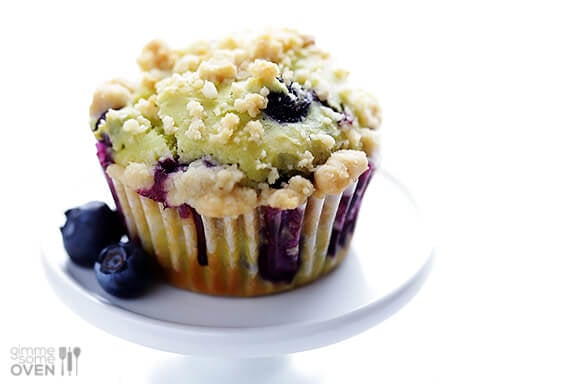 I posted on Instagram yesterday that the #1 questions I seem to receive as a food blogger comes up almost weekly:
"What on earth do you do with all of that food you cook?!"
I tell them the answer is simple:
I share.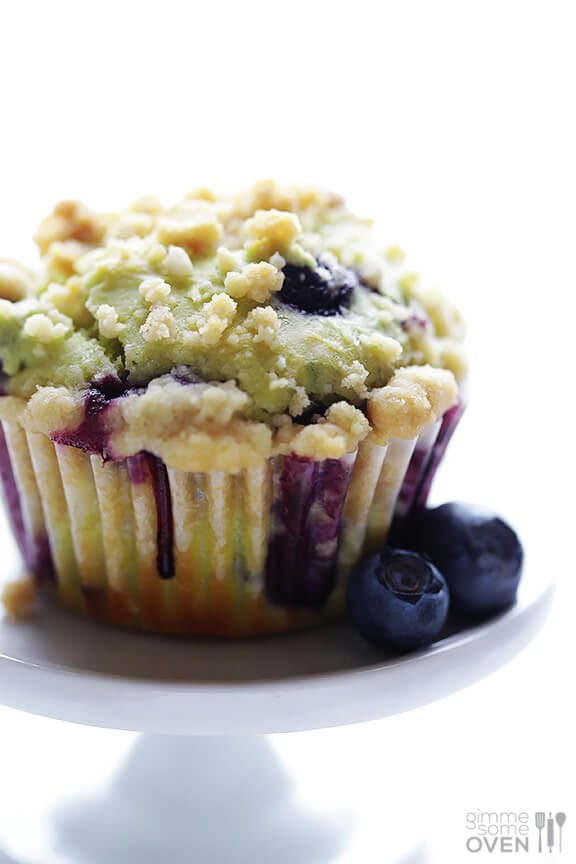 It's true that sharing is caring.  But now that I'm a full-time food blogger usually cooking multiple recipes a day for the blog (or freelancing projects), I've learned that sharing is also pretty much essential.  There is so much food coming out of this kitchen!!
To be sure, I always keep a portion or two of all recipes to sample and enjoy myself.  But thankfully my loft building happens to be half full of hungry bachelors.  (A definite score for this food blogger!)  So when a new recipe is photographed and ready to go, all I have to do is send out a few texts until someone shows up at my door hungry with a little tupperware container to go.  :)
It's a total win-win!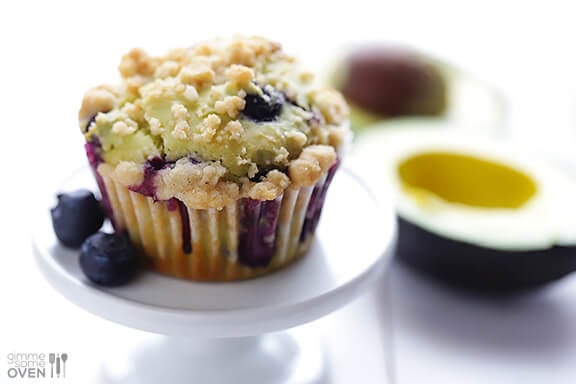 My other willing taste-testers are the guys at the coffee shop next door.  Usually that means the guys who happen to be working at the time.  But when I took a plateful of these blueberry avocado muffins over for taste-testing the other day, my friend Dane happened to be hanging out there with a friend saw them first and jumped at the chance to taste-test.
I warned him that there was something a little "different" about these muffins with the mysterious green hue, but he wasn't deterred and dove in.  Turns out that he and everyone else who tried these avocado muffins — myself included — loved them!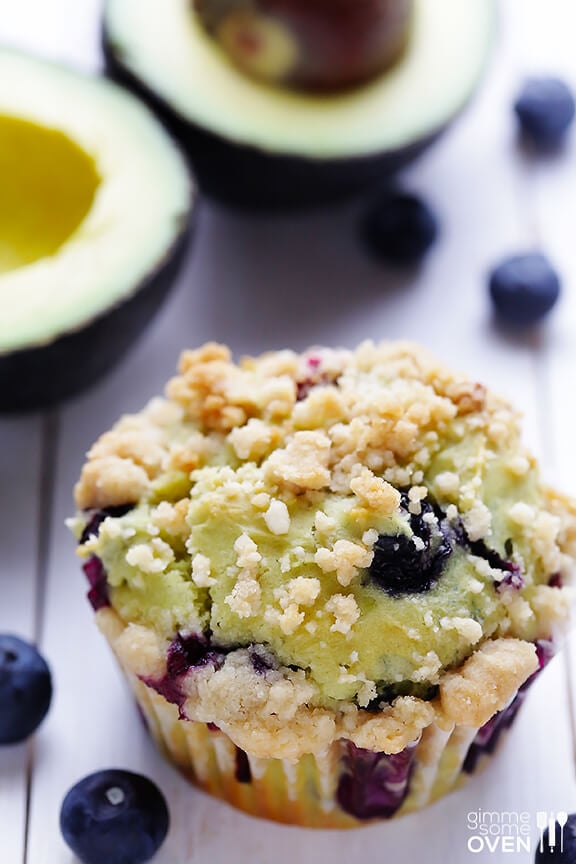 I have to admit I was a little curious about how avocados would change a classic blueberry muffin.  But after having baked with avocados before in brownies and cookies, I knew that they are a great substitute for oil and also lend hints of the creamy, delicious avocado flavor to any baked good.  So I was excited to give these a try!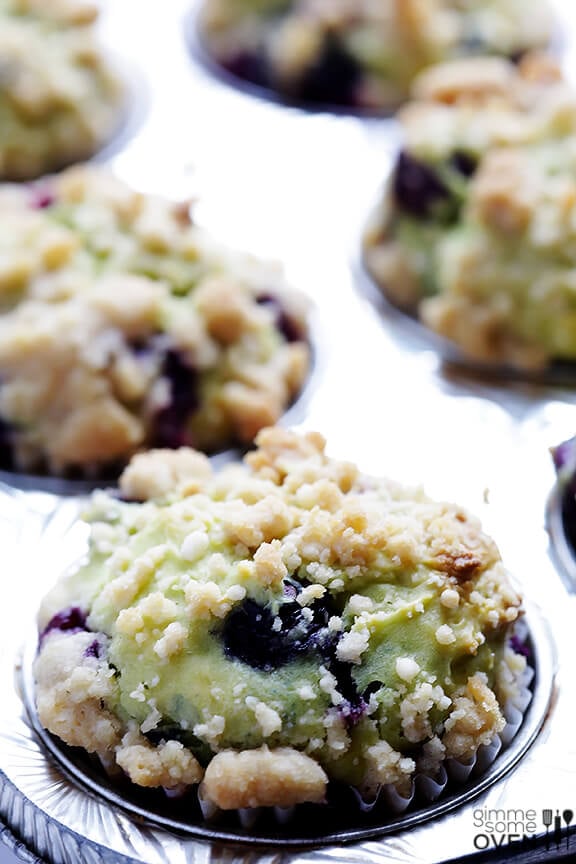 Sure enough, these blueberry avocado muffins turned out to be completely wonderful.  They were moist, light, and literally overflowing with fresh blueberries.  And while the avocado flavor was not predominant in the least, I loved the little hint that came through with each bite.  I also couldn't resist and topped these with my favorite crumble for a little extra muffin-y sweetness.
SO good.  And even more good for you, with all of that avocado in place of oil.  I already can't wait to make these again!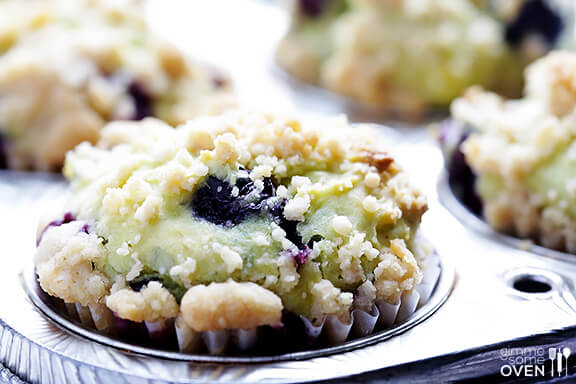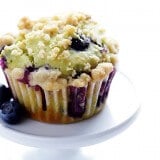 Blueberry Avocado Muffins
These Blueberry Avocado Muffins are made with an extra delicious hint of "green"!
Ingredients:
Muffin Ingredients:
2 cups all-purpose flour
2 tsp. baking powder
1/2 tsp. baking soda
1/2 tsp. salt
1/2 tsp. ground cinnamon (optional)
1 ripe avocado, seeded and peeled
3/4 cup sugar
1 tsp. vanilla extract
1 1/2 cups fresh blueberries
1 egg
1 cup Greek yogurt
Streusel Topping Ingredients:
2 Tbsp. melted butter, slightly cooled
2 Tbsp. all-purpose flour
2 Tbsp. granulated sugar
1/4 cup raw sugar
Directions:
To Make The Muffins:
Preheat oven to 375 degrees F. Line a muffin tin with 12 paper liners.
In a medium bowl, stir together flour, baking powder, baking soda, salt and cinnamon (optional). In a separate electric mixer mixing bowl, add avocado and beat on medium speed until smooth. Add sugar, and beat until well blended. Add egg, and continue beating until completely combined. Add vanilla and yogurt, beating until just combined. Add half of the flour mixture into the batter in two separate batches, beating until just combined. Gently fold in blueberries by hand. Spoon batter (or use a cookie scoop) into prepared muffin cups, and sprinkle with streusel topping. Bake for 25-30 minutes, or until a toothpick comes out clean. Cool for 5 minutes before removing.
To Make The Streusel Topping:
Whisk together all ingredients until combined and mixture is crumbly.
All images and text ©
If you make this recipe, be sure to snap a photo and hashtag it #gimmesomeoven. I'd love to see what you cook!