Blueberry Crumb Bars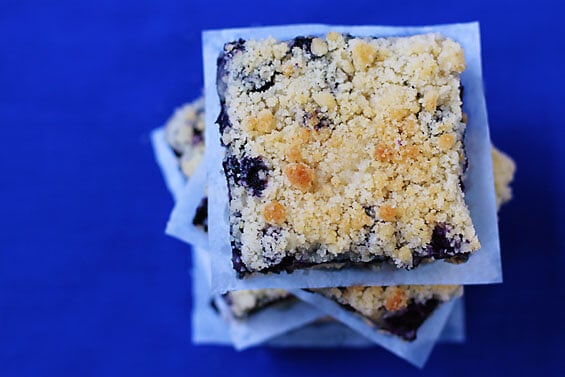 When fresh blueberries first began arriving at our market this summer, I already knew where my first batch would go.  :)
These blueberry crumb bars are an absolute favorite of mine.  (I can't believe it has taken me this long to post on them!)  I actually made them for the first time last summer to take along on a camping trip with some friends.  And I must admit – I was so proud of myself.  :)  They looked great, were amazingly delicious (upon sampling – shhh – before leaving), and even survived the trip just fine in the cooler without getting smooshed.  But little did I know that the biggest fans of these yummy bars would be…
…the raccoons!!!
Argh!  Yes, unfortunately some raccoons from the forest raided our stash in the night and licked up every last crumb of the blueberry deliciousness.  I was NOT a happy camper.  But alas, it ended up being an excuse to make some more.  And some more.  And (even after blueberry season ended and I needed to raid the freezer)….some more.  :)
Definitely a dessert recipe you'll keep on hand for years to come.  So grab some fresh or frozen blueberries, keep far away from raccoons, and give these a try!  I guarantee they won't last long…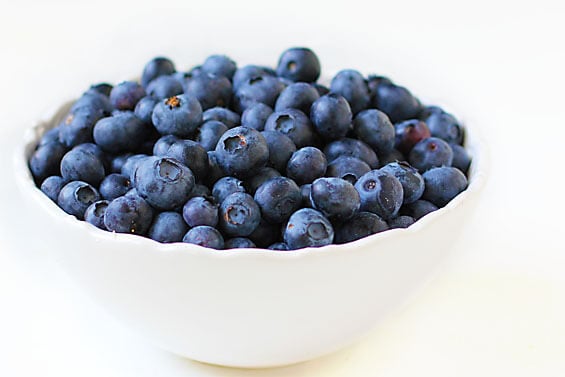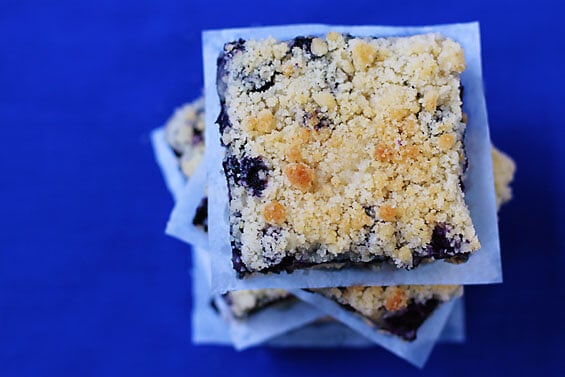 Blueberry Crumb Bars
You will love this Blueberry Crumb Bars recipe! An easy, quick and SUPER-delicious dessert – made with fresh or frozen blueberries!
Ingredients:
1 cup sugar (plus extra 1/3 cup for blueberries)
1 tsp. baking powder
3 cups all-purpose flour
1 cup unsalted butter
1 egg
1 tsp. vanilla extract
1/2 tsp. salt
zest of one lemon
4 cups fresh blueberries
3 Tbsp. cornstarch
Directions:
Preheat the oven to 375 degrees F (190 degrees C). Grease a 9×13 inch pan.

In a medium bowl, stir together 1 cup sugar, 3 cups flour, salt, lemon zest, and baking powder. Use a food processor or pastry cutter to blend in the butter, egg and vanilla. (Or if you don't have these appliances, you can use an old fashioned fork!) Dough will be crumbly. Pat half of dough into the prepared pan.

In another bowl, stir together the sugar and cornstarch. Gently mix in the blueberries. Sprinkle the blueberry mixture evenly over the crust. Crumble remaining dough over the berry layer.

Bake in preheated oven for 45 minutes, or until top is slightly brown. Cool completely before cutting into squares.

If you make this recipe, be sure to snap a photo and hashtag it #gimmesomeoven. I'd love to see what you cook!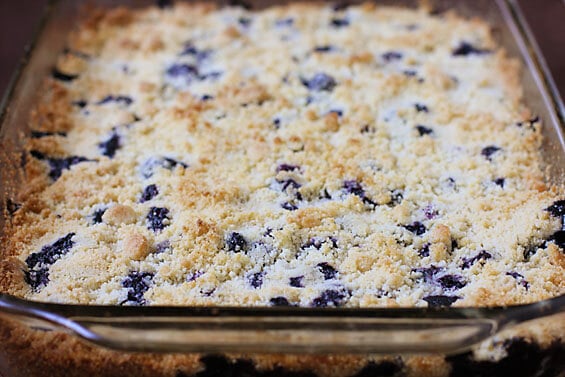 Ali's Tip:
This also works with frozen blueberries (that you have thawed).  Or I'm sure it would be delicious with other berries, peaches, plums, etc…or even with a few slivered almonds thrown in!