Breakfast Cookies + Cookbook Giveaway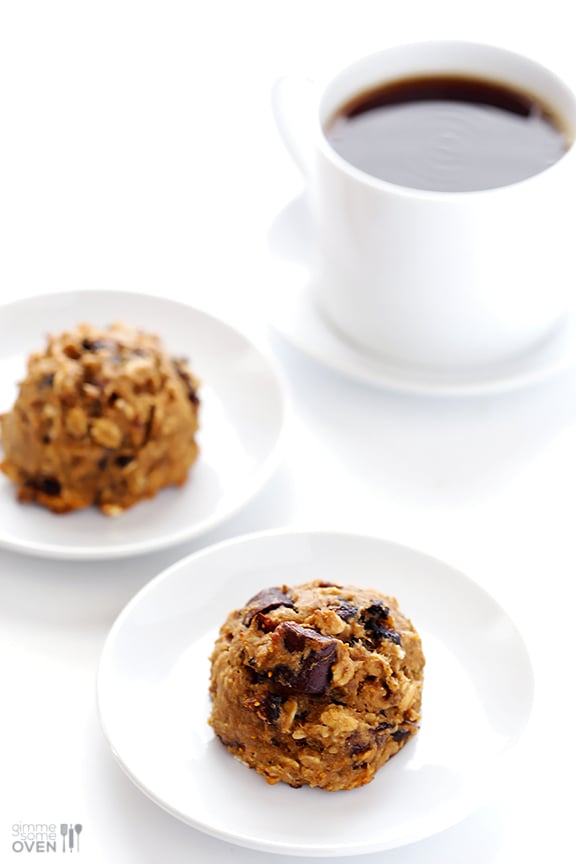 Can you imagine what life would be like if we all woke up to warm cookies each morning?
(You guessed where this was going…)
You can!
And with a recipe like this one from my friend Jessica's new cookbook, Seriously Delish, you seriously should.  Because these little cookies are packed with all sorts of healthier, energy-rich, whole ingredients that are pretty much guaranteed to get your day off to a sweet start.  And true to their name, they are also quite delish.
Actually, I want you to have the chance to check out all of the delicious recipes in her cookbook.  So today if you leave a comment on this post, you will be entered in a giveaway for a chance to win a copy of your own.  So scroll on down to enter and also get the (cookie!) scoop on this great recipe.
I have actually been looking forward to the day that Jessica would publish a cookbook for years.  Those of you who follow her blog, How Sweet Eats, already know that this hil-a-ri-ous, bright, kind, savvy, hard-working, trendsetting, sprinkles-sprinkling, neon-wearing, bacon-loving, vegetable-hating-(but-eating), beauty-products-investigating, fellow-Avery-from-Nashville-crushing, soon-to-be-newborn-mama-ing girl is a force in the blogging world, in all of the best ways.

I have read and enjoyed Jess' blog for years.  And I have been inspired and impressed as I have watched the blogger behind the blog work so hard and so diligently to come up with years of creative and super-original content, and also stick to her guns when making decisions for her blog and business that she believes in.  (That last part is no small thing.  I really, really admire the way that Jess has navigated fads and trends in the blogging industry, and often find myself thinking WWJD — what would Jess do? — when deciding whether a new opportunity or trend  authentically feels right for me.)

But the main reason I wanted to share about Jess' book today is because I've had the opportunity to meet and hang out in person with Jess a few times now.  And she is exactly who you think she is from her blog — just great.  I have to admit that she was one of the few bloggers I was kind of intimidated to meet back in the day, mostly because she just seemed like one of those girls who was so cool in every way, but she is so warm and fun and disarmingly honest and hilarious in person.  And basically, could not be friendlier.

I'm so grateful to call her a friend in this crazy world of blogging.
And stoked about this book.
And these cookies!!!
So let's get to them.
As you can see in the ingredient list below, these cookies are chocked full of delicious, energy-rich ingredients.  Simply stir them all together in a bowl (no mixer needed).
Drop them onto a cookie sheet.
(Mine were a little bigger than Jess', as I used a cookie scoop I had on hand.)
And then bake them up to warm, soft, cookie perfection.  (Notice the before and after pics look almost the same because these cookies barely rise, leaving you with nice round mounds of cookie deliciousness.)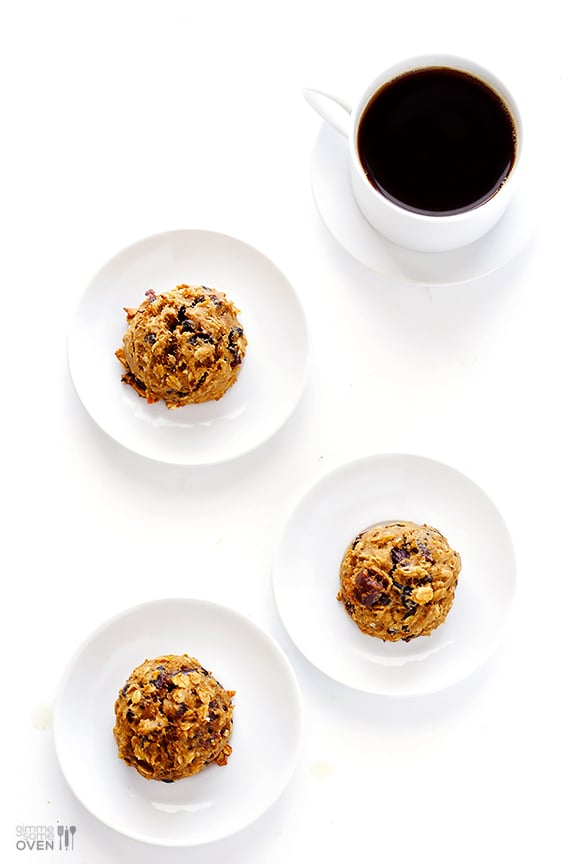 And then eat them…
…for breakfast!
Actually, these cookies would also be great as a protein lunch, or quick snack, or even a healthy dessert later in the day.  But if you're looking for an excuse to enjoy warm cookies for breakfast, they go perfectly with a nice cup of coffee.
And if you wanted to go Jessica-style, you could even toss on a few sprinkles.  ;)
So big congrats to you, Jess, on a beautiful book.  And thanks for the delicious cookie recipe.
And for all of you readers who would like a copy of your own, be sure to leave a comment below telling us about your favorite treat to eat for breakfast.  (Is it cinnamon rolls?  Pumpkin bread?  Breakfast cookies?  Do share.)  A winner will be selected and notified on October 31, 2014.
Happy breakfast cookie baking!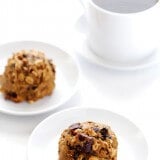 Breakfast Cookies
These breakfast cookies are chocked full of healthier ingredients that will give you a delicious and energetic start to your day.
Ingredients:
1 1/2 cups old-fashioned rolled oats
2/3 cup whole wheat pastry flour
1/3 cup ground flaxseed
2 tablespoons light brown sugar
1/2 teaspoon baking powder
1/2 teaspoon baking soda
1/2 teaspoon ground cinnamon
1/4 teaspoon salt
2 very ripe bananas, mashed
1 large egg, lightly beaten
2 tablespoons coconut oil, melted
2 tablespoons peanut butter (or any nut butter), melted
2 teaspoons vanilla extract
1 cup chopped dried figs (or other dried fruit)
1/4 cup dark chocolate chunks or chips
Directions:
Preheat the oven to 350 degrees F.
In a large bowl, whisk together the oats, flour, flaxseed, brown sugar, baking powder, baking soda, cinnamon and salt.  In a smaller bowl, mix together the mashed bananas, egg, coconut oil, peanut butter and vanilla extract.  Add the wet ingredients to the dry and mix them until just combined.  Stir in the dried figs and the chocolate until evenly dispersed.
Scoop out the dough 2 tablespoons* at a time and place on nonstick baking sheets, keeping the cookies 2 inches apart from each other.  Bake until cookies are set and slightly golden, for 12 minutes, then remove the sheet from the oven and let the cookies cool on the baking sheet.  These cookies are best when eaten the first or second day but can be stored in a sealed bag or container for up to 5 days.
*I used a large cookie scoop, which was about 1/4 cup each, which required 14 minutes to bake and yielded about 14 cookies.
Recipe from Seriously Delish by Jessica Merchant, with just a few extra notes of mine added in.
All images and text ©
If you make this recipe, be sure to snap a photo and hashtag it #gimmesomeoven. I'd love to see what you cook!
 Thanks to Jessica's publisher for providing me a sample copy of the cookbook to review and a second to giveaway.