Buffalo Chicken Tacos
This post is brought to you by Old El Paso.
Happy Uno De Mayo!
Also known as, My Birthday Eve.  :)
Yes, tomorrow marks the start of year 32 for me, and I'm actually quite happy about it.  I love getting older.  (And I'm so "over" our culture acting like that's a weird thing to say.)  With every passing year, I feel like I get to know myself a little better, I'm able to sift through what I want from life a little better, I learn how to love the people in my life and let them love me back a little better, and frankly, I just like myself a little bit better.  And man, it feels good.  Worth every new wrinkle and gray hair, for sure.
So to celebrate, I'm having a bunch of friends over tomorrow night for a Dos De Mayo party.  But in lieu of my traditional Mexican food extravaganza (couldn't have picked a better foodie holiday to coincide with my birthday!), I decided to make this year's fiesta a Dip-A-Thon.  Ok ok, I was actually initially planning to just have a Chips-And-Salsa-A-Thon, which would be my idea of a dream party.  But since the rest of the world might not enjoy making a meal out of chips ands salsa quite as much as I do, I decided to broaden the category to dips.  Everyone is apparently scheming their favorite dips to bring, and I cannot wait.  It's going to be fantastic.
That said, though, Cinco De Mayo is just around the corner as well, and I want to make sure that the blog is amply stocked with new Mexican recipes for my favorite foodie holiday of the year.  So today, we're combining the best of the buffalo chicken world with my favorite quick and easy Mexican food.  That's right.
Buffalo Chicken Tacos, for the win!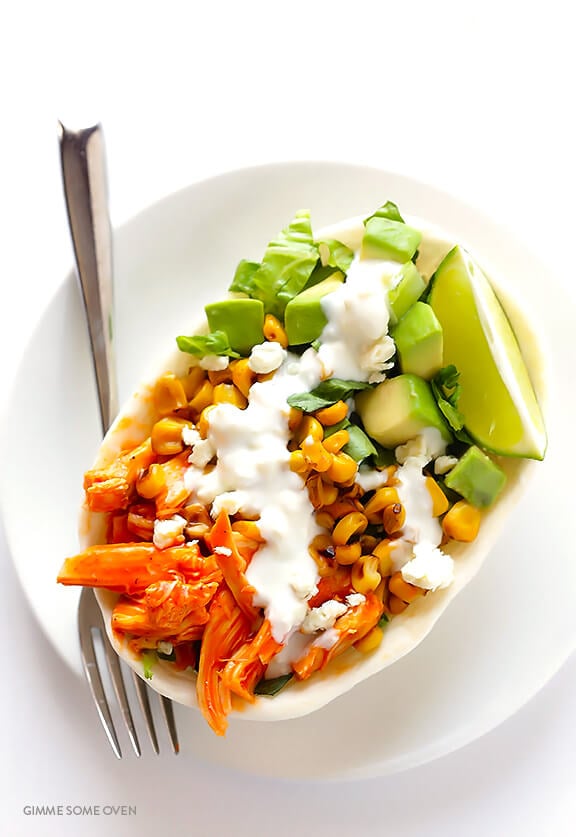 Actually, this recipe's a 2-in-1.  You can either make traditional tacos, or you can pick up some of Old El Paso's Stand 'n' Stuff Tortillas and make Buffalo Chicken Taco Bowls!
Aren't they great?!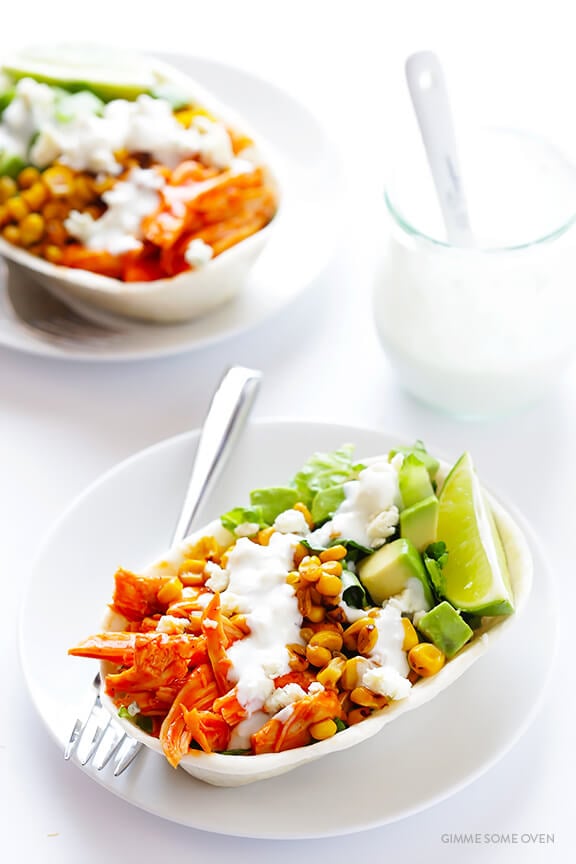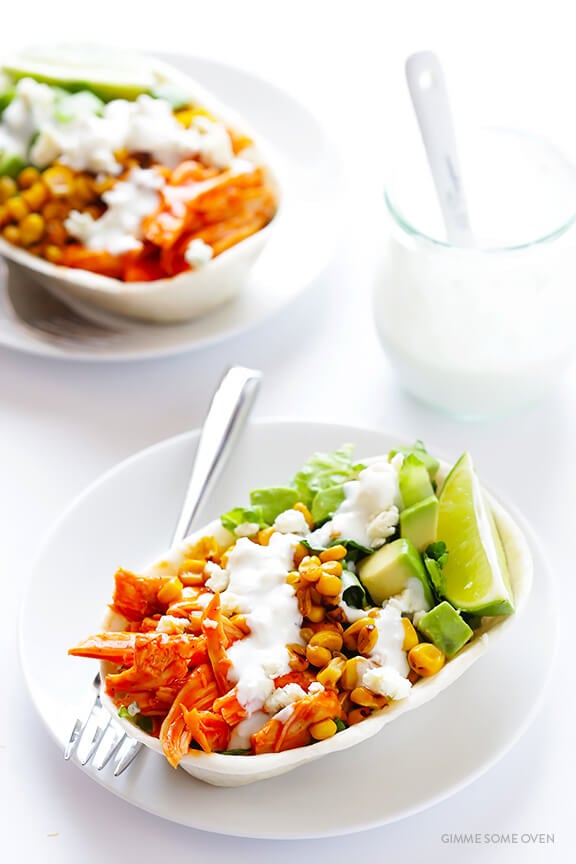 Whatever kind of tortillas you use, the fillings are the same.  Just toss some shredded cooked chicken (I used a rotisserie) with buffalo sauce, add in some dry-roasted corn (just takes a few minutes in the skillet), some diced avocado, lettuce, and your other desired toppings (cilantro/green onions/etc).  Then drizzle the tacos with some blue cheese dressing…and maybe a little extra blue cheese if you're like me.
They're a quick and easy meal option, full of all the classic buffalo chicken flavors we love, and they are sure to please a crowd.
Thanks for another great year of blogging together.  Look forward to heading into year 32 with all of you!  :)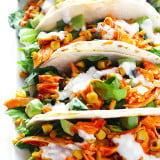 Buffalo Chicken Tacos
These buffalo chicken tacos are easy to make, full of the great Buffalo flavors we all love, and always a crowd favorite! You can either make them using traditional small tortillas or tortilla bowls.
Ingredients:
1 (15-ounce) can whole kernel corn
3 cups shredded cooked chicken
⅔ cup buffalo sauce
1 package Old El Paso Small Flour Tortillas or Stand & Stuff Tortillas
4 cups shredded Romaine lettuce
1 avocado, peeled, pitted and diced
½ cup blue cheese dressing
optional toppings: extra crumbled blue cheese, chopped fresh cilantro, thinly-sliced green onions, fresh lime wedges
Directions:
Heat a skillet over high heat. Add the corn kernels and let them dry-roast for about 6-8 minutes, stirring occasionally, until their edges begin to brown and caramelize. Remove from heat, and transfer the corn to a separate plate.  Set aside.
In a mixing bowl, toss chicken and buffalo sauce until combined.  Set aside.
To assemble the tortillas, place your small tortillas (or a Stand & Stuff tortillas) on a flat work surface.  Portion the lettuce evenly between the tortillas.  Then top each tortilla with an even portion of the chicken, corn, and avocado.  Drizzle each with the blue cheese dressing, then sprinkle on optional toppings if desired
Serve immediately.
To prevent the avocado from browning, toss the avocado (once it has been peeled, pitted and diced) in a bowl with a few tablespoons of lime or lemon juice.
If you want an extra spicy kick, feel free to drizzle the tacos with extra buffalo sauce.
All images and text ©
If you make this recipe, be sure to snap a photo and hashtag it #gimmesomeoven. I'd love to see what you cook!
This is a sponsored post in partnership with Old El Paso.  I am partnering with them to bring more fresh and tasty Mexican food recipes to the site this year, and all opinions are my own as always.  Thanks for continuing to support the brands that help make this site possible!