Butternut Squash and Crab Bisque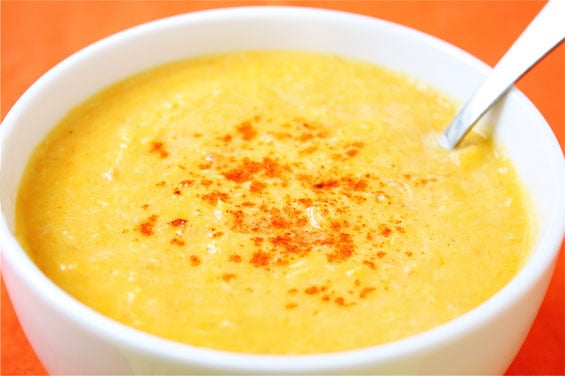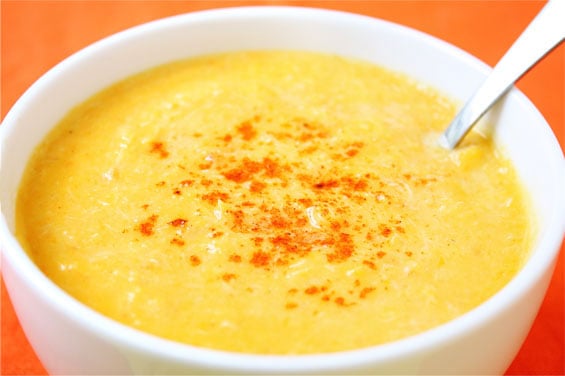 In addition to their fabulous homemade peanut butter, one of my all-time favorites at Whole Foods is their warm butternut squash crab bisque.  Oh my word – this soup is amazing!  I still remember the first time a friend introduced it to me a few years ago, and I had my first taste of the brilliant sweet butternut squash and salty crab combination.  It's without a doubt my kind of comfort food.  Absolutely delicious!
So of course, ran home and immediately had to figure out how to make it myself.  A quick Google search came up with this recipe, and I've been using it ever since – with a few modifications.  :)  The original called for a cup of heavy cream, but I always use milk (or occasionally half-and-half) and still think it's fantastic.  I also added in a little extra crab, as I felt that its flavor was overpowered by the squash in the original recipe.
It's a little more than a 30-minute meal, but well, well worth the effort.  Plus, this makes an enormous batch, so it's great for serving a crowd or yummy leftovers.  A must-try during squash season!!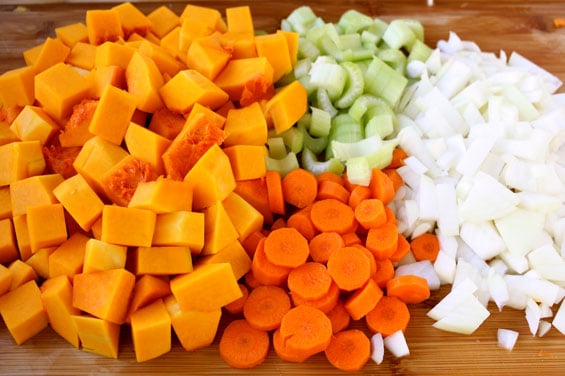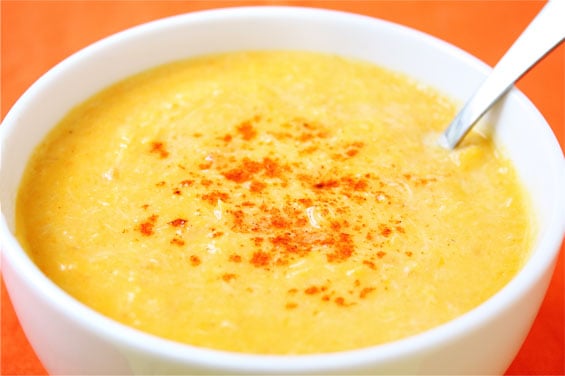 Butternut Squash and Crab Bisque
This delicious butternut squash and crab bisque recipe is filled with rich, delicious flavor!
Ingredients:
4 large cloves garlic, roasted
3 Tbsp. olive oil
1 1/2 to 2 lbs. butternut squash, peeled and cubed
1 large yellow onion, diced
1 cup fresh carrots, diced
1 cup fresh celery, diced
1 quart chicken broth, divided use
1 Tbsp. fresh sage leaves, finely chopped
1 cup half and half (or milk)
12 ounces crab claw meat
Salt and freshly-ground black pepper, to taste
Directions:
Prepare roasted garlic while you prepare the veggies. (For instructions on how to peel/seed/cut butternut squash, see here.)
In a large (at least 5 quart) stockpot, heat olive oil over medium heat. Add butternut squash, onions, carrots, celery and garlic, and saute 5 minutes.
Add 3 cups of broth, reserving the rest. Cover pot and reduce heat to medium-low and simmer until squash is very tender (about 30 minutes).
Add the half-and-half (or milk) and puree the mixture with an immersion blender until very smooth (or blend in batches in blender and return to pan). Thin with remaining broth if desired.
Fold in the crab meat and sage. Season generously with salt and pepper and serve.
Ali's Tip:
I love also adding in a dash of cayenne and/or paprika into this soup for some added depth and a little heat.  But the recipe stands well on its own as well!
If you make this recipe, be sure to snap a photo and hashtag it #gimmesomeoven. I'd love to see what you cook!