Caramelized Onions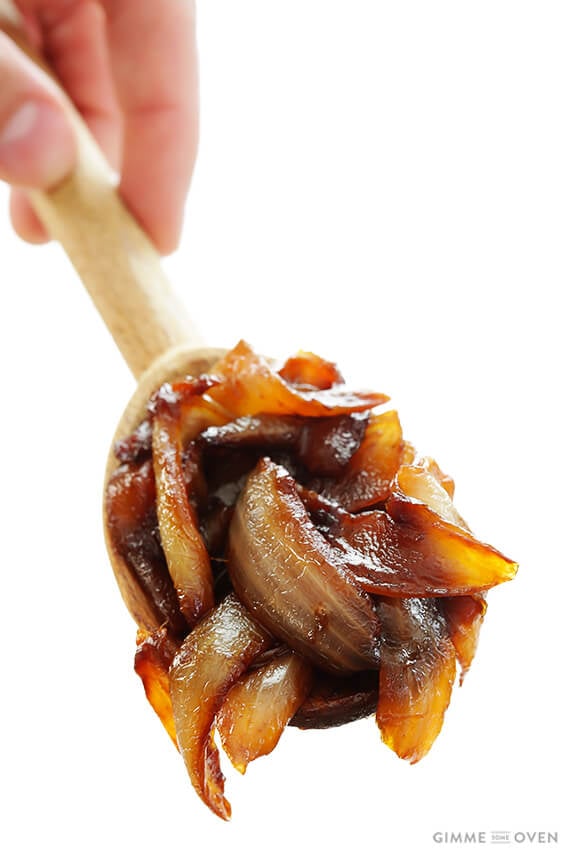 As I mentioned in my post about my blogging goals for 2015, I'm hoping to add in more tutorials and resources on how to cook this year, in addition to our usual new recipes about what to cook.  So to kick things off on a small scale, I thought I would finally snap some pictures and post a tutorial for one of my favorite techniques that my friends and readers are always asking about: how to caramelize onions!
I have admitted on here before that I am more than a little obsessed with onions.  I was actually the weird kid who used to stir-fry an onion for myself as an after-school snack almost every day in high school.  In college, I kept a stash of canned French onion soup on hand for dorm room dinners.  (And later spent years fine tuning my recipe to make it homemade, which I'll also be sharing with you this week.)  In my twenties, I became obsessed with making my baked blooming onion for parties.  And let's just say that I may have mastered the art of the ol' Japanese steakhouse flaming onion volcano too, as a nice little parlor trick for parties.  ;)
In summer: I love onions.
So it should probably come as no surprise that caramelized onions are also a staple in my home.  I make big batches of them fairly often to toss on pizzas, quesadillas, tacos, omelettes, dips, crosini, or — my favorite use — just eating them plain with a fork.  And when I have leftovers — a rare circumstance — my mom gave me the tip years ago to freeze them.  Then you can have extras on hand for when you don't have 40 or so minutes to cook them.
Yes, that is the one thing about caramelized onions.  You all know that I love a quick and easy recipe.  And while these are certainly easy, there's no rushing these guys.  A batch typically takes between 40-50 minutes to caramelize, depending on the amount of onions you're using.  (Unless you cook them in the slow cooker, a method I'll also be sharing with you soon.)  But I will assure you, that sweet and savory caramelized goodness is worth every single minute of cooking them on the stove.
So today I thought I would share with you my recipe and method for how to make caramelized onions, as well as a few fail-proof tips to be sure that they come out perfectly.  I promise, if you've never made them before, you can do this!
Let's make some together…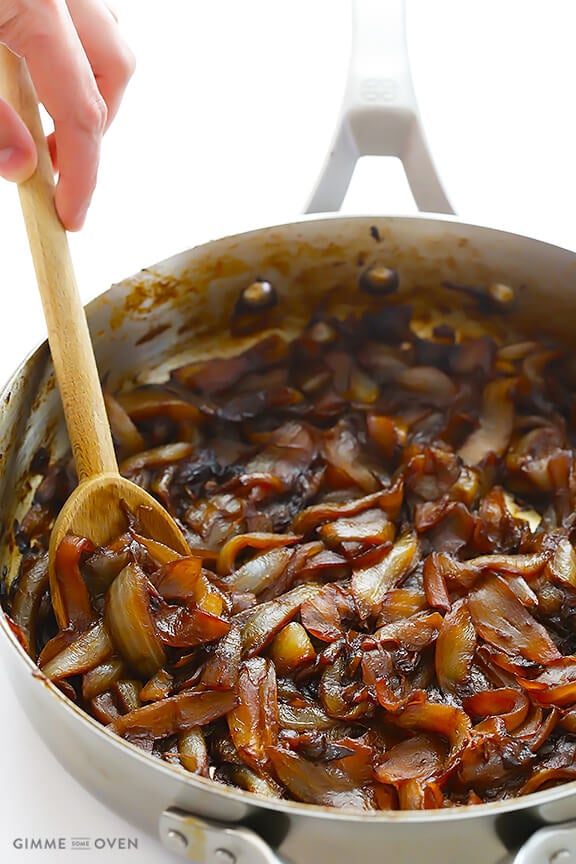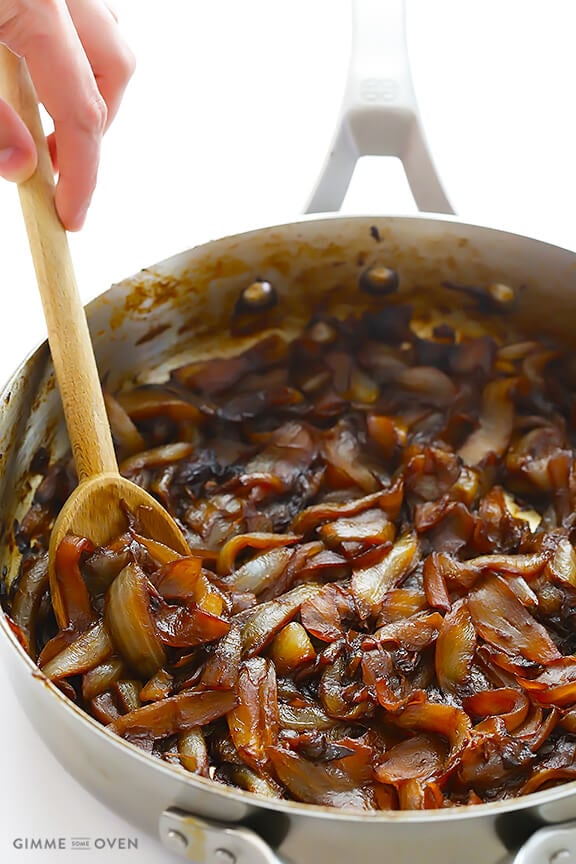 My first recommendation for making caramelized onions?  Ok, this may sound unnecessary, but I totally vote that you put some seriously good music on.  I always crank up some tunes when I'm going to be in the kitchen for awhile.  And since these onions require at least a good 40 minutes of babysitting, I suggest settling in with some nice-and-relaxing or kitchen-dance-party background music.  :)
Seriously, though, all that you really need are:
a few onions (you can use white, yellow or red)
butter
red/white wine or chicken/beef broth (to de-glaze the pan)
salt
sugar (optional; I never use it)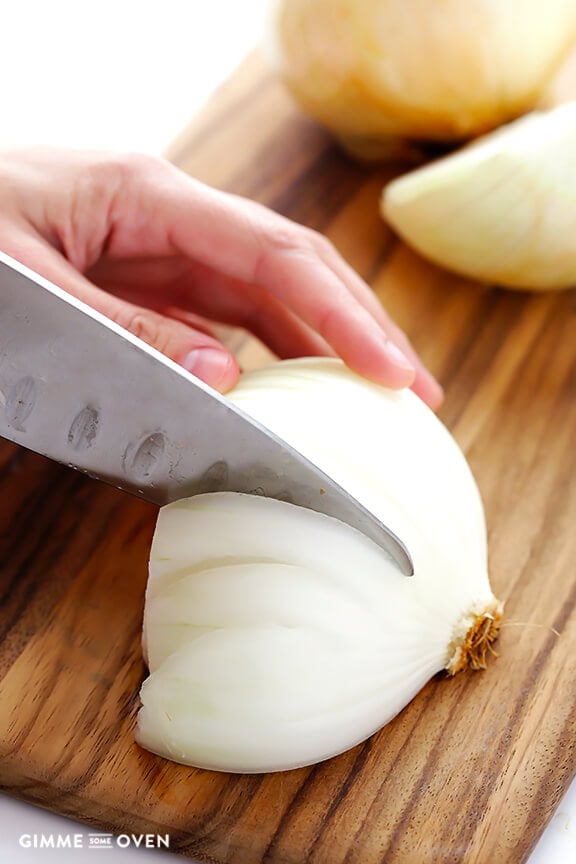 Begin by thinly-slicing up your onions.  You can make them as thin as you'd like, but I recommend keeping them between 1/8-1/4-inches wide.  They will shrink up considerably while cooking.
Melt about 2 tablespoons of butter in a saute pan.  Then add all of those onions, and give them a good stir to coat them in the butter.
Next comes the step that you will do again and again for the next 40 or so minutes:
Stir and wait.
Stir and wait.
And stir and wait some more.
I recommend that you give these guys a good stir every 3-5 minutes or so.  You want to let them cook untouched for long enough that they start to get a little bit caramelized and golden on the bottom, but not so long that they burn or get too brown.  So initially, that may be every 5 minutes, and then as they caramelize, every 3 minutes or so.  (Keep in mind that every stove and pan are different, so go with whatever cooking time feels good to you.)
The onions will pass through a stage (above) where they turn translucent and white.  Then they will start to become slightly golden.
Then they will turn even darker and syrupy, and browned bits will begin to accumulate on the bottom of the pan.  Use a spatula to try and scrape up the browned bits when you can.  And at this point, I also recommend sprinkling some salt on the onions and stirring it in, although I tend to think that caramelized onions don't need too much salt.
Finally, once the onions have reached a stage where they are dark golden brown (I like mine very brown), it's time to make the most of those browned bits and de-glaze the pan.  I highly recommend doing this with white or red wine (if you cook with wine), but you can also do so with vegetable or chicken broth.  Simply add in a few tablespoons of wine/broth at a time, scraping the bottom of the pan with your spatula, until you have picked up most of those browned bits and they can be stirred into the onions.  (I generally use between 2-4 tablespoons wine.)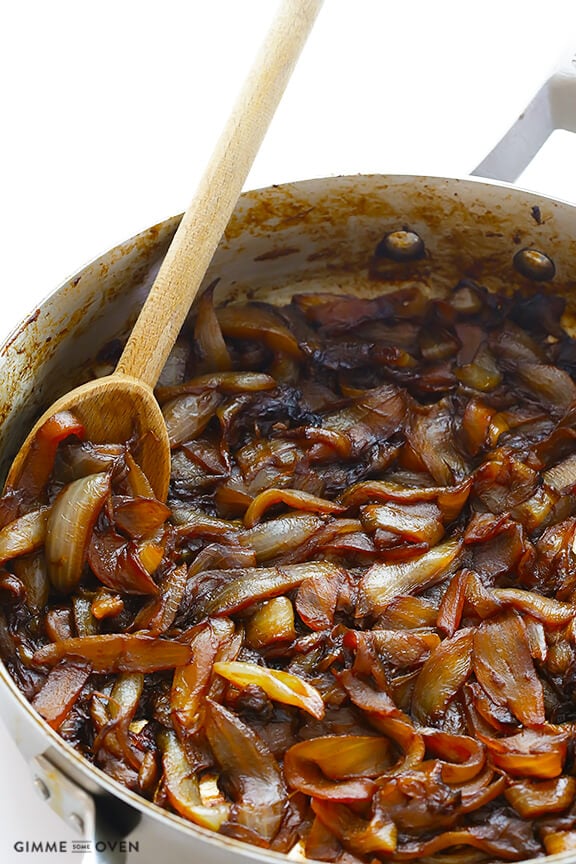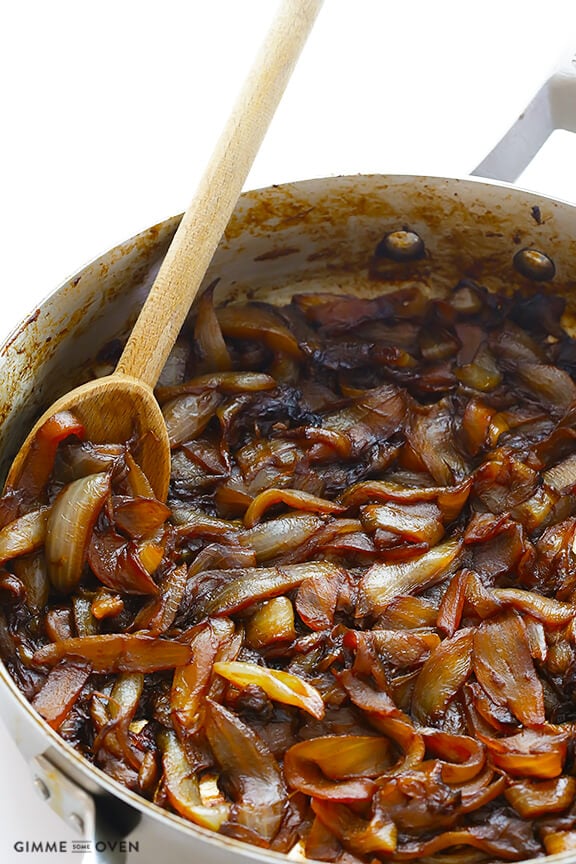 Then your onions are caramelized and ready to go!!  Quite the transformation from how they began, eh?
These photos make mine look a little darker than they actually were.  As you can see in the spoon, the onions are a deep golden brown, reduced in size considerably, perfectly syrupy and delicious, and they're good on just about everything.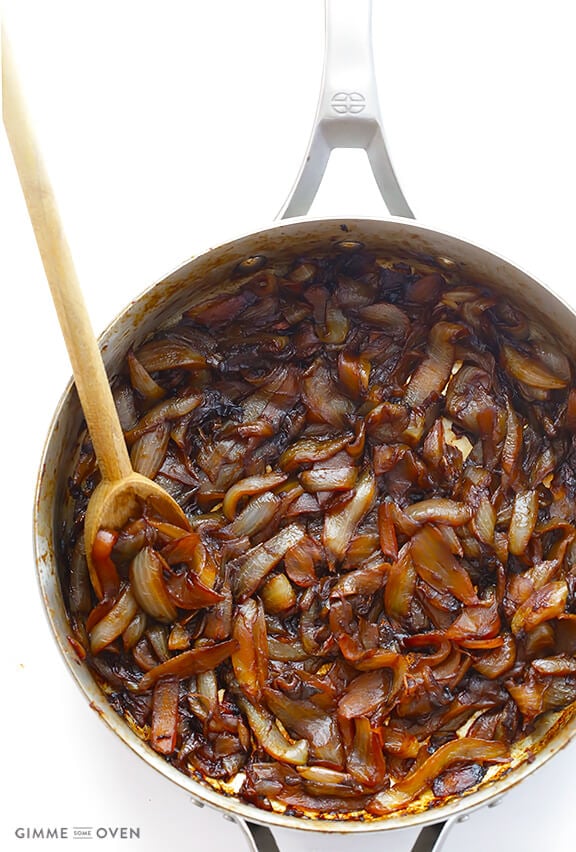 A few extra tips to keep in mind:
More onions require more cook time: Cooking 3 medium-sized yellow onions in a 12-inch usually takes me about 40 minutes.  You can add in more onions, but they will require more time.  Also, try to avoid a pile of onions that is too high, or else the onions will cook from the steam instead of on the bottom of the pan.
Keep the heat low and slow: Every cook has a different opinion about the proper level of heat for caramelizing onions.  I generally keep mine slightly above medium, and have also had success on medium-high, and many others love medium-low (which requires longer cooking time).  But the one thing you don't want to do is crank the heat up to high to speed things up.  Trust me, it doesn't work.
Sugar and salt are optional: I find that caramelized onions are plenty sweet (and usually plenty salty) on their own, but if you want to add extra sugar and salt near the end of the cooking time (just before deglazing), you're welcome to do so to taste.
Everyone definitely has their preferences for what constitutes a perfectly caramelized onion, so feel free to tweak this recipe to your taste.  And be sure to snap a photo and tag it on Instagram if you are making these for the first time so that I can see them!
Happy caramelizing.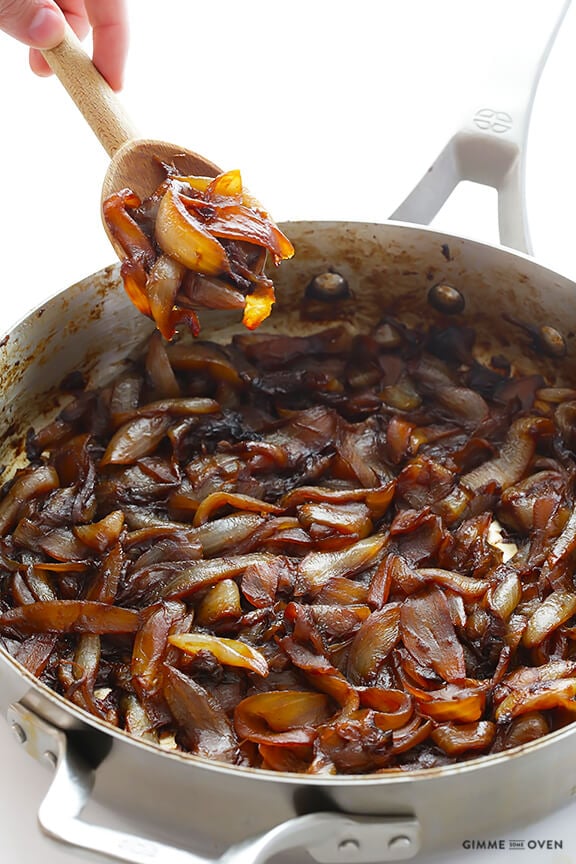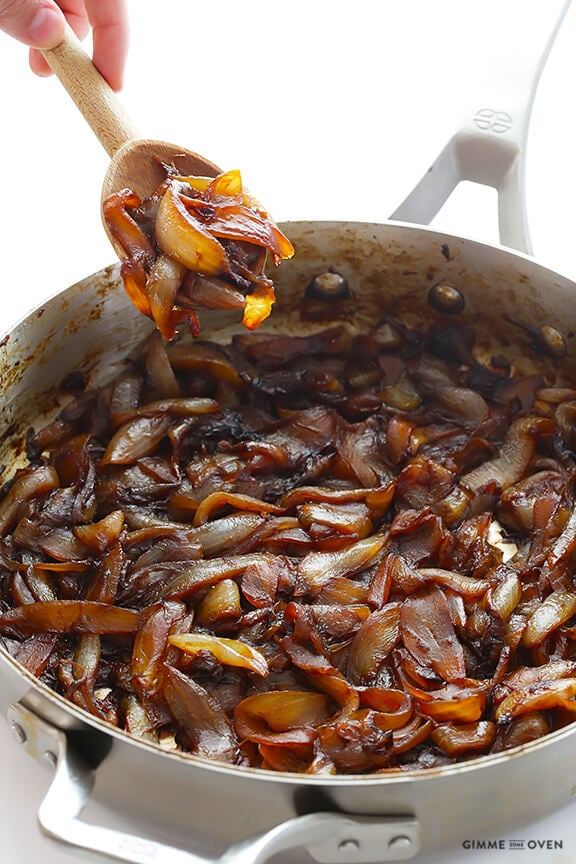 Caramelized Onions
Learn how to make caramelized onions with this step-by-step tutorial and delicious recipe.
Ingredients:
3 medium yellow onions, peeled and thinly sliced
2 tablespoons butter (or high-heat cooking oil, such as vegetable or grapeseed oil)
pinch of salt
(optional) pinch of granulated sugar or other sweetener
2-4 tablespoons dry white or red wine (or chicken/beef/veggie stock)
Directions:
Heat butter in a large saute pan over medium heat until melted.  Add onions, and toss until they are coated in the butter.
Cook the onions for the next 40 minutes or so until they are caramelized, using a spatula to stir the onions and scrape the bottom of the pan every 3-5 minutes.  As the onions begin to caramelize and darken, you may need to scrape the pan more often.
Once the onions reach a deep golden brown color and are nice and syrupy, sprinkle them with a pinch of two of salt (and sugar, if desired).  Stir the stock a tablespoon or two at a time, adding enough so that the browned bits on the bottom of the pan loosen when scraped with a spatula.  Stir the onions for 1 more minute, being sure to stir in the browned bits, then remove from heat.
Serve immediately.  Or let cool to room temperature, then refrigerate in a sealed container for up to 3 days, or freeze for up to 3 months.
All images and text ©
If you make this recipe, be sure to snap a photo and hashtag it #gimmesomeoven. I'd love to see what you cook!