Carnitas Caldo (Carnitas Soup)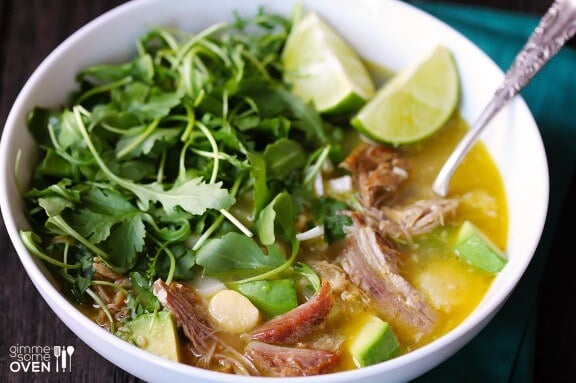 I mentioned on Instagram recently that my family is unashamedly obsessed with Mexican food.  We love it local, we love it authentic, we love it good, and we love it OFTEN. So of course, even while we were in Chicago celebrating Thanksgiving for a few days, we had to get our Mexi fix.  So we ended up trying XOCO, one of Rick Bayless' restaurants.  The line on Black Friday was practically out the door, but we were freezing and once I saw the long menu of caldos (soups), I was hooked.  I had a minor crisis trying to decide what to order (they literally ALL looked amazing!), but I read that the XOCO carnitas caldo was the most popular soup.  So I had to try it. Let's just say that my family was a little stunned when I finished the entire bowl.  It was massive.  But holy cow – I had to.  This soup was insane.  Based on the most yummy spicy broth, this soup had everything from tender carnitas, to yummy avocado, these amazing little potato-masa dumplings, amassive bunch of fresh cilantro and arugula on top, and all garnished with lots of lime. Without a doubt, one of the best soups I've had in my life.  (And I don't say that lightly.) So of course, I had to come home and try to recreate it.  I would never presume to top (or match) a Rick Bayless recipe, since the guy is a Mexican food genius.  But I have to say that this recipe turned out pretty awesome.  I even succeeded with the little potato-masa dumplings!  (Although you could easily just use diced potatoes.)  ;)  It definitely took a bit of time to prep when making the carnitas from scratch.  But let me tell you, the final product is completely worth it.  And it's also one of those soups that tastes better and better each time you warm it up for leftovers.
What are some of your favorite Mexican soups?  Has anyone been to XOCO?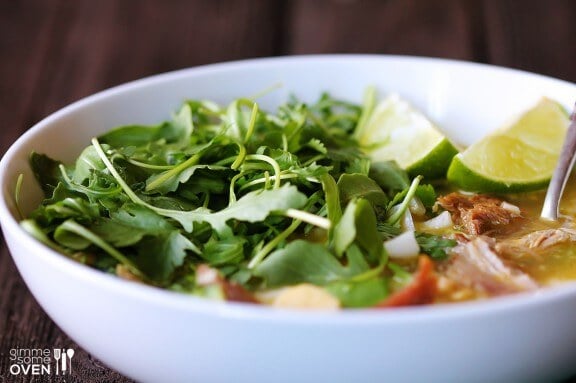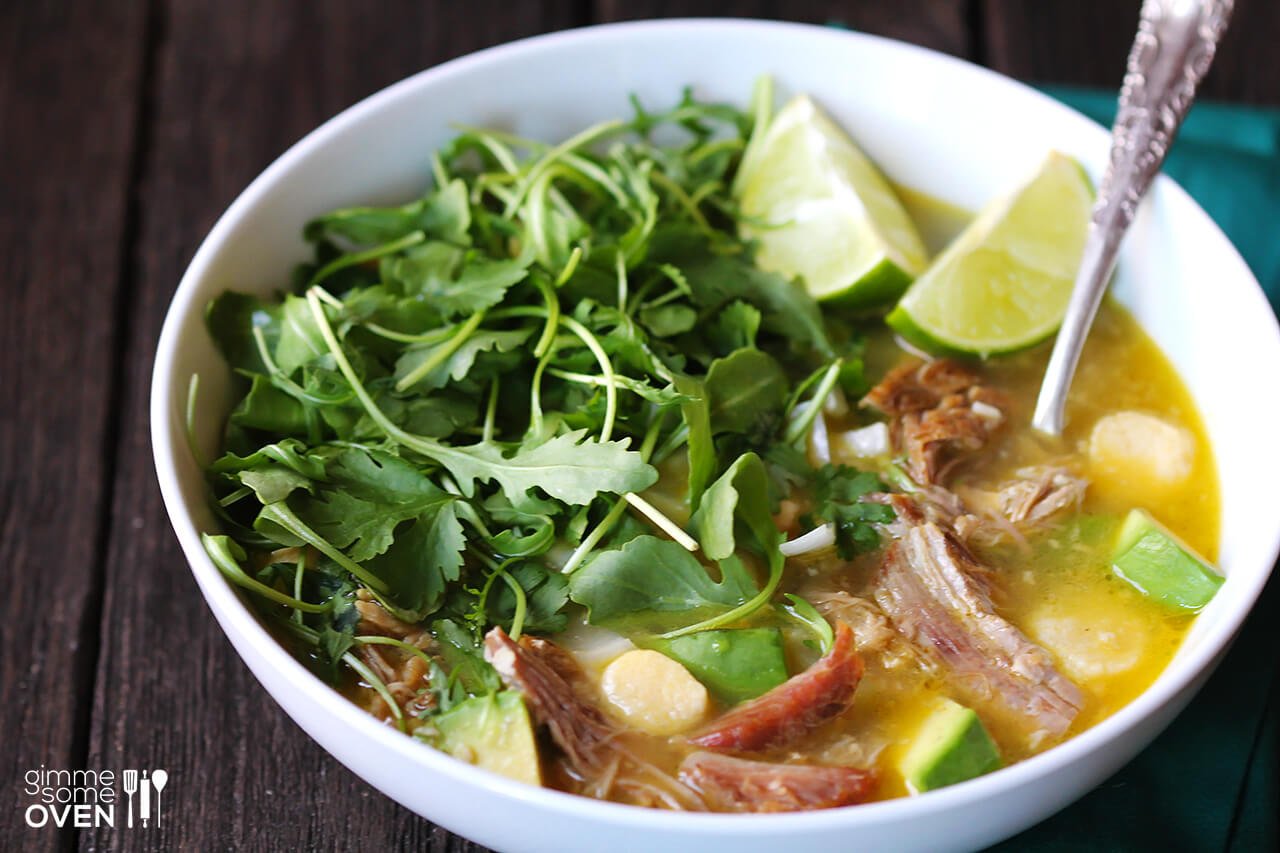 Carnitas Caldo (Carnitas Soup)
An amazing carnitas caldo (carnitas soup), inspired by Rick Bayless' XOXO restaurant in Chicago.
Ingredients:
Soup Ingredients:
1 Tbsp. olive or vegetable oil
1 large white onion, peeled and diced
1 chayote, skin and core removed, then sliced into matchsticks
8 cloves garlic, thinly sliced
8 cups chicken broth
5-6 cups cooked pork carnitas http://www.gimmesomeoven.com/crispy-slow-cooker-carnitas/ (**see note below**)
1-3 roasted serrano peppers (add to taste, instructions below)
salt and pepper
2 cups potato-masa dumplings
2 avocados, diced
1 cup fresh cilantro, chopped
6-8 cups fresh baby arugula
lime wedges for garnish.
Potato-Masa Dumplings Ingredients:
1 cup mashed potatoes
1/2 cup masa harina
1 egg
1/4 tsp. salt
Directions:
To Make The Caldo (Soup):
Heat oil in a large stockpot over medium high heat. Add the white onion and chayote, and saute for 5 minutes until cooked and the onion is translucent. Add garlic and cook for an additional 1-2 minutes until fragrant. Add the chicken broth, carnitas, and serrano peppers (add one at a time to test out the level of heat) and bring to a boil. Reduce heat to medium-low, cover and simmer for at least 30 minutes.

Season generously with salt and pepper. Then ladle the soup into serving bowls, filling them about half full. Then add in a small handful of potato dumplings, avocados and fresh cilantro to each bowl. Then top each with a large handful of baby arugula. Serve with lime wedges for garnish.
To Make The Potato Dumplings:
Combine all ingredients in a bowl and stir together until blended. Use your hands to knead the mixture a few times until smooth. Then pinch off about 1/4 cup of the mixture and roll it into a long tube about 1/2-inch wide in diameter. Use a knife to slice the tube into small coins, about 1/8-inch wide. Repeat with remaining dough to make dumplings. Cover and refrigerate until ready to use.

If you make this recipe, be sure to snap a photo and hashtag it #gimmesomeoven. I'd love to see what you cook!