Carrot Cake Granola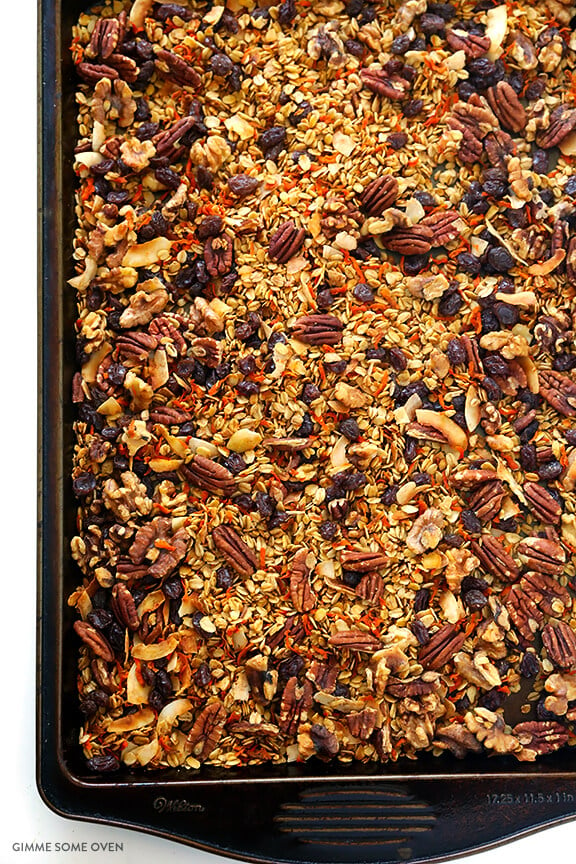 Valentine's Day has now (thankfully) come and gone.  Which means that it's time for grocery carts everywhere to start glowing orange as we celebrate this most wonderful time of the year — Carrot Cake Season!
I'm pretty sure that I'd be best buds with Bugs Bunny, because I get a little too excited about carrots and carrot cake and anything else that I can make taste like carrot cake.  Last year, some of you might remember that I shared back-to-back recipes for the (humbly-named) Best Carrot Cake, as well as a killer Vegan Gluten-Free Carrot Cake.  And since I generally test my baking recipes at least a handful of times before posting them on the blog, it's safe to say that last spring was filled with so much carrot cake.  Which was not a problem.  :)
This year, though, I thought I'd kick off the season with a slightly healthier spin on the classic — Carrot Cake Granola.  It's naturally-sweetened, naturally gluten-free and vegan, made with real carrots, and perfect for anyone who has ever wanted to sneak a slice of carrot cake for breakfast.
Let's make some!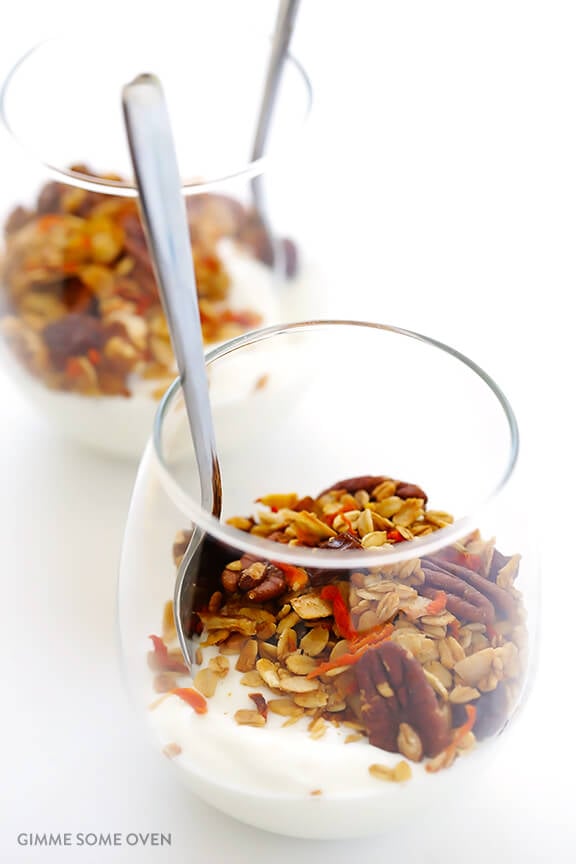 I actually had the idea for this granola as I was making a different carrot cake recipe this week (stay tuned), and was trying to figure out what to do with my leftover carrot shavings.  I wasn't quite sure what would happen if I baked them, but I figured it was worth a try to see.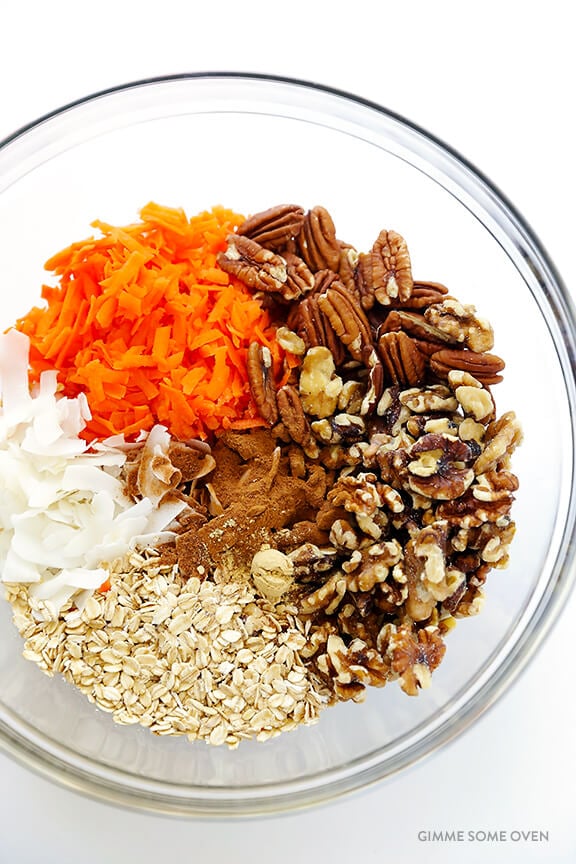 So I tossed them together with some oats, lots of nuts (pecans + walnuts), coconut, maple syrup, coconut oil, and a handful of carrot cake spices.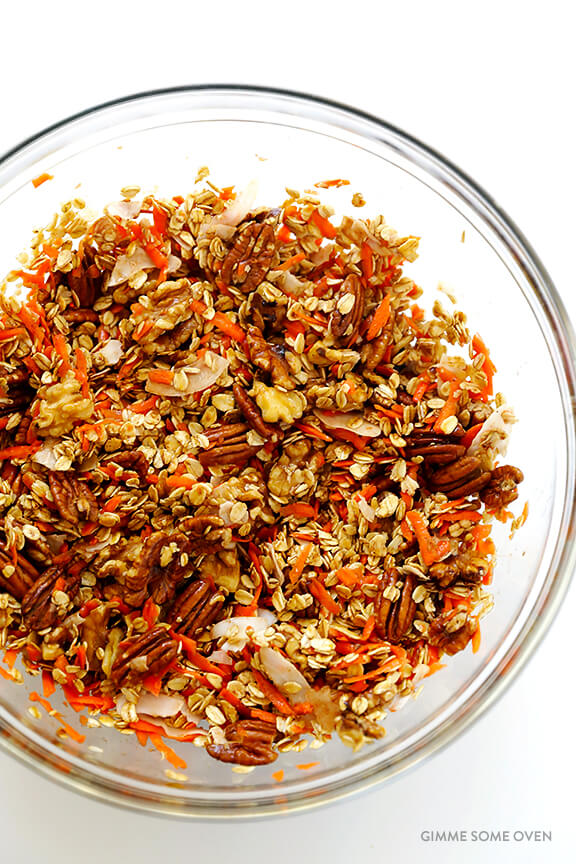 Most colorful granola ever, eh?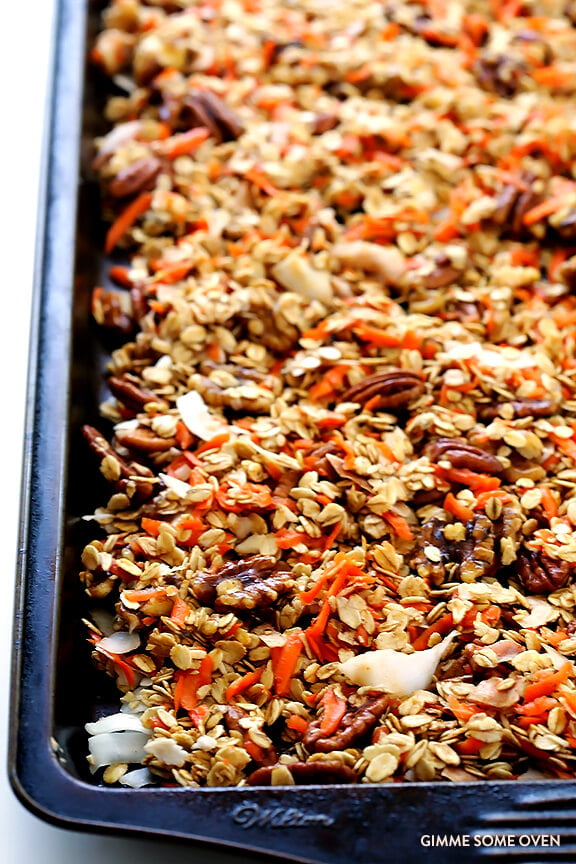 Then I baked them up…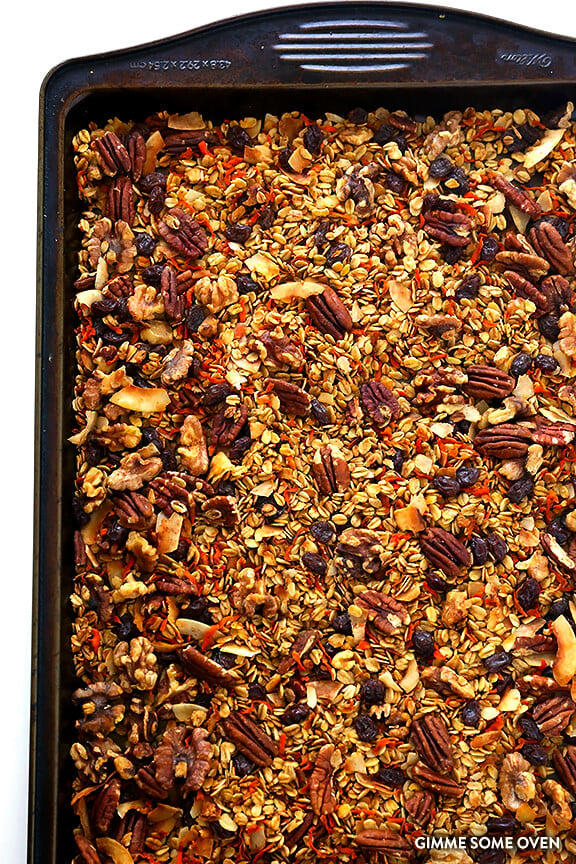 …and afterwards, tossed the mixture with some raisins.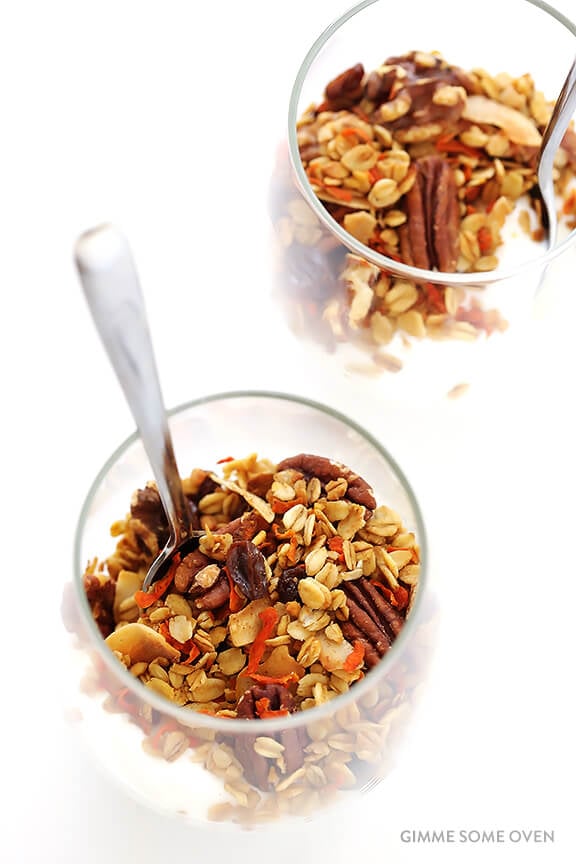 The result?  Crazy good.
I was aiming to save the leftovers to share with some friends who are staying with us this weekend, but can't seem to stop snacking on the stuff.  It's sweet, but not too sweet.  It's packed with protein with those nuts.  And it's the perfect excuse to enjoy the classic flavors of carrot cake all day long.
Stay tuned, because I'm so not off this carrot cake kick yet… :)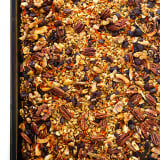 Carrot Cake Granola
This carrot cake granola recipe is easy to make, naturally gluten-free and vegan, and it celebrates the flavors we all love in carrot cake!
Ingredients:
2 cups old-fashioned oats (use certified gluten-free oats if making this GF)
1 cup grated or shredded carrots
1 cup pecans
1 cup walnuts
(optional) 1/2 cup shaved or shredded coconut
1/4 cup maple syrup
1/4 cup melted coconut oil
1 teaspoon ground cinnamon
1/2 teaspoon salt
1/4 teaspoon ground ginger
1/8 teaspoon ground nutmeg
pinch of cloves (optional)
1/2 cup raisins
Directions:
Heat oven to 350 degrees.
Add the oats, carrots, pecans, walnuts, coconut (if using), maple syrup, coconut oil, cinnamon, salt, ginger, nutmeg, and cloves together in a large mixing bowl.  Toss well until combined.
Spread the mixture out evenly on a baking sheet and bake for 25 minutes, pulling the mixture out at the halfway point and giving it a good stir before the final round of baking.  Remove and let cool until the granola reaches room temperature.  Then add raisins and toss to combine.
Enjoy immediately, or store in a sealed container for up to 2 weeks.
*If you'd prefer to just use one kind of nuts, you can either use 2 cups of pecans or 2 cups of walnuts.  If you don't like raisins, you can just omit them.
All images and text ©
If you make this recipe, be sure to snap a photo and hashtag it #gimmesomeoven. I'd love to see what you cook!