Carrot & Zucchini Muffins
Why hello, new favorite muffins!
Seriously — I did not expect this recipe to be this good.  But these muffins rock!!
For the fourth recipe in "Zucchini Week", I decided to try a random one I found online for breakfast this week.  The ingredients sounded delicious, and definitely a little healthier than many muffins.  And since I happened to be craving some ginger, I added in an extra pinch to round out the seasonings.  Ha – the one kitchen lesson I learned, though, is that "shredded" carrots are definitely different than freshly "grated" carrots.  The only thing I had in the fridge was a bag of shredded carrots, and those little guys are as crisp and strong as little twigs!  As you can see in the photo below, they were poking out of the muffin batter all over the place!!
However, once they baked up, the silly orange spikes gracefully cooked into the muffins.  And lo and behold, they turned out delicious!!!  Definitely exceeded my expectations.  And since I made a double batch (which I definitely recommend — you can always freeze the extras), they were especially enjoyable knowing that there were four cups of carrots and zucchini in there.  I will most definitely be making these again soon!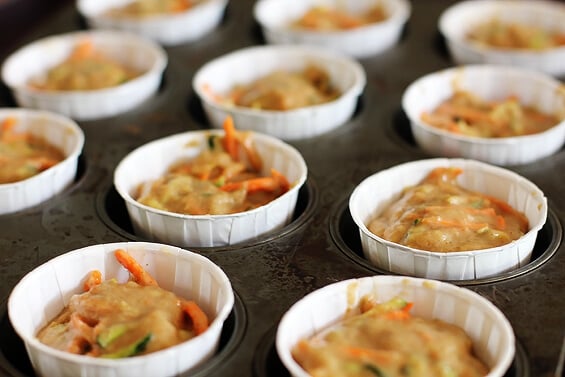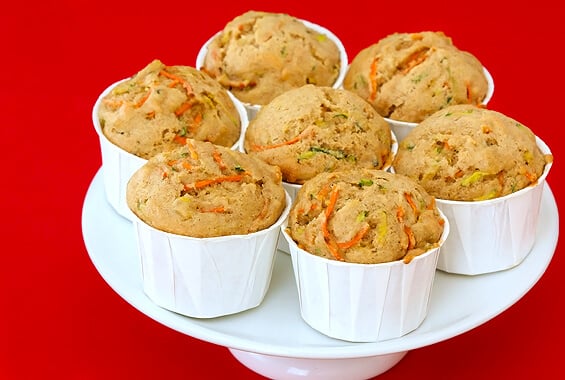 Carrot & Zucchini Muffins
You will love this delicious Carrot & Zucchini Muffins recipe. They are perfect as a snack, an easy carry-along breakfast, or even as dessert. Try them today!
Ingredients:
1/2 cup sugar
2 Tbsp. canola or vegetable oil
1/2 tsp. salt
1 large egg
1 cup grated zucchini
1 cup grated carrots
1/4 cup chopped pecans or walnuts, toasted (optional)
1 cup white whole what flour (or all-purpose flour)
1 tsp. baking soda
1 tsp. ground cinnamon
1/4 tsp. ground ginger
1/4 tsp. ground nutmeg
Directions:
Preheat oven to 375. Prepare a pan with 6 standard muffin cups (or 20 mini-muffin cups) with paper liners or cooking spray.
In a large bowl, whisk together the sugar, oil, salt, and egg. Add zucchini, carrots, cinnamon chips (if using) and pecans.
Whisk together the remaining ingredients in a separate bowl, then add to the batter. Stir until just combined. Divide the batter evenly among the prepared muffin cups. Let the muffins rest for 10 minutes before placing them into the oven.
Bake the muffins until the edges are lightly browned and they feel firm if gently pressed, about 18 to 25 minutes. A cake tester inserted into the center of a muffin should come out clean. Cool muffins in the pan for 10 minutes; transfer to a rack, and cool completely.
Makes 6 standard muffins, or 20 mini muffins.
If you make this recipe, be sure to snap a photo and hashtag it #gimmesomeoven. I'd love to see what you cook!
Ali's Tip:
If you only have zucchini or carrots on hand, you could just include 2 cups of the one vegetable (instead of 1 cup of each).
Source: Adapted from Multiply Delicious.