Cherry Limeade Cheesecake
This is a sponsored review from BlogHer and Kraft.
For my third Real Women of Philadelphia post, I decided to take a favorite summer drink and translate it into a yummy dessert — Cherry Limeade Cheeesecake!
As opposed to some of the artificially-flavored cherry limeades that most places serve, however, this fantastic cheesecake calls for fresh fruit.  Y-U-M.  It's basically a simple cheesecake recipe accented with fresh lime juice and zest, topped with a delicious sauce made from juicy red cherries (feel free to use fresh or frozen).  Definitely a winner of a recipe — my friends and I absolutely loved them!  It's also a really versatile recipe, if you'd rather sub in lemon for lime, or any of your favorite berries for the cherries.
Also, for more winning recipes, be sure to join the community and check out the other Real Women of Philadelphia bloggers' recipes here.  And then definitely be sure to tune into the RWOP finale which will be streaming live here at 7pm EST on June 30, 2011.  Paula Dean will be there to host a huge cook-off, and then announce the winners who will be awarded contracts from Kraft Foods worth $25,000 — so exciting!  So tune in for some more outstanding PHILADELPHIA Brand Cream Cheese recipes at RWOP, and here at Gimme Some Oven.  :)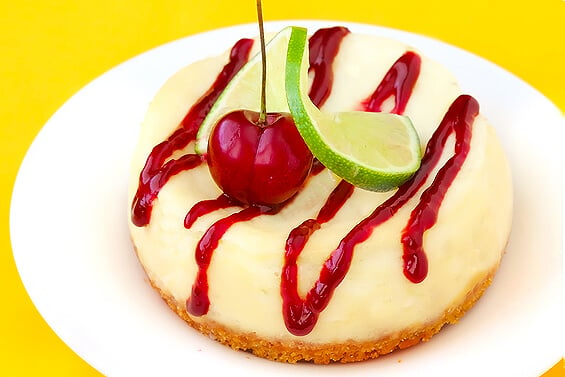 Cherry Limeade Cheesecake
A simple lime cheesecake with an irresistible cherry sauce drizzled on top. You will love this Cherry Limeade Cheesecake recipe!
Ingredients:
Lime Cheesecake Ingredients:
2 cups graham cracker crumbs
6 Tbsp. sugar
6 Tbsp. unsalted butter, melted
3 (8 oz.) packages PHILADELPHIA Brand Cream Cheese
1 cup sugar
3 large eggs
juice of 2 limes (about 2 Tbsp. per lime)
zest of 2 limes
Cherry Sauce Ingredients:
12 oz. cherries, rinsed and drained (frozen berries work too!)
2 Tbsp. sugar
2 tsp. cornstarch
2 tsp. cold water
Directions:
To Make The Cheesecake:
Preheat oven to 325?F. In a medium bowl, combine the graham cracker crumbs, sugar and melted butter and stir until evenly mixed and moist. Press the crumbs into the bottom of a 9-inch springform pan (or six 4-inch mini springforms). Bake for 6 minutes, then remove and set aside.
Meanwhile, in the bowl of an electric mixer, beat the PHILADELPHIA Brand Cream Cheese on medium-high speed until smooth. Gradually mix in the sugar. Add in the eggs one at a time, beating well after each addition. Beat in the lime juice and lime zest until just combined. Pour the filling over the cooked graham cracker crust.
To minimize cracking, place a shallow pan (I used an oven-proof 9×13-inch pan) half full of hot water on the bottom rack of the oven during baking. Bake for 55-65 minutes or until the center is set (25-33 minutes for mini springforms). Turn the oven off and prop the door open about 4 inches. Let the cheesecake stand 30 minutes. Remove from the oven and transfer to a wire rack. Let cool 10 minutes. Carefully remove the sides of the pan and let cool to room temperature on the rack. Cover and refrigerate for at least 8 hours before slicing and serving.
Serve drizzled with cherry sauce, and topped with a lime and cherry if desired.
To Make The Sauce:
In a medium saucepan, stir together cherries and sugar over medium heat. Cook, stirring occasionally, until the cherries begin to release some of their juices and the mixture is simmering. Combine the cornstarch and water in a small bowl; whisk until smooth. Add the cornstarch mixture to the blackberries and mix well. Reduce the heat to medium and let cook, stirring occasionally, until the mixture comes to a low boil and thickens slightly, then remove from heat. If you'd like a smooth sauce, you can then press the mixture through a fine mesh sieve to remove the seeds. Or serve as is with the whole cherries. The sauce will thicken as it cools.
If you make this recipe, be sure to snap a photo and hashtag it #gimmesomeoven. I'd love to see what you cook!
Ali's Tip:
If you'd like to kick up the sauce a notch, feel free to substitute in 1 Tbsp. brandy or red wine into the sauce.  Love it!
Source:
Cheesecake recipe adapted from Annie's Eats, originally from The Good Housekeeping Illustrated Book of Desserts.