Chicken and Asparagus Stir-Fry
In my wise old age, I have come to a realization about myself — I am terrible with due dates.  Like, really terrible.
From library books, to movie rentals, even to turning in my taxes on time (which I at least mailed in this week at 4:50pm!), I have a pretty terrible track record of remembering to take care of things on time.  This past weekend, when I was "spring cleaning" out my fridge, I realized the same holds true there.  Eek.  Let's just say that I think I finally learned what happens to cilantro if it accidentally gets hidden at the back of the vegetable drawer for a month!
The good news was that, as I was taking an inventory of leftover ingredients in the fridge, I realized that I had the makings of a stir fry right in front of me.  So I decided to make a simple chicken and asparagus stir fry for lunch, mixed with some garlic, scallions, soy sauce and honey.  It took all of 15 minutes to make, and after I took the first tasty bite, I realized that I should totally share it with you!!!
So I mustered up every inch of self-control to resist diving in, and instead set up my camera and snapped some photos for the blog.  Oh the life of a food blogger — lots of lukewarm food after photo shoots!  But even then, this simple stir fry absolutely hit the spot.  So simple, but such great flavors.  Plus, it's healthy and literally comes together in a snap.  So if you are a chicken and asparagus fan like me, or if the ingredients happen to be sitting there in your fridge, I highly recommend giving it a try!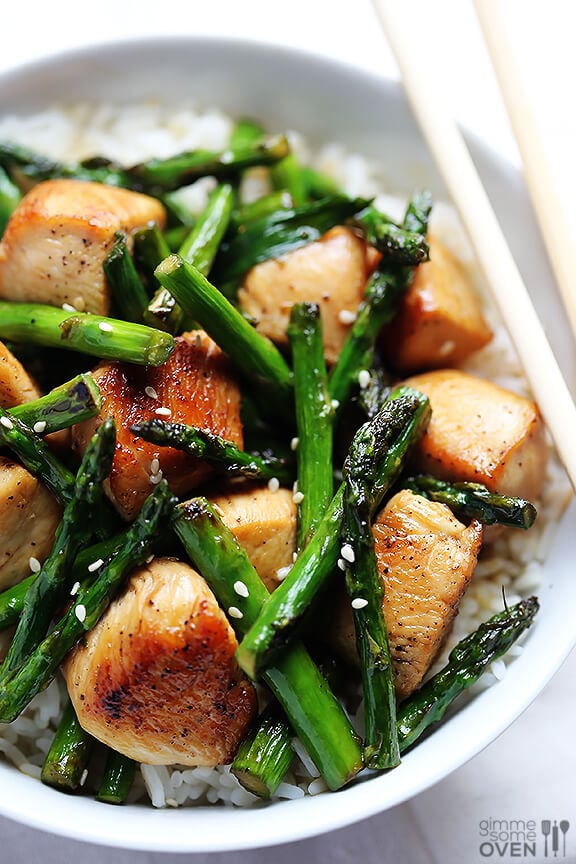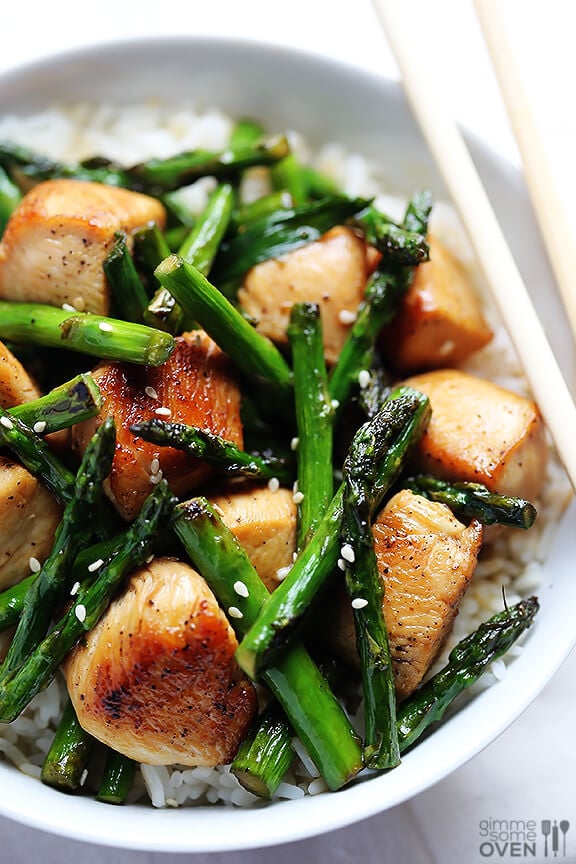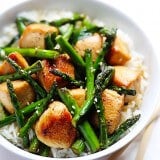 Chicken and Asparagus Stir-Fry
A quick and easy chicken and asparagus stir-fry.
Ingredients:
1 Tbsp. soy sauce
1 Tbsp. honey
2 boneless, skinless chicken breasts, cut into bite-sized pieces (about 1-inch)
1 Tbsp. olive oil
1 bunch asparagus, cut into bite-sized pieces
4 cloves garlic, thinly sliced
2 scallions, chopped
2 tsp. toasted sesame oil
(optional) 1 tsp. toasted sesame seeds
Directions:
In a small bowl or in a ziplock bag, combine soy sauce and honey. Add chicken, and stir to coat. Set in the refrigerator until ready.
Meanwhile, heat oil in a large skillet over medium-high heat. Add asparagus, and saute until cooked, about 5 minutes. Remove the asparagus with a slotted spoon, and set aside.
Remove chicken from marinade, and add to skillet. Saute until nearly cooked through (with the insides still slightly pink), about 5 minutes. Then add garlic, scallions, and the reserved marinade to the pan. Saute for an additional 2 minutes until the chicken is cooked and the garlic is fragrant. Remove from heat and stir in the cooked asparagus and sesame oil until combined. Serve immediately with rice, garnished with toasted sesame seeds if desired.
All images and text ©
If you make this recipe, be sure to snap a photo and hashtag it #gimmesomeoven. I'd love to see what you cook!