Enfrijoladas
Learn how to make traditional Mexican enfrijoladas with this easy recipe!  Just fill them with your favorite fillings (cheese, veggies, meat/seafood, herbs, you name it!), and then you can either roll them up or fold them into little triangles. Perfect for breakfast, lunch or dinner…and so delicious!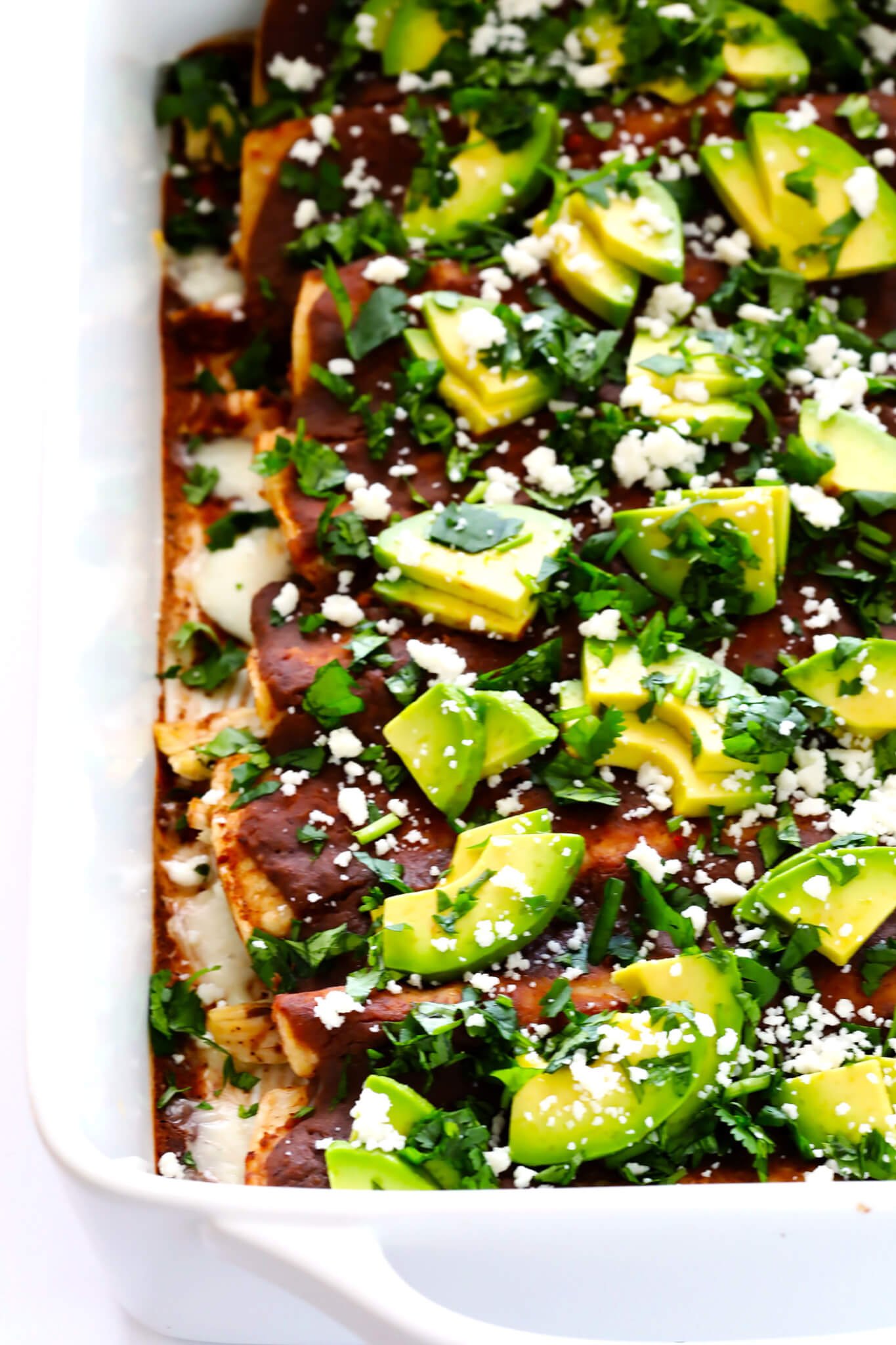 Of all the amazing meals we enjoyed on our honeymoon in Mexico, Barclay and I both agreed that the daily breakfasts at our cute little beach hotel in Oaxaca may have just stolen the show.  ☀️🍍🌮💛🎉
Breakfasts there were served every morning in a gorgeous open-air restaurant looking out over the ocean.  And on our very first morning there, Barclay and I were stoked to wake up and see a stunning rainbow of fresh tropical fruits laid out on the breakfast buffet, along with homemade granola, yogurt, baked goods, fresh juices, and coffee galore.  It was fresh and beautiful and healthy and totally our kind of meal.  So much so, actually, that we both piled our bowls high with our own customized parfaits, and then ate and ate and ate until our bellies were full and our plates were clean.  When the server came by to clear our table, we raved about how fresh and delicious everything was.  To which he casually responded — "Wonderful, so what would you like for your second course?"
Um…  😂  Turns out that was literally just the appetizer round.
Our server kindly turned our attention to the large chalkboard (see below) in the restaurant with the daily "second course" hot breakfast options, which I promptly freaked out about because it was like a dream lineup of so many of my favorite traditional Mexican foods!  They had everything from huevos rancheros, to chilaquiles, sopes, quesadillas, molletes, omelettes, and pancakes.  But then my interest was immediately piqued when I saw enchiladas on the list…along with enfrijoladas and enmoleadas.  Somehow I had never heard of those final two.  But sure enough, our hunch proved true and they turned out to be a spin on enchiladas made with a frijole (bean) sauce or a mole sauce, instead of the traditional red chile sauce.  And man, were they DELICIOUS.
Barclay and I divided and conquered and literally taste-tested everything together on the breakfast menu during our 7 days there.  And then, per usual, I immediately came home and have been trying to recreate them in our kitchen ever since.  My first successful attempt so far turned out to be exceptionally easy to make, and exceptionally good.
Homemade enfrijoladas FTW!🍴
Enfrijoladas Recipe | 1-Minute Video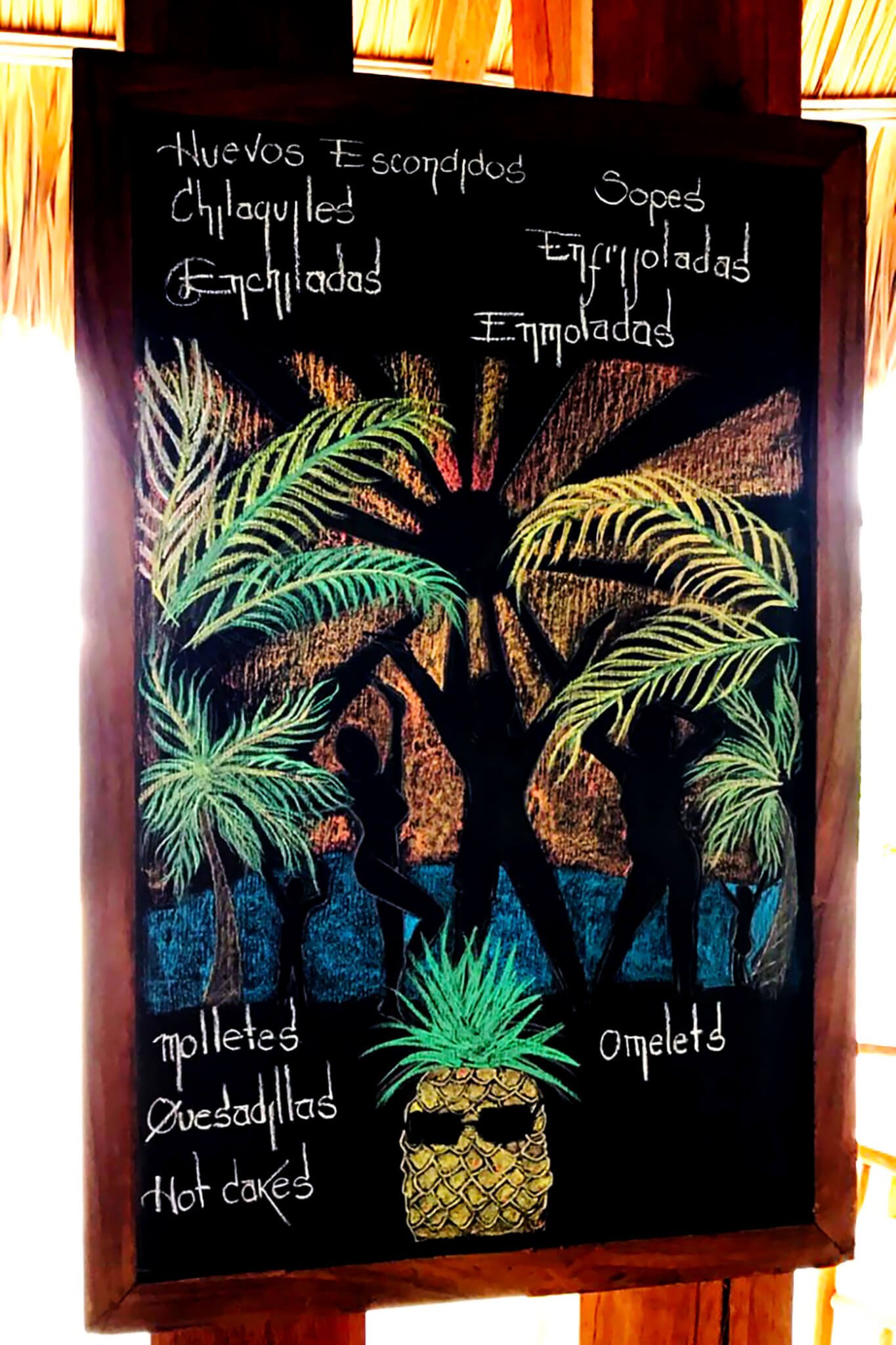 Here's a little peek at that breakfast menu.  (Which conveniently turned around in the afternoon to become a mezcal menu. 😁)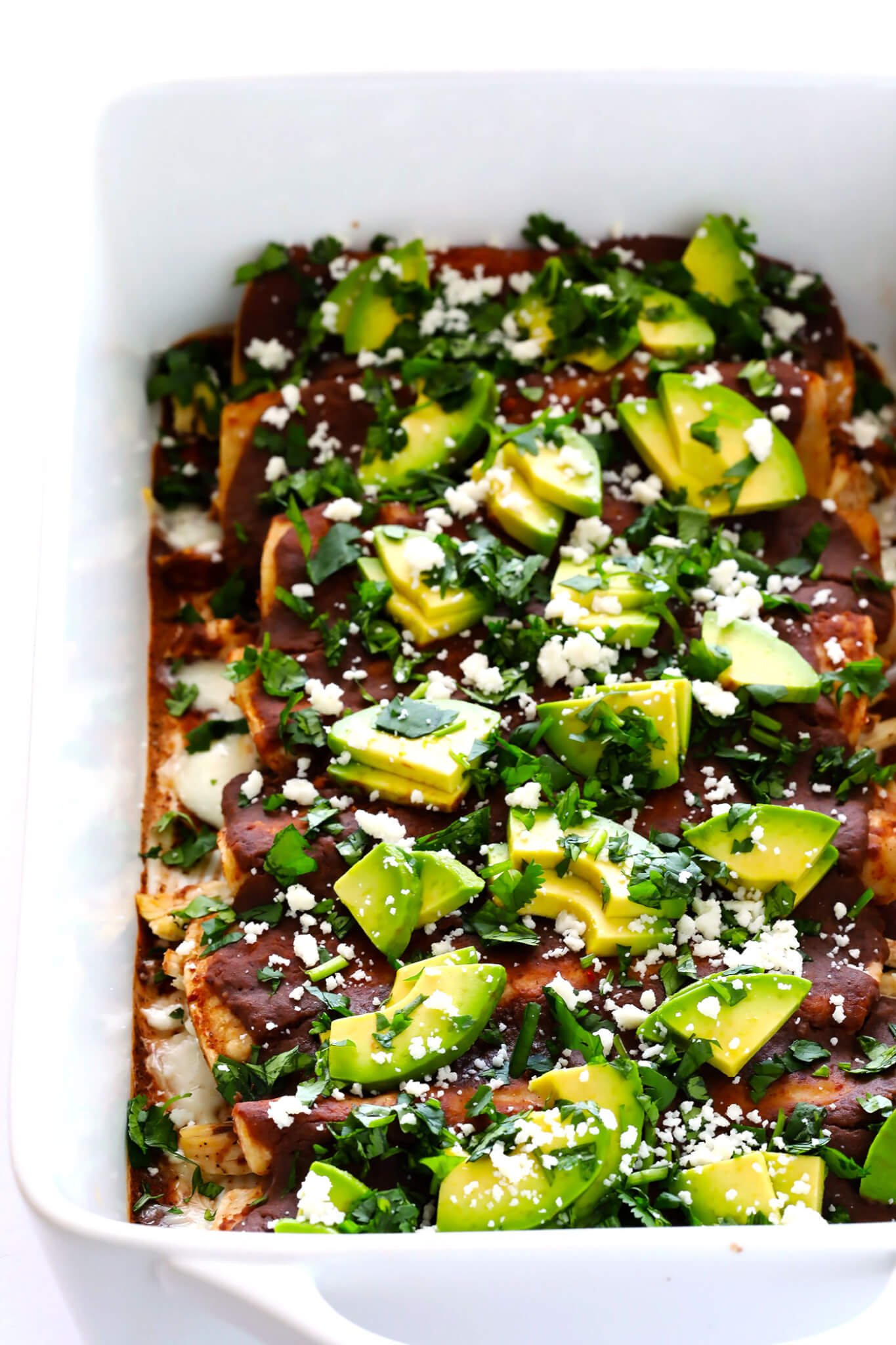 Annnnd then here's a peek of my homemade version (sans the beautiful Mexican sunshine and ocean breezes blowing in the background).  😉
As I mentioned, traditional enfrijoladas are basically everything you love about enchiladas, but made with a simple blender black bean sauce instead of red enchilada sauce.  The corn tortillas are soaked in the sauce, and then either rolled up or folded into fourths (triangles) with your desired fillings.  Our hotel gave us the option of a simple cheese filling, or meat (such as chicken or steak), and then always served them with a side of avocado.  I made this batch (pictured above) with a shredded chicken and Oaxaca cheese filling.  But you could use just about any proteins, veggies, cheeses, and/or herbs that you would like.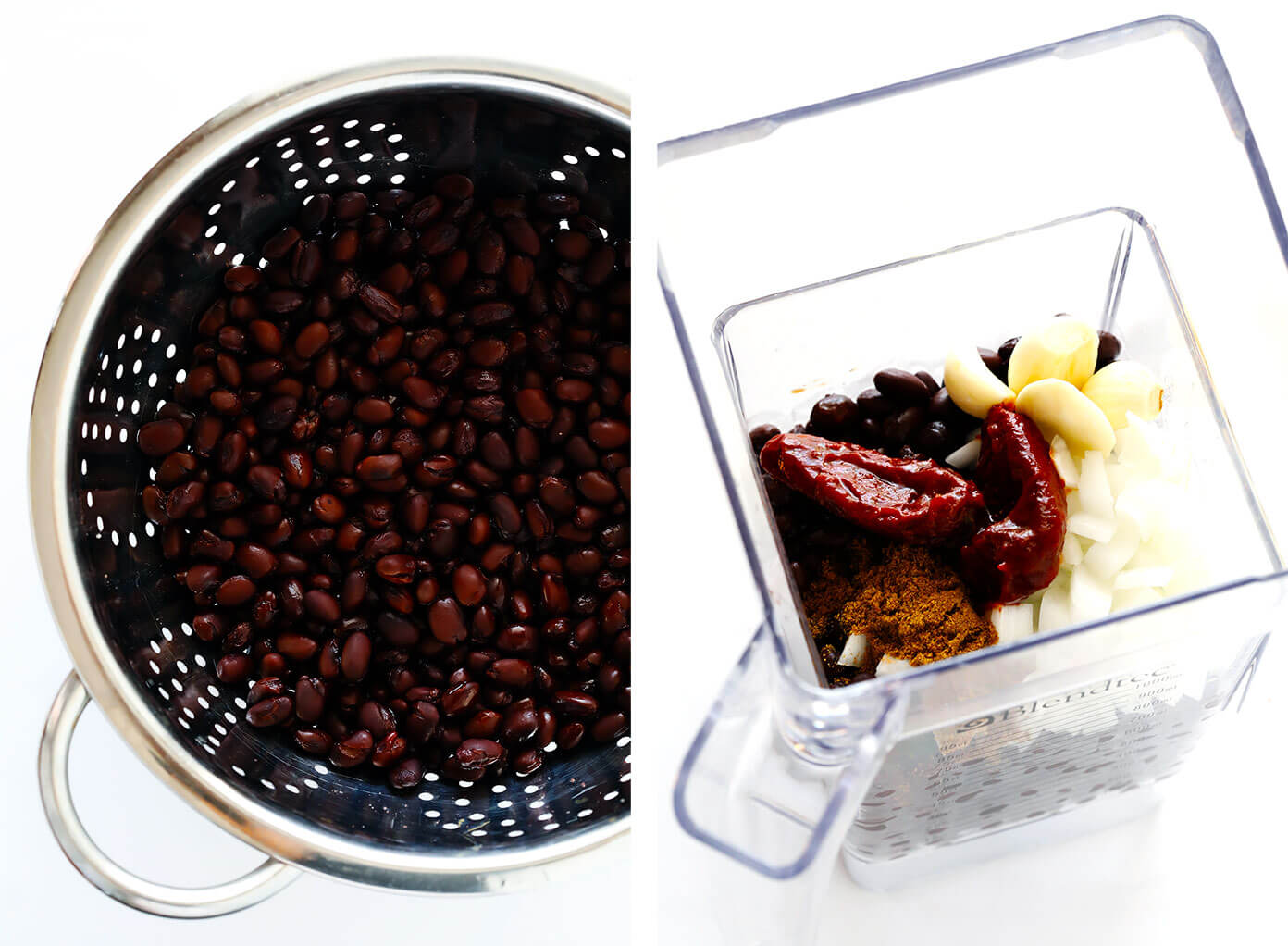 To make the enfrijoladas, just add some black beans, chipotles in adobo, onion, garlic, seasonings, and chicken (or veggie) stock to a blender.  (Or you could also use a food processor.)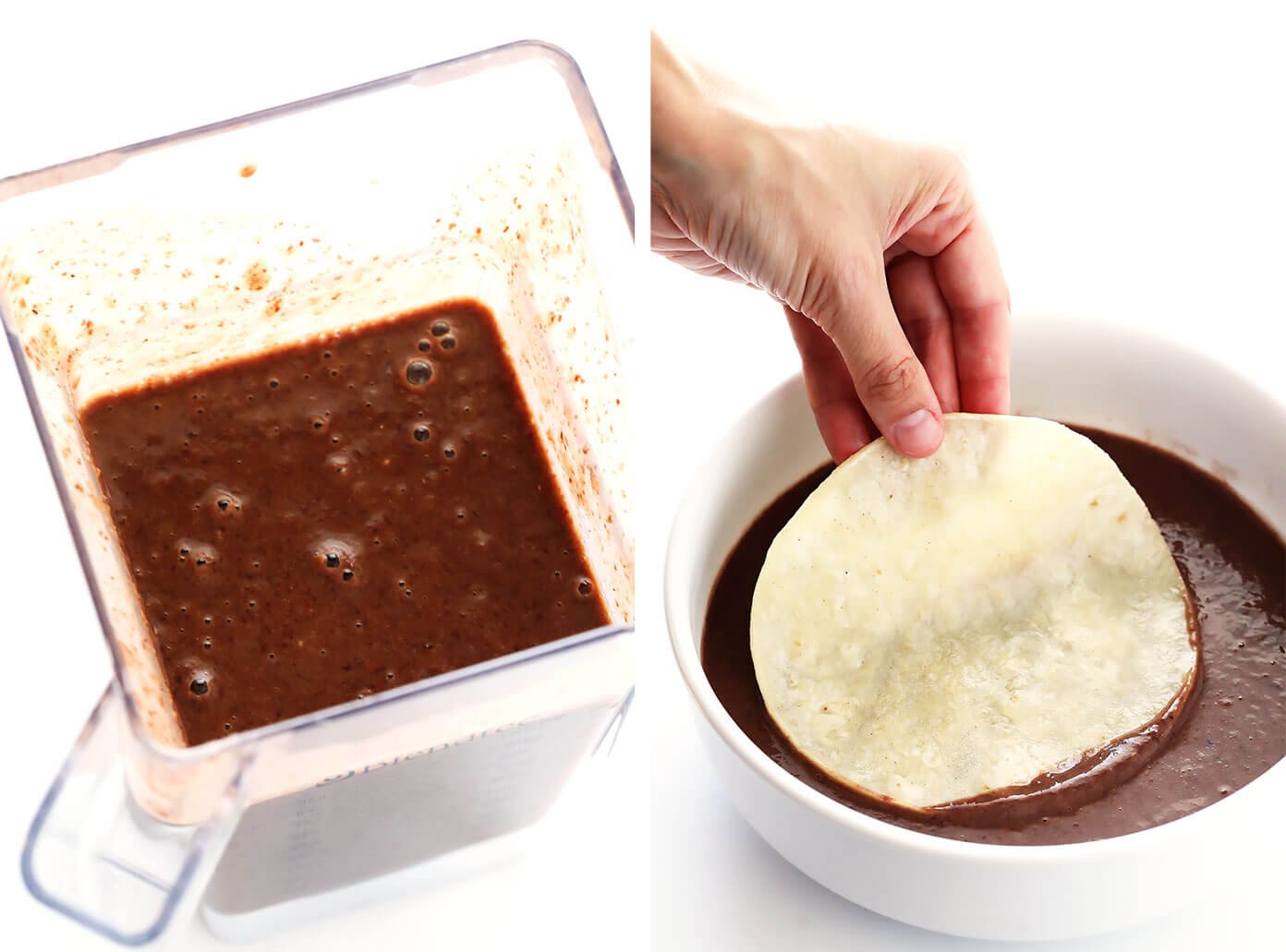 Puree until smooth.  Then warm up some corn tortillas (here are 3 ways to warm corn tortillas), and dip them in the bean mixture until the tortillas are coated on both sides.
Fill the tortillas with your desired toppings.  Then either roll or fold them up, place them in a large baking dish, then spoon any extra sauce on top.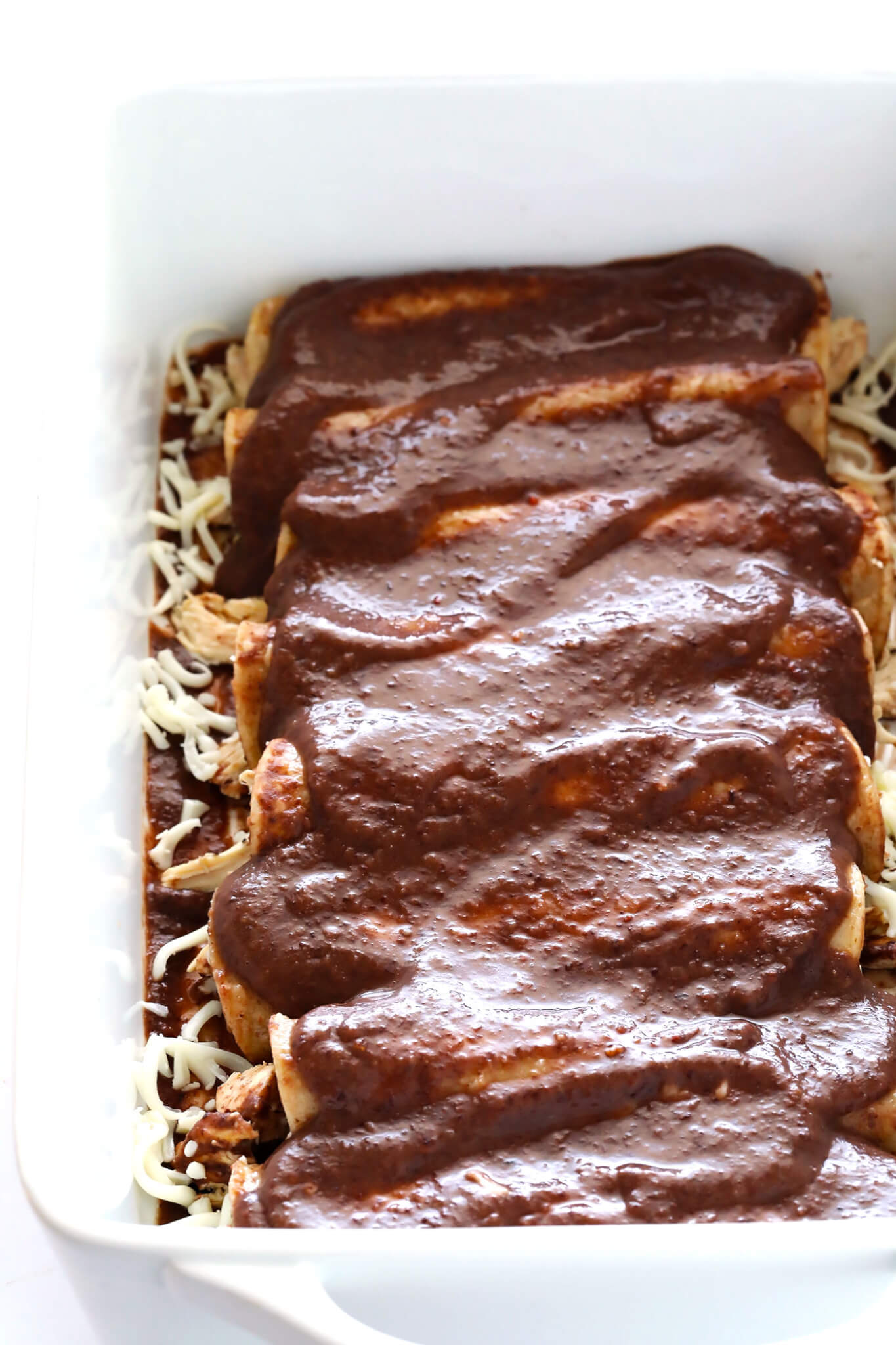 Bake for about 15 minutes…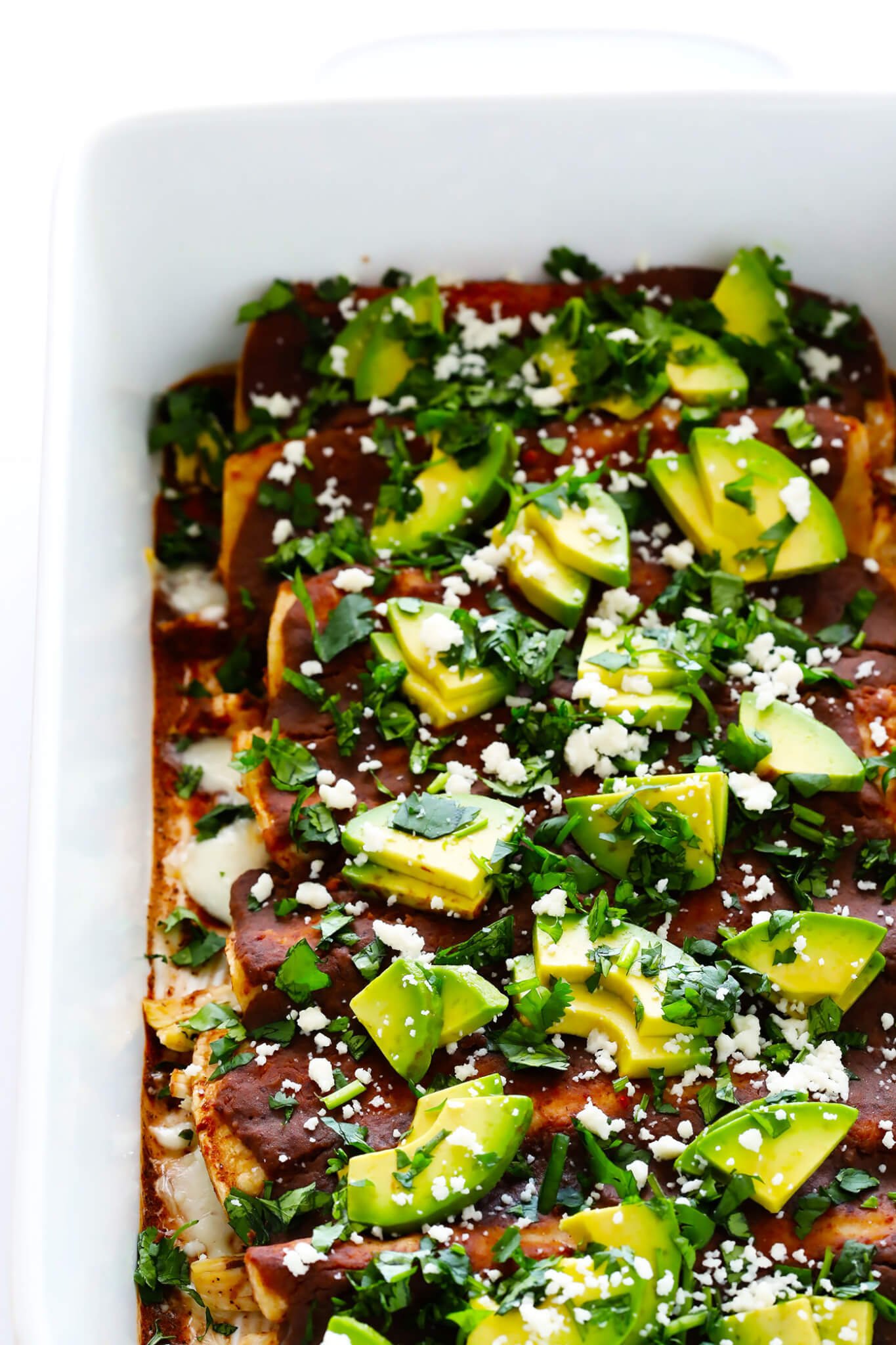 …then serve them up immediately, garnished with your favorite toppings!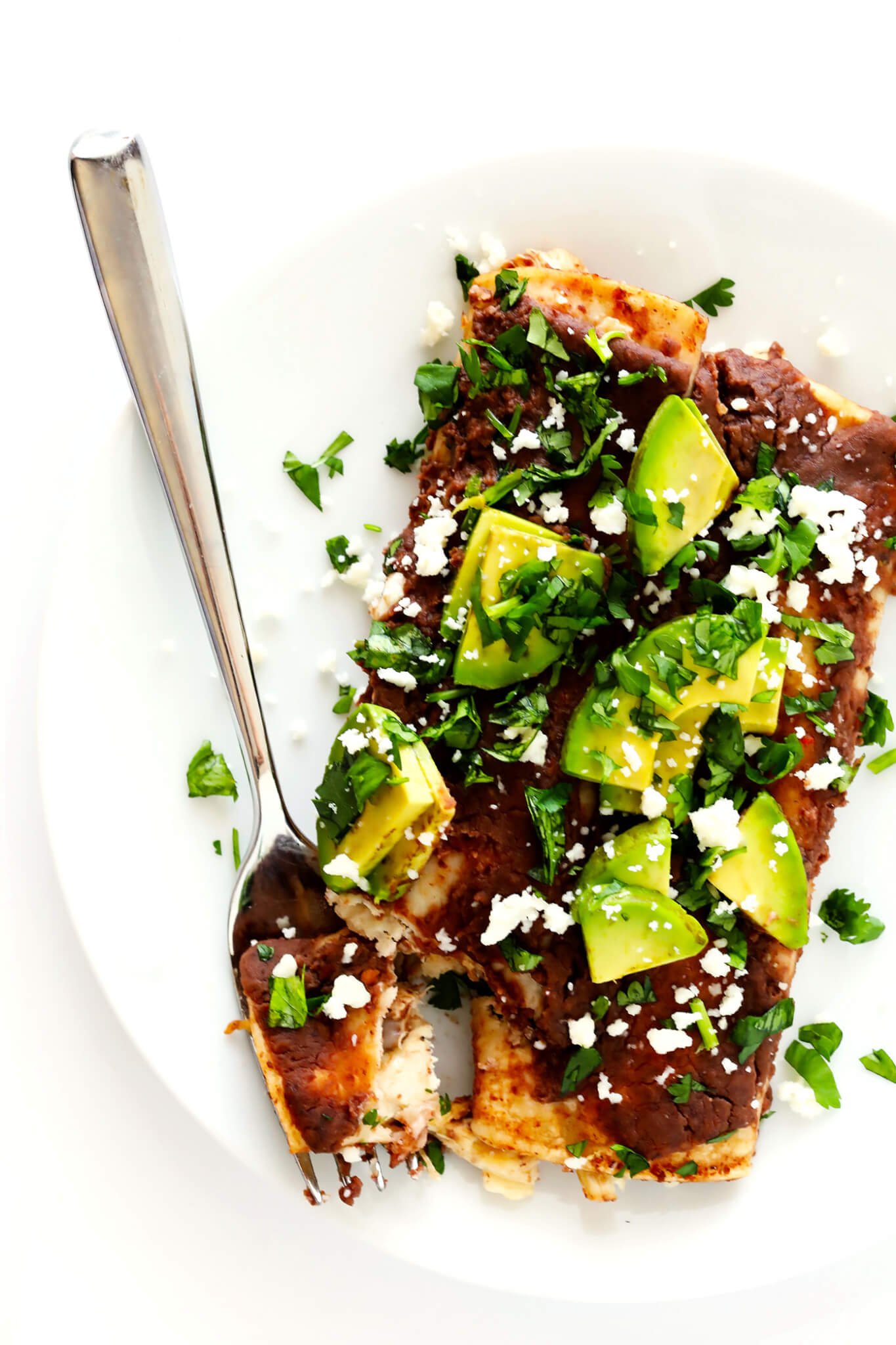 SO GOOD.  And perfect for breakfast, lunch, dinner, or anytime of day you're craving some good Mexican comfort food.
I mean seriously, enfrijoladas, I don't know where you've been all my life.  But I'm very glad we finally found each other.
Enjoy, everyone!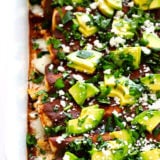 Enfrijoladas
This traditional Mexican enfrijoladas recipe is made with a chipotle black bean sauce, and can be stuffed with any of your desired fillings.
Ingredients:
Enfrijoladas Ingredients:
1 batch Chipotle Black Bean Sauce (see below)
corn or flour tortillas
your favorite fillings (ex: cooked diced chicken/steak/pork/shrimp, shredded cheese, roasted vegetables, etc.)
your favorite toppings (ex: diced avocado, chopped fresh cilantro, crumbled queso fresco, diced red onion, Mexican crema or sour cream, fresh lime wedges etc.)
fresh lime wedges
Black Bean Sauce Ingredients:
2 (15-ounce) cans black beans, rinsed and drained
4 cloves garlic, peeled
2 chipotles in adobo sauce, or more to taste
2 cups chicken or vegetable stock
1/2 cup diced white onion
1 1/2 teaspoons ground cumin
1/2 teaspoon oregano (I recommend Mexican oregano, if available)
1/2 teaspoon salt, or more to taste
Directions:
To Make The Enfrijoladas:
Heat oven to 350°F.
Spread 1/2 cup of the prepared black bean sauce evenly over the bottom of a 9 x 13-inch baking dish.  Pour the remainder of the black bean sauce in a large bowl.  Set aside.
If using corn tortillas, warm the tortillas either in the microwave, in the oven, or on the stove.  (Here are 3 ways to warm corn tortillas.  You can skip this step with flour tortillas.)  Then gently dip a single tortilla in the bowl of black bean sauce until the tortilla is completely coated on each side.  Transfer the tortilla to a plate, fill the tortilla with your desired fillings, then roll it up and place it seam-side-down in the baking dish.  Repeat with the remaining tortillas and filling.
Spoon a generous portion of the remaining black bean sauce on top of the rolled tortillas.  Bake (uncovered) for 15 minutes.
Serve immediately, garnished with your favorite toppings.  (And I recommend a few generous squeezes of fresh lime juice!)
To Make The Black Bean Sauce:
Combine all ingredients in a blender or food processor, and puree until smooth.  Taste, and season with extra salt if needed.  (Also feel free to add in an extra chipotle or a spoonful of extra adobo sauce if you would like a smokier black bean sauce.)
*This recipe makes a large batch of sauce!  Feel free to refrigerate any leftovers in a sealed container for up to 3 days to enjoy later.
All images and text ©
If you make this recipe, be sure to snap a photo and hashtag it #gimmesomeoven. I'd love to see what you cook!