Chicken and Stars Soup
Have you ever had that thing happen when you've been pushing 100mph to get through some big project, and once you reach the end, you finally get a chance to rest…and then totally get sick?!?
Yep, right here.
I'm actually on about day 7 of an annoying winter cold, which is probably justified due to the mildly insane work schedule I've had the past few months.  I definitely know how to push through just about anything, and have been known to do so at the cost of my health or sleep in some seasons.  (Not good.)  Usually I'm better at listening to my body and knowing when to stop.  But it has been an exceptionally busy season.  And sure enough, just like always, at the end of it my body caught up with me.  This week, it was almost like clockwork.  Big project ends, and literally by the end of the day, I had a sore throat, the extra Kleenex box came out, and I was in bed at 8pm.  It was like my body was saying, "alright, since you didn't give me time to deal with this cold before, it's my turn".   They have a way of reminding us we need a break, don't they?
Anyway, that said, I have spent most of the past week with cozy slippers on my feet, a box of Kleenex nearby, and my favorite hot tea in hand.  But after a few days of little appetite, I finally felt like some warm winter comfort food at the end of the week.  So as a throwback to childhood and my college years, I figured out how to make a homemade batch of the ultimate comfort soup that I probably made a few hundred times (literally) from the can — Chicken and Stars.
Yes, chicken and stars soup and I go way back.
We ate a lot of Campbell's chicken noodle soup as kids.  But one time when Mom brought home the stars as a special treat, I was instantly hooked.  I mean, why have noodles when you could have chicken and stars?!?  Especially on the days when I was home sick, I was convinced that there was something about eating tons of those tiny stars that always made my day a little brighter.
So chicken and stars became my "thing".  When I went to college, I would stock up on those cans at the grocery store and come home to make myself some "homemade" (it was a loose term back then) soup as a cheap dinner.  And you'd better believe that whenever I or any of my college friends got sick, I would have a steaming bowl of "stars" ready (just like in the commercial!) to make everything better.  You might just say it was mmm, mmm, good.

Well of course, fast forward a decade and my pantry is no longer filled with canned soups.  But I did recently discover that one of my favorite pasta brands makes a "stelline" pasta, which turns out to be Italian for — you guessed it — stars!!!
(Aren't they adorable?)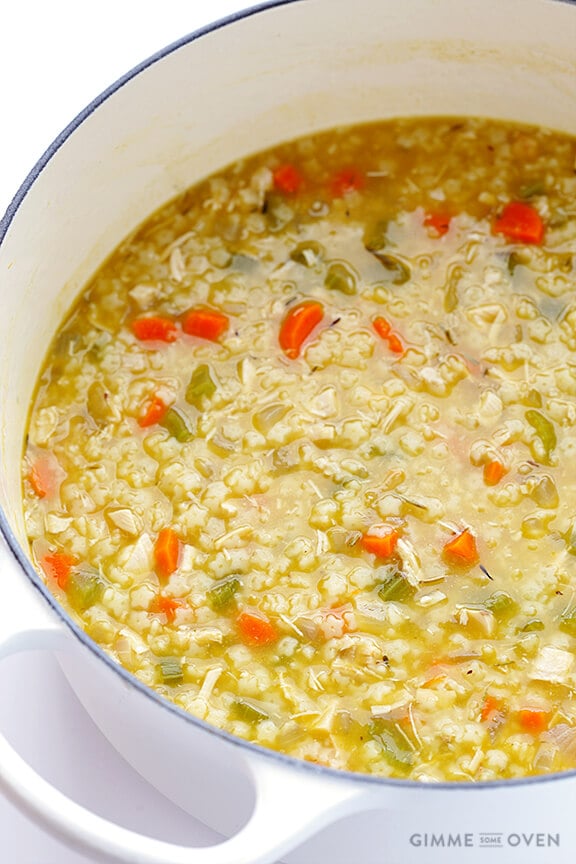 I had been waiting for a good sick day to use them.  So sure enough, when this cold finally caught up with me this week, I decided it was time.  And just like that — 10 years later — chicken and stars are back in my life.  And I couldn't be happier.  :)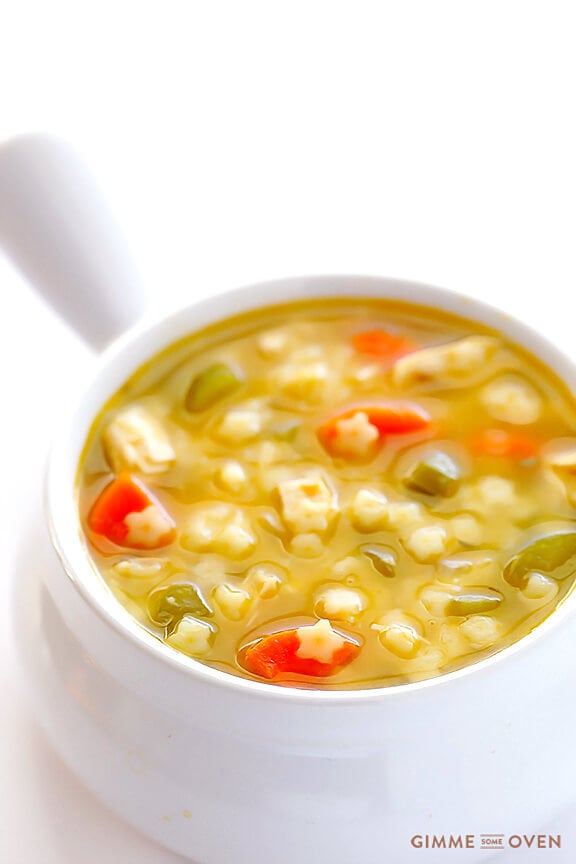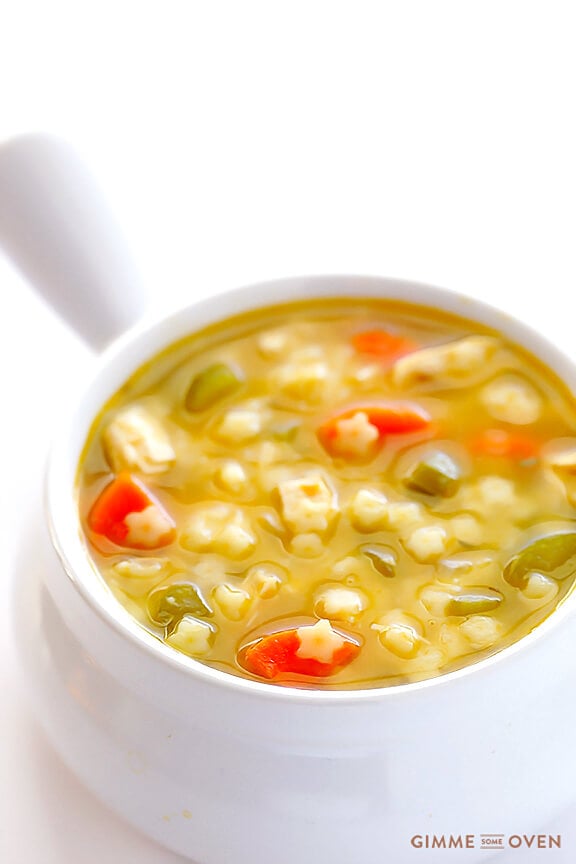 For anyone who has never had the good fortune of trying this rockstar of a soup before, it's basically a very simple chicken noodle soup, using the stelline pasta in place of traditional noodles.  I stayed true to the original and kept the recipe basic, with very finely chopped carrots, celery, onions and cooked chicken to look like the original.  Although mine included a little more chicken (those silly cans hardly had any), and I also used my favorite chicken stock and seasoned it with a few herbs.  And there it was definitely free of preservatives and any mysterious added ingredients.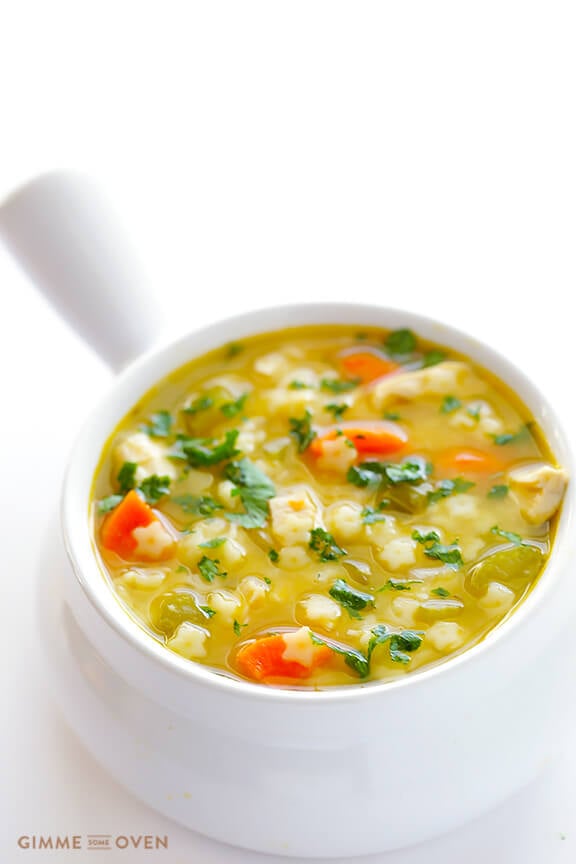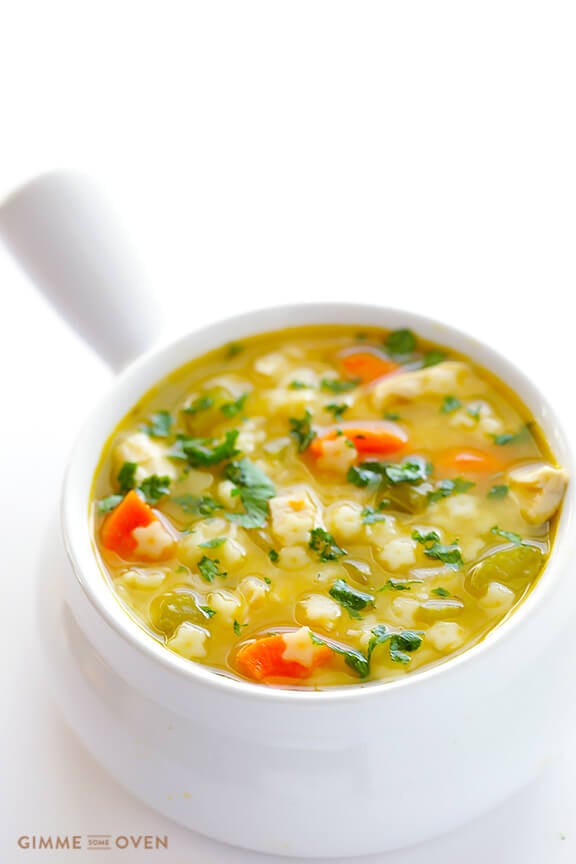 If you want to get fancy, you could add in even more extra herbs and toss some fresh parsley on top as a garnish.
But if you want to harken back to childhood, feel free to leave it simple so that the focus stays on the stars.  :)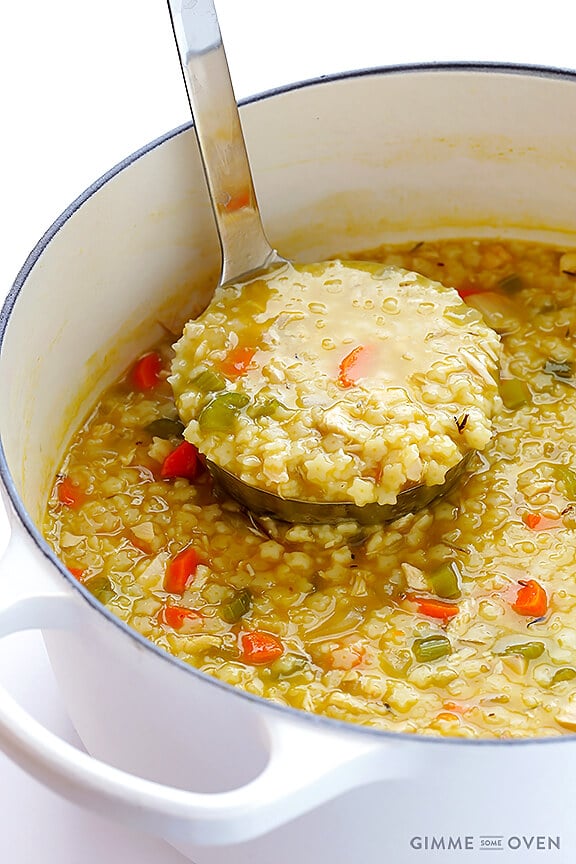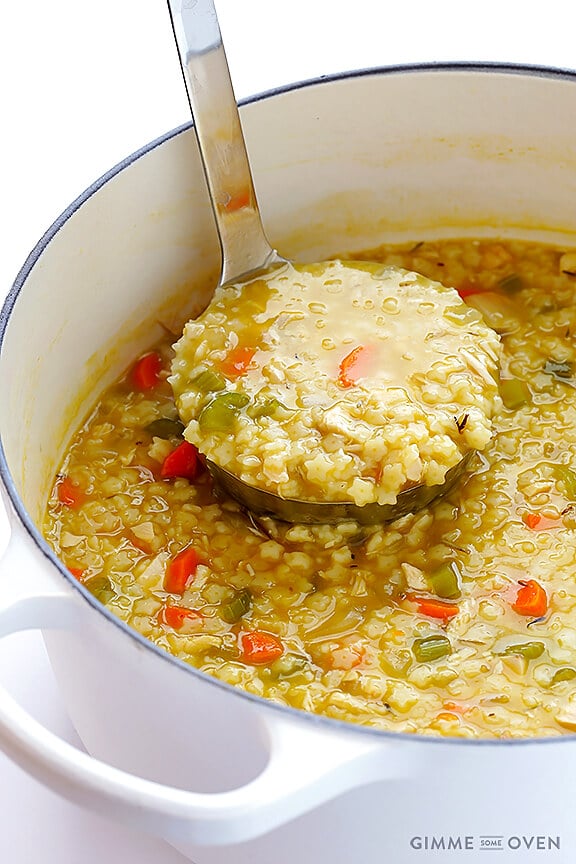 It's simple, easy, lighter, and delicious.  But more than anything, it's just pretty fun.  And I'm still convinced there's something magical in those stars that is guaranteed to make you feel better.  I definitely did after enjoying a steaming bowl.
So stars, I'm so glad to have you back in my life.
Chicken and Stars Soup
For anyone else who loved Chicken and Stars Soup as a kid like I did, here is the all-natural homemade version that tastes even better! Plus it's quick and easy to make, and so delicious.
Ingredients:
1 Tablespoon olive oil
1.5 cups diced white onion (about 1 medium onion)
1 cup diced carrots (about 2 medium carrots, peeled)
1 cup diced celery (about 2 stalks celery, stems removed)
1 clove garlic, minced
8 cups good-quality chicken stock (*you may need 1 or 2 cups more, see below)
2 cups chopped cooked chicken (*I chopped mine into pretty small pieces)
2 bay leaves
1/2 teaspoon dried rosemary
1/2 teaspoon salt (or more to taste)
1/2 teaspoon dried thyme
1/4 teaspoon freshly-ground black pepper
1 cup dried stelline (star-shaped pasta, I used DeLallo stelline)
optional garnish: chopped fresh parsley
Directions:
Heat oil in a large stockpot or Dutch oven over medium-high heat.  Add onion and saute for 5 minutes, stirring occasionally.  Add carrots, celery and garlic and saute for an additional 2 minutes, stirring occasionally.  Add chicken stock, chicken, bay leaves, rosemary, salt, thyme, and black pepper, and stir to combine.
Bring the mixture to a simmer, then reduce heat to medium and stir in the stelline.  Continue cooking the soup over a simmer until the stelline reach al dente and are soft yet still slightly chewy, stirring occasionally so that the pasta doesn't stick to the bottom of the pot.  Taste and season with additional salt and pepper or herbs, if needed.
Serve immediately, with optional garnish if desired.
*The longer this soup sits, the more the pasta will continue to soak up the broth.  So if you let it continue to sit and cook after the pasta reaches al dente, you may need to add in more chicken broth to thin the soup out, and add a little more salt, pepper and herbs accordingly.
All images and text ©
If you make this recipe, be sure to snap a photo and hashtag it #gimmesomeoven. I'd love to see what you cook!