Chicken Tortilla Soup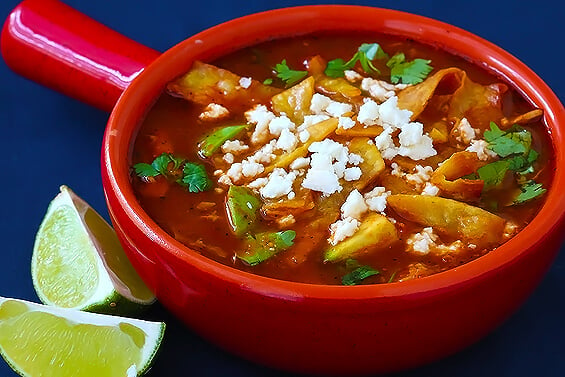 Oh my goodness — the last two weeks of life have been crazy! Between having to work 55-hour weeks while transitioning into a new job, putting in an offer on a new house, fighting through my first winter cold, and getting my first iPhone (whoo!), I have to admit that this foodie hasn't spent much time in the kitchen.  So thus…my absence from the blogosphere.
But I'm back today!   And have a yummy new recipe to share for one of my all-time favorite meals — chicken tortilla soup!  Two years ago when I began this blog, I posted a recipe for slow cooker chicken tortilla soup, which was one of my favorite 10-minute-prep recipes, made from mostly canned ingredients.  But I also make this soup often from fresher ingredients, and love experimenting with different broth flavors.  So thought I would share with you a delicious recipe I made this week.
Without a doubt, the key to this recipe is the toasted pasillo (also known as "ancho" or "negro") chiles.  Thankfully, these chiles are now available in pretty much any grocery store.  And have no fear — toasting these chiles is super simple and only takes a minute or two.  It's hard to describe the chiles' flavor, but trust me that their smoky, earthy goodness combines perfectly with the avocados, cilantro, fresh tortillas chips, and Mexican cheese.  I can't get enough of it.  :)
If by chance your grocery store doesn't carry pasillo chiles, you can always substitute in ancho chile powder or chipotle powder.  But I would recommend trying the new technique if you haven't before.  (And if you have a gas stove, it's even twice as much fun!)  Enjoy!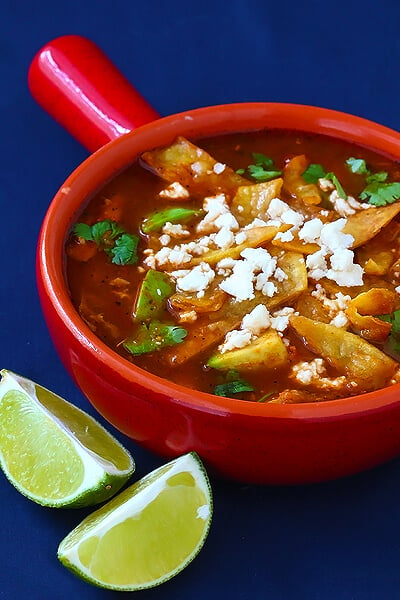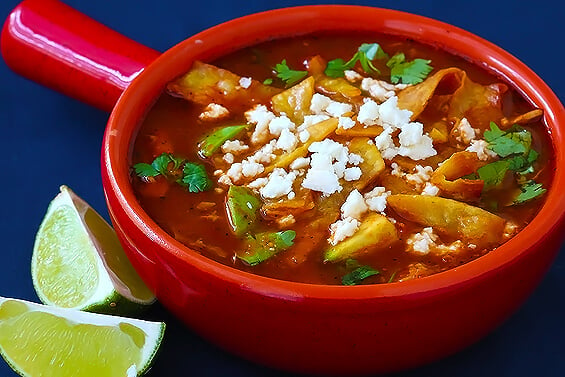 Chicken Tortilla Soup
Love Mexican? Then you are sure to fall in love with this delicious Chicken Tortilla Soup recipe slightly adapted from Rick Bayless.
Ingredients:
1-2 medium dried pasilla (negro) chiles, stemmed and seeded**
1 (15-ounce) can diced fire-roasted tomatoes in juice
2 Tbsp. olive oil
1 medium white onion, sliced 1/4-inch thick
5 garlic cloves, peeled
2 quarts good-quality chicken broth
1 large epazote sprig (optional)
4 (about 1 1/4 pounds total) boneless, skinless chicken breast halves, cut into 1/2-inch cubes
1 large ripe avocado, pitted, flesh scooped from the skin and cut into 1/4-inch cubes
1 1/2 cups (6 ounces) shredded Mexican melting cheese (like Chihuahua, quesadilla or asadero) or Monterrey Jack
4 cups roughly-broken tortilla chips
1/2 cup Mexican crema, sour cream or creme fraîche for garnish
1 large lime, cut into 6 wedges, for serving
1/2 cup fresh chopped cilantro, for serving
1/2 cup cotija cheese, for serving (optional)
Directions:
Quickly toast a chile by turning it an inch or two above an open flame for a few seconds until its aroma fills the kitchen. (Lacking an open flame, toast it in a dry pan over medium heat, pressing it flat for a few seconds, then flipping it over and pressing it again.) Repeat with second chile if desired. Break the chile into pieces and put in a blender jar along with the tomatoes with their juice. (A food processor will work, though it won't completely puree the chile.)
Heat the oil in a medium (4-quart) saucepan over medium-high. Add the onion and garlic and cook, stirring frequently, until golden, about 7 minutes. Scoop up the onion and garlic with a slotted spoon, pressing them against the side of the pan to leave behind as much oil as possible, and transfer to the blender. Process until smooth.
Return the pan to medium-high heat. When quite hot, add the puree and stir nearly constantly, until thickened to the consistency of tomato paste, about 6 minutes. Add the broth and epazote, if using. Reduce the heat to medium-low and simmer for 15 minutes. Taste and season with salt, usually about a generous teaspoon (depending on the saltiness of the broth).
Just before serving, add the chicken to the simmering broth. Divide the avocado, cheese and tortilla chips between serving bowls. When the chicken is done, usually about 5 minutes, ladle the soup into the bowls. Garnish with the crema, cilantro, and extra cotija cheese and tortilla chips if desired. Pass the lime separately.
**If you choose to substitute ancho chile powder for the actual chiles, add in about 1 tablespoon of ancho chile powder halfway through cooking the onion.
If you make this recipe, be sure to snap a photo and hashtag it #gimmesomeoven. I'd love to see what you cook!
Ali's Tip:
Feel free to substitute in shredded rotisserie chicken if you would like to save a step in this recipe!
Source:
Slightly adapted from Rick Bayless.