Chocolate Almond Muffins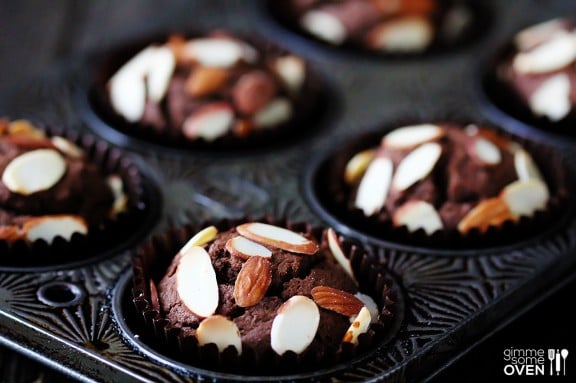 Chocolate two days in a row?!?  Well, yes, it's December.  'Tis the season for sweets.
And these are muffins.  So don't count as dessert.  ;)
Actually, I made these as an idea for "second breakfast" while we are celebrating Hobbit Week here at the Gimme Some blogs.  Ok, well this recipe may be a bit of a literal take on the term.  But for those of you who are familiar with Bilbo Baggins from The Hobbit, he and all of his other friends are arguably of the most beloved "foodies" in literature.  Hobbits LOVED to eat good food, and they loved to eat lots of it, and eat often.  :)  Hence the name, "second breakfast", because when is one breakfast really enough for a hobbit?
So if you are looking for a yummy recipe for your own first, or second, or even third breakfast (Bilbo would be proud), I highly recommend these Chocolate Almond Muffins!  You can whip them up in a snap, and they are wonderfully sweet and moist.  And when made with white whole wheat flour, they are even a little extra good for you.
Be sure to check out all of the other sites for more great posts on Hobbit Week!  Gimme Some Reads is sharing about the book, Tolkien-ese, SUPER-COOL pictures from her travels to Hobbiton (where the film was produced) in New Zealand, Gimme Some Film is giving great tips about which version (2D, RealD, 3D, Imax3D, HFR3D, etc.) of the film to see and info about the actors and director, Gimme Some Style has some cute Hobbit style ideas for you, and all 5 sites have more great giveaways going this week.
So cheers to second breakfasts, and The Hobbit film that opens this weekend!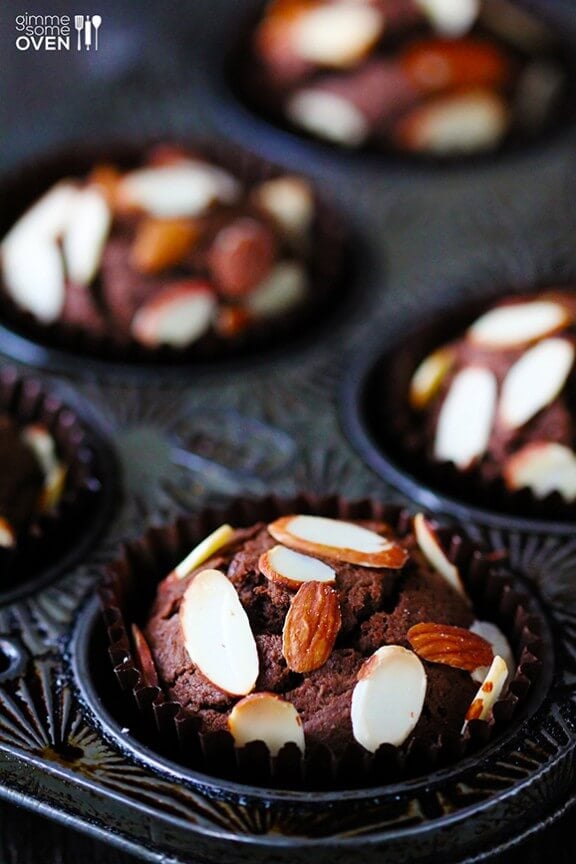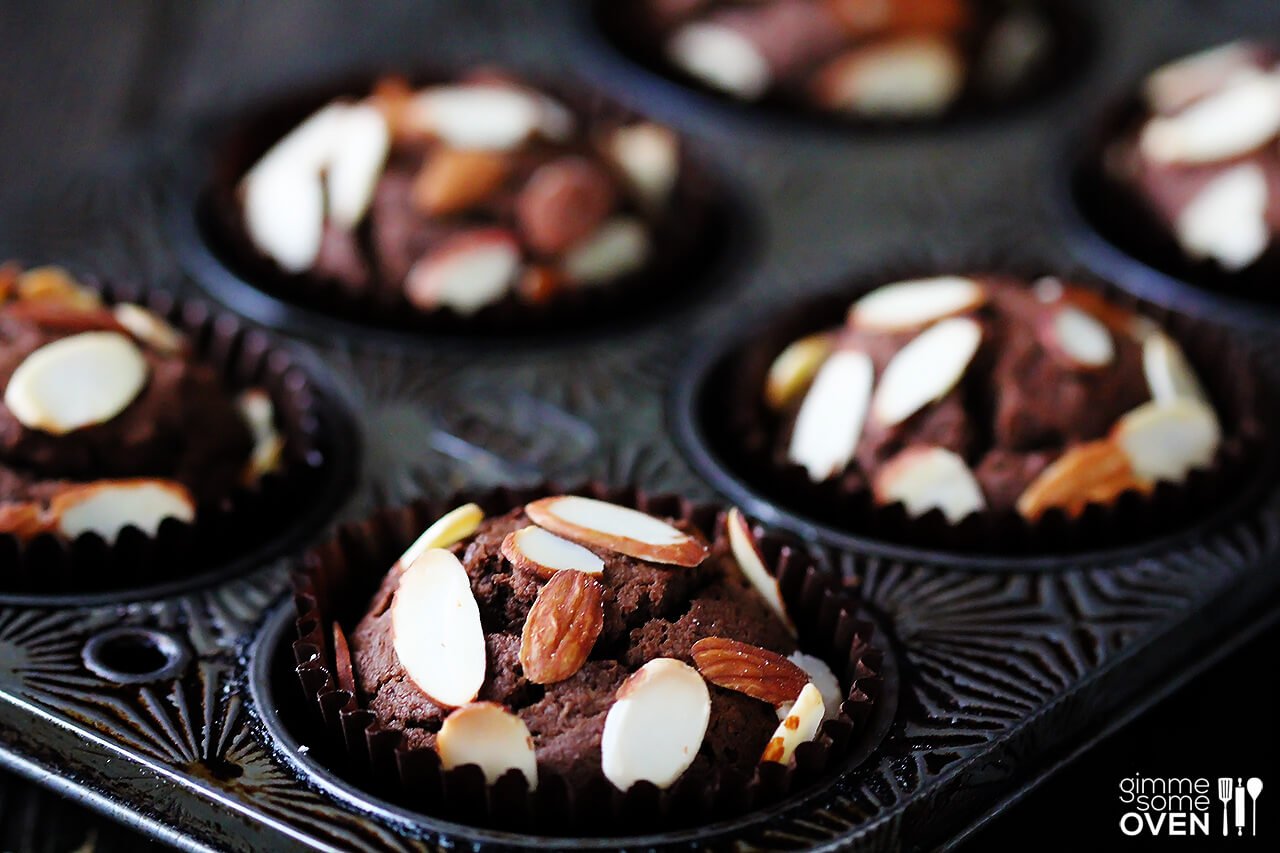 Chocolate Almond Muffins
A quick and simple recipe for delicious Chocolate Almond Muffins.
Ingredients:
1 1/2 cups all-purpose flour
1/2 cup unsweetened cocoa powder
1/2 cup granulated white sugar
1 1/2 tsp. baking powder
1/2 tsp. salt
3/4 cup milk
1/2 tsp. almond extract
1/3 cup vegetable or canola oil
1 large egg, beaten
2/3 cup sliced almonds, divided
Directions:
Preheat the oven to 400° F. Grease 12 muffin tins, or line with baking cups.
In a medium bowl, whisk together flour, cocoa powder, sugar, baking powder, salt and 1/3 cup slice almonds.
In a (separate) large bowl, whisk together the milk, almond extract, oil, and the egg. Add the dry ingredients and stir just until combined. Do not overstir.
Fill the muffin cups 2/3 full. Sprinkle the top of each muffin with a pinch of sliced almonds. Pat down lightly so that they stick to the batter.
Bake 18 – 22 minutes, or until a wooden pick inserted into the center comes out clean. Do not overbake.
Adapted from [Weelicious|http://weelicious.com/2012/03/06/chocolate-muffins/]
All images and text ©
If you make this recipe, be sure to snap a photo and hashtag it #gimmesomeoven. I'd love to see what you cook!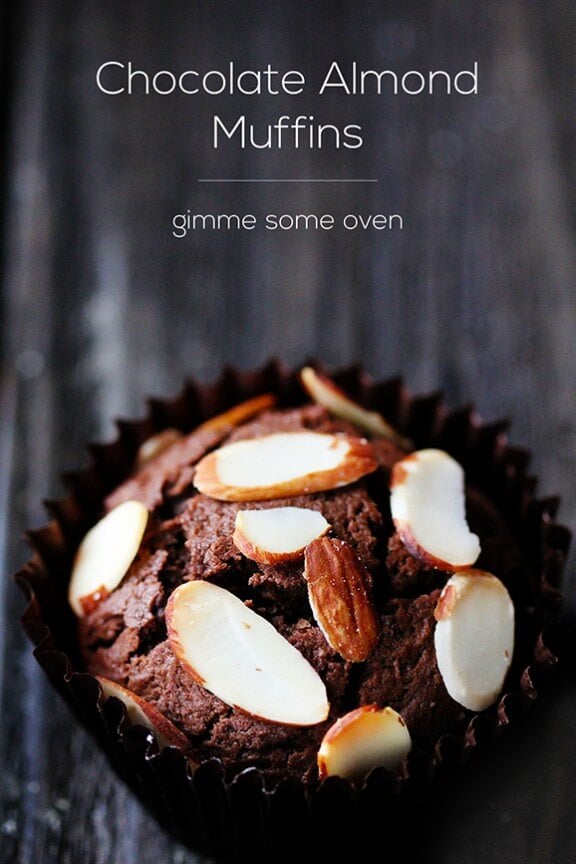 Disclaimer: This post contains affiliate links.