Chocolate Peanut Butter Green Smoothie
This post may contain affiliate links. Please read my disclosure policy.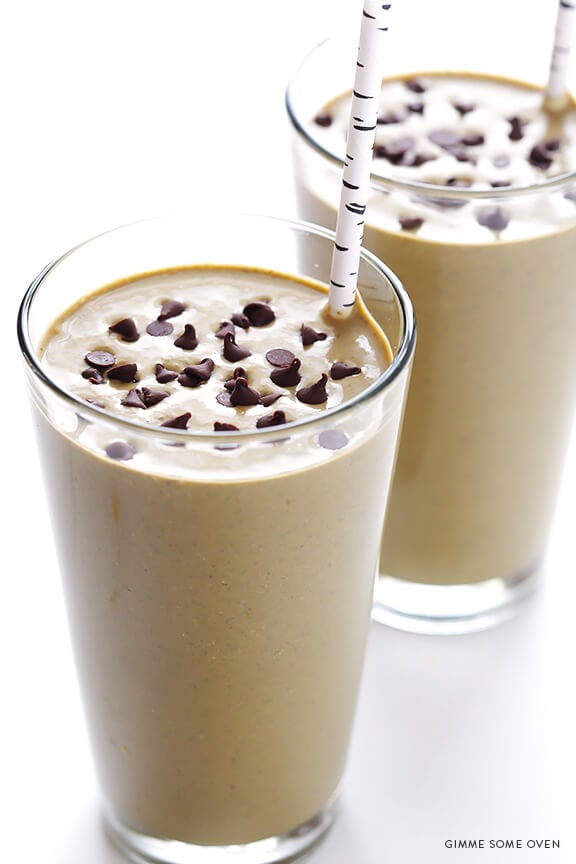 In my twenties, I always used to say that weddings came in waves.
For a year or so, I might have just one or two friends' weddings to attend. Then all of a sudden the next summer, there would be eight in a row.  (I should also note that these would be on top of the twenty or so weddings I attended each year working as a wedding singer, covering every awesome and horrible wedding song ever written. So. Many. Weddings.)
In my thirties, I have decided that babies also come in waves.
Right now, I have six good friends who are all pregnant, and another handful of friends with newborns at home. And while this stage of life thankfully doesn't require belting out awkward renditions of "Endless Love", it does involve lots of baby showers and gift-giving. Thankfully, my friends happen to be the coolest, and do awesome things like throw baby shower cocktail parties, and invite people to bring unwrapped gifts so that we don't have to do that awkward ooh-and-ahh thing for an hour as the baby wipe warmer is unwrapped, or host a shower where girlfriends show up in their yoga clothes for a laid-back afternoon of "ultimate comfort" together. So I actually look forward to attending the sixth baby shower of the season!
Still, I've been surprised to realize that one of the most valuable things I might be able to offer some friends — yes, perhaps even more than a baby wipe warmer — is a list of resources and recipes for cooking after the baby arrives. I actually had a long talk at book club this month with my friend and new mom, Natalie, who was sharing that one of her greatest struggles right now is trying to get any sort of fresh and healthy meals on the table. And once again, the lightbulb went off in my head. I may not be able to relate as a mom, or give any sort of parenting advice. But I do know a little something about cooking! :)
The wheels in my head instantly started churning and I began throwing out recipe idea after recipe idea that she might be able to try. And then after book club, I started thinking of more and more. And I began to realize that this weird little specialty of mine — quick and easy meals — might actually be one of the best gifts I could give my friends who are new moms!
So last week when I received a baby shower invite for another friend, I knew what I wanted to make her — a book of recipes that are perfect for life with a new baby. And the first recipe in that book? One of my favorite quick and easy (and surprisingly healthy) recipes that you can whip up for breakfast, lunch, snack time, or even dessert — this Peanut Butter Chocolate Green Smoothie.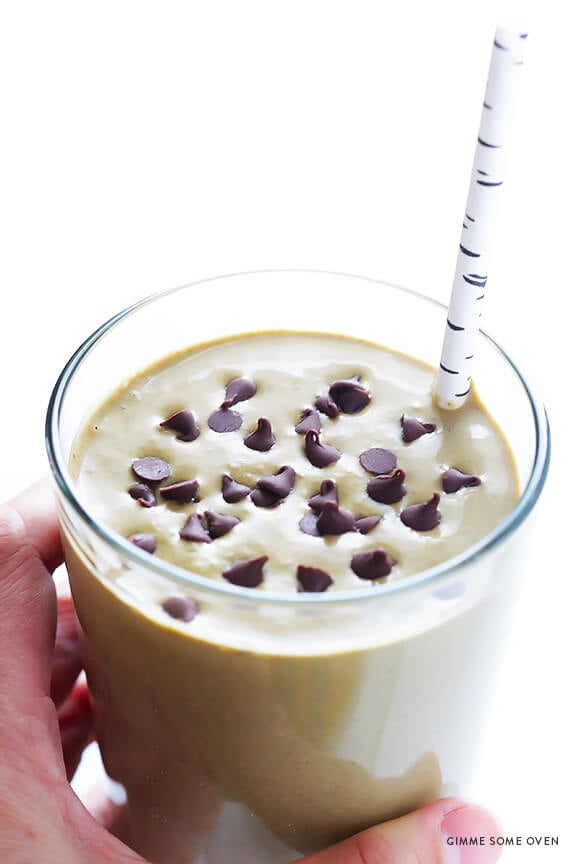 When it comes to quick and easy and fresh and healthy recipes, let's be real — it's hard to beat a green smoothie. Especially when peanut butter and chocolate are involved. This one also happens to be naturally sweetened with honey, and it's packed with protein to get my new mom friends through long days (and even longer nights). Or you know, to get someone like me through long days in Blogland. :)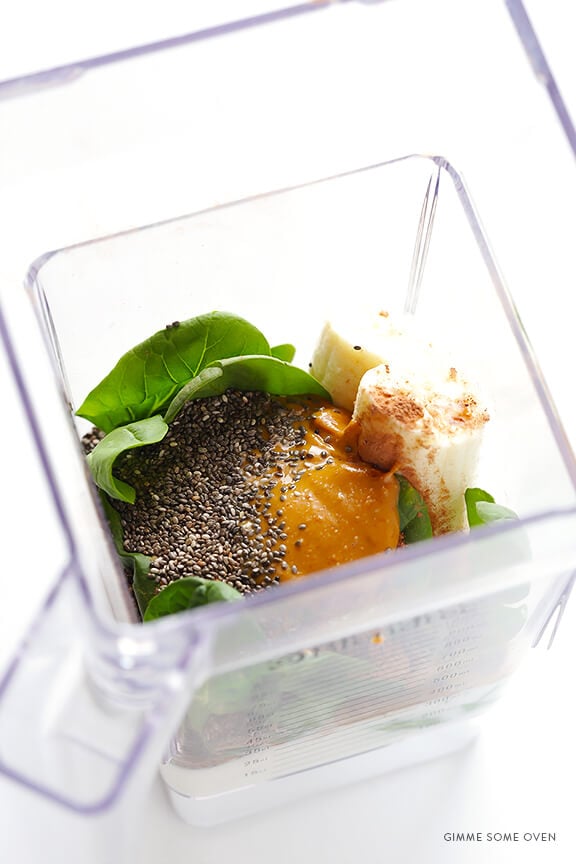 To make this smoothie, simply add all of your ingredients to a blender…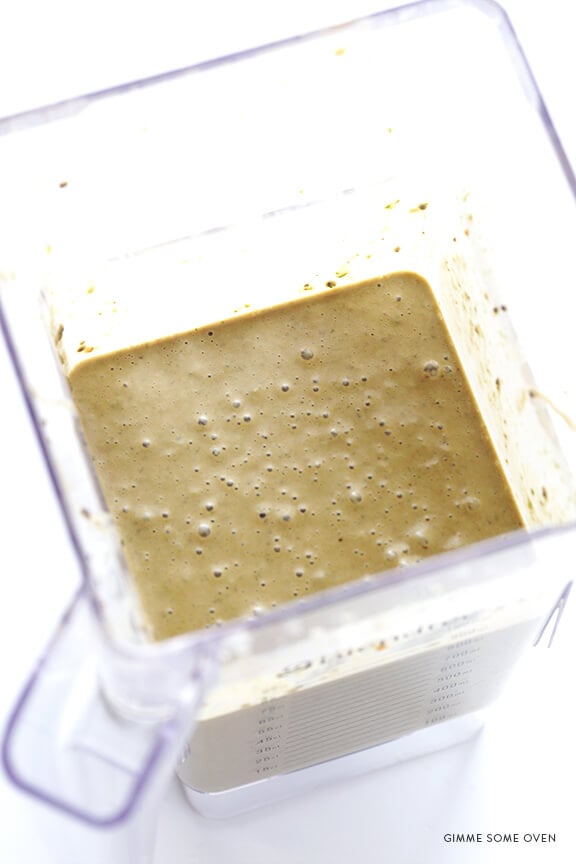 …blend it all up until the mixture is smooth….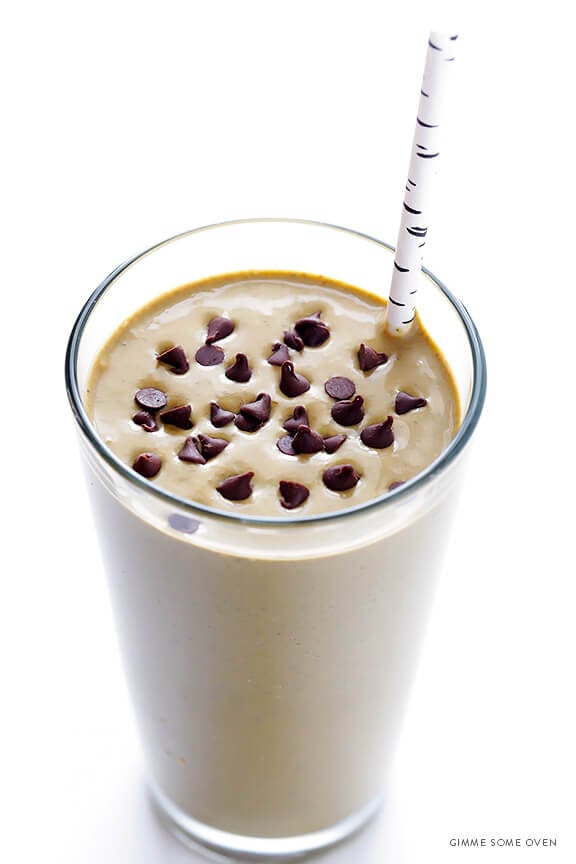 …and then if you're feeling like a treat, sprinkle a few extra chocolate chips or cacao nibs on top. Because…chocolate. :)
To get the recipe, hop over to Hallmark's new Think.Make.Share blog, where I'm sharing more about the story behind this smoothie, and creating a recipe gift book for my friend, and my inspiration behind all of this recipe gift-giving — my thoughtful mom. As many of you know, I used to do some food styling at the Hallmark headquarters in Kansas City, and think the world of the talented and thoughtful people I know who work there. They've taught me so much over the years about taking time to tell and show people how much they mean to you, and even popped over to Gimme Some Oven to share some tips last month on note-writing. So today we're swapping blogs and I'm sharing this recipe over on Think.Make.Share.
Here's the link for the Chocolate Peanut Butter Green Smoothie recipe. Hope you enjoy it! (Especially all of you new moms out there — big cheers to you!)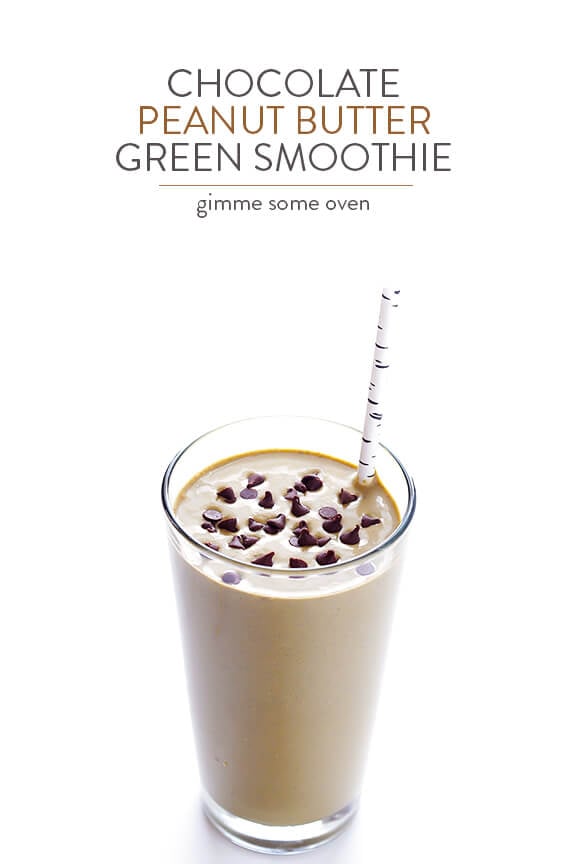 This post is in partnership with Hallmark Cards, but is not a sponsored post. I'm inspired daily by the cool things happening on the Think.Make.Share blog (and Instagram feed), and was happy to share a recipe and have them come over here to share some note-writing tips. Bloggers in Kansas City…unite! :)
Print

Chocolate Peanut Butter Green Smoothie