Chocolate Peanut Butter Sheet Cake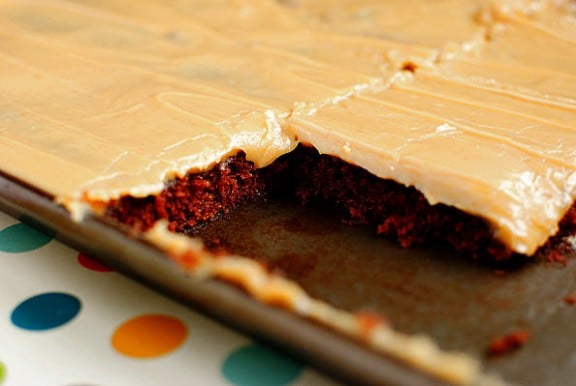 This week I am excited to have some blogging friends guest posting on the site while I am continuing my travels in Europe.  So who better than a fellow traveler who also has some of the best recipes I know??  Yep, I am thrilled to welcome Kristin from Iowa Girl Eats to the site!  Her beautiful blog has long been one of my favorites, filled with amazing recipes with step-by-step photos, gorgeous travel pics and beyond.  And what's more, Kristin could not be more fun and encouraging behind the scenes.  So be sure to stop by her site, and get ready for this deliciousness below!
Psst! Hey it's me, Kristin, from Iowa Girl Eats, where I share mostly healthy, in-season recipes with the occasional decadent dessert thrown in!
Guess what? It's decadent dessert time – whee! With only a few days left until the New Year, and our annual resolution to eat a little bit healthier and lighter, what say you we indulge one last time – on Chocolate Peanut Butter Sheet Cake, no less?
The recipe for Chocolate Peanut Butter Sheet Cake is my lovely Aunt Mary's, who comes from a long line of incredible Italian cooks. From homemade sausages and pasta, to intricate cookies and cake, I've never had a dish of hers that I didn't immediately request the recipe for after devouring every last drop.
Her ridiculously moist chocolate sheet cake slathered with luscious peanut butter icing when it's still warm from the oven tastes like a giant Reese's Peanut Butter Cup. Enjoy with a big glass of cold milk – while you still can!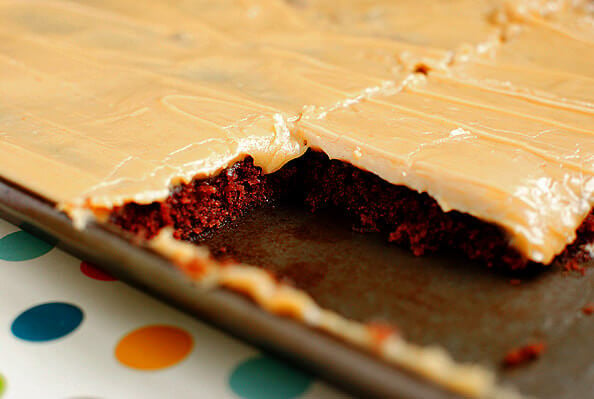 Chocolate Peanut Butter Sheet Cake
Chocolate Sheet Cake with Peanut Butter Icing is my Aunt Mary's recipe. So rich and decadent that it comes with a warning – make sure you've got some milk on hand!
Ingredients:
For the Chocolate Sheet Cake:
1 cup butter
1 cup water
1/4 cup cocoa powder
2 cups flour
2 cups sugar
1 teaspoon baking soda
1/2 teaspoon salt
1/2 cup sour cream
For the Peanut Butter Icing:
3 cups powdered sugar
1/3 cup + 2 Tablespoons milk
6 Tablespoons butter, melted
1 teaspoon vanilla
3/4 cup peanut butter
Directions:
For The Chocolate Sheet Cake:
Preheat oven to 350 degrees. Combine butter, water, and cocoa powder in a large saucepan then bring to a boil. Remove from heat then set aside to cool slightly.
Whisk together flour, sugar, baking soda, and salt in a large bowl then create a well in the center. Add cocoa mixture then whisk until smooth. Add sour cream then whisk until smooth.
Pour cake batter into a non-stick sprayed baking sheet (I used a 17×12) or jelly roll pan, then spread evenly. Bake for 15-18 minutes, or until a toothpick inserted into the center comes out clean.
For the Peanut Butter Icing:
Whisk together powdered sugar, milk, melted butter, and vanilla in a large bowl. Add peanut butter then whisk to combine. Microwave for 30 seconds then stir if too thick. Pour over warm cake then spread evenly. Allow to cool then slice and serve.
If you make this recipe, be sure to snap a photo and hashtag it #gimmesomeoven. I'd love to see what you cook!