Coke Float Push-Up Pops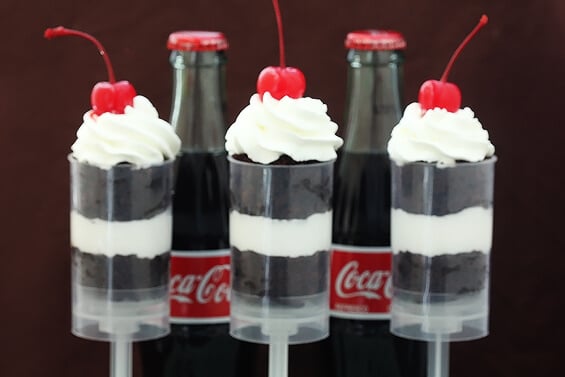 Ok, the crafty girl in me couldn't resist giving the new push-up pops phenomenon a try.
And surprise surprise — they are so much fun!!!!!
For a "Spring Into Summer" party with friends this week, I decided to try a "Coke Floats" theme — Coca-Cola chocolate cake, layered with homemade whipped cream, and of course, a cherry on top.  They were a hit!!!  Granted, the Coca-Cola cake recipe ended up being a surprising amount of work (not difficult, just a little time-consuming), but the cake was super delicious and made for some adorable little push-up pops!
To assemble them, I was a little perfectionistic and decided to go the route of baking up two shallow sheet cakes, and then using the push-pop dispenser to punch out the little circles to perfectly fill the containers.  But in the future, I think I may just use the little mini-cupcakes instead.  A little less work, and still just as cute.
I definitely see more push-up pops in my future this summer…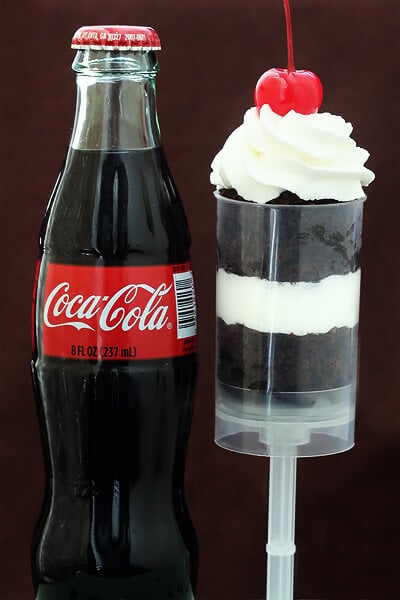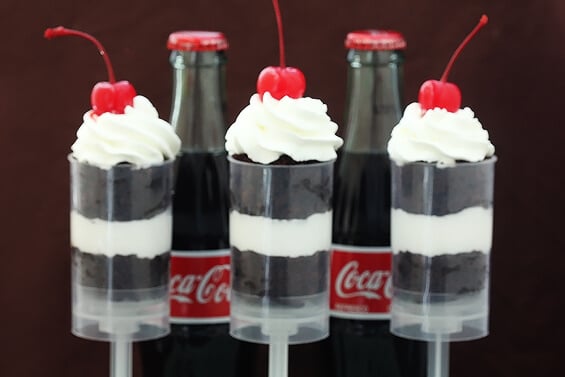 Coke Float Push-Up Pops
Coca-Cola chocolate cake, layered with homemade whipped cream, and of course, a cherry on top. You will love this adorable Coke Float Push-Up Pops recipe.
Ingredients:
2 cups Coca-cola (do not use diet!)
1 cup unsweetened cocoa powder
1/2 cup (1 stick) unsalted butter, cut into 1-inch pieces
1 1/4 cups granulated sugar
1/2 cup firmly-packed dark brown sugar
2 cups all-purpose flour
1 1/4 teaspoons baking soda
1 teaspoon salt
2 large eggs
homemade whipped cream
maraschino cherries (with stems)
Directions:
Preheat the oven to 325 degrees F. Generously spray the inside of two 9x13-inch baking dishes or a 24-mini-baking-cup pan with nonstick cooking spray.

In a small saucepan, heat the Coca-cola, cocoa powder, and butter over medium heat until the butter is melted. Add the sugars and whisk until dissolved. Remove from the heat and let cool to room temperature. In a large bowl, whisk the flour, baking soda, and salt together.

In a small bowl, whisk the eggs until just beaten, then whisk them into the cooled cocoa mixture until combined. Gently fold the flour mixture into the cocoa mixture. The batter will be slightly lumpy–do not overbeat, as it could cause the cake to be tough.

If using cupcake tins, pour the batter into the tins until they are each about 2/3 full, and bake for about 10-12 minutes, until a toothpick inserted into the cupcakes comes out clean. Transfer the cupcakes to a wire rack to cool completely.

If using the 9x13-inch baking dishes, pour 3 cups of batter into each dish and gently shake so that the batter is even. Cook for 15-20 minutes, or until a toothpick inserted into the cakes comes out clean. Transfer to a wire rack to cool completely. Then once the cake has cooled, use an empty push-up pop as a cookie cutter to punch out 24 cake circles. Set them aside on a piece of waxed paper for assembly.

To assemble the push-up pops, gently press a mini-cupcake or a cake circle into the bottom of a push-up pop. Then add in a swirl of whipped cream and a de-stemmed maraschino cherry. Then add another layer of cake, whipped cream, and then top with a (stemmed) maraschino cherry. Serve immediately or refrigerate.

Ali's Tip:

If you don't own the official push-up pop acrylic stand, you can use a piece of foam as a display holder for the push-up pops.  (You can find that in craft aisles, or also in the faux floral aisles!)

Also, I purchased my push-up pop containers at Shop Sweet Lulu.

Source:

Coca-Cola Cake recipe very slightly adapted from A Cozy Kitchen.

If you make this recipe, be sure to snap a photo and hashtag it #gimmesomeoven. I'd love to see what you cook!
Leave a Comment:
Comments
Trackbacks/Pingbacks