Colorful Cabbage Salad
This post may contain affiliate links. Please read my disclosure policy.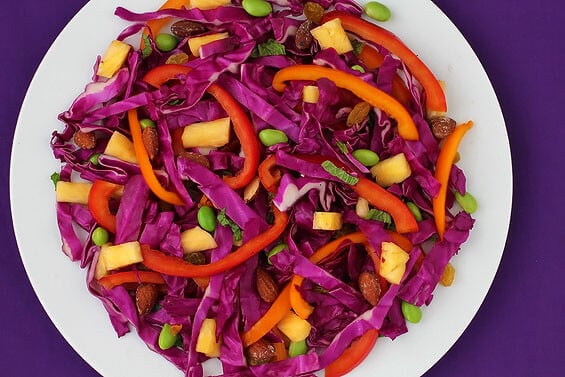 As evidenced by the years of food photography on my blog, I think it's safe to say that I'm a pretty big fan of color! Actually, I love color in all aspects of life — in my decorating, in gardening, in my cubicle (yes, I'm the only one at work who covered my gray cubicle walls in bright green fabric!), and of course, in my cooking. :)
But of course in cooking, color also usually translates to extra nutrients! So when I saw this recipe for "Purple Cabbage Salad with Edamame, Golden Raisins, & Smoked Almonds" in a recent issue of Vegetarian Times, I knew it was calling my name. Sure enough, all of those delicious fresh veggies, plus the sweet fresh pineapple and crunchy smoked almonds (my favorite!) balanced each other perfectly. And I loved the simple, fresh honey-lime sauce on top. Definitely a wonderfully delicious and light (no cooking oils needed!) salad recipe that tastes as good as it looks! :)
So if you need an extra dose of color in your life, I totally recommend giving this one a try!
Colorful Cabbage Salad Recipe
(Adapted from Vegetarian Times)
Ingredients:
1 1/2 cups frozen shelled edamame
2 cups red cabbage, thinly sliced and roughly chopped
1/2 red bell pepper, cored and diced
1/2 orange bell pepper, cored and diced
1 cup fresh pineapple, diced
1/2 cup golden raisins
1/4 cup smoked almonds, roughly chopped
1/4 cup fresh mint, thinly sliced
2 Tbsp. fresh lime juice (about one juicy lime)
2 Tbsp. honey or agave nectar
1/4 tsp. chile-garlic sauce (optional)
Method:
Boil or steam edamame for about 10 minutes until cooked through. Drain and run under cold water to cool.
In the meantime, whisk together the honey, lime, and chili-garlic sauce until well-blended.
Prepare vegetables, and then mix together in a large bowl (adding in the edamame), and toss with the lime sauce. Add salt and pepper to taste.
Ali's Tip:
Feel free to experiment with other dressings and/or herbs in this one. I loved the burst of fresh mint, but imagine a cilantro twist would be excellent with this too!