Coq Au Vin
Learn how to make traditional Coq Au Vin (chicken in red wine) with this delicious French recipe.  It's surprisingly easy to make, and slow-simmered in the most heavenly, rich, and flavorful red wine sauce.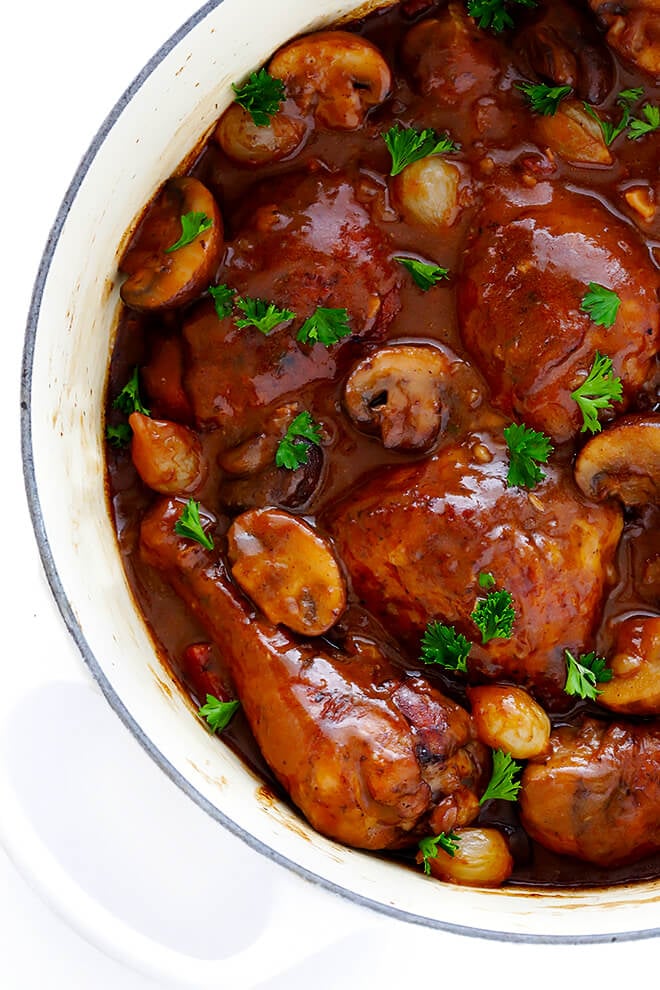 I feel like I'm having my own little "Julie and Julia" moment with today's post.  ♥
Well, I mean, I didn't bone a duck…or cook a live lobster…or make Bouef Bourginon (although that's next on my list to master).  But I did finally learn how to make traditional Coq Au Vin.  And guys, I don't know why I've been so intimidated by classic French cooking for so many years.  It was totally easy!  And totally delicious. And, it was totally inspired by the one and only…
…Julia Child.
Oui.  I'm afraid I have to admit that, up until this summer, I was totally "that millennial" who missed the boat with Julia Child.  I'm just young enough that I had never really grown up with her shows, I'd never really read her cookbooks, and I mayyyyy have had images of Meryl Streep (or Dan Aykroyd) come to mind anytime I heard her name.  But I knew that she was a cooking legend, and I knew that she loved living in France.  So this past summer, I decided to tuck her memoir into my suitcase on my own trip to France.  (And then may have made Barclay watch "Julie and Julia" with me on my iPad on the plane ride over, you know, just to get in the spirit.)  And then he will be the first to tell you that once I started the book, I absolutely could not put it down.
You guys, how did I never know that Julia was so freaking cool?!?
And brilliant?  And hilarious?  And brave?  And adventurous?  And progressive?  And such a kindred spirit with a love for getting to know new people, and new cultures, and new ideas, and new places, and — of course — new foods?!  Not to mention, someone who openly shared with others about how much she adored her sweet husband, and worked diligently with him over the years to care for their relationship?  And more than anything, someone who truly seemed to just live life to the absolute fullest, exploring and learning and celebrating just about everywhere she went?
Oh my goodness, I was completely captivated and inspired by her.  And reading all about her adventures in France while Barclay and I were having our own adventures in France couldn't have been more perfect.  And of course, reading page after page of her mouth-watering adventures in French cooking made me all the more excited to try so many of her favorite French dishes for myself.  And one night at dinner on our Viking River Cruise, I finally got an authentic taste of one of Julia's favorite dishes that I had always wanted to try:
Coq Au Vin.

For those who've never heard of this dish (such as my friends last night who said, "whaaa?" when I mentioned this post today), Coq Au Vin is a traditional French dish that literally means "chicken in wine".
I've known of the dish for years and years, and had remembered it being mentioned in "Julia and Julia", and then read all about it in Julia Child's memoir.  But for some reason, I had always assumed it probably included some crazy-difficult French cooking techniques that weren't worth the effort.
Not so…at all!  :)
As it turns out, classic Coq Au Vin is actually surprisingly easy to make!
And it is unbelievably rich and delicious (and totally worth the effort).  ;)  The only "difficult" part of the recipe might be finding the time to make it, since it took me nearly 2 hours from start to finish.  But hey, just find a weekend evening where you have a little extra time, turn on some music, pour some of the leftover wine into a glass, and get ready to enjoy the most amazing slow-simmered chicken in red wine sauce.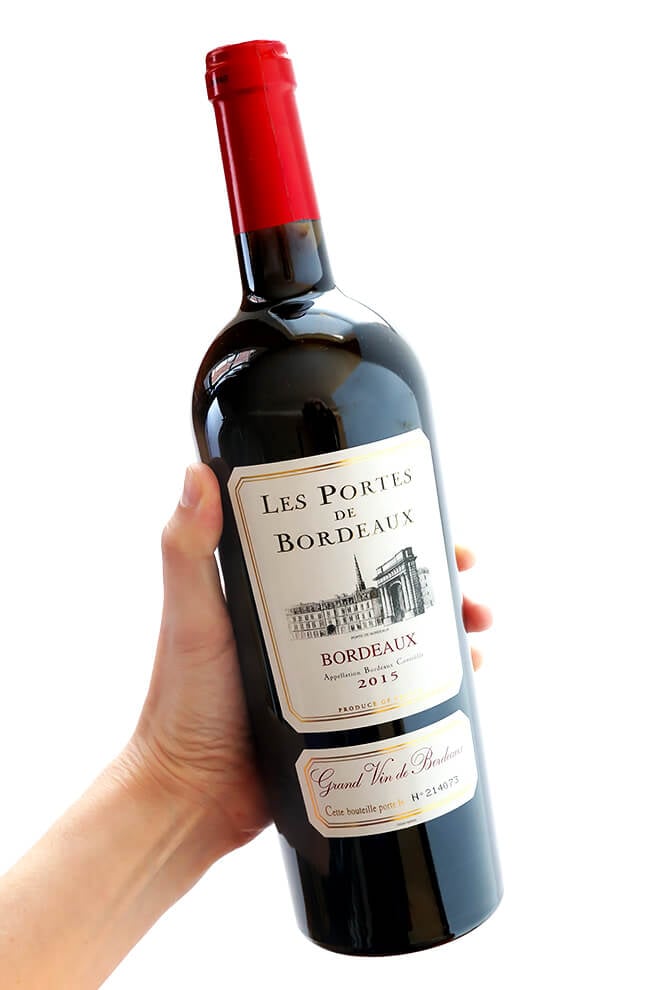 One of the starring ingredients in this recipe is, of course, the red wine.  Traditionally, Coq Au Vin is made with a lighter French wine, such as a Bordeaux or Côtes du Rhône.  But I tested this recipe a few times and loved mine with a bolder Cabernet.  So I say just go with whatever wine sounds good to you.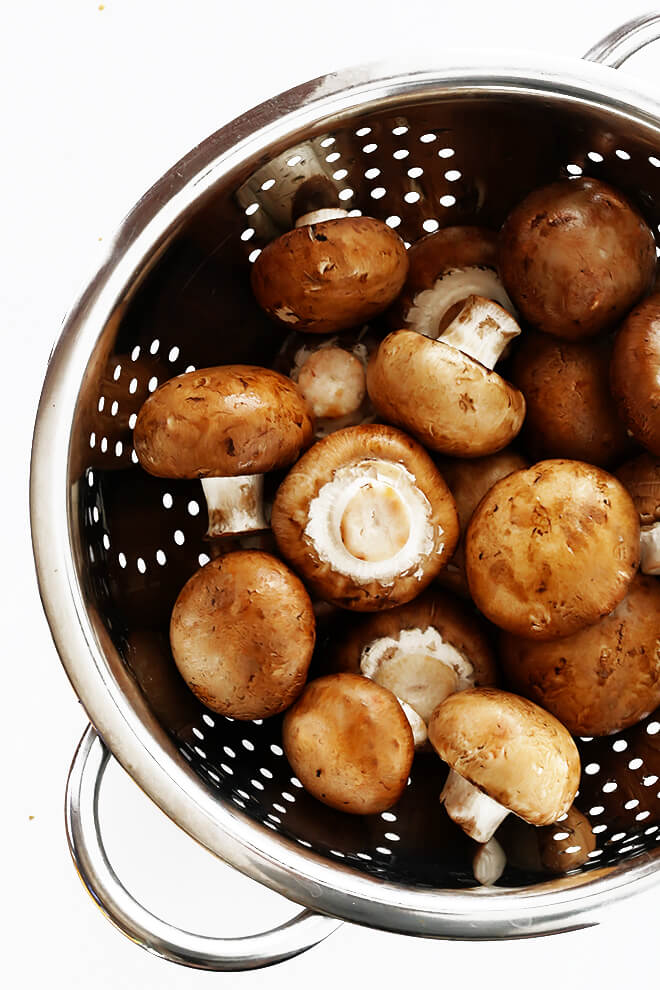 Then, the other key to this recipe (I would say) is getting all of your ingredients prepped in advance.  Usually I'm the sort of multi-tasker who loves to chop as I cook, but this recipe goes pretty quickly once everything starts cooking, so I recommend taking the time to get everything ready to go beforehand.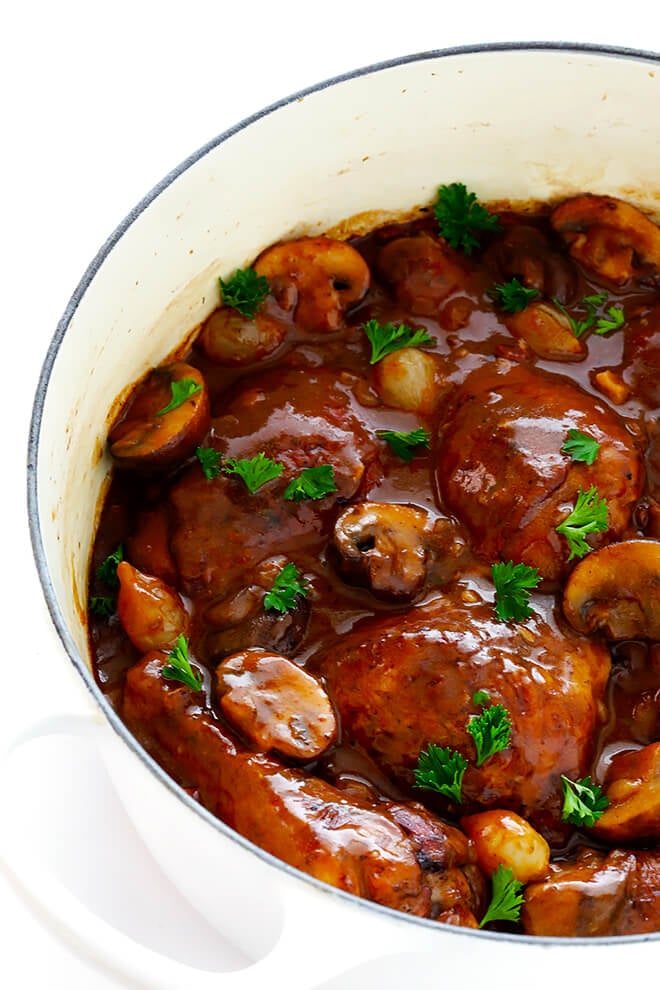 Then just follow all of the steps below — marinating your chicken, frying up some bacon, browning your chicken, sauteeing your veggies, mixing the sauce, and then letting everything slow simmer in the pot for an hour or so until your chicken is fall-off-the-bone-tender.  
And then — voila! — this classic dish will be yours to enjoy.
So if you've ever been curious about Coq Au Vin, or French cooking in general, I totally recommend giving it a try.  Oh, and if you're looking for a good read this winter, I also wholeheartedly recommend giving Julia's memoir a read.  She's the best. ♥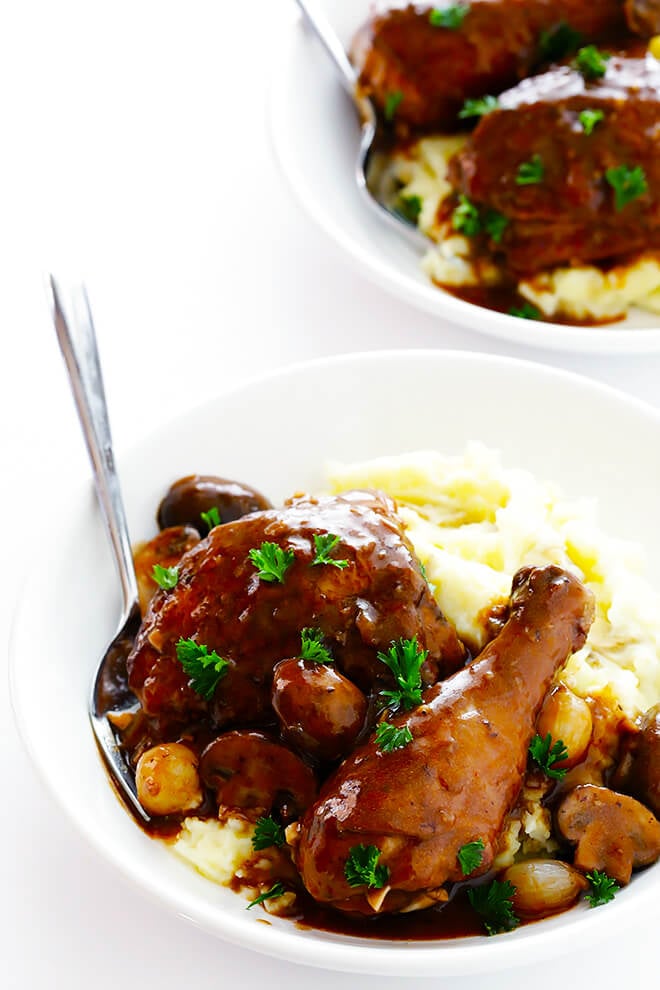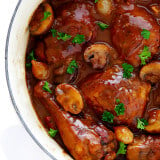 Coq Au Vin
This classic Coq Au Vin recipe is surprisingly easy to make, and slow simmered in the most delicious French red wine sauce.
Ingredients:
3 pounds chicken pieces, skin-on and bone-in (I used 4 thighs and 4 legs)
2.5 cups dry red wine (see suggestions below)
1 cup beef or chicken stock
8 ounces thick-cut bacon, diced
Kosher salt and freshly-cracked black pepper
1 large shallot, peeled and finely-diced (or 1/2 cup finely-diced white onion)
1 cup frozen pearl onions, thawed
3/4 pound baby bella mushrooms, halved
6 garlic cloves, peeled and minced
1/3 cup all-purpose flour
1 tablespoon tomato paste
1/4 cup Cognac or brandy
4 fresh thyme sprigs
2 bay leaves
chopped curly-leaf parsley, for garnish
optional: mashed potatoes or cooked egg noodles, for serving
Directions:
Place chicken in a large bowl or ziplock bag.  Add wine and beef (or chicken) stock, and gently toss to combine.  Cover/seal and refrigerate for anywhere from 1 to 8 hours.
When you're ready to cook the coq au vin, fry the bacon over medium-high heat in a large Dutch oven (or any heavy-bottomed stock pot or deep saute pan) until crispy.  Transfer the bacon with a slotted spoon to a separate plate, and set aside.  There should be about 3 tablespoons of bacon grease remaining.  (If not, add in some extra olive oil to make up the difference.)
While the bacon is cooking, remove the chicken from the wine and pat dry, being sure to reserve the wine.  (We'll use it later!)  Season the chicken on both sides with salt and pepper.  Then, once the bacon has been removed from the pan, add half of the chicken to the remaining bacon grease, and saute the chicken for 2-3 minutes per side until browned.  Transfer the cooked chicken to a separate plate, and repeat with the second half of the uncooked chicken.  Once the second batch has been cooked, transfer it to a separate plate, and set aside.
Add the shallot to the remaining bacon grease, and saute for 3 minutes until mostly cooked through, stirring occasionally.  Add in the pearl onions, mushrooms, and garlic, and saute for 4-5 more minutes, stirring occasionally, until the mushrooms are browned.
Stir in the flour and tomato paste until completely combined, and cook for 1 minute, stirring occasionally.  Slowly add in the Cognac (or brandy), and stir for 1 minute.  Add in the reserved red wine, thyme sprigs and bay leaves, and stir to combine.
Add the cooked bacon and chicken back to the pot.  Continue cooking until the mixture reaches a simmer.  Then reduce heat to low, cover, and cook for 60-80 minutes, until the chicken is tender and cooked through.
Remove and discard the bay leaves and thyme sprigs.  Season with salt and pepper, to taste.
Serve immediately over mashed potatoes or noodles, garnished with chopped parsley if desired.
Traditionally, coq au vin is made with lighter red wines, like a Bordeaux, Pinot Noir, Côtes du Rhône, etc.  But I've found that I prefer it with a more full-bodied red wine, such as Cabernet Sauvignon.
The cooking time listed above does not include the amount of time needed for the chicken to marinate in the red wine, which can vary anywhere from 1 to 8 hours.
All images and text ©
If you make this recipe, be sure to snap a photo and hashtag it #gimmesomeoven. I'd love to see what you cook!