Creamy Cauliflower Soup
Ok, I'm about seventeen years late to the party.  But guys, I just started watching Gilmore Girls, and I think I finally understand why everyone is freaking out about the new episodes that are about to be released.
It is such a delightful show!!!
I seriously don't know how I missed out on it in my college years.  Seems like it would have fit right into our dorm rooms that were playing back-to-back Friends and Dawson's Creek and TLC shows 24/7.  (Actually, TLC dominated my college campus.  In between classes, I watched a ridiculous number of babies being born and weddings taking place on all of the "Story" shows, plus probably every episode of Trading Spaces that ever aired.  Like, whoa.  ?)  Somehow in there, though, we clearly missed getting to hang with Lorelai and Rory.  But hey, seventeen years later, turns out they are still totally delightful company, especially while I'm testing recipes all day in the kitchen.  And rumor has it that some of my favorite characters from other shows (ahem, Cary from The Good Wife and the one-and-only Don Draper) make appearances on this one too, so it sounds like there's plenty to look forward to.
Are any of you serious Gilmore Girls fans?  On a scale of 1-10, how excited would you say you are about the new season?  ?
Well, if you happen to be settling in for another GG this season and are looking for a good bowl of comfort food to cozy up with while you watch, this Creamy Cauliflower Soup is one that you can enjoy and feel good about eating.  It uses an entire head of cauliflower, it's ultra-creamy (although made without heavy cream), and even if you don't happen to be a huge cauliflower fan (like, ahem, Yours Truly), it's still totally delicious.  So join the cauliflower party, and let's make some!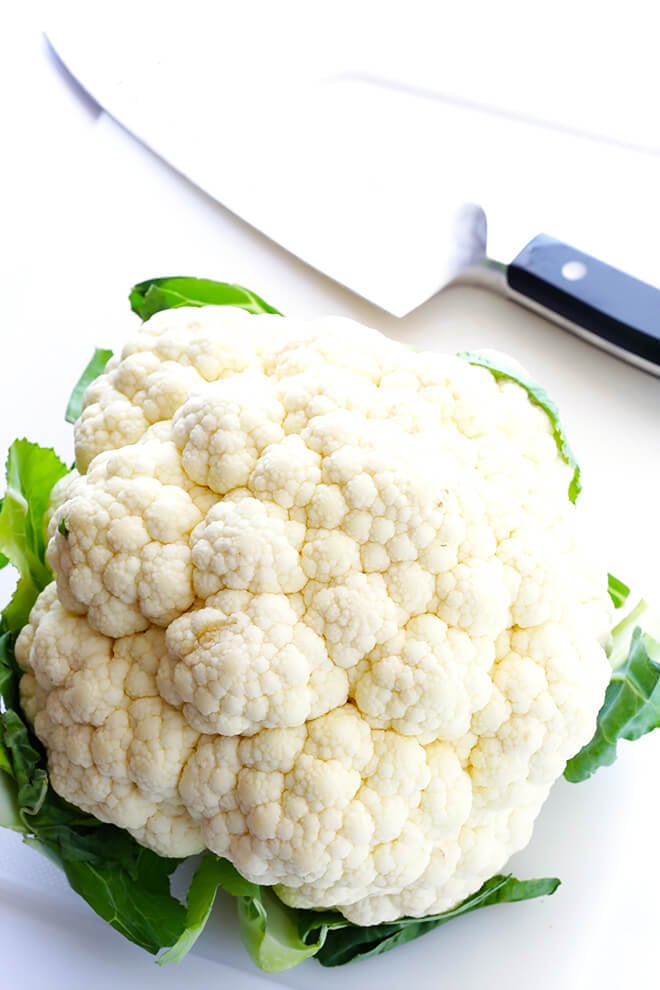 Yes, as I mentioned, the rockstar of this recipe is a big ol' head of fresh cauliflower.  And get ready, because we're going to use all of it (well, except the leaves).  The florets and the stem are both going to be slow-simmered in this soup until they are nice and tender and delicious, and ready to be pureed with the rest of this garlicky broth.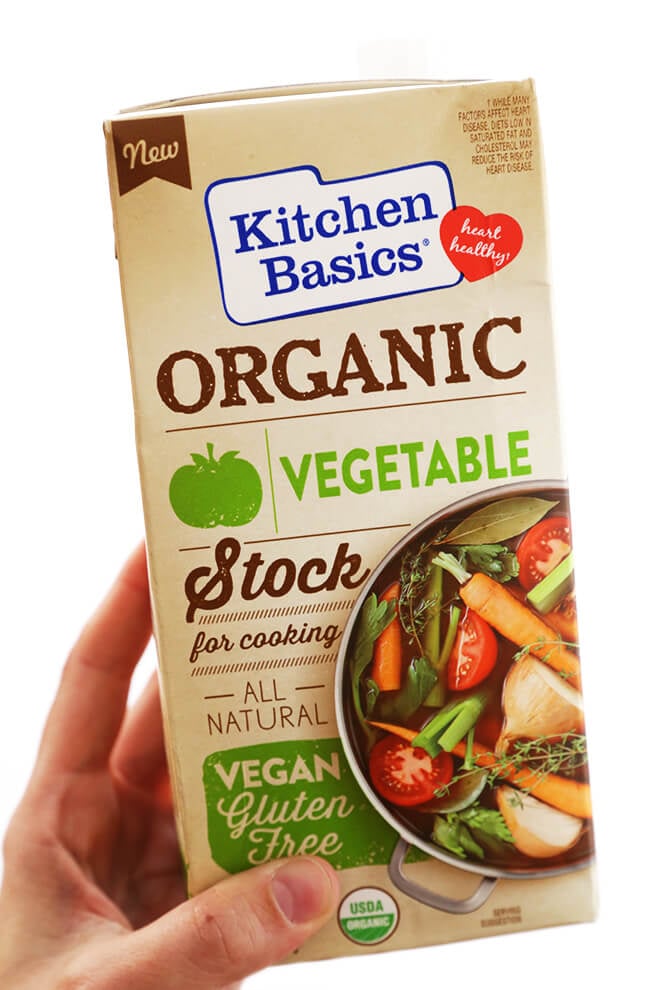 But speaking of broths, the other rockstar of this recipe is my favorite veggie stock — this Kitchen Basics Organic Vegetable Stock.  I'm a big fan of it because it's — yes — organic, which I think is especially important when it's made with so many thin-skinned veggies (that can soak up pesticides more easily).  But I'm also a big fan of it because it's freaking delicious and SO flavorful.  Since this soup only calls for a few ingredients, it's definitely worth investing in a really good veggie stock to help season the soup.  And I really do love this one, and am happy that they're sponsoring this recipe.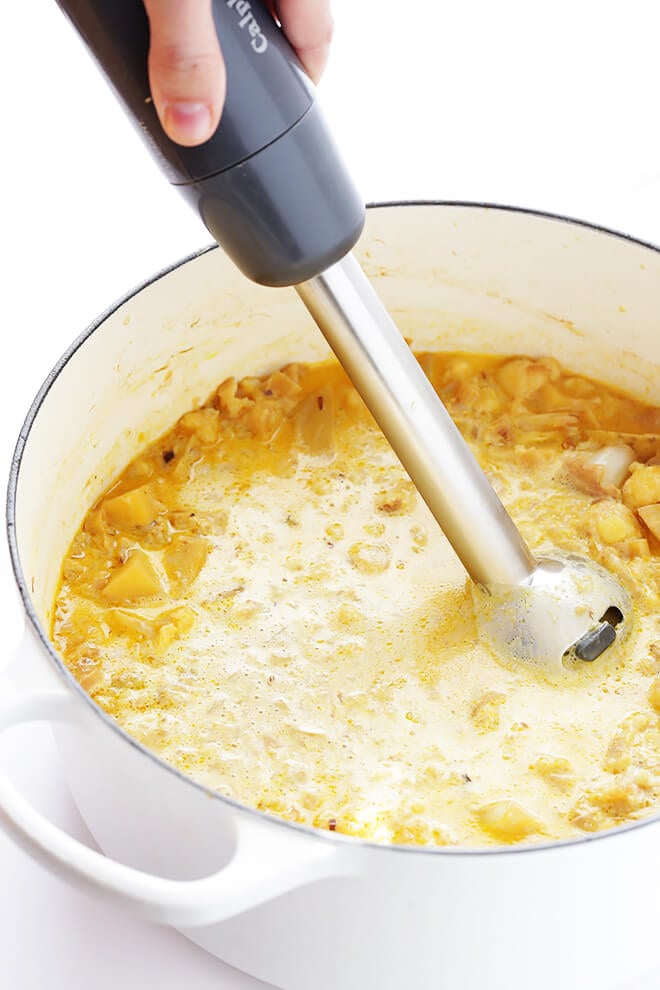 So anyway, saute some garlic and onion, and then add in your cauliflower and veggie stock and thyme sprigs and let everything simmer until the cauli is nice and tender.  Then use an immersion blender (pictured above) to puree the soup until it's smooth, OR transfer the soup to a traditional blender in batches and puree until it's smooth.  Then stir in some milk and Parmesan (which you can leave out, if you eat vegan or dairy-free), season with salt and pepper, and…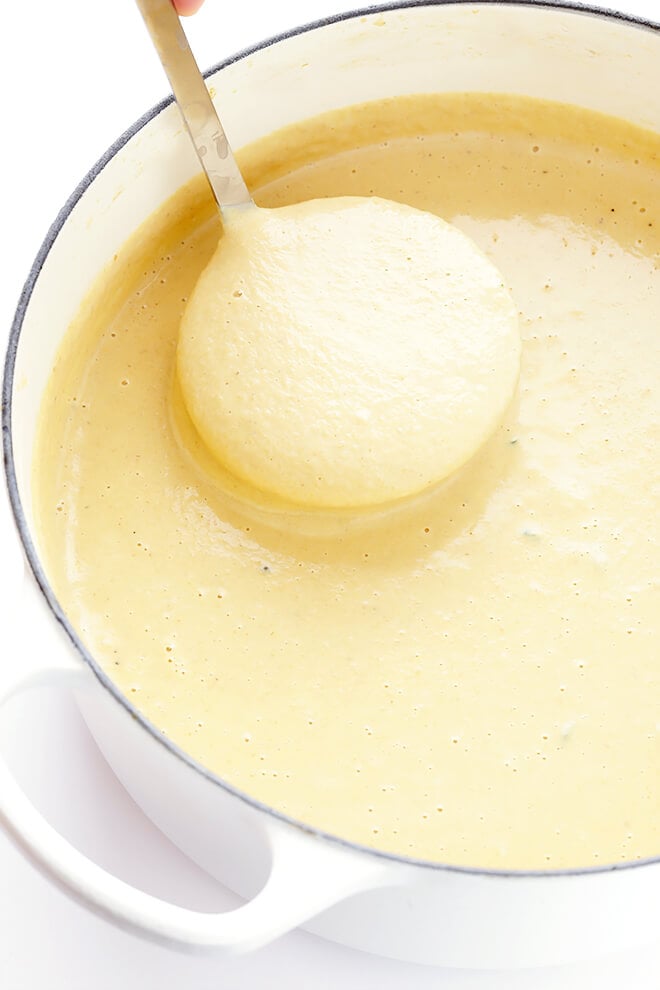 …voila!  This velvety, creamy, rich and oh-so-delicious soup will be ready to serve.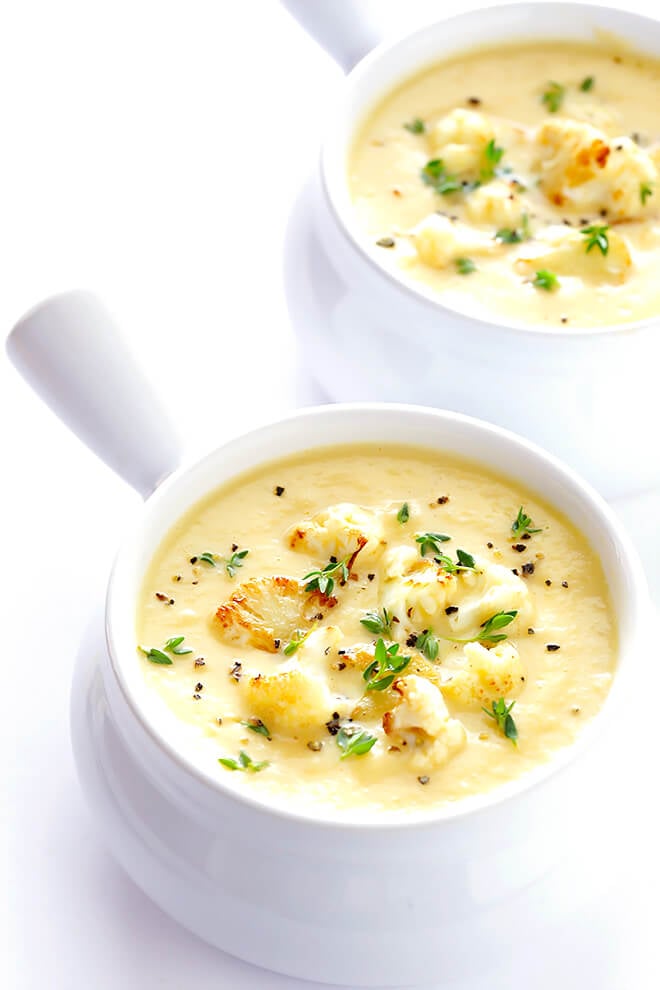 I served mine the first night with a bit of extra sautéed cauliflower and thyme leaves sprinkled on top.  (See instructions below.)
And then for something different with the leftovers, I added on some garlicky roasted chickpeas on top, and actually loved the extra crunch and flavor they provided.  So fun and so good!  And bonus — it's naturally gluten-free, and can also be vegan (if you leave out the cheese/butter).
However you serve this one, I think you're really going to love it.  Enjoy, friends!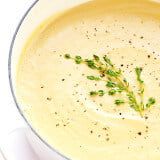 Creamy Cauliflower Soup
This Creamy Cauliflower Soup recipe is easy to make, and made with delicious and healthier ingredients that you can feel good about!
Ingredients:
1 head of cauliflower
2 tablespoons olive oil
1 medium white onion, peeled and diced
5 cloves garlic, peeled and minced
2 sprigs fresh thyme
3 cups milk (I used 2%, but any kind of milk will do)
1/2 cup freshly-grated Parmesan cheese
Kosher salt and freshly-craked black pepper
optional garnishes: sauteed cauliflower florets (*see instructions below), roasted chickpeas, fresh thyme leaves, extra Parmesan, and/or extra black pepper
Directions:
Begin by prepping your cauliflower.  Remove and discard the outer leaves and trim off the stem.  Quarter the cauliflower by using a knife to slice it down the middle of the stem, separating it into four sections.  Separate the core from the florets.  Roughly chop the florets, and then thinly slice the core.  Set aside.  (Also, if you'd like to garnish the soup with a bit of sautéed cauliflower, set aside 1 cup of florets for later use.  See instructions below.)
Heat oil in a large stockpot over medium-high heat.  Add the onion and sauté for 5 minutes, until soft and translucent, stirring occasionally.  Stir in the garlic and continue to sauté for 1-2 more minutes, until fragrant.
Add in the chopped cauliflower, vegetable stock, and thyme, and stir to combine.  Continue cooking until the mixture reaches a simmer.  Then reduce heat to medium-low, cover, and continue simmering for about 20-25 minutes, or until the cauliflower is tender.  Remove the thyme sprigs.
Using either an immersion blender, or transferring the soup in batches to a traditional blender (be careful not to fill it very full when working with hot soups), puree the soup until smooth.
Stir in the milk and Parmesan, and season the soup to taste with salt and black pepper.
Serve immediately, topped with your desired garnishes if desired.
If you would like to garnish the soup with sauteed cauliflower, heat 1 tablespoon of butter (or oil) in a medium saute pan over medium-high heat.  Add the cauliflower florets and sauté for 3-4 minutes, or until the are tender and slightly golden on the outside.
All images and text ©
If you make this recipe, be sure to snap a photo and hashtag it #gimmesomeoven. I'd love to see what you cook!
This recipe has been sponsored by McCormick, maker of the delicious Kitchen Basics Organic Vegetable Stock that I used in this recipe.  Thanks for continuing to support the brands who help make this site possible!