Lemon Rosemary Pasta with Chicken, Asparagus & Spinach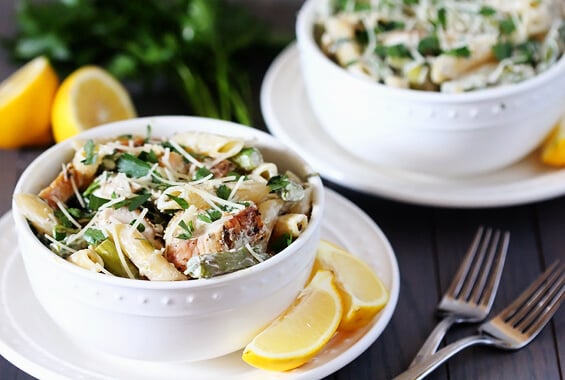 Sometimes the unplanned meals are the best surprises!
As seems to be common this summer, I found myself at the end of last week with some asparagus, spinach, garlic and lemons begging to be used quickly.  So I decided to improvise this creamy lemon pasta.  Although for an additional experiment, instead of using cream in the sauce, I subbed in some plain Greek yogurt.
Lo and behold, the experiment proved a success!!!  I have to admit that lemon pastas will probably never be my absolute favorites, but this one might be able to persuade me otherwise.  The Greek yogurt proved a fabulous creamy base to this simple lemon rosemary sauce.  And the chicken, garlicky asparagus and spinach were delicious, garnished with lots of Parmesan, of course.  I can never help myself.  :)
Definitely a fun pasta that you could easily customize with your favorite veggies and herbs.  Cheers to a little kitchen improv!
Lemon Rosemary Pasta with Chicken, Asparagus & Spinach
A simple pasta dish with chicken, asparagus and shrimp — topped with a delicious creamy lemon rosemary sauce.
Ingredients:
12 oz. pasta (I used mostacolli)
3 Tbsp. olive oil
1 Tbsp. fresh rosemary, finely chopped
2 boneless, skinless chicken breasts, pounded to even thickness
1 bunch (about 1 lb.) fresh asparagus, ends trimmed and cut into bite-sized pieces
3 cloves garlic, minced
1 tsp. lemon zest
1 tsp. lemon juice
2/3 cup (about 1 carton) Greek yogurt, plain
1/3 cup grated Parmesan cheese
2 cups fresh baby spinach
optional garnish: extra shredded Parmesan and/or chopped fresh parsley
Directions:
Cook pasta in generously-salted water until al dente according to package instructions. (I would add the pasta to the boiling water around the time you begin cooking the asparagus.)
Heat 2 Tbsp. oil in a large skillet over medium-high heat. (You will know that it is ready when the oil is shimmering, or it sizzles when you place a drop of water in the oil.) Season both sides of the chicken with a pinch of salt and freshly-cracked black pepper. Add the chicken to the skillet and cook for 3-4 minutes on each side, or until the chicken is fully cooked and the juices run clear. Remove chicken and set aside. Wait a few minutes, then slice the chicken into thin strips.
In the same skillet, add the remaining tablespoon of olive oil. Add asparagus, garlic, lemon juice and zest, and rosemary and saute for 4-5 minutes until the asparagus is cooked but still slightly crisp. Remove skillet from heat. Stir in Greek yogurt, Parmesan cheese, and baby spinach.
Once the pasta is finished cooking, drain the pasta but reserve 1/4 cup pasta water. Toss together the pasta, creamy vegetable mixture and the chicken. Add some of the reserved pasta water if needed to thin the sauce. Serve immediately, garnished with extra Parmesan and/or chopped fresh parsley.
Ali's Tip: Feel free to substitute in 2 tsp. (divided) dried rosemary if you don't have any fresh rosemary.
All images and text ©
If you make this recipe, be sure to snap a photo and hashtag it #gimmesomeoven. I'd love to see what you cook!