Creamy Mexican Chicken Pasta
This Creamy Mexican Chicken Pasta recipe is a sponsored post from ALDI.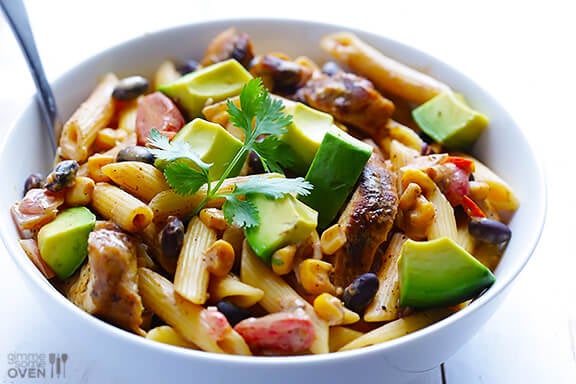 One week from today, I will be in Chicago — the home of my little sis, BlogHer '13, and ALDI HQ!  I can't wait!
My little sis is an art teacher and has the summer off, so we are going to prowl around museums, take some long walks in the sunshine, and catch up on all things sisterly.  Then comes time for just about the biggest blogger conference ever — BlogHer '13.  A bunch of my favorite bloggers are going to be in town, and I can't wait to hang out downtown and conference it up with them.
But the main reason I actually planned this trip was for a chance to visit the U.S. headquarters of one of my all-time favorite stores — ALDI!  Many of you may remember that I did a 3-part series on the store this past year, sharing tips on How To Shop At ALDI, What To Buy At ALDI, and Why I Shop At ALDI.  (Which, as a sidenote, those posts have turned into some of the all-time most popular posts on this site — you all apparently love to read about ALDI!)
After I published the posts, I actually had the chance to get connected with some of the great folks at ALDI headquarters.  And they invited me to come to Chicago for a special Test Kitchen event with a bunch of great bloggers!  I was stoked!!!  You all know that I work with a bunch of brands to help support this blog.  But this was one of the first times that I have blogged on my own about a brand I've loved for years, and it led to the chance to work together.  I'm so excited!
Anyway, I promise to blog about the experience to share it with you.  From exclusive product tastings, to a hands-on interactive meal planning challenge, to a session on food styling, to a behind-the-scenes tour of a Chicagoland store and more, it sounds like an awesome time celebrating one of my favorite stores!  So to get ready in advance, I decided to cook up a little ALDI-inspired dish for you this week.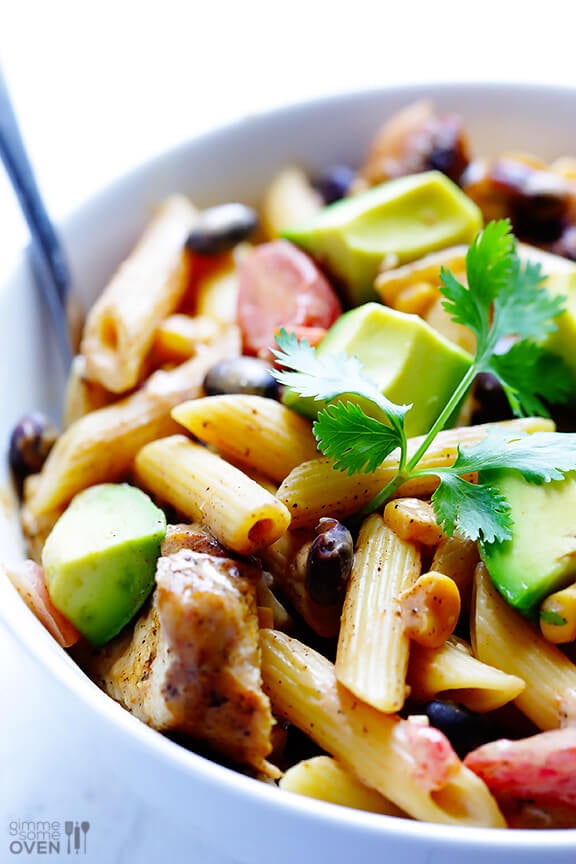 This one was actually inspired by my friend, Maux.  She is one of my fellow book-clubbers, a faithful social organizer of all things awesome, a committed student and advocate for sustainable aid in Africa, and she's also a co-author of a new social justice blog that I love.  But she also happens to be a total foodie!  So when she insisted I try some leftover creamy Mexican chicken pasta that she loved from a local restaurant, I knew it would be good.
Let me tell you…it was.
I realized when I was tasting it that I didn't have any sort of Mexi pasta dishes on the blog.  So this week I hopped over to ALDI and picked up the ingredients to whip up a Mexican chicken pasta of my own.  I was especially excited to try out ALDI's new organic chicken breasts (featured alongside the new grass-fed organic beef I spied there this week!), and also try out a slightly healthier cream sauce made with low-fat cream cheese instead of heavy cream.
It turned out to be fantastic!  I made an initial version using chipotle seasoning, but the flavor kind of overpowered everything.  So I made a second batch with some classic Mexican chili-cumin-cayenne seasoning, along with some fresh cilantro, and it was the winner.  Definitely a flavorful, quick and delicious pasta recipe to make any time of the year.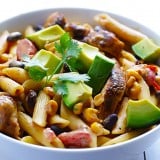 Mexican Chicken Pasta
This creamy Mexican chicken pasta overflows with fantastic flavor, made all the better with a healthier cream sauce.
Ingredients:
1 Tbsp. chili powder
2 tsp. cumin
1 tsp. salt
1/2 tsp. black pepper
1/4 tsp. cayenne
2 boneless, skinless chicken breasts, pounded to 1/2-inch thickness
4 Tbsp. olive oil, divided
1 small red onion, diced
3 cloves garlic, minced
2 cups grape or cherry tomatoes, halved
1 can whole-kernel corn, drained
1 (8 oz.) brick 1/3-less-fat cream cheese, cut into 8 squares
1/2 cup milk
1 can black beans, drained
1/4 cup chopped cilantro
1 large avocado, pitted, peeled and diced
12 oz. dried pasta (I used penne), cooked in generously-salted boiling water until al dente according to package instructions
optional toppings: additional cilantro and avocado, crumbled cotija cheese, tortilla strips, sour cream
Directions:
In a small bowl, whisk together chili powder, cumin, salt, pepper and cayenne until combined. Take half of the seasoning mixture and set it aside.
Take the other half, and sprinkle it evenly over both sides of the chicken breasts. Heat 2 tablespoons oil in a large skillet over medium-high heat until shimmering. Add chicken and cook for 3 minutes per side, or until the chicken is cooked through and no longer pink inside. Remove from heat and set aside for 10 minutes. Then slice into thin strips and set aside.
Meanwhile, return the skillet to the heat and add the remaining 2 tablespoons of oil. Add the red onion, tomatoes, corn and garlic and saute for 5 minutes, stirring occasionally. Add the cream cheese and milk gradually, stirring constantly until the cheese melts completely. (And also be sure that they cheese does not burn on the bottom of the skillet.) Stir in the remaining seasoning mixture, black beans, and cilantro until combined. Season with additional salt and pepper if needed.
Remove from heat, then gently stir in the avocado and pasta. Serve immediately with additional toppings if desired.
All images and text ©
If you make this recipe, be sure to snap a photo and hashtag it #gimmesomeoven. I'd love to see what you cook!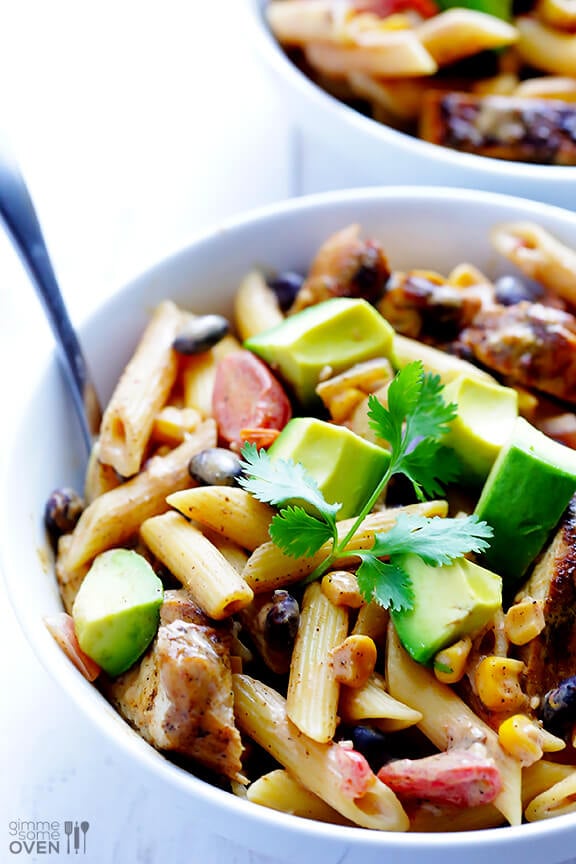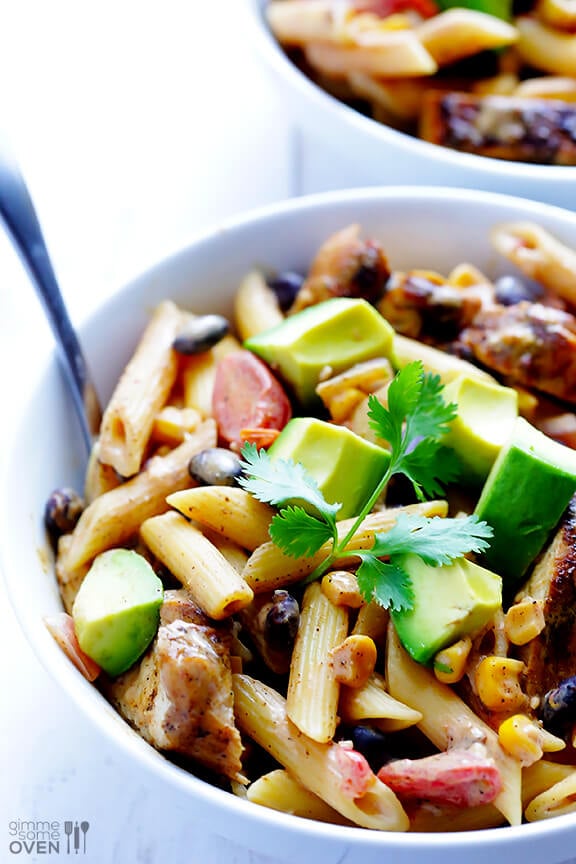 Disclaimer: This is a compensated post from ALDI.  I am stoked to be working with them on this Test Kitchen Event, and all opinions are 100% my own as always.  More to come on this fun event!