culinary institute of america – day two
This post may contain affiliate links. Please read my disclosure policy.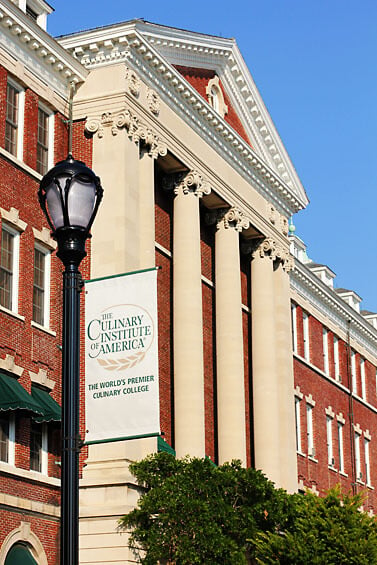 It's been another gorgeous day at the CIA!
For those of you who are just tuning in, I'm finishing up Day 2 of a 3-day "boot camp" at the Culinary Institute of America in Hyde Park, NY….and having the time of my life! :-)
Without further ado, here are some of the highlights of the day!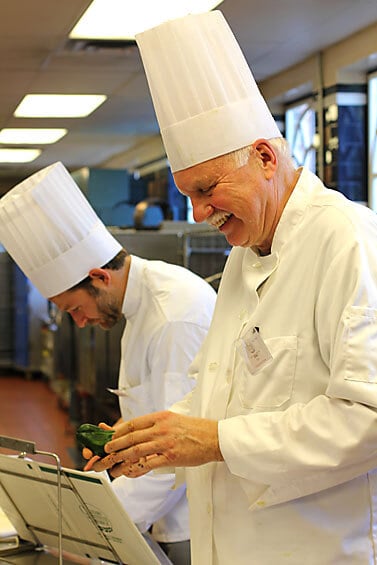 Once again, we had the pleasure of spending the morning with our delightful instructor – Chef Sergio Remolina. Our topic for the day was "Iconic Dishes from Oaxaca" (pronounced "wah-hah-kah"), which is also known as "The Land of Seven Moles" (they have seven traditional versions of mole!). I've loved their cheese for years, but had to admit I didn't know that much about the specific region…
Chef once again delivered a great lecture, covering topics from the chiles grown in the area (they have zillions of varieties, thanks to their diverse microclimates), to the difference between an estofado and a mole (the former being a meat dish cooked in the sauce, and the latter being a sauce served separately), the importance of masa nixtamalizada ("nixtamalized corn") in Mexican cuisine (I'll post on this sometime later – fascinating!), the reason for dry roasting chiles, and more. Once again I just loved hearing about this history of this food, which I'm realizing is the epitome of "eating locally"! :-)
After our 7am lecture, we headed right into the kitchen by about 8am, and cooked all the way until noon! Our menu for today included:
Estofado de Almendra (Oaxacan Almond & Chicken Stew)
Memelas Oaxaquenas (Thin Oaxacan Sopes)
Picadillo Oaxaqueno (Oaxacan-Style Pork Filling)
Caldillo (Tomato Sauce for Chiles Rellenos)
Chiles Rellenos (Stuffed Poblano Chiles)
Mole Rojo (Red Oaxacan Mole)
Flan de Vanilla (Mexican Vanilla Flan)
Arroz Blanco (Mexican White Rice)
Albondigas al Chipotle (Puebla-Style Chipotle-Seasoned Meatballs)
Molotes Ozxaquenos (Oaxacan Masa Torpedos)
Ensalada de Espinaca (Spinach Salad with Beets, Jicama and (check it out!) Fried Chiles)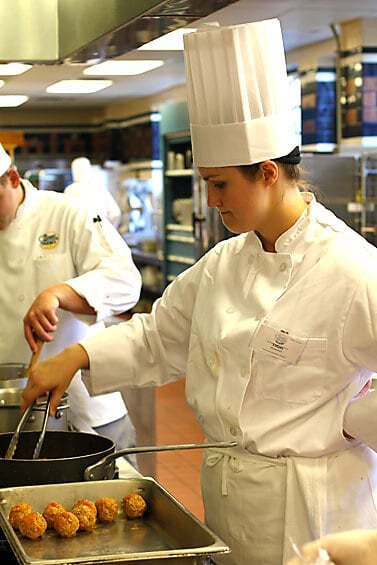 My team of 3 (Tiffany is pictured above!) was in charge of the last three recipes, which were slightly more challenging from our assignment the day before. I'll remake and post some of the recipes soon, but I'd say the molotes were probably the hit of the day. They were basically thick homemade corn tortillas, with a yummy chorizo and potato mixture inside. Delicious! But suffice it to say, they're harder to make (and roll up and shape with that filling inside) than they look!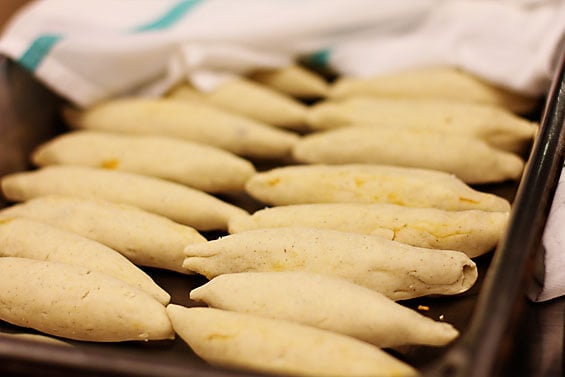 Here were the molotes in prep (before we fried them).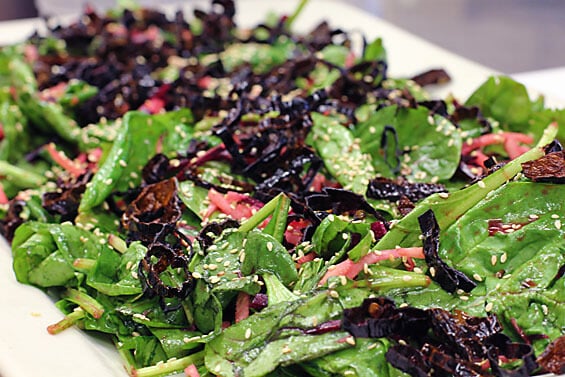 And our finished spinach salad. Our initial assignment was to make a cactus salad, but apparently the cactus didn't come in on time, so we julienned tons of raw beets and jicama. Then the dressing was simple – 1 part fresh lime juice, 1 part soy sauce, and 1 part olive oil. Didn't know they used soy sauce in Mexico, but there you go!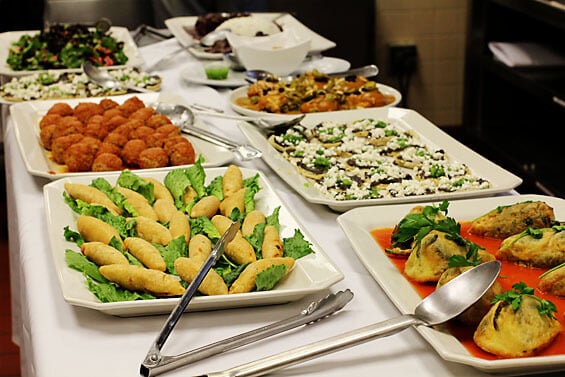 And….here is the final smorgasbord all plated up for lunch. You can see our finished molotes in front! (Yours Truly did the "styling". :-))  Next to them were the perfectly fried, and perfectly delicious chiles rellenos that one of the other teams made. That recipe will definitely be on here soon!
All in all, another fascinating, challenging, tiring, but delicious morning in the kitchen. Chef did spend quite a bit of time teaching us how to dry-roast fresh chiles, as well as how to fry the little chiles that topped our salad. Definitely takes a little more time, but very easy and worth it — the flavor is amazing afterwards!
We also had random lessons throughout the day on the proper ways to dice and slice onions, mince garlic, juilenne veggies, pan-fry the chiles rellenos, and many more. It's definitely my favorite way to learn — watching!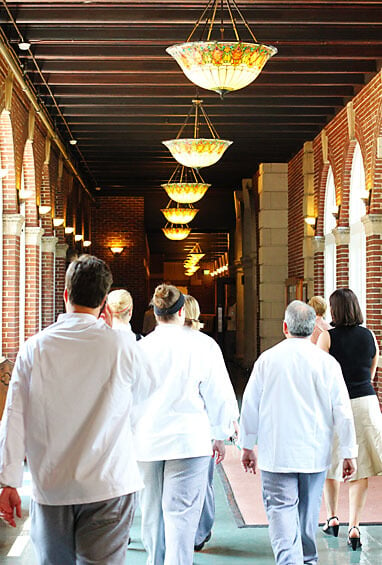 Perhaps my favorite part of Day 2 actually came after our time cooking today, when we had the chance to take a campus tour. I think our team went into it a little skeptical about the tour, but it ended up providing some fascinating insights into how a school (which encompasses a culinary program, an accredited bachelor's degree program, various other specialties, AND four professional restaurants) like this manages to run so smoothly!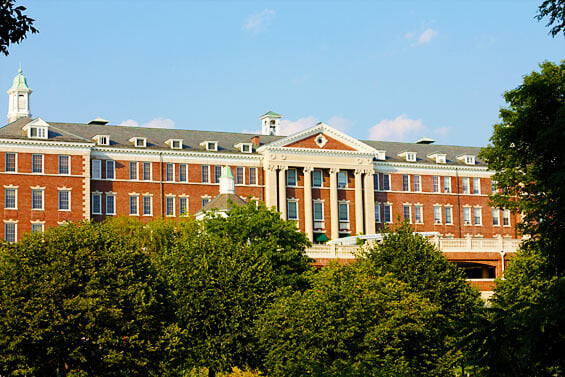 First of all, I should mention that the Hyde Park campus (they also have locations in California and Texas) is absolutely gorgeous…and huge! Their campus is located right on the Hudson River, and actually was originally a Jesuit seminary. So much beautiful architecture! I may or may not have had the sense of deja vu that I was in the middle of "Dead Poet's Society" or a film of the sort… :-)
Anyway, the amazing thing you first notice upon walking through the school is that nearly all of the rooms have been converted into…of course…kitchens. Make that 46 huge, professional kitchens to be exact. And the best part is that most all of them have lots of windows to the hallways, so as you walk through the school, you can peer in on all of the various student classes at work (all in their chef's uniforms and hats, of course!). Such a fun, energizing, and creative environment.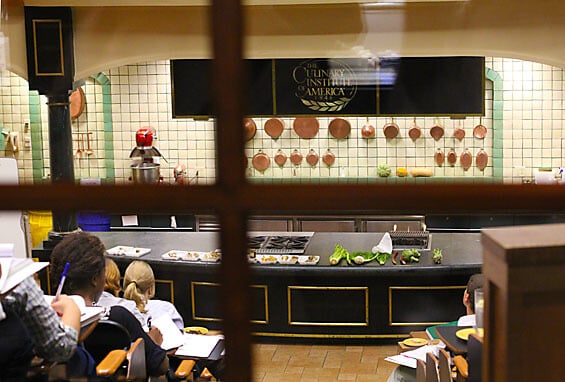 We passed by numerous student kitchens, as well as a few small lecture halls (like the one pictured above) where students take prep classes such their intense initial "product identification" courses. And then we also breezed by a notable room — the "wine-tasting" classroom. Found out that it is the only legal room in the country where students under age 21 are legally allowed to drink – ha! (Although it was pointed out that they're not allowed to actually swallow any drinks with alcohol.)  Still, pretty fascinating.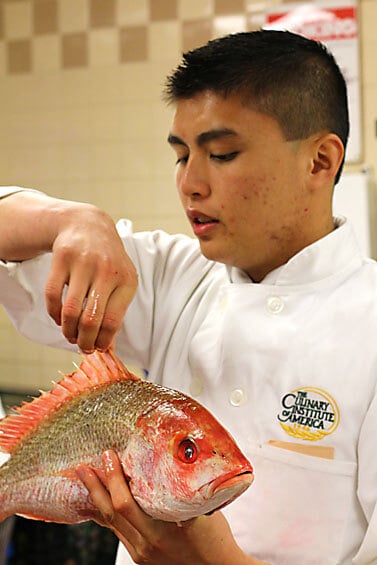 Once our tour reached the basement, the real fun began. We had the chance to visit the "fish room" we had been hearing culinary students mention in our class. Apparently this room processes all of the fish that comes in for the school — which includes all cooking classes (which in turn feed all of the students – it's part of their "meal plan"), as well as the on-campus restaurants. It was very chilly, wet (from constant sanitizing), and full of energy!
After being in the "classroom", we packed into the seafood locker (a walk-in freezer) which stores the millions of dollars of fish they go through in a given year. It was a little too dark to get a photo, but we had a great time oooh-ing and ahhhh-ing over all the various kinds of seafood they had packed in there…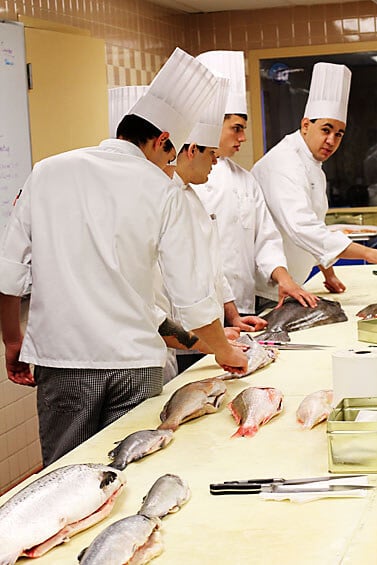 The students today were especially excited about the great halibut catch that had just come in — which I ended up enjoying for dinner. :-)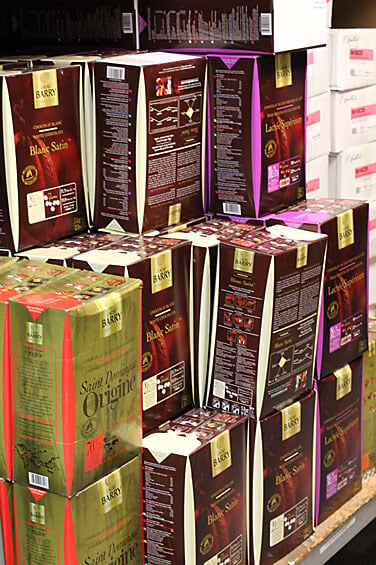 Afterwards, we toured through all of the packaged foods storerooms, which made even Sams or Costco pale in comparison. There was even an entire shelving system full of chocolates and cocoas….mmmm. (A section of it is pictured above.)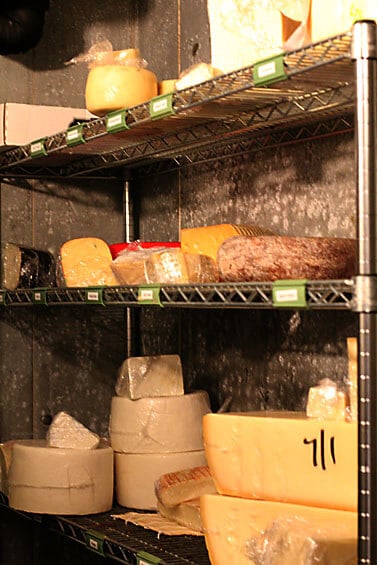 Then we went by the cheese room, the (frozen) nuts room, the meat preparation room(s), as well as the large space for fresh produce and fresh herbs. Since there are no classes in July, much of their stock was a little down, but they assured us it usually has to be a 24/7 operation to keep all of the pantries stocked. Wow!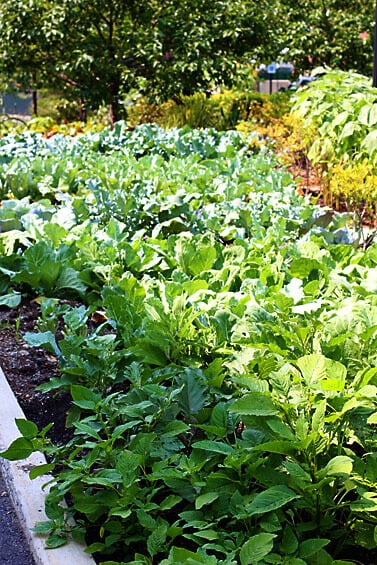 The fun story we heard (which many of us had noticed during our visit), is that tons of their fresh produce is grown on campus. Apparently while the rest of the collegiate world was suffering budget and staffing cuts post-9/11, the president of the CIA vowed not to layoff any staff. So instead, challenged the staff and students to come up with ways to dramatically cut their current budget.
One of their many solutions — in addition to cutting gourmet coffees, making all of their own chicken, beef, and veggies stocks (you wouldn't believe the size of their stock pots!) — was to completely revamp their campus landscaping. So instead of planting hydrangeas, they would plant beautiful lavender or rhubarb. Apparently this idea took off, and the already beautiful campus is now enhanced by amazing, colorful produce growing wherever you turn. I love it!!
This produce is of course used in their student kitchens. And then they also try to supplement with as much local and regional food as possible, in addition to being very diligent about recycling and compost, making them an officially "green" campus.
Probably the information which was most stunning to learn was the sheer amount of food that passes through the campus. They stressed that since they're a non-prof, they make it a point not to over-buy and have any waste. (And as I mentioned above, all of the food produced either goes to the on-campus restaurants, or goes home with the students for dinner as part of their "meal plan". The students here all joke about the "Freshman 50"!)
But for a few statistics, the Hyde Park campus annually uses:
111 tons of flour
780,000 eggs
10,000 vanilla beans
180,000 lbs. chicken bones
122,000 lbs. beef and veal bones
43,000 whole 3-lb chickens
32,000 quarts of heavy cream
98,000 onions
36,000 limes
40,000 sized neck clams
And the grand finale…2,000 lbs. of butter…a week!!!
One other interesting fact of the day was hearing that only 2% of CIA graduates actually go straight from school into working in "fine dining". You would think that everyone comes aspiring to be a chef, but the reality is that this training also translates into a zillion other food-related fields. After just a few brief days in the kitchen environment, though, we've also had a glimpse into just how challenging and exhausting that life can be (not to mention the typical tough hours/pay). Once more, my respect for those who are behind the scenes at all of our favorite restaurants across the country has grown by leaps and bounds. They are an inspiration!
We concluded our day today with another lovely meal at an on-campus restaurant — the American Bounty. After appetizers of homemade bread and lobster ravioli, I ended up choosing the Halibut special as my entree, which (as the students had promised) was wonderfully fresh and delicious. Then, more chocolate cake and homemade caramel ice cream dessert (apparently I'm craving chocolate this week!), as we watched the sunset through floor-to-ceiling windows. My kind of an evening. :)
And now I'm sitting near these beautiful fountains, with the sun setting on the vast Hudson in the background. A girl could get used to this. :)  But now — off to get some rest before "tamale" day tomorrow. Can't wait!