Curried Chicken and Wild Rice Soup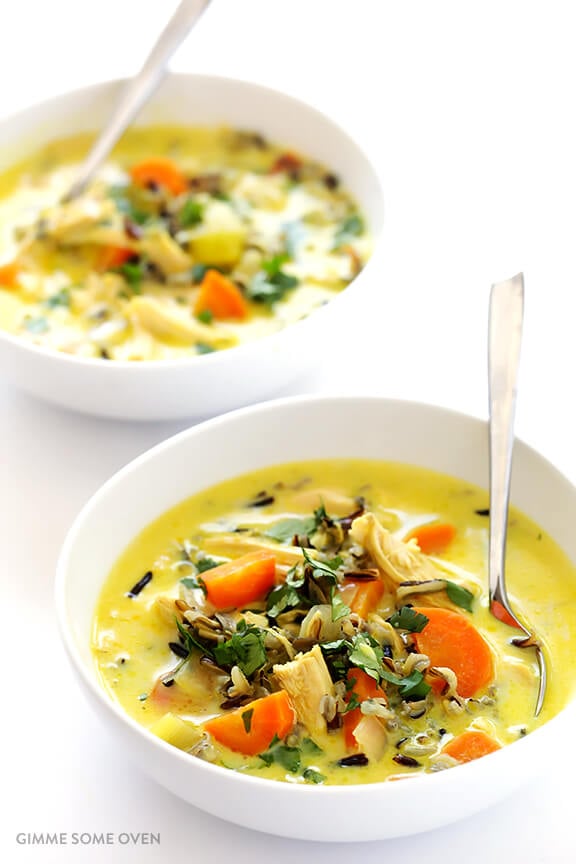 Soooo, it turns out that Austin apparently has freezing winter days too.
Who knew?!?
Ok ok, I may have noticed a slight dip in the month-long forecast for our stay here when we were driving away from winter in Kansas city.  But hey, if a "dip" here means just pulling on a pea coat (vs. my usual puffy-furry-down-lined-marshmallowness at home), walking around town in a crisp breeze (vs. trudging through snow and negative windchills) for just a few days (vs. what I'm pretty sure feels like decades at a time at home)…I'LL TAKE IT.
Hey, I'll even make a warm and comforting curried chicken and wild rice soup to celebrate.  ;)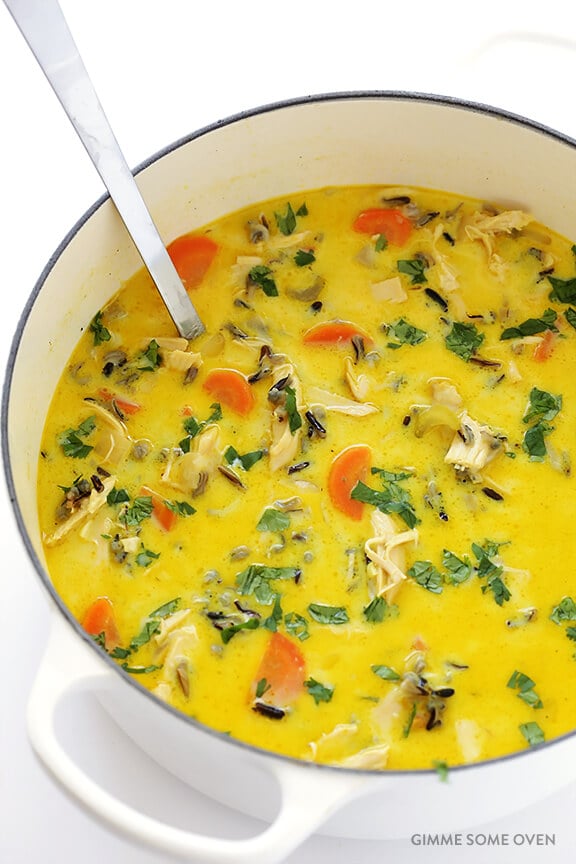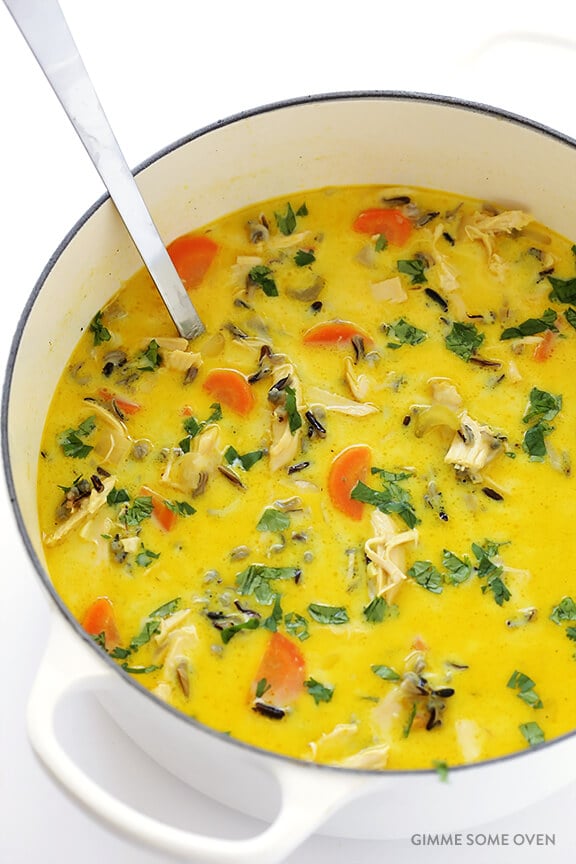 Ok ok, I'll stop rubbing it in.  I'm well aware that I'm heading back to the land of freeze-your-toes-off arctic blasts in three days, so I'll be back to seriously needing a soup like this soon.  But in the meantime, it also warmed us up nicely down here in Texas.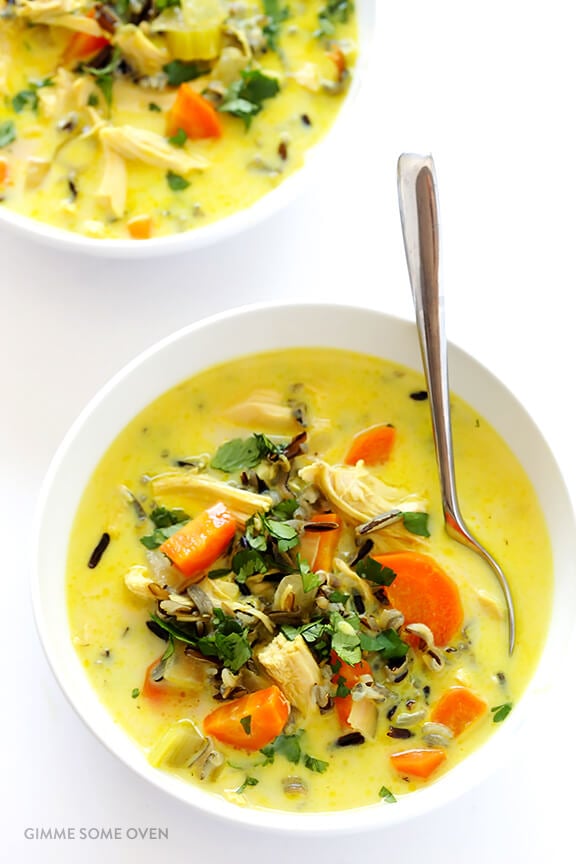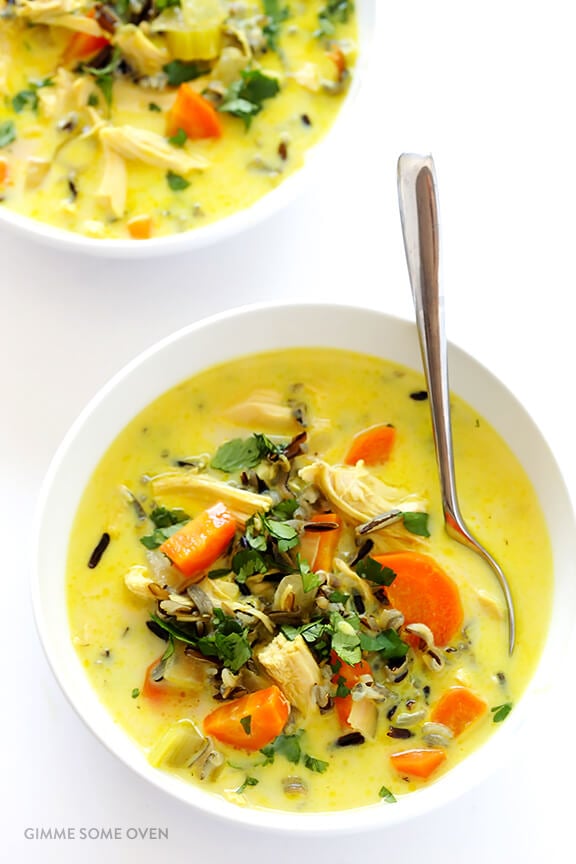 And I must say, at this point in the winter when I've already made my way through all of my traditional soups, it was kind of nice to switch things up a bit with a curried take on a classic — chicken and wild rice soup.
I have mentioned on here before that I'm (surprisingly) fairly new to the curried world.  For basically my entire twenties, some mystery ingredient in the magic potion that is curry used to upset my stomach big time.  I tried for years without success to pinpoint the culprit spice, and was about to just give up and decide that curry was going to hate me for the rest of my life.  BUT.  Lately I have been very slowly reintroducing curry back into my life.  And surprisingly, it has been perfectly fine.  Like, perfectly fine.  What the heck?!
I'm sure it could be due to a hundred things, but hey, I'm calling it my very own little curry miracle.  :)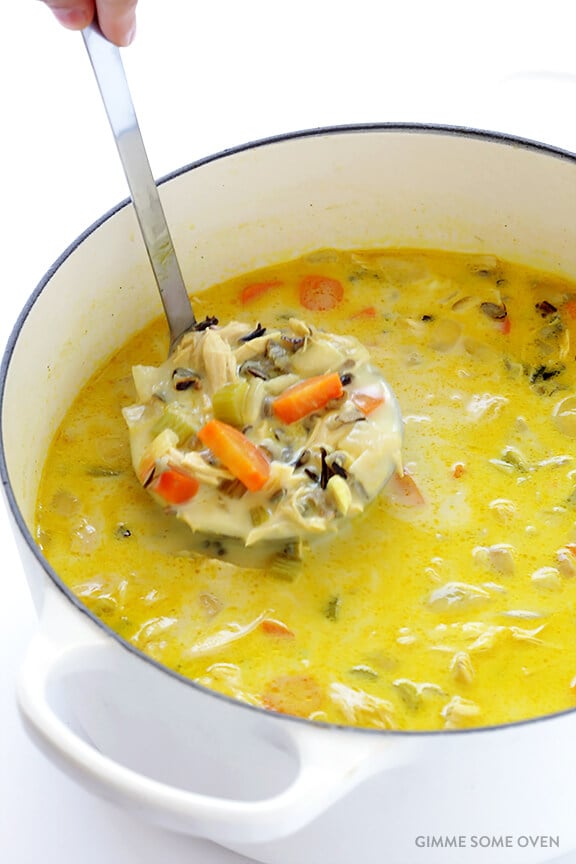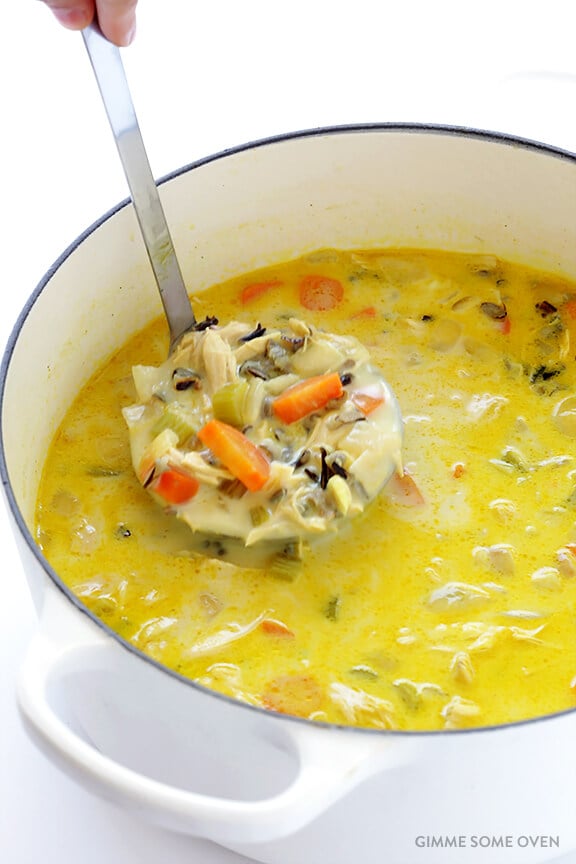 Anyway, that said, I have been doing some mega catching up over the past two years on every epic curry opportunity I have missed over the past decade.  And without a doubt, much of that is happening in the soup world.  I love a good curried soup.  Especially simple ones like this one.
It's all of the goodness of traditional chicken and wild rice soup.  But instead of cream, I went with coconut milk.  And instead of Italian seasonings, it's curry for the win.
It's easy to make, nice and creamy, perfectly (and fairly lightly) spiced, naturally gluten-free, and mmm mmm good.  Perfect for warming you up on a chilly day, whether that's in south Texas or northern Canada.  It'll do.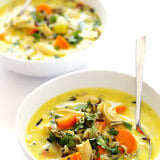 Curried Chicken and Wild Rice Soup
This Curried Chicken and Wild Rice Soup recipe is easy to make, nice and creamy, perfectly (and fairly lightly) spiced, naturally gluten-free, and mmm mmm good.
Ingredients:
1 cup uncooked wild rice
1 tablespoon olive oil
1 medium white onion, peeled and diced
2 large carrots, diced (about 1 cup)
2 stalks celery, diced (about 1 cup)
3 cloves garlic, peeled and minced
4 cups good-quality chicken stock
3 cups cooked, shredded chicken
2 teaspoons curry powder*
1 bay leaf
1/2 teaspoon ground cumin
1/2 teaspoon kosher salt
1/4 teaspoon freshly-ground black pepper
1 (14-ounce) can coconut milk (**see note below)
optional garnishes: chopped fresh cilantro, crushed red pepper flakes, shredded coconut
Directions:
Begin by cooking your wild rice.  Stir together the wild rice and 4 cups of water in a medium saucepan until combined.  Cover and heat over medium-high heat until boiling.  Then reduce the heat to medium-low, and simmer (covered) for 40-45 minutes until the rice is cooked and tender.  Strain out any extra water, and remove from heat.
While the rice is cooking, heat the olive oil in a (separate) large stockpot over medium-high heat.  Add the onion, carrots and celery and cook for 6-7 minutes, until the onion is soft and translucent, stirring occasionally.  Add the garlic, and cook for an additional 1-2 minutes, until the garlic is fragrant, stirring occasionally.  Add the chicken stock, chicken, curry powder, bay leaf, cumin, salt and pepper, and stir to combine.  Stir in the coconut milk until combined.  Continue to cook until the soup reaches a simmer.  Then reduce heat to medium-low, cover partially with a lid, and let the mixture simmer until the rice is ready.
Once the rice is cooked, stir it into the soup until combined.  Remove the bay leaf.  Then taste the soup, and season with extra salt and pepper if needed.
Serve warm, topped with optional garnishes if desired.
*I tried a few different curry powders when testing this soup, and I actually loved classic ol' McCormick curry powder best.  But go with whatever brand you love.
**I used a can of full-fat coconut milk in this recipe.  But you can substitute in light coconut milk instead.  Or if you would rather pass on coconut milk, you can substitute in a can of evaporated milk.
All images and text ©
If you make this recipe, be sure to snap a photo and hashtag it #gimmesomeoven. I'd love to see what you cook!