Dark Chocolate Drizzled Mints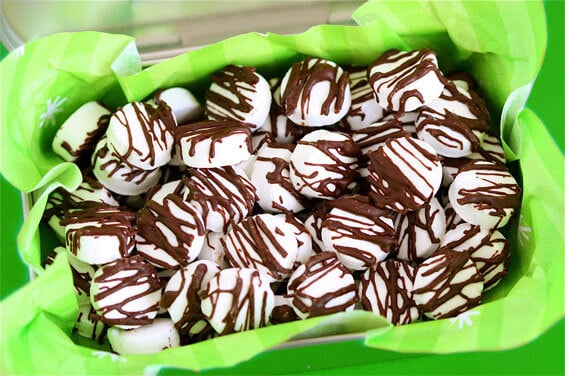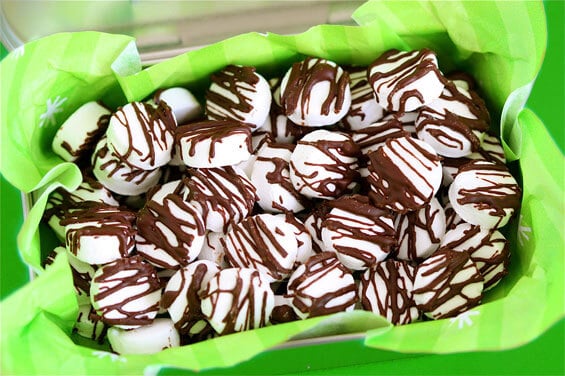 One of my favorite Christmas traditions seems to be playing with Altoid tins.  They're ridiculously cute, super-versatile, and can be home to all sorts of crafty-ness or delicious gifts!!  (They can also be used on your wall to create a sweet Advent calendar, such as this or this!)
I've included some of my previous Altoid tin creations below.  But for this year, decided to use the actual mints for the gift, and just kick them up a notch!  Ha…not sure if this even qualifies as a "recipe", but they were super-fun, and super-easy.  When paired with a favorite minty chapstick, this can turn into a great little "kit" for girlfriends!!  (Or…yes of course…any guys who are pro-minty-chapstick.  :-))
So if you're looking for a quick and inexpensive homemade gift for some friends, get crafty and give these a try!!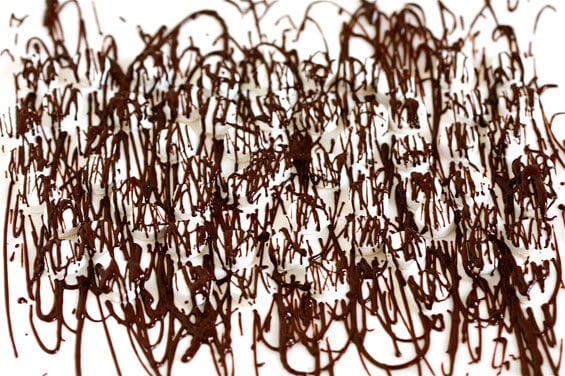 Dark Chocolate Drizzled Mints
You'll love this creative Dark Chocolate Drizzled Mints Recipe! Delicious! A great holiday gift idea to share with your friends!
Ingredients:
Altoids, or butter/pastel mints
dark chocolate chips (or other favorite chocolate chips, or almond bark)
Directions:
Lay out the mints on a piece of wax paper, parchment, or aluminum foil.
In a double boiler or (carefully!) in a microwave, heat the chocolate chips until they are melted and thinned out. (If the chocolate is too thick, add in a few teaspoons of shortening until it reaches your desired consistency.) Then use a fork to drizzle it over the mints. Let the mints cool before removing.
Craftyness:
You can certainly use Altoid tins for this project. Or, to save a little cash and also have plain silver-colored tins (without the colorful Altoids label), order a batch of "hinge-top metal tins" online here or here. I then just cut out scrapbook paper to fit the top and attached it with sticky mounting squares. (Be careful if you use glue, as it can wrinkle the paper.) Then used silver stickers to spell out names (or a greeting) on the front. You can also attach a tiny mirror to the inside of the lid, or write in a fun quote or note if you'd like!
Other fun ideas for the tins might be:
filling with little glass-pebble magnets (a cute gift idea, since the magnets stick to the metal!)
creating a "first date kit" for a friend (lip gloss, a tiny mirror, and mints!)
filling with gum, candy, or mints
holding credit cards, gift cards, photos, etc.
Ali's Tip:
To get an extra-thin drizzle, don't completely dunk your fork in the chocolate.  :)  For these you just barely need to dip it, and then gently swish it back and forth over the mints to get the nice, thin lines.
All images and text ©
If you make this recipe, be sure to snap a photo and hashtag it #gimmesomeoven. I'd love to see what you cook!