5 Simple Ways to Make Your Home More Inviting This Holiday Season
This post may contain affiliate links. Please read my disclosure policy.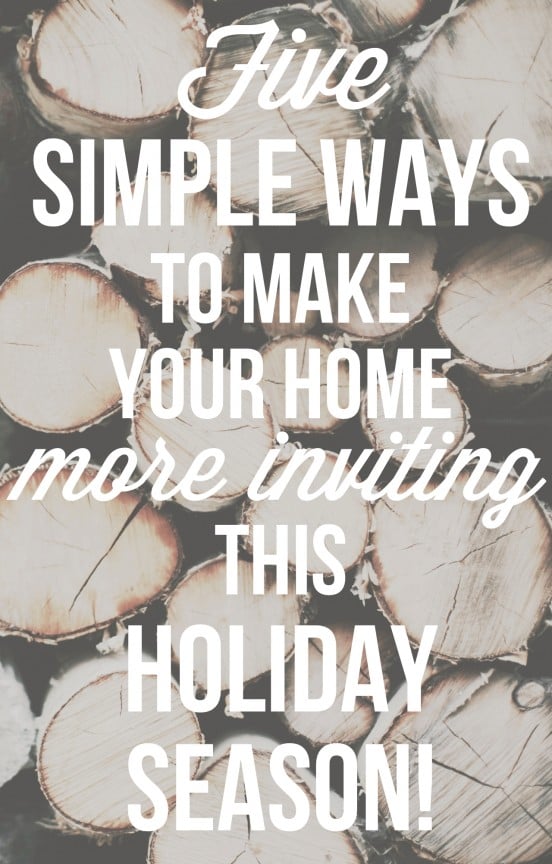 Do you ever feel like the holidays become too busy to even enjoy them? Sometimes I feel like I spend so much time shopping for people that I loose track of the people themselves. This holiday season I want to spend less time shopping, and stressing over that perfect gift or craft and spend more time with the ones that I love! With that being said here are five simple and creative ways to make your home more inviting this holiday season!
Have Something Special for the Children
Set Out Snacks and Beverages
Be Prepared, but also Enjoy Yourself
Have your home Smell Good!
Having a welcoming entryway is key in creating an inviting atmosphere in your home. The entryway and porch/front door are the first areas that a person sees when they arrive at your home. If you live in a house, turn on your porch lights and put a couple candles in your windows to help guests feel welcome as they enter your home. For the apartment/loft dwellers like myself, put a wreath on your door and have a cute welcome mat out for guests to see.
As for the entryway itself, try to make the guests comfortable from the very start. Offer to take their coats and belongings and have a cheery photo or decoration on the wall.
Something that goes a long way when entertaining guests is to have a place that is just for the kids. Not only does it make the children feel special that you thought of them, but it also lets the adults have a more relaxing time together. A corner of the living room with a few toys and books can go a long way for a child. If you are feeling extra ambitious set out a craft station for them to enjoy as well.

Offer your guests a beverage or snack. Having something to snack on helps people feel welcome and comfortable right away. A bowl of nuts is a great choice. The simple act of cracking nuts together generates time to visit and also helps to gain a sense of comfort. Another great option would be a fresh baked plate of Christmas cookies!
I have a tendency to get a little frazzled if I feel like everything is not perfectly in place during a gathering that I am hosting. Something that helps me relax and enjoy the evening is to be fully prepared before guests arrive. If I'm serving a dinner I like to have the table set and dinner ready to eat when everyone arrives. Having a clean house and a calm demeanor makes everyone feel more comfortable, including yourself!
Something I am working on though is not getting too worked up about making everything "perfect"  Guests are coming to spend time with you and your family, not to check and see how clean your bathroom closet looks.
Most importantly, have a warm and welcoming scent in your home! The sense of smell is so strong. It can trigger memories and feelings like no other sense can. The best way to achieve a great smelling home is with candles! This season I am in love with The Glade® Winter Collection, specifically the scent "Sweet Holiday Treat™". It is the perfect collaboration of rich cocoa, toasted nuts and creamy caramel and makes my house smell heavenly. It is part of their new seasonal line this year.
This year as I begin to host many parties for the holidays I hope that each guest that arrives feels comfortable, warm, celebrated, and loved. And I hope that when they smell  "Sweet Holiday Treat™"  candle by Glade® their minds are instantly flooded with happy memories of times shared in my home!
Happy Holidays!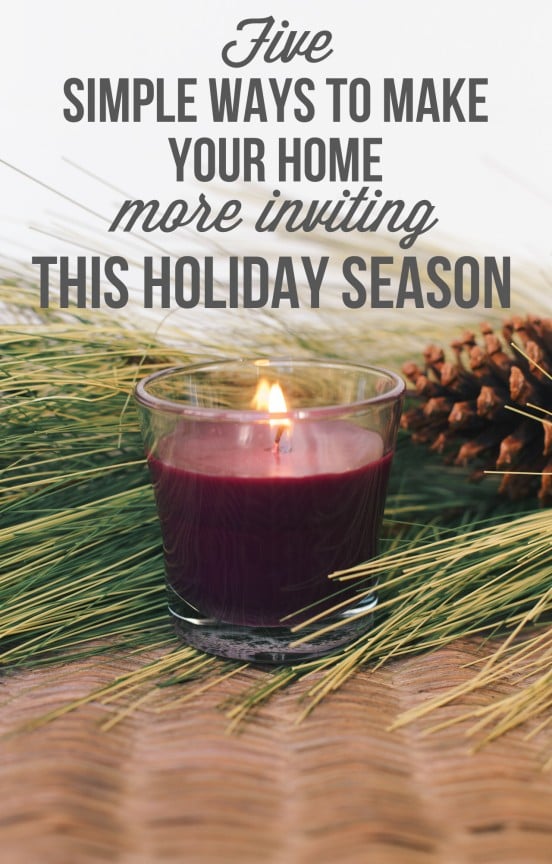 Get festive this holiday season with the Glade® Limited Edition Winter Collection available exclusively at Target. Inspired by the best feelings of the season, the Glade® Sweet Holiday Treat™ scent lets you indulge in the irresistible scent of rich cocoa, toasted nuts, and creamy caramel. The 2013 Glade® Limited Edition Winter Collection was inspired by the nostalgic, spontaneous, snowy, moments that build up to the holidays. Creating memories with loved ones defines the season and the holiday lineup from Glade® is just as memorable.
This is a sponsored conversation written by me on behalf of Glade®. The opinions and text are all mine.
//