christmas shopping for the newlywed couple
This post may contain affiliate links. Please read my disclosure policy.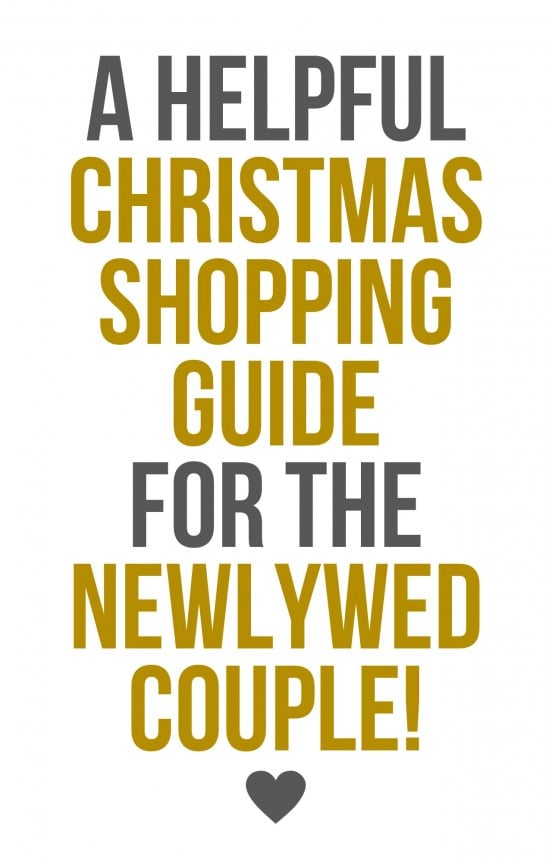 If you are just stopping in for the first time I have been doing a series of posts giving ideas of what to buy for Christmas for all types and ages of people. This past year I have had many of my closest friends get married and it got me thinking about when I first got married. There were certain items that we definitely wanted over others! Here are a few ideas that hopefully will help guide you along in your Christmas purchases this year.
Christmas Items and Decor: 
My husband and I got married a week before Christmas so we were blessed with many Christmas inspired gifts, but for most newlyweds they tend to get married in the Spring or early Fall when Christmas shopping is not on people's minds. I know for a lot of my friends they are having to start from scratch with decorations and that can be expensive!
Elf | $9.49
It's a Wonderful Life | $19.99
Burlap Tree Skirt | $80.00
Just Married Ornament | $3.87
Board Games and Hosting Items:
Yahtzee | $15.93
Catch Phrase | $32.00
Acacia Wood 3 Section Appetizer Disk | $17.95
Cuisinart Ice Cream Maker | $72.95
Gift Cards: 
As a newlywed it is always fun to go out on dates with your new spouse… but that can get expensive! Gift cards for dates are a great option. And if you don't want to give just a gift card you can always pair it with a small gift! (ex. Movie Theater Gift Card with the couples favorite candy and popcorn)
AMC Theater Gift Card | $50.00
Hopefully these ideas will inspire you and set you on the right track to finish up all your Christmas shopping!
Also I have started checking off my Christmas Checklist finally! Have you checked anything off yet?
Do you have any newlywed friends that would love these gifts? Is this your first Christmas as husband and wife?