DIY (Easy!) Book Page Ornaments
This post may contain affiliate links. Please read my disclosure policy.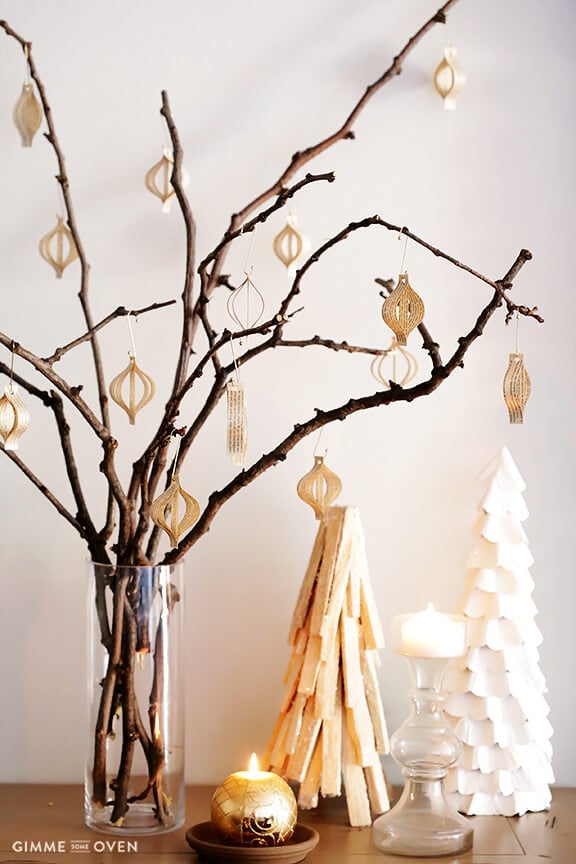 Happy holidays, friends!!!
I am long overdue for another DIY project on here. But I've been getting crafty for the holidays — as I tend to do — so stay tuned because more projects are on their way!
Today, though, I thought I would share this easy DIY book page ornament tutorial with you that I actually made and gave away to my book club members last year. I have a little annual tradition of making Christmas ornaments for everyone from yellowed book pages. (Which is nearly a crime in my book club to tear apart a book, but somehow everyone always survives the literary sacrifice.)  This project was by far the easiest one I've ever made. Each ornament took a grand total of about 2 minutes once I got rolling, and they turned out super cute!
If you don't want to tear up an old book, you could easily substitute in scrapbook paper, newspaper, or even brown grocery bags for a project like this. I just recommend using some sort of paper that is double-sided, since both sides will show as these ornaments sway in the breeze.
Here's how to make them!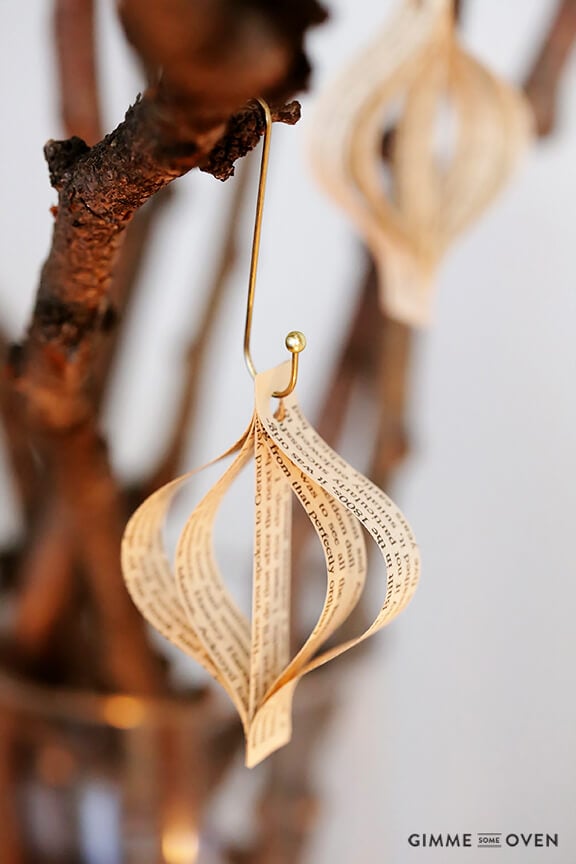 Well first of all, here's a little closeup, since you know me and macrophotography. ;)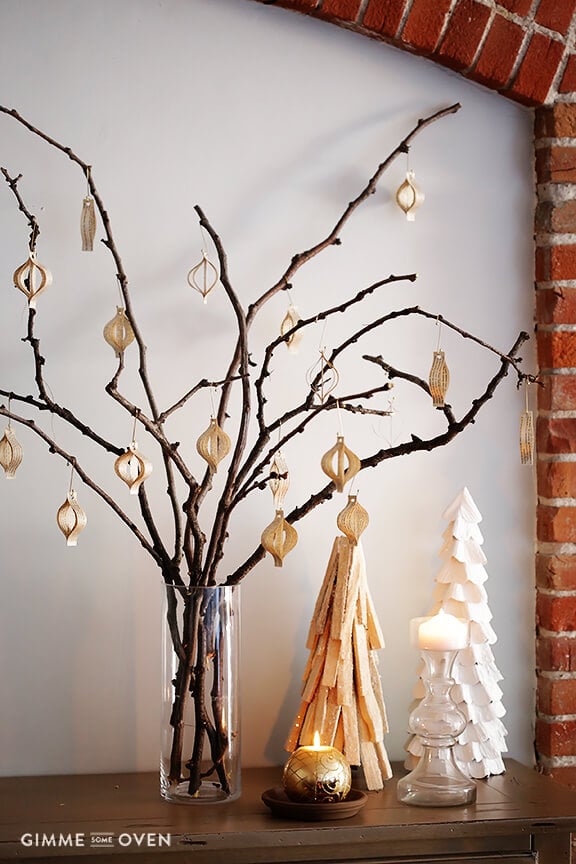 And here was my little display with them last year on my dining room buffet. I was actually hosting book club the night that I gave these away, so I just scavenged some fallen branches from the yard and popped them in a glass vase and then hung the ornaments on those. Then everyone took one home as a little gift. It was cute!

Alright, here's how to make them: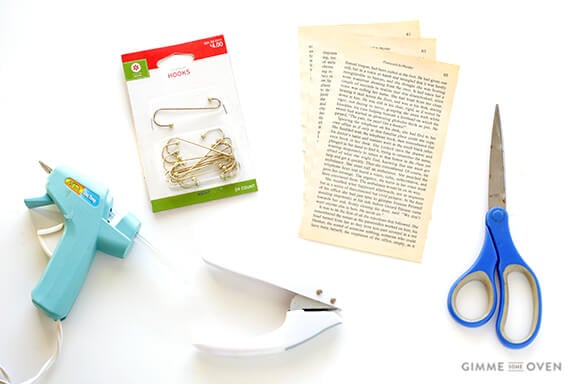 Begin by gathering your supplies. You'll need:
paper (I used old book pages from a PD James mystery — a favorite with my book club that I found at a thrift store for $0.99)
hooks (I found these at Target, but if you can't find hooks, you can tie loops with string)
scissors
glue (I used hot glue, but any fast-drying glue would work)
a standard-sized hole punch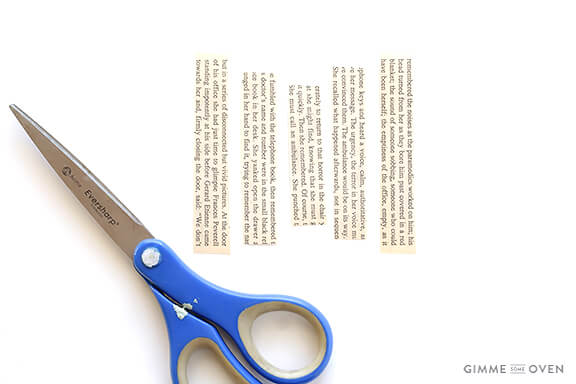 Begin by cutting out 5 strips of paper for each ornament. You want two that are long, two that are medium and one that is short. Feel free to play around with sizes before you begin. (As is probably obvious, the longer your "long" pieces are, the more the ornament will bow out once it's assembled.)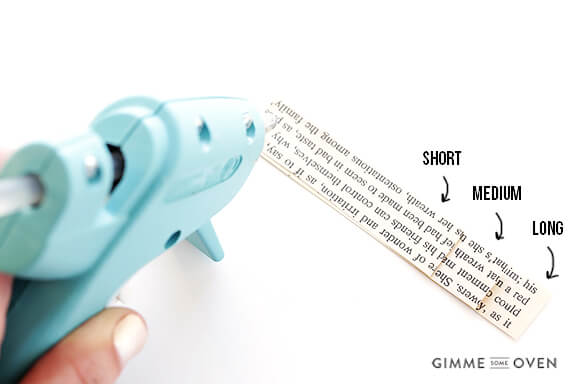 Then begin glueing the pieces together at the very top (use just a thin line of glue), with the edges even at the top. You want them in this order: long, medium, short, medium long. If you are using hot glue, try to apply it as thin as possible, since your hole punch may need to cut through those 4 layers of glue.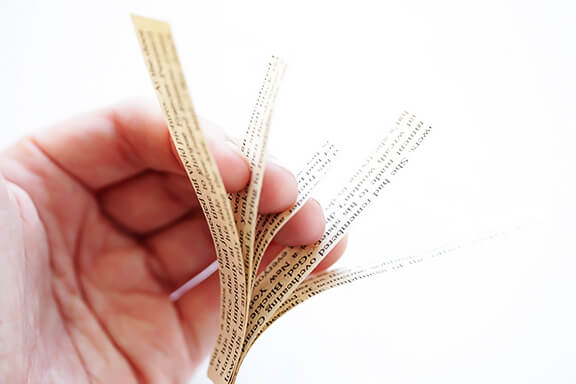 Afterwards, your ornament should look like this.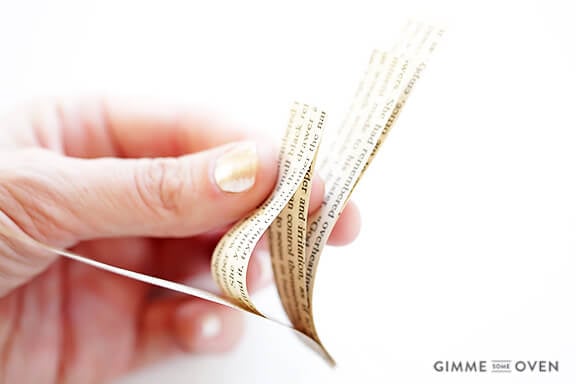 Next, go ahead and glue the other ends of the ornament together, again being sure that all of the edges line up evenly. Your pieces of paper will all bow out now and form the ornament.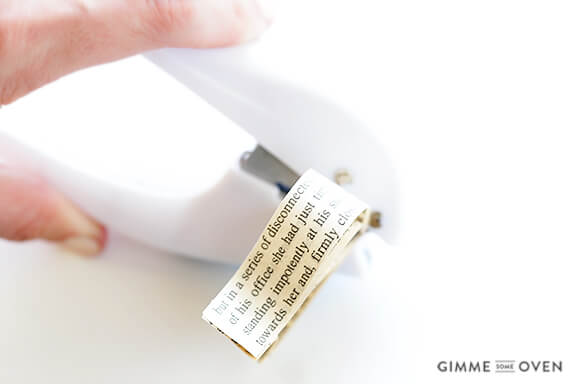 Finally, use your hole punch to make a hole in one of the ends to hang the ornament.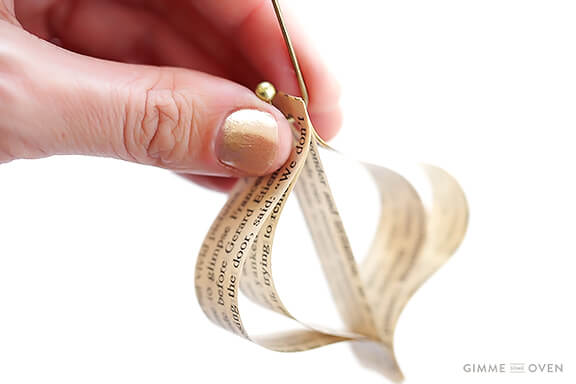 And then poke a hanger in the hole. (If possible, I recommend squeezing the end of the hanger together so that the ornament doesn't fall off. I had to do that with a pair of pliers.)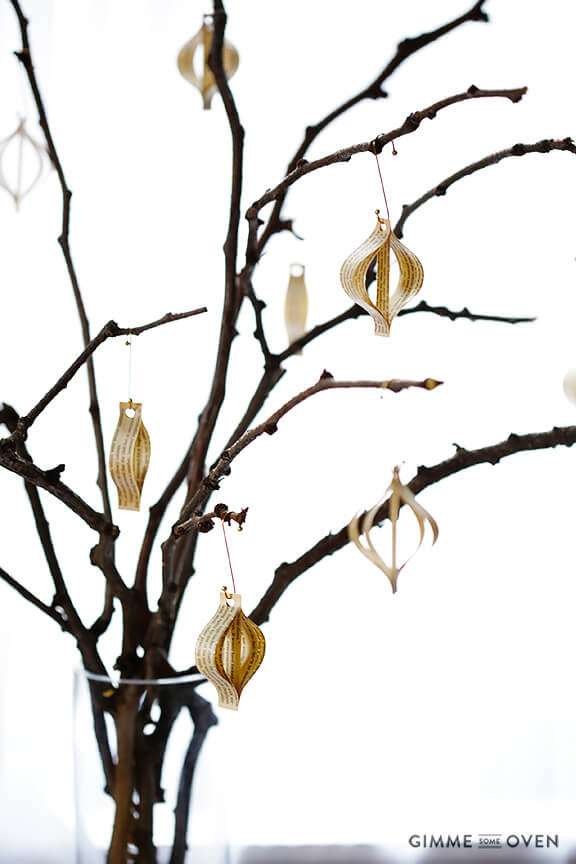 And then — voila! — your ornament is ready to go!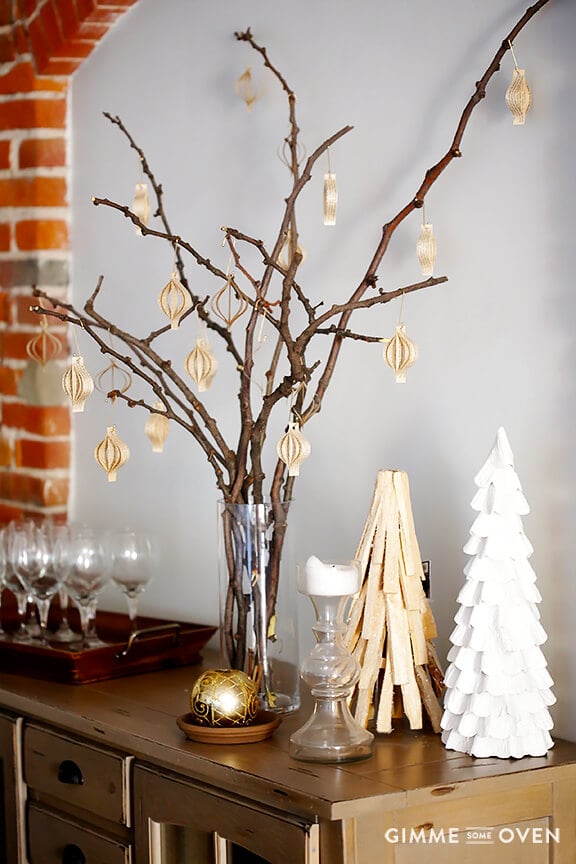 I thought they turned out pretty cute and classy. Although heads up that you might want to check beforehand (which I never do) to see what's actually written on the pages. Two years ago, I gave everyone ornaments with scandalous little love scenes printed on them. And last year, they got a gruesome murder. Lesson learned: if you give a book club bookish ornaments, they may actually read what's on them too. ;)
Enjoy! And hey — if you make some of your own — be sure and snap a photo and hashtag #gimmesomeoven so that I can see your creations!