DIY Envelope Liners
This post may contain affiliate links. Please read my disclosure policy.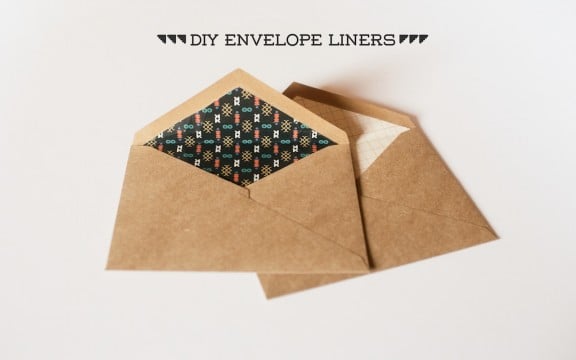 This post for DIY Envelope Liners contains affiliate links. 
I love to give cards. I think that getting a piece of mail from a loved one can make any bad day instantly more cheery. The problem with cards these days is that they can be expensive! Luckily buying your own blank cards can be a much more affordable way to send out some beloved snail mail.
This past weekend I decided to give a go at making my own envelope liners just for fun. It is simple and inexpensive and a great way to use up remnants of your favorite scrapbook paper, magazine pages, fabric, etc. And oh, it's also just stinking cute! :)
What you'll need:

What you'll do:
Trace your envelope to create a template
Measure the width of the adhesive strip at the top of your envelope. Mine was a 1/2 inch, so I trimmed off a 1/2 inch from the top and both sides.
Once you get the insert into the shape you prefer use this shape as your template for the rest of the inserts
When your inserts are all cut out place your insert inside the envelope.
Line up the creases of the insert and envelope and glue the insert onto the envelope.
You are done! Enjoy!