DIY Geometric Letter Art
This post may contain affiliate links. Please read my disclosure policy.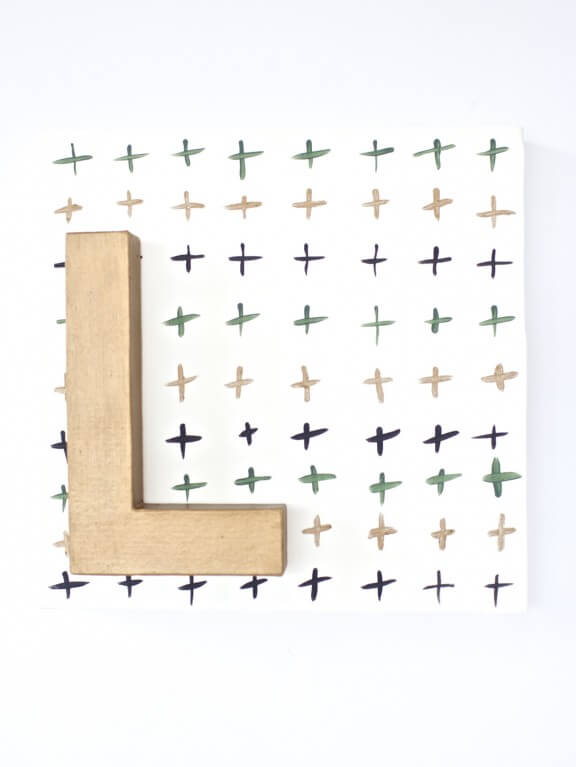 'Tis the season for…everypossibleeventever.
I'm not sure about you all, but lately the invitations for birthdays, weddings, baby showers, graduations and almost every other event you can think of have been pouring in! Don't get me wrong, I love parties and celebrations. But sometimes when the spring calendar gets booked with events, I can get a little overwhelmed in the gift-giving department.
Usually I try to buy gifts according to the registry, when one is available for showers and weddings and such. Mostly because I know that the person who is receiving the gifts has spent time creating that registry and would love for people to follow it. But I also know that people love receiving handmade gifts as well. So I love to make something personalized to go with that gift, and this DIY geometric letter art is a new favorite!
It is easy, extremely customizable, and great for almost any occasion! (Ahem mother's day…)  Check out the how-to below!
What You'll Need:
12×12 canvas
acrylic paints of your choice
hot glue gun
cardboard letter (I purchased mine at Hobby Lobby, but you can buy them here too)
paint brushes (one large for the canvas and one small for detail work)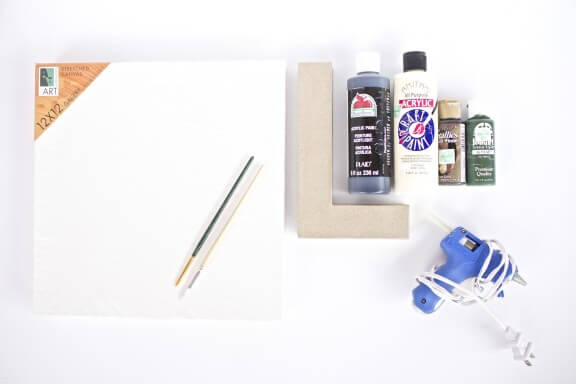 What You'll Do:
Pick your paint colors. This piece was for a certain bride who was going for a simple color scheme in her home. Lots of greens, golds and white. I stayed true to her colors, but this project could be done with any color!
Paint your canvas and letter first making sure to fully cover each surface with paint. I used a cream color on the canvas (even though it looks white in the photos)
Once your canvas has dried completely, paint your pattern or design onto the canvas. I chose a simple plus sign print in a 3 color pattern. For pattern ideas click here.
Hot glue your letter onto the painted canvas.
Enjoy!
I think these could be cute hung in an office, baby or child's room, bedroom, office, or even in the living room. You can easily switch up the colors, try a different pattern in the background, or even just keep it simple with white-on-white. The key is to just give it your own personal touch. :)
This photo shows the cream color off a bit more with the brick background. And I really love the gold "L". (I'm tempted to buy a few more of these letters and paint them all this gold. It could be really cute to spell out a word and hang them up somewhere! Another project!)
I had fun with this one! Hopefully this project inspires you to create some letter art of your own!