Easter Mason Jar
This post may contain affiliate links. Please read my disclosure policy.
Are you guys tired of moss and nests yet? I guess I have developed a theme this year! This is one of my favorite decorations yet! I love the simplicity of the old mason jar. What can I say, I too am a sucker for mason jars just like everyone else in the whole world. ;)
What you need:
Mason Jar (I got mine from a thrift shop with the zinc lid, but a regular mason jar would work just fine!)
Artificial eggs (mine are wooden)
What you'll do:
Take your jar and fill it two thirds of the way full with moss. 
Gently lay your nest on top of the moss. Make sure the nest is laying flat and centered!
Place your eggs inside the nest. I didn't choose to glue any of the materials down because I don't plan on moving my jar, but if you want to to glue it down I would recommend hot glue!
Screw the lid back onto the jar and enjoy!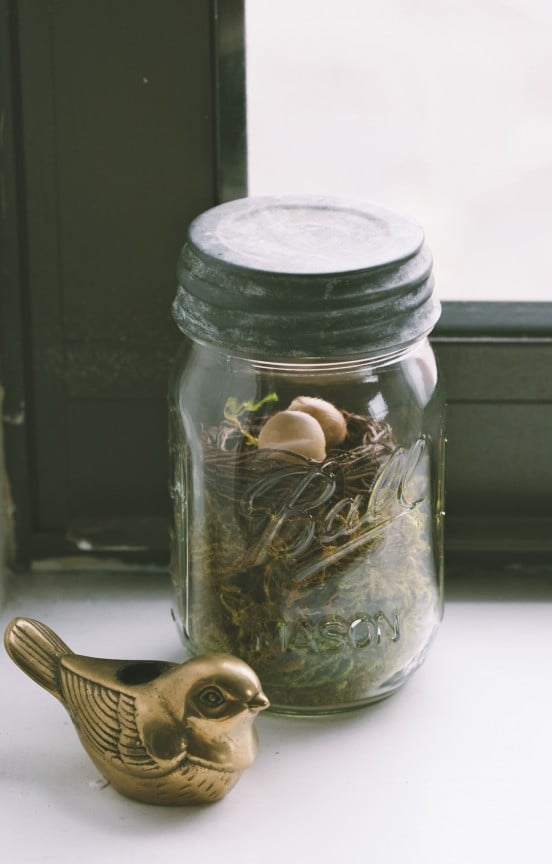 I put my jar in the window sill, but I can picture these as centerpieces on the table for easter, or even as a gift! For a fun kid-friendly twist maybe some artificial grass and jellybeans? The possibilities are endless!
For more easter crafts look here and here!
Have you entered the Papillionaire Bicycle Giveaway? You can win your very own BIKE! Why would you not enter right? 
This post contains affiliate links.