Five Simple Fall Decorations
This post may contain affiliate links. Please read my disclosure policy.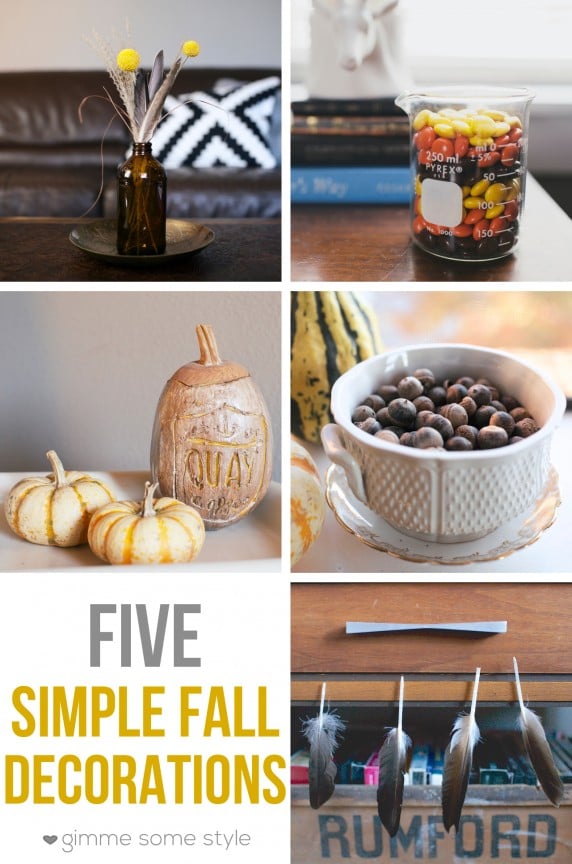 This past weekend my family had a multi-family garage sale. This sale was the jackpot of sales. It had everything from vintage dishware to clothing and furniture to even trailer hitches. It was one of those sales that would have had me slamming on my breaks mid-route just to see what kind of treasures I could find. BUT, since over half of the sale's contents were my own, I refrained from taking TOO much home. If you are just tuning in, Tanner and I have been in an on-going state of discard in our home for the past few months. We have successfully cleared out any type of unused "storage" and I even dwindled my "someday I will need this" pile down to nothing.
With that being said, I still like to bring a little holiday or seasonal cheer into my home. The tricky part is storing all of these decorations. This year though, I have found a solution. I bring you five simple, disposable, apartment friendly and almost free fall decorations! So go ahead! Decorate your home and don't worry about that clutter anymore!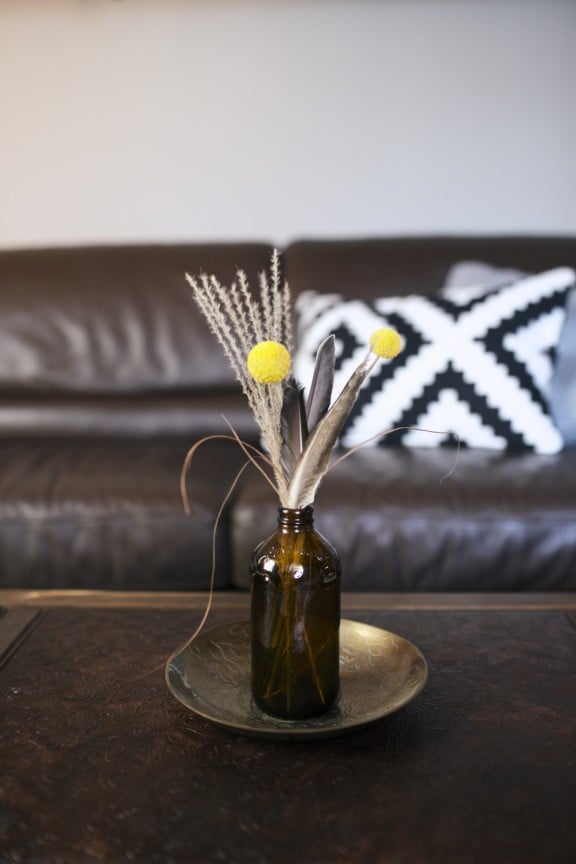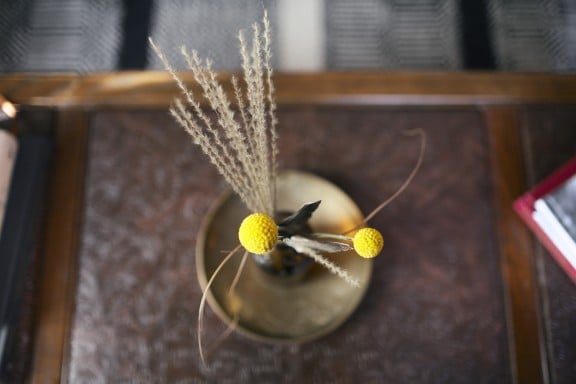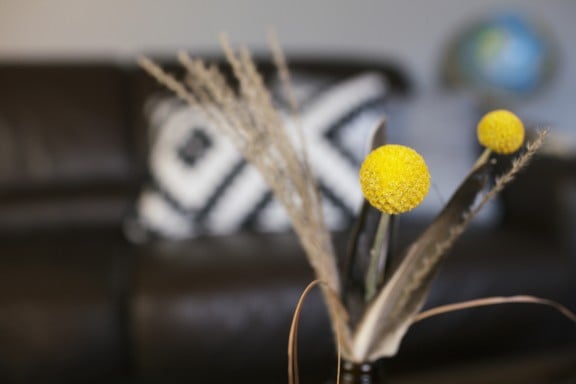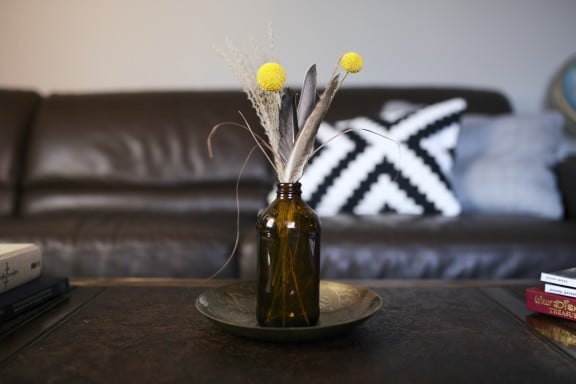 Let's talk about billy balls. How's that for an introduction? But really,  Billy Balls–or more formally Craspedia (The yellow flower pictured above) are THE flower right now. Have you noticed that? If you have attended any weddings this past year I would bet that you have seen a billy ball. Here's why I love them:  They are simple, cute and dry almost as beautiful as they are fresh. I bought mine at a flower shop in my neighborhood for a dollar a piece. On the way back to my loft I grabbed a few filler pieces from a couple bushes along the sidewalk and threw in a couple feathers. It really is that simple. And for a total of $2.00 I'd say it is worth it!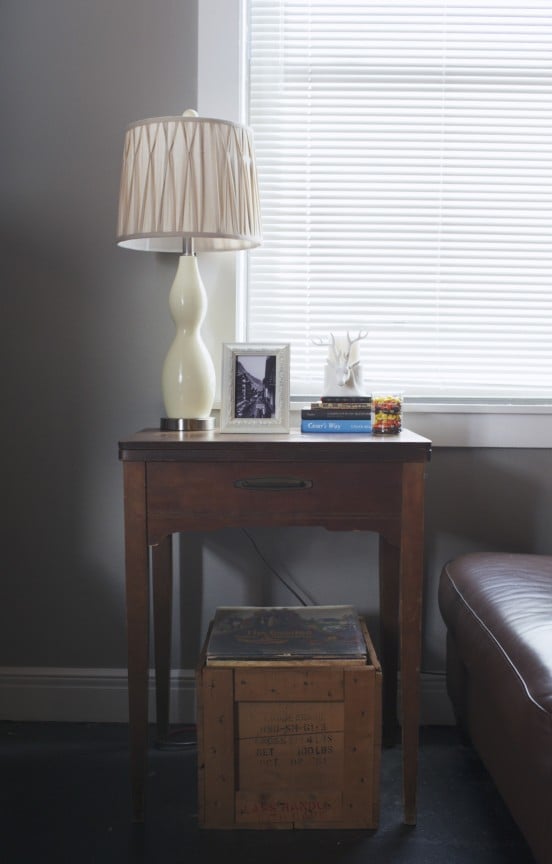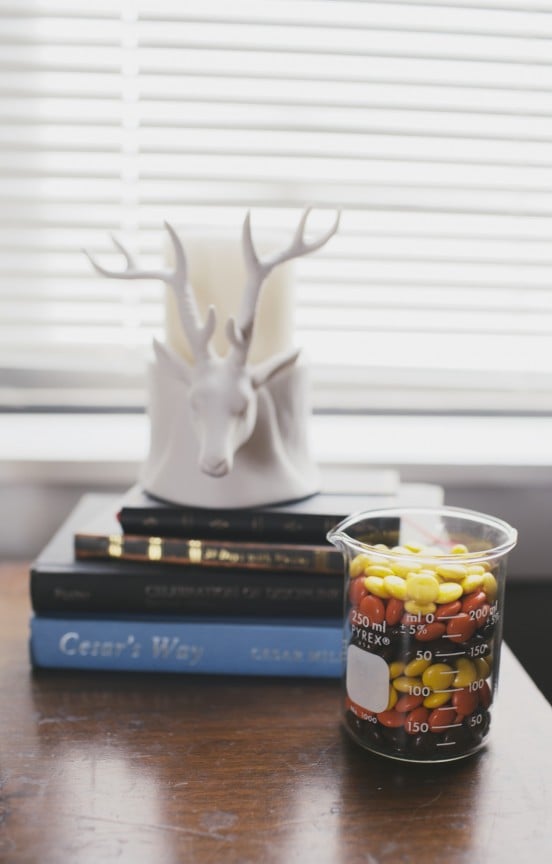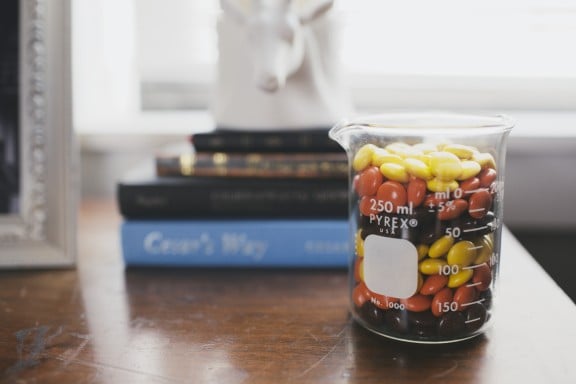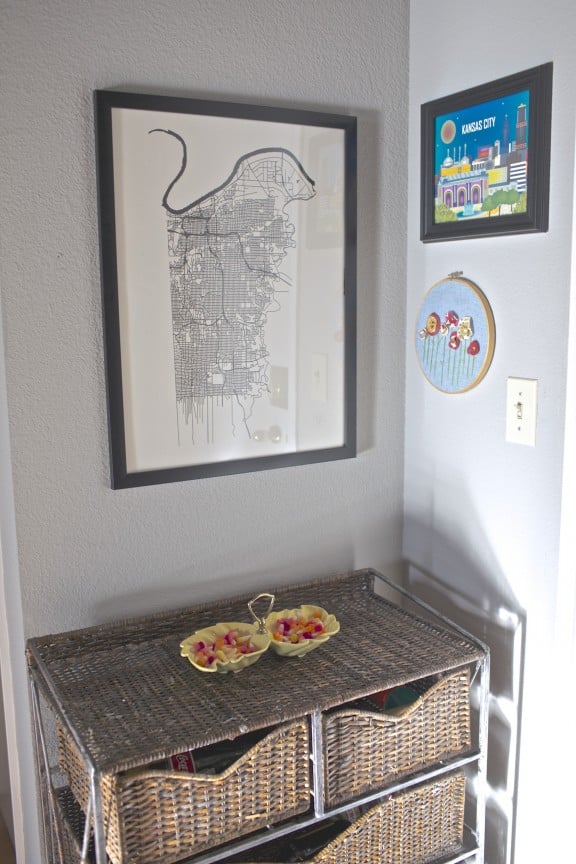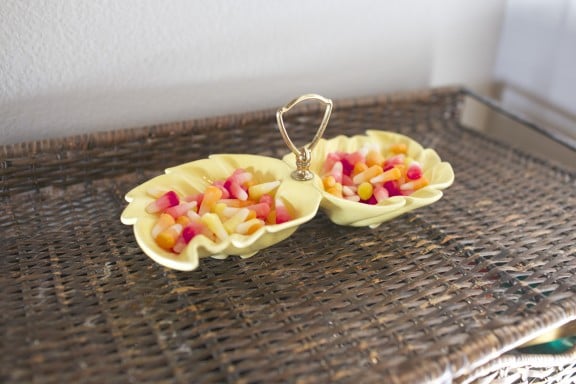 I'd say candy is pretty self-explanatory. I mean it is bright, cute, cheap and tastes SO good. I chose reese's pieces because 1. they are Tanner's favorite and 2. They are perfect fall colors. I separated them into a striped pattered and stuck them onto a table. So simple, so delicious! And did you see those candy corns? Here's a little secret. Those are Starburst candy corns… As if candy corns weren't already fantastic, let's make them Starbust flavor. You know you want to try them! ;)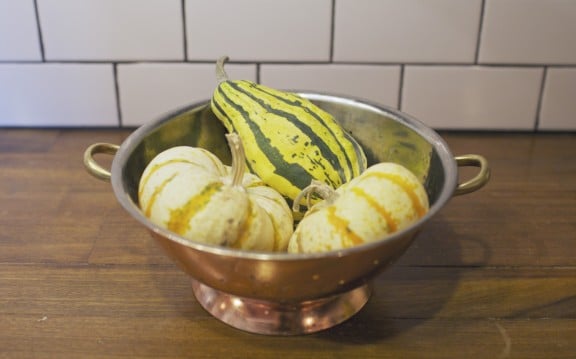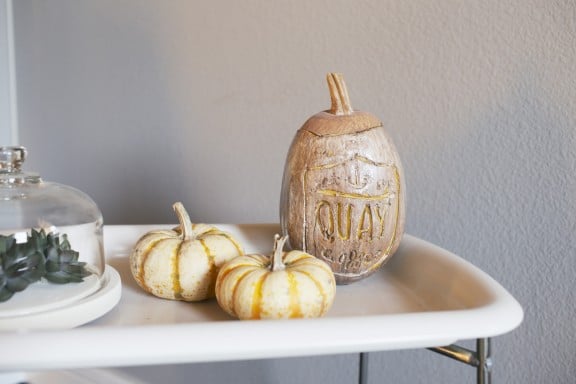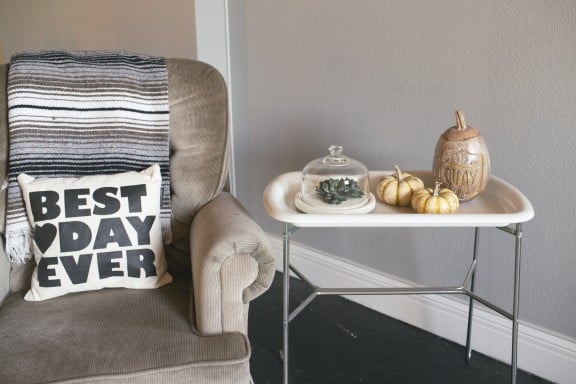 Pretty much any local market, grocery store or pumpkin patch will have pumpkins and gourds on sale for a great price this time of year. I love to put a few out around the house to make things a little more festive. And of course don't forget to carve a pumpkin! Our friend carved this pumpkin for us of our coffee shop logo. How cute is that??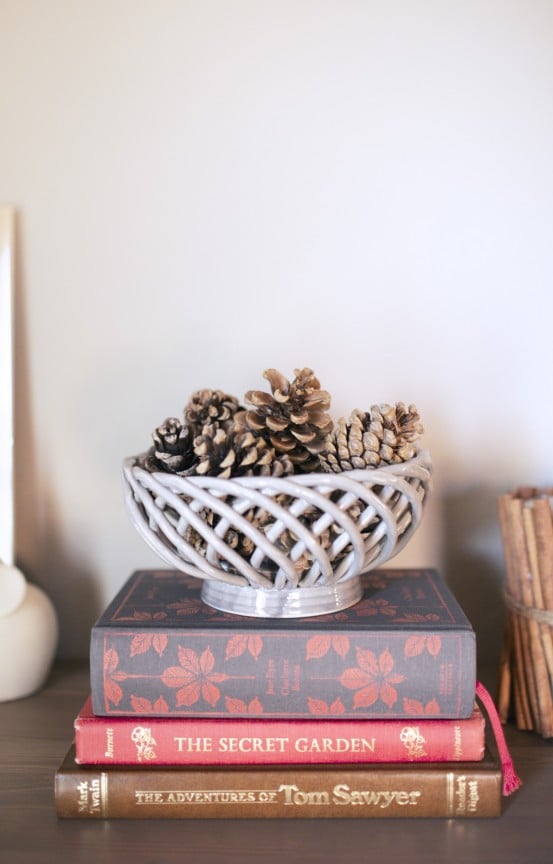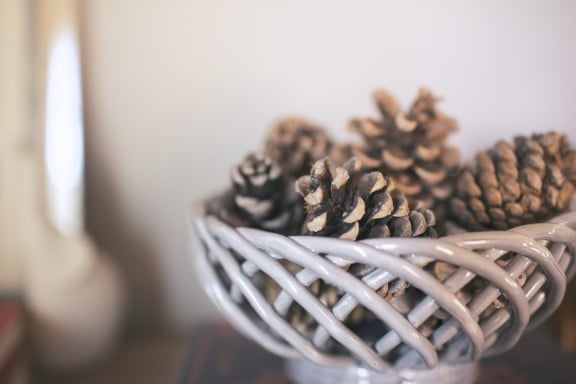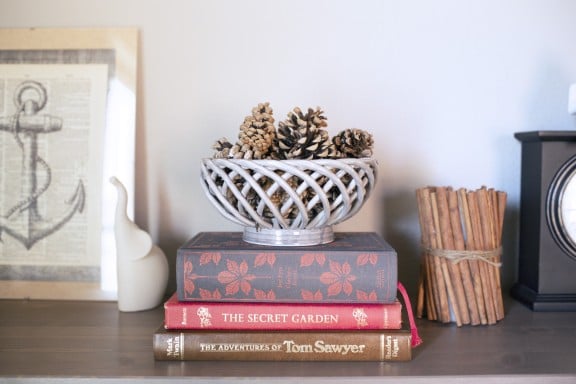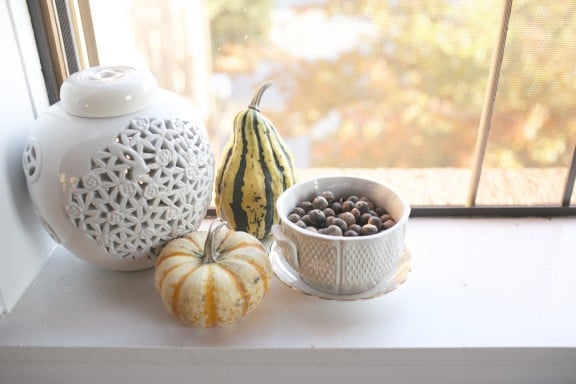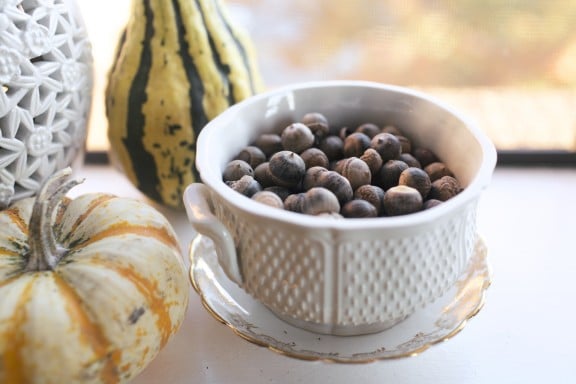 This might be the easiest option yet! I found all these pinecones right in my neighborhood and the acorns were found at my parent's house on a "hunt" with my nephew. I mean you can't beat free right?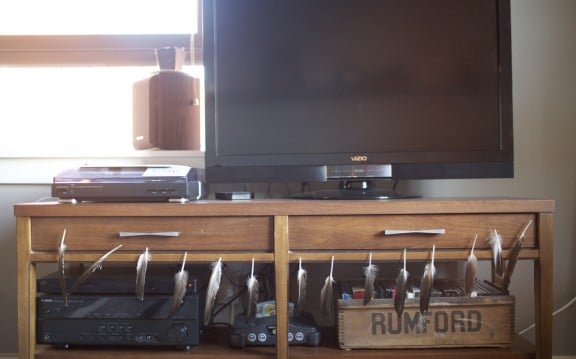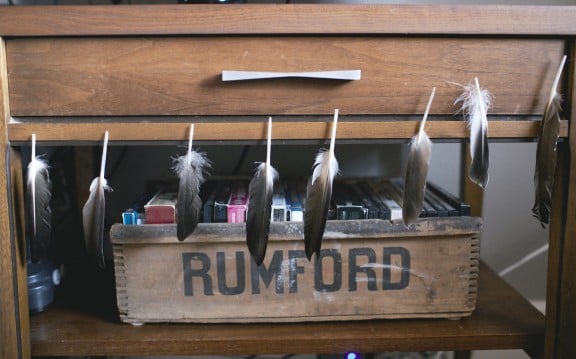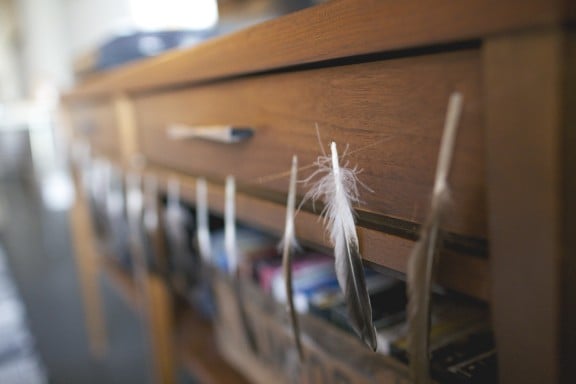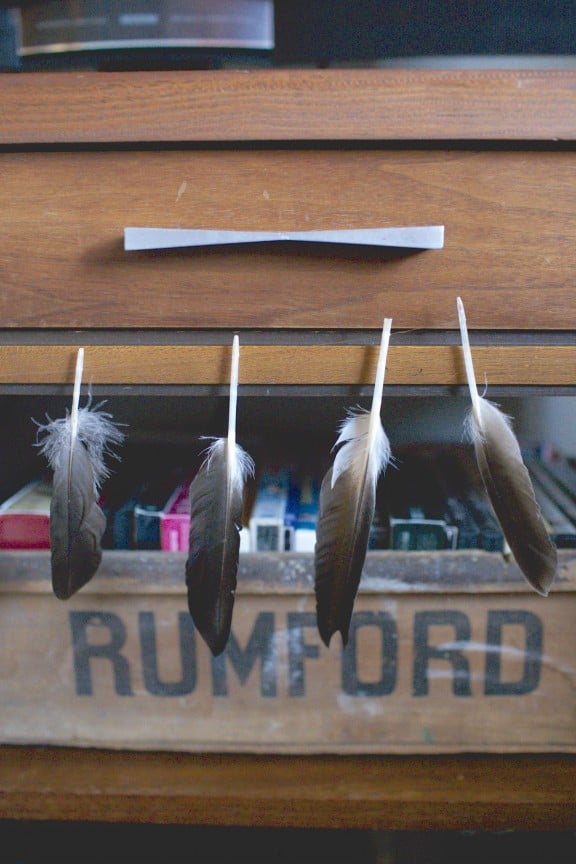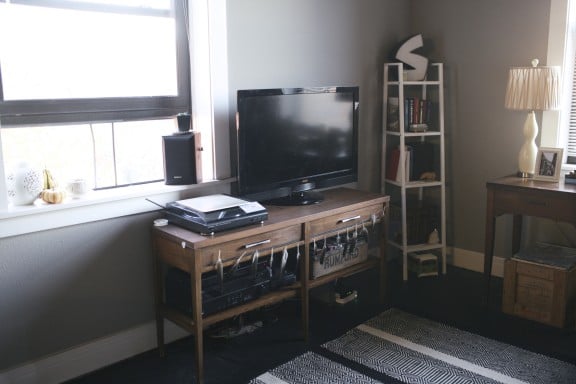 I used the same method as this garland for my feather garland. I love that it takes up so little space while storing it for the next year, but at the same time gives the room the much needed "fall feeling"
What simple things do you do to decorate for fall?