My 10-Minute Hair Straightening & Skin Care Routine
This post may contain affiliate links. Please read my disclosure policy.
With Christmas only days away I am deep into wrapping gifts, hosting and going to parties, and eating lots of delicious holiday foods. There are so many fun things to do this season, but amidst the busyness, it seems like prioritizing time to do my hair and skincare routing often gets put on the back burner.
Let's all be honest here, how many of you run out of the house with your hair in a bun more often than you would like?
I have to admit, I struggle with this on a daily basis! As we approach the upcoming new year, I've resolved that I really want to work on taking care of my skin and hair better. Luckily, I recently discovered two new products that can cut my hair and skincare routine down to just 10 minutes. No kidding.
I had been especially interested in finding a product that would help with faster hair straightening, which usually takes the longest. So when Conair offered to let me try out their True Glow Sonic Cleansing Brush and Infiniti Pro by Conair Hair Designer Dryer as part of their new "Glow & Go" promotion, I was so excited!
My previous hair dryer took up to 15 minutes for drying alone, and I was at the breaking point of cutting my hair off just to spend less time getting ready! But it turns out that the Infiniti Pro literally dried my hair in less than 10 minutes. It's a Christmas miracle I tell you!! ;)  It also has an Argan oil conditioning strip that distributes the perfect amount of oil, reducing breakage by up to 75% and increasing shine by up to 25%. And with winter in full force here in Kansas City I'll take any added moisture I can get!
So for anyone else in the same boat looking to cut down on their hair and skincare time each day, I thought you might like to hear about these too. Read on for the details!
My New Hair Dryer
Conair had told me that the Infiniti Pro  hair dryer and 3-in-1 styling attachment eliminates the need for a brush during drying AND reduces styling time by up to 50%. So you'd better believe I was anxious to try that out. And believe it or not, it really worked!! Seriously guys, this baby straightened my hair while drying!! (There must be magic in this thing right?)
The photo below is with JUST using the hair dryer. I'm impressed. And it literally took me (with lots of hair) less than 10 minutes! That's about 20 minutes less than my usual routine of using a blow dryer and then straightener.
Can we just take a moment and think about that extra five minutes of sleep I will get now? This is big news people! ;)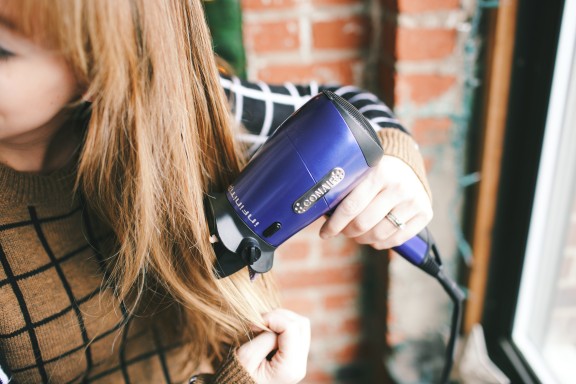 My New Skincare Cleaning Brush
Now let's talk about my skin. I will admit I haven't had a facial in years.. and let's be honest, I've actually only had a real facial once in my life. (Don't tell my esthetician sister-in-law this news!)  So let's just say my face was in need of a good scrub!
With the Conair True Glow Sonic Cleaning Brush I was able to get the clean and smooth feeling skin that I really have desired. It was so easy to use and can be used at the sink or even in the shower. I love this little guy–seriously, after only 60 seconds my face was fresher and cleaner than using a cleanser alone ever got me! I'm a fan.
And did I mention that it can be used on your face and your body as well? It comes with two separate brush heads for easy use on your whole body. And really, no matter how busy you are, anyone can spend 60 seconds to give your face the attention it deserves!
So if you are like me and are desperately searching for a product that can help you get out the door quick and help you look and feel great, I'd highly recommend both of these products. They really do work, and have made a big difference already in my life!
Here's to a new year of taking care of your hair and skin!
For more information about Conair hair styling appliances and beauty tools, including great holiday gift ideas, visit https://www.conair.com/promos/holiday_2013.
This is a product-provided, sponsored conversation written by me on behalf of Conair. The opinions and text are all mine.
//