How To Turn A Regular Scarf Into An Infinity Scarf
This post may contain affiliate links. Please read my disclosure policy.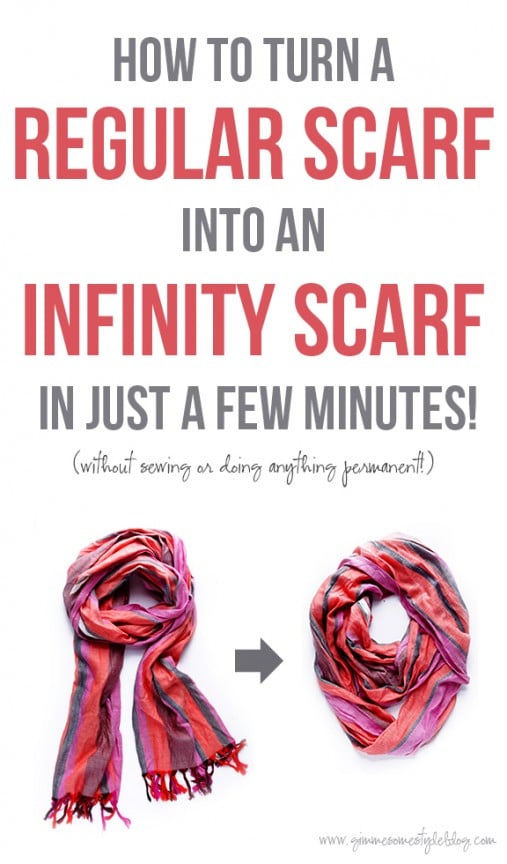 Hey everyone! It's Ali from Gimme Some Oven chiming in today, while Liz is catching up after her epic trip to the west coast and camping and other adventures.
Awhile back, some friends and I were having a conversation about what article of clothing you would use to describe yourself. And being that I don't necessarily buy that many clothes, and don't have any signature pieces that I'm especially fond of, I was hard pressed to find an answer! But my friends were quick to help out and name the article of clothing that I'm apparently known for — SCARVES.
I am completely just a wee bit obsessed with scarves. So. Many. Scarves.
It's true. I probably have about 50 scarves hanging in my closet right now that I have collected over the years. But while I still love so many of them and their beautiful fabrics, I have to admit that I've grown a little tired lately of the "regular" scarf look, and have been wishing that more of my scarves were infinity scarves. They just seem easier to wear, and have a classic look that I'm loving right now.
I mentioned this to some friends the other day, now that scarf season is back in full swing, and was intrigued when they immediately pointed out that it's super easy to turn a regular scarf into an infinity scarf! I immediately pictured hauling out my sewing machine and all of the chaos of threading bobbins and needles and such, but apparently those are not needed. As one friend said, all you need are two hands and a minute or two, and any "regular" scarf you have can become an infinity scarf in no time.
I immediately went home and infinity-ized about 15 scarves, and am amazed that I never considered these two quick methods before. So today, I thought I would share them with you. They are definitely not rocket science, but they have sure "rocked" my little scarf-loving world. ;)
Hope all of you scarf-lovers enjoy!
How To Turn A Regular Scarf Into An Infinity Scarf: Two Step-By-Step Tutorials
For Scarves That Have Tassels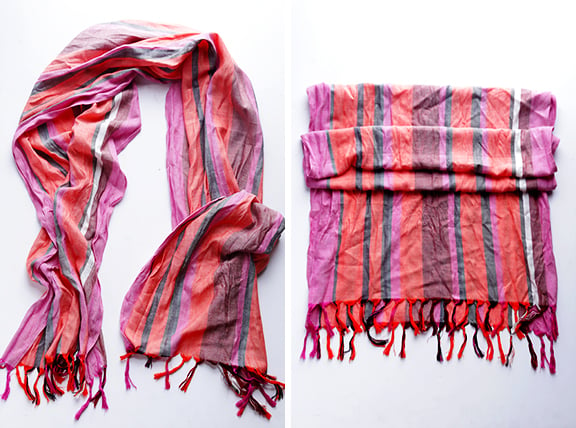 1. Take out your scarf and fold it in half lengthwise so that the ends (tassels) are flat and lined up.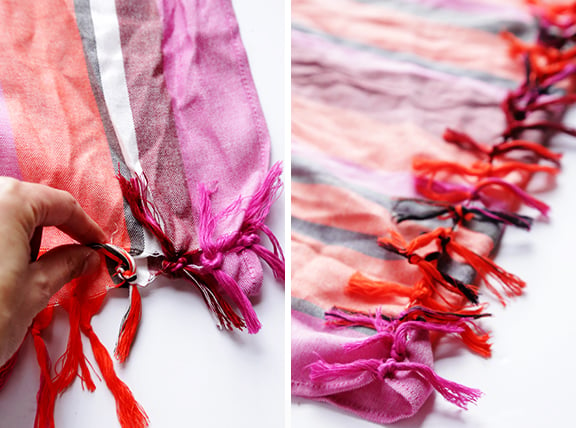 2. Here's the magic trick — tie the tassels together!!! You can tie all of them (like I did in the photo), or just tie 3 or 4 (which will still hold, and are much easier to undo).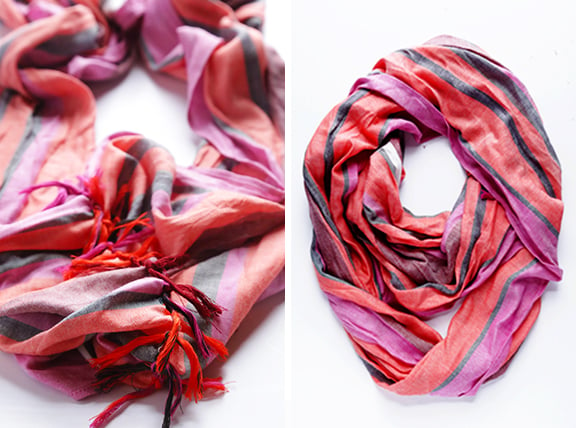 3. Now you have an infinity scarf! Just pop the tassels on the back and loop the scarf, and they will hardly be seen. And even if they do, they're cute and fun!
For Scarves That Have Clean Edges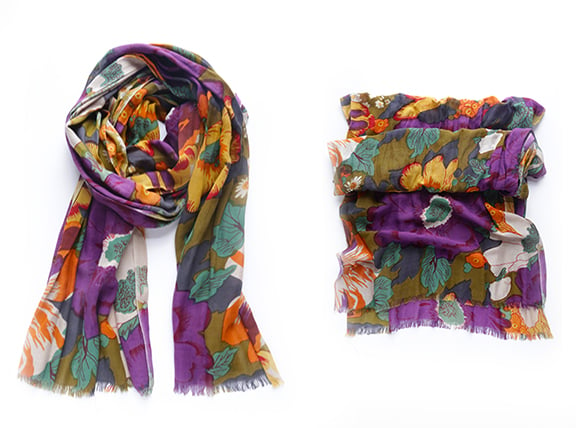 1. Again, take the scarf and fold it in half lengthwise so that the edges are lined up evenly.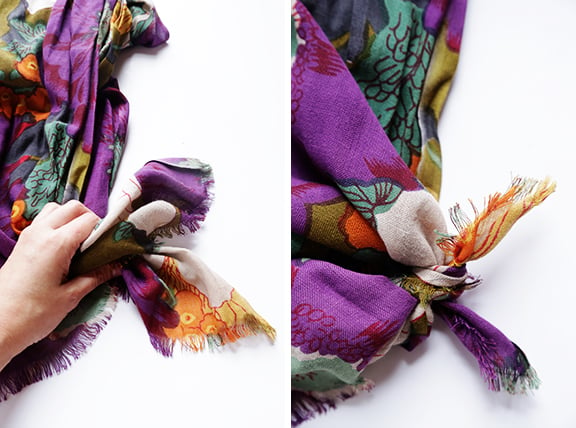 2. Pinch off sections of fabric on the two right-hand corners, and tie them together to form a knot.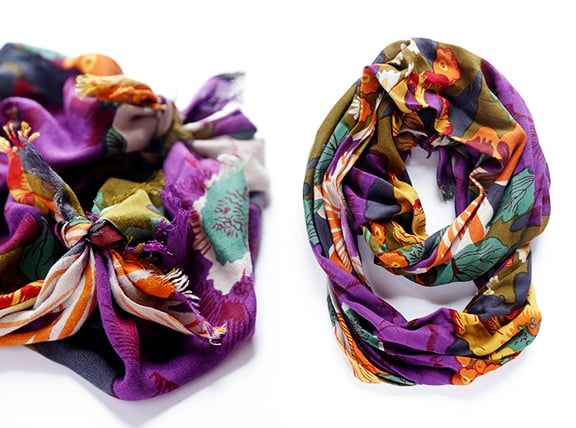 3. Repeat with the sections of fabric on the two left-hand corners, so that you have two knots to hold the end together. Again, pop those knots in the back of your scarf, where they will barely be seen, and enjoy your new infinity scarf! Ridiculously easy, and also easy to undo if you'd like to return to "regular" scarf style. :)
Scarf Source: World Market (one of my favorite places to buy scarves.)
See? Easy Peasy. Now go try it!