Weekly Wear: Little Red Riding Pants
This post may contain affiliate links. Please read my disclosure policy.
Here is the deal… I am a little annoyed with the colored pants fad… and not because I don't love colored pants. (I do in fact love them!) It's just that I really thought that we already did colored pants just a few years ago. And I thought for sure they would not come back so quickly–or at least not be the same fit and cut. Therefore, I got rid of all my colored pants that I owned. And the worst part? I did it just last spring. So, reluctantly I have purchased a few pairs this fall/winter and I will not get rid of them this time so help me!
Let me tell you something else. I don't really wear red. Not that I don't love the color red–I am just drawn to other vibrant colors–like gray, and black, and brown. (Still working through my constant gravitation towards neutrals!) But something about these red pants was drawing me to them. I put them on and fell in love…
And then brought them home and had a slight freak-out that I had just bought bright red clown pants.
Nevertheless, I still love these pants. They are bright, and happy and make my day so much more fun.
Oh, and surprise! I got bangs! And I like them…until next week when I am crying telling Tanner how much I have just ruined my hair. (Don't tell me you haven't had the post-haircut cry session) But for now, I like them.
Also a little behind the scenes conversation on these next two photo:
Tanner: Hey, you should go stand against the doorway.
Me: Oh, good idea.
Tanner: No the doorway..
Me: I am in the doorway.
Tanner: That is the door, stand in the doorway.
Me: I don't know what that means then–this is the doorway.
Tanner: No, that is the door (motions to the door) THAT is the doorway (points towards the "doorway")
Me: You are ridiculous–here, now I'm in the "doorway"
Tanner: Yes, that's good.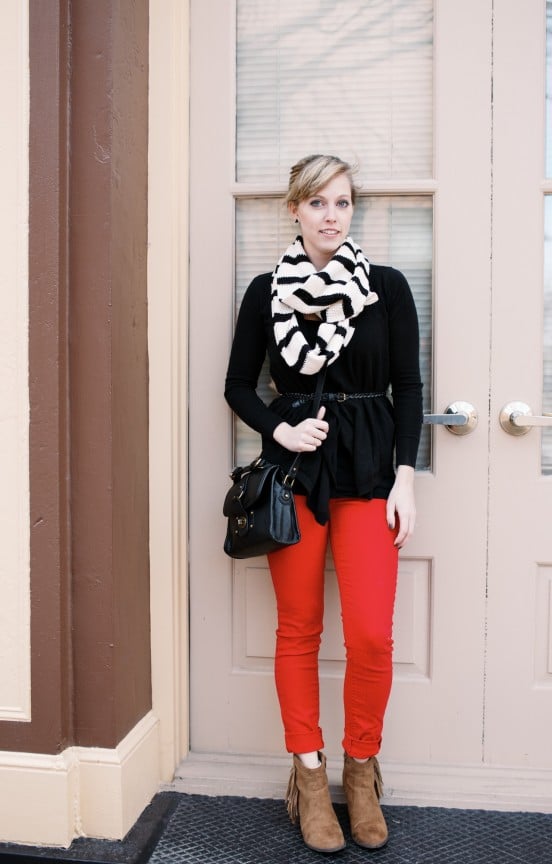 (The DOOR)
the DOORWAY.
Just in case anyone was needing a little architecture lesson on this lovely monday. :)
Weekly Wear: Outfit Source: Pants: Marshalls, Sweater: Gifted Booties: Target, Scarf: Gap, Purse: August Wrinkle, Earrings: August Wrinkle, Belt: Trifted