The Slippers That Will Change Your LIFE
This post may contain affiliate links. Please read my disclosure policy.
Hey everyone! It's Ali guest posting over here today, with an ode to my favorite slippers of all time — Restoration Hardware's Luxury Plush Foot Duvets.
Yes, foot duvets.
My good friend, Amy, introduced me to the wonder of these slippers a few years ago, and I have been hooked ever since. I think I am on my third or fourth pair now. I wear them literally every single night during the winter, and cannot wait to get home and slip them on each day. They are brilliant.
And I thought I'd pop a quick post on here because right now they are on sale for $19 each. If you love your feet, you should run out and buy some stat. (Or order online.)  ;)
They come in two sizes — small/medium (women's sizes 5-7) and large/extra-large (women's sizes 8-11). (Note: I wear a size 8.5, so was right between sizes, but went with the small which have fit great!)
They also come in 7 neutral Restoration-Hardware-ish colors. (I have the "fog" gray color.)
As their website description says, these cute little booties are "lined with supremely soft, wonderfully cozy poly plush". And they're not kidding. They are beyond soft on the inside, and super lightweight and perfect for even packing in a suitcase if you're traveling and can't go a day without your foot duvets. ;)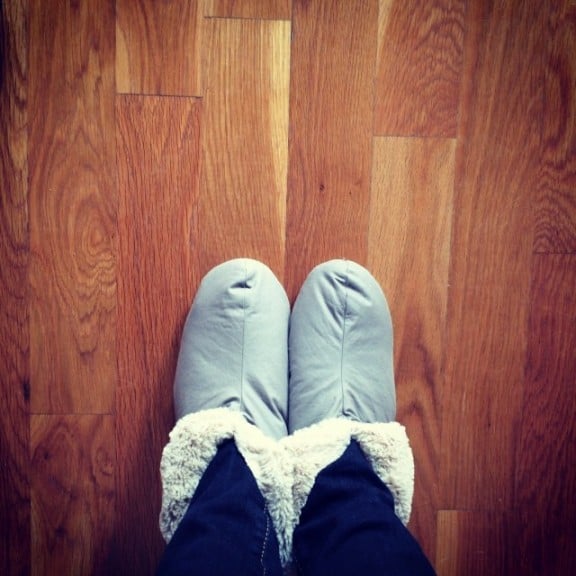 So if you're looking for a new pair of slippers, I can't recommend these guys enough. They will definitely change your life.