{style on a budget} how to shop at thrift stores: part one
I have always been a bargain hunter.  I love sales, clearance aisles, garage sales, and let's be honest — one of my favorite days of the year is big item trash pick up day!  (The things people will throw away…)
For me thrift store shopping is a natural thing.  It only makes sense that I would buy the same item at a discounted price, but I know there are people out there that maybe haven't figured out how to do it, or who get intimidated by the idea of trying to wade through a large thrift store packed with items.  This post is for you!
I am going to give you a quick break down of how I shop at a local thrift store…
Here are a few items I normally look for when shopping:
All of these items are extremely common and also inexpensive :)
I recently visited my local Savers and found a few items that caught my eye:
Drinking Glasses & Mugs: Oh drinking glasses, why must you all be so cute? I seem to have a problem with buying too many cups so I had to pass on these this time, but these glasses are so sweet and simple! They would be great for a casual dinner, and at .49 cents a piece who could pass them up? And don't worry at all about buying glasses used. Just a quick cycle in the dishwasher and they are good as new!
Photo Frames: Savers is a gold mine for photo frames.  This entire wall is full of different sizes and shapes of frames, and the highest price I found on them was $4.99. If you like the bones of the frame don't be afraid to paint it to give it a fresh new look!  Just remove the glass and use some acrylic, oil or spray paint to add on your new favorite color or gloss.
Decorative Accents: I love these little guys!  I have really been into brass candlesticks lately and I hit the jackpot here!  In case you were wondering they ALL came home with me.  (At $0.99-1.99 each, it wasn't exactly breaking the bank.)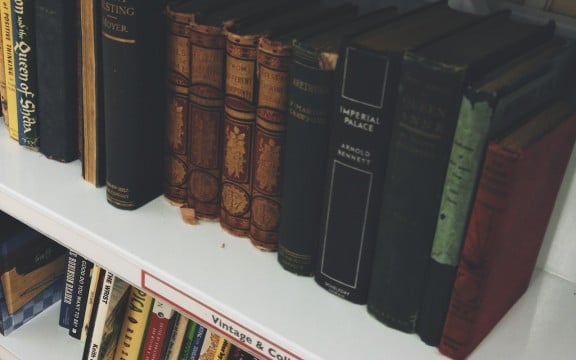 Books & Records: I love the book section in this store! Usually the books are priced at around 1.50 a piece and if you purchase 4 you get 1 for free! When it comes to using them for decorating I like to check out the vintage and collectable section — they usually have some really great character to them!
Below I have a photo of a vase with some terrible fake flowers.  I think a lot of times people shy away from these items because they look tacky, but the vase itself is actually pretty cute, and at $3.99 that is a pretty great deal. I can already picture a sweet little succulent planted in it!
Other items people normally seem to avoid are the linens. I definitely think it is important to properly clean your used purchase, but once you wash them you end up with a pretty great find! This adorable blanket was priced at $7.99, and the pattern reminds me of something you might easily find at Urban Outfitters.  I just might have to go back for this one!
Here's a close up photo of the pattern — love it!
Cookware & Dishes: I found this sweet cup and saucer set and almost took it home with me.  It could be such a fun little set to entertain with or even to give away as a gift — the feather pattern along the edge is so great!  Plus, the whole set was only $6.99.  Can't beat that!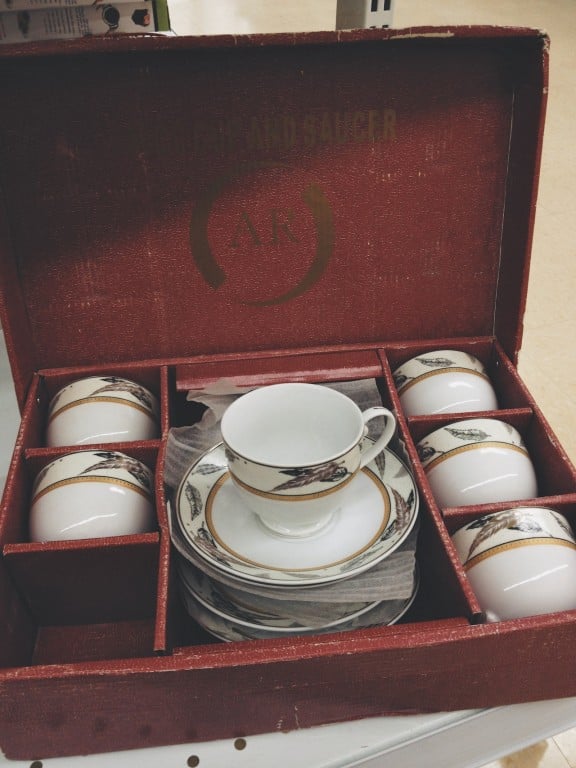 These are just a few ideas that hopefully get your brain in gear to find your own deals!  I know sometimes for me all it takes is a little direction to get started.  Just remember, look for what YOU like!
Another thing to keep in mind is that a lot of times stores will run specials.  On the day I was at Savers they were running a "Spend $20.00 and get 25% off" deal!  They also have a rewards card that is free and includes some great savings.  It's worth the extra time to find out when stores are having sales.  Sometimes you can really save big!
What about you guys?  Anyone found a great deal lately?  What are some of your favorite thrift stores?  Am I the only one who buys too many drinking glasses?
This post contains affiliate links.