the hobbit giveaway!
This post may contain affiliate links. Please read my disclosure policy.
As many of you may know The Hobbit will be coming out this Friday! Today I have some really great and unique Hobbit related giveaways for you!
How to enter the Hobbit Giveaway
What is included in the Hobbit Giveaway:
One lucky winner will be chosen to win BOTH of these great prizes listed below! (Literary Emporium's Vintage Compass Necklace AND Gypsy Raku's Live Moss Terrarium)  So go ahead and enter above! One lucky winner will be chosen to win BOTH of these great prizes!
Literary Emporium: Antique Compass Necklace
First I have this beautiful Lord of the Rings Necklace "Not all who wander are lost" Compass Charm from Literary Emporium. She has all kinds of book loving goodies on her page. I love the detail and beauty of this compass necklace though! As Literary Emporium says it's a "Perfect necklace for a lover of Lord of the Rings and The Hobbit."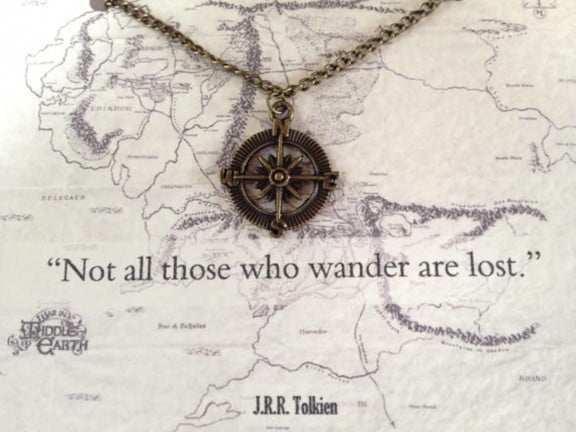 Photo courtesy of Literary Emporium.
This is an Antique gold chain necklace with a compass charm. Necklace is approx. 45cm long
"Mounted on a textured, cream postcard with a print of Tolkien's famous quote. Also features a vintage print a map of Middle Earth."

Photo courtesy of Literary Emporium.
Check out all of  Literary Emporium's other great products too! I love all of the fun prints and postcards they have to offer as well.
Gypsy Raku: Live Moss Terrarium
The next item up for grabs is a Live Moss Terrarium from Gypsy Raku. I have always loved Terrarium's and when I came across this one it was love at first sight. Gypsy Raku hand crafts each of their Terrariums so each one is unique! They even hand make their clay houses!
Gypsy Raku was so gracious and sent me my very own Terrarium. It came to me so carefully packaged and even had directions on how to take care of my new Landscape!
I think it looks lovely in it's new home. This is a gift anyone would love to receive and even the black thumbs should be able to keep them alive as terrariums require little care.
In case you missed it:
To enter the giveaway, follow the instructions in the Rafflcopter widget above just below the pagebreak.
This is a great month for giveaways with the Gimme Some blogs! And don't forget that the Jo Totes Giveaway is still going on this week! Enter now for your chance to win your very own new camera bag!
Disclaimer: This giveaway has been sponsored by Literary Emporium and Gypsy Raku. I was sent a product to review by Gypsy Raku, but was in no way compensated to host this giveaway, and all opinions are my own as always.
This post contains affiliate links.