the totally 100% unofficial macklemore thrift shop challenge!
This post may contain affiliate links. Please read my disclosure policy.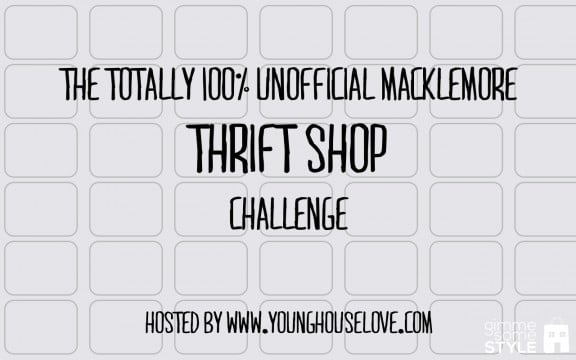 Something wonderful happened this past week… two of my favorite things came together into something great…Young House Love, and thrift stores joined forces! I have followed Young House Love for a few years now, and loved seeing their house turn into a home. I love following alongside their DIY projects and couldn't wait to jump on their latest challenge… the Thrift Shop challenge! This was something they came up with just for fun. It is based after the Macklemore & Ryan Lewis "Thrift Shop" song. If you haven't heard the song check it out here.
Here's what to do:
Step #1. Go to a thrift shop with – just as the chorus of the song says – "$20 in your pocket" and take a picture. 
Step #2. Spend that $20 any way you'd like and photograph your spoils. 
Step #3. Find one item (or more) referenced in the song and snap a pic.
Simple right? I knew this was the perfect challenge for me. I mean, how can I go wrong knowing that I HAD to spend at least $20.00?
Let's see what I found!
Here's what I got:
Carpenter's Album (I love finding records in thrift stores, you end up paying pennies for your favorite music!)
Set of 4 mugs (I think this outing confirmed my obsession with glasses and mugs mentioned here.)
Marriage quote art (Thought this was so sweet! Planning to paint the frame soon!)
Dog aftershave bottle (I couldn't pass this guy up! How cute is he?)
Large drinking mugs
Lettuce Plate
Small floral frame
Total Price |$16.57 
I also picked up this adorable wooden rocking horse art for my mom for only $12.00! (On a separate ticket of course in order to keep the challenge budget!)  It is a 24×36 sized frame so this was a steal! She is planning on putting it in her grandkid's room in their house.
This beauty was there as well, but at $100.00 it didn't quite make the cut.
And does this creepy little turtle steal your heart like it almost stole mine? I couldn't resist taking a photo of him!
Thanks John and Sherry for the fun! They are linking up over on their site if you want to join!
By the way I recently got a Vine account! I'm still trying to get the hang of it, but it is pretty fun so far! My username is Liz Stevens if anyone is interested! :)