Weekly Wear: Winter Wonderland
This post may contain affiliate links. Please read my disclosure policy.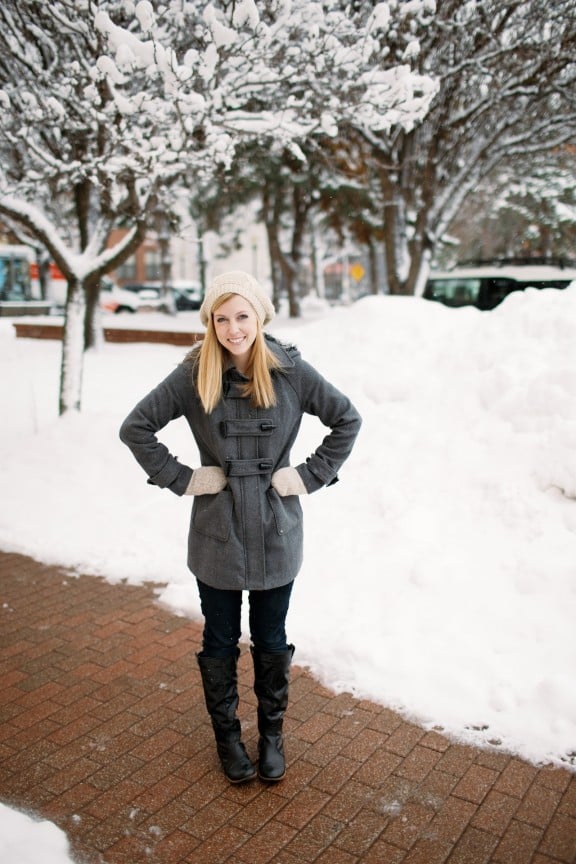 Can you believe that snow? This photo was taken right outside my loft and that is the snow that has been piled up next to our parking lot! After snowmeggedon 1 and 2 we are up to almost 2 ft of snow! My dog is in heaven. Ali and I have had fun taking our puppies out to play in the snow these past few days….basically they are long lost siblings and best friends.
One of my favorite things about winter is dressing in warm layers. I love a great coat and this one has been my staple this past year. It isn't anything special, but I got it on clearance last spring from forever 21 for like fifteen dollars. I think it makes me love it more knowing that it was such a great find! Coats are a great way to make a statement without a lot of fuss. I have a slight coat obsession, but how can you not with so many great styles out there?
I know we are all ready for the spring–heck, I have been dreaming about the beach for the past 3 nights straight! But let's enjoy these last few days of bundling up in adorable coats, mittens and scarves! Share these days warm and cozy with those you love! (Or your trusty space heater–believe me toasty and I have shared some quality nights these past few weeks!) ;)  
Weekly Wear: Outfit Sources: Coat: Forever21 (last season), Gloves: Gift from the husband–I think Target though, Hat: Forever21, Jeans: Marshalls, Boots: Amazon
Here is a quick snapshot of my week of snow days as well!
1.) While nannying I took the kids on a snowy drive through one of my favorite parks..this tree was so beautiful I had to get a photo! 2.) Veda(my dog) and Henry(Ali's dog) playing in the snow. 3.) Birds that forgot to go South for the winter 4.) Tanner, Veda and I on our snow day (photo credit to Cate Crandell) 5.) Pom Pom Garland in the midst of snowmaggedon (told you I would keep it up all year!) 6.) Crazy Veda in the snow (photo credit to Cate Crandell) 7.) Quay Coffee blizzard shot (photo credit to Tanner) 8.) The view from my snow day brunch at our friend's loft
This post contains affiliate links.