Drunken Beans (Frijoles Borrachos)
The magical fruit meets bacon and beer.
That's right, today we're talking drunken beans.  Also known as frijoles borrachos.  Or if I were given the naming rights to this one, which I guess I am, I'd probably go more along the lines of Bacon and Beer Simmered Beans.
Whatever you call them, though, these guys have been on my Mexican food cooking bucket list for awhile.  I somehow only discovered them a few years ago at a local Mexican restaurant.  (Where had they been all my life?!)  And ever since, I instantly order them whenever I spot them on a menu.  I mean, is there any way to go wrong with beans simmered in dark beer and bacon?!  Not in my book.  Well, my only complaint is that most people simmer these guys low and slow for hours, and I usually tend to be fairly impatient when it comes to wanting Mexican food right now.
So I created a 30-minute drunken beans recipe that is way more my style.  And way easy.  And way good.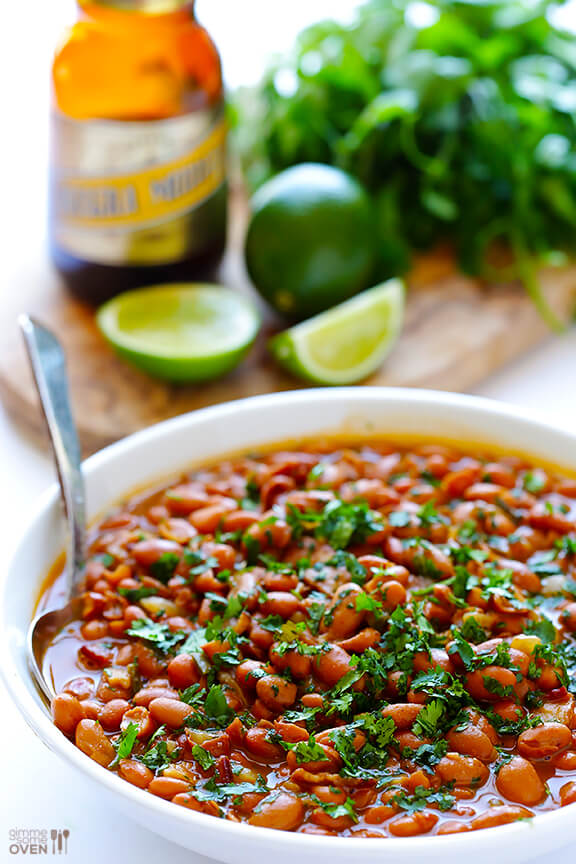 For those of you who've never tried drunken beans, they are basically just that — pinto beans simmered in dark Mexican beer, bacon, onions, a handful of seasonings, and topped with cilantro.  Most of the alcohol from the beer boils out during cooking, and you're left with some seriously savory, soupy, and scrumptious frijoles.  I went with Negra Modelo beer to get that nice, deep, dark flavor, but really just about any beer would work.  

Here's how to make 'em…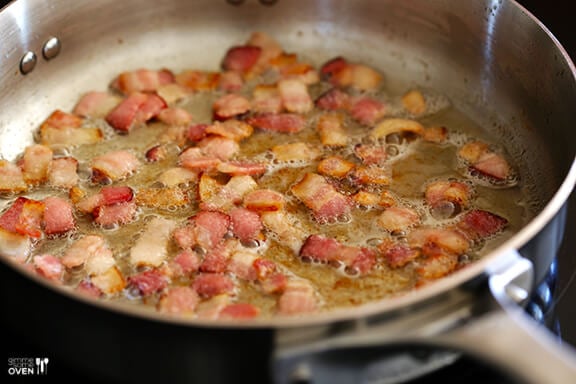 Begin with your bacon.  Mmmmmbacon.
Dice up a few slices, then fry them in a large saute pan or medium saute pan until crispy.  Remove bacon with a slotted spoon, and leave about 1 tablespoon of bacon grease in the pan.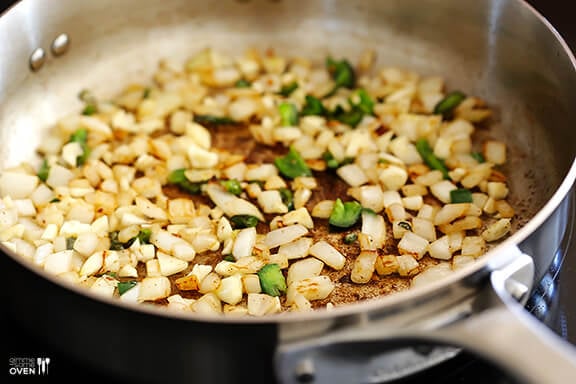 Then saute the onions and jalapeno up in that bacon grease for extra bacon-y flavor.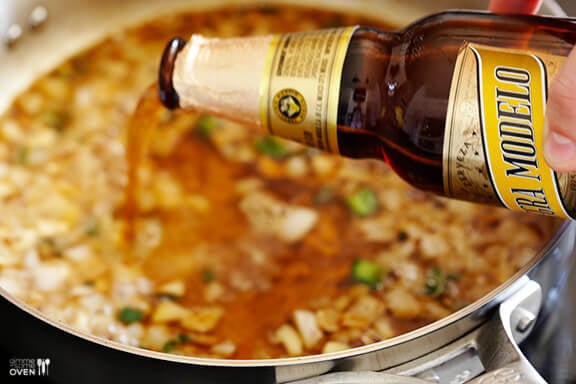 Add your beer…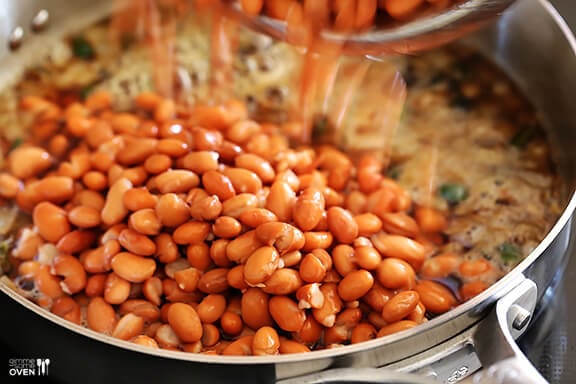 …and frijoles…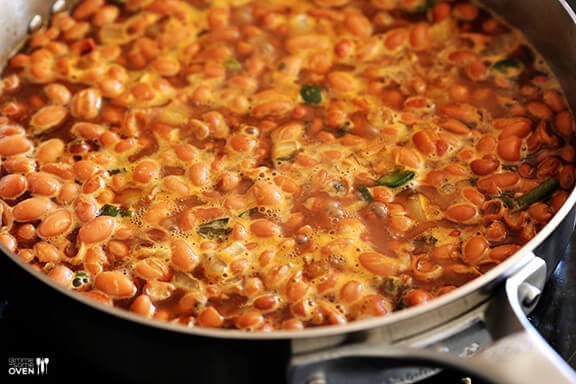 …and a few seasonings.  Then let 'em simmer for about 20 minutes on medium-low heat.
Then serve warm, and sprinkle on a little cilantro for freshness.  And dive in with a spoon.  :)
Ok, after staring at these photos for an hour, I'm off to make another batch with my leftover beer.  So frijole-flippin' good.  Cheers!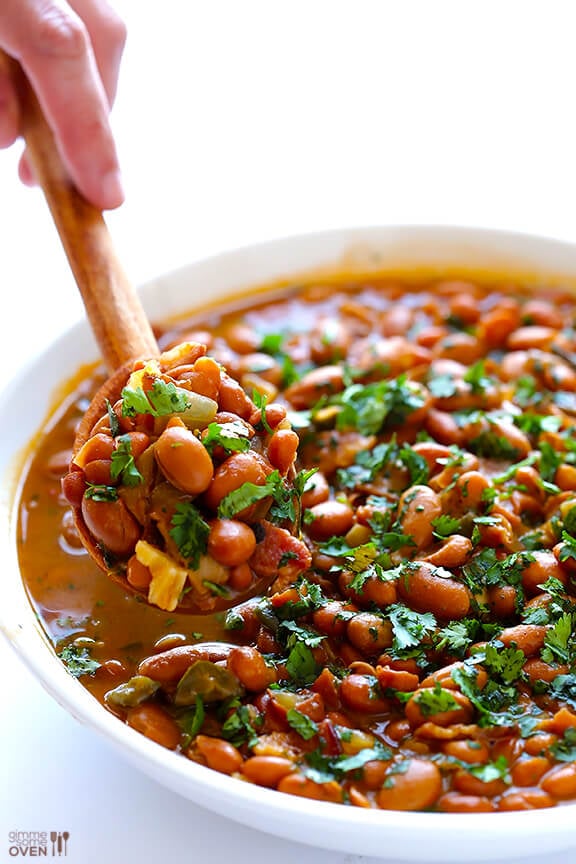 Drunken Beans (Frijoles Borrochos)
These drunken beans (frijoles borrochos) are simmered in bacon and beer, and ready to go in just 30 minutes!
Ingredients:
4 pieces (uncooked) bacon, diced
1 small white onion, finely diced
1 jalapeno, stemmed, seeded and diced (add an extra jalapeno for more heat)
4 garlic cloves, minced
1 (12-ounce) bottle dark Mexican beer (I used Negra Modelo)
4 (15-ounce) cans pinto beans, rinsed and drained
1 Tablespoon brown sugar
1 teaspoon dried oregano
1 teaspoon chili powder
1 teaspoon salt
1/2 teaspoon cumin
1 Tablespoon fresh lime juice
1/4 cup chopped fresh cilantro
Directions:
Cook bacon in a large saute pan over medium-high heat until crispy, stirring occasionally. Remove bacon with a slotted spoon and transfer to a separate plate. Set aside.
Meanwhile, reserve 1 tablespoon of bacon grease in the saute pan, discarding the extra. Add the onion and jalapeno, and saute for 5 minutes or until the onion is soft and translucent. Add the garlic, and saute for an additional 1-2 minutes until fragrant. Add the beer, beans, brown sugar, oregano, chili powder, salt and cumin, and stir to combine. Continue cooking until the beans reach a simmer. Then reduce heat to medium-low, and continue simmering uncovered for about 15 minutes.
When ready to serve, stir in the bacon and lime juice. Then serve the beans topped with fresh cilantro.
*If you are cooking these gluten-free, you need to use gluten-free beer and be sure to inspect the labels of your ingredients (especially the beans) to be certain that they contain only gluten-free ingredients.
All images and text ©
If you make this recipe, be sure to snap a photo and hashtag it #gimmesomeoven. I'd love to see what you cook!