Easy Balsamic Chicken Skewers + BIG GIVEAWAY!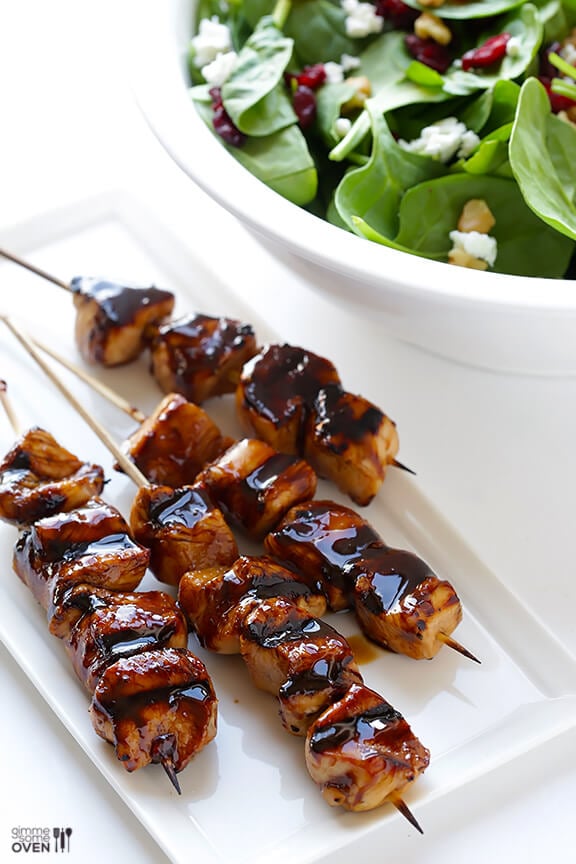 Everyone has their own entertaining style, usually learned through trial and (in my case, more than a few inedible) errors.
Some of my friends specialize in cooking brunch.  Some only grill.  Some keep it simple with popcorn and apps.  Some enjoy designing elaborate Pin-spired five-course experiences, complete with perfect tablescapes and signature drinks and the like.  Some plan far out in advance.  Some shoot you a text half an hour beforehand.  But they're all different, and I love it.
Me?  Perhaps contrary to popular assumptions about food bloggers always cooking up a storm, I have learned that I actually prefer to keep things really simple, especially when entertaining a crowd.  Sure, every now and then on special occasions I like to get all fancy and gourmet.  But 9 times out of 10, I tend to aim for more of a 30-minute meal that is hopefully mostly prepped by the time people arrive.  Because I want my attention to be on people when they're in my home, instead of being super distracted by the food.
So today I'm stoked to be sharing a meal that I recently made for a group of friends that uses two of my go-to favorite time savers — easy skewers and SaladSavors.  Oh, and an epic summer giveaway valued at $3000 that is basically any entertainer's dream come true.  :)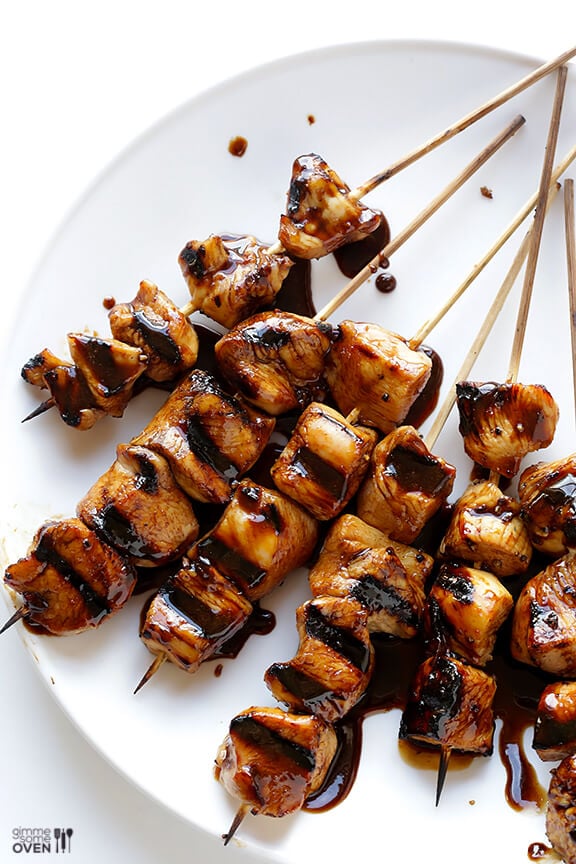 First, a bit about these favorite time savers.
If you follow my Instagram feed, you'll know that SaladSavors from DeLallo have been a mega staple in my home over the past year.  They describe them as "gourmet toppings made simple".  I like to think of them as salad-in-a-minute.  The idea is brilliant.  Just grab a bag of salad greens, toss it together with your SaladSavor (cheese + gourmet toppings), drizzle with your favorite dressing, and voila!  A simple, fresh, and completely delicious salad is ready to go STAT.  Plus they come in five yummy flavor combinations with names like "zesty", "vibrant", "fresh", "sharp" and "bold".  (You can see the corresponding ingredients here.)
I am a mega fan, partly because they an awesome solution for a quick and easy salad to serve a group.  But I actually find myself using them just as much for lunches on the fly.  (And to all of you single people out there, they are a really great solution if you — like me — sometimes have trouble making it through cartons of cheese and ingredients before they expire.)  I've also discovered that the SaladSavors work great when added to quinoa or rice.  And a few of them can even translate into an awesome breakfast omelette.  So versatile!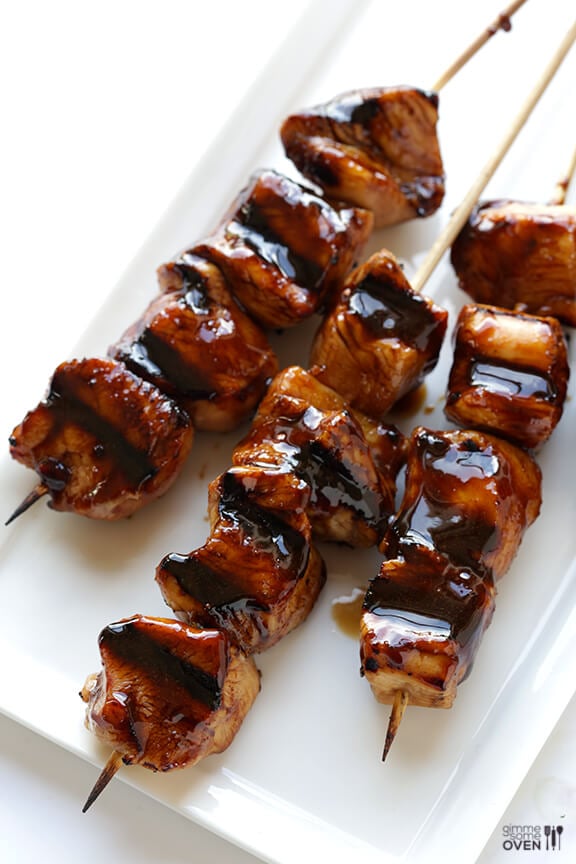 Anyway, now that grilling season is in full swing, you have probably noticed on the blog lately that I'm on a big skewers kick.  They are definitely my favorite way to serve protein (and often veggies!) in the summertime, partly because you can prep them in advance, but partly because they are so easy to serve!
One of my favorite things to do is serve some chicken, beef or shrimp skewers with a humongous green salad.  So today, in honor of kicking off a #SaladSavorsGiveaway with DeLallo, I thought I would share one of my favorite and easiest recipe for skewers — Balsamic Chicken Skewers.  I have made these a few times this summer for my neighbors, and they're always a hit.  But when paired with a big green SaladSavors salad, well, it's a match made in salad heaven.
Here's how to make 'em: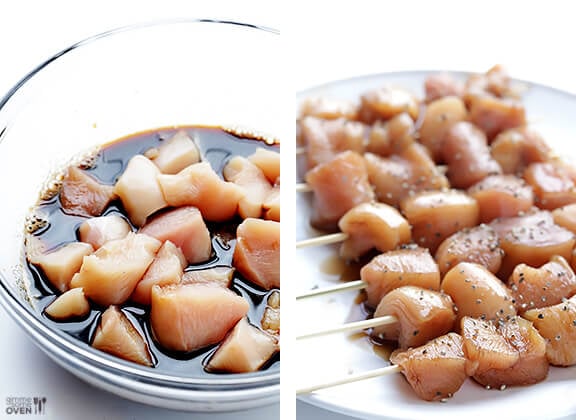 Begin by cutting some chicken breasts into bite-sized pieces.  Then toss them with an easy balsamic marinade, cover, and refrigerate for anywhere from 15 minutes to 8 hours.
Once you are ready to cook the chicken, thread it onto some skewers.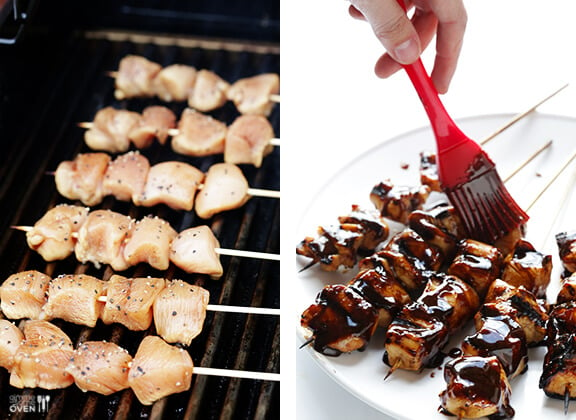 Then pop those babies on the grill until they are cooked through.  Meanwhile, take the balsamic marinade and transfer it to a saucepan, bring it to a boil, then let it simmer until reduced by about half and thick.  Brush it on the chicken for some extra balsamic goodness…
…so that they are ooey gooey and balsamincredible.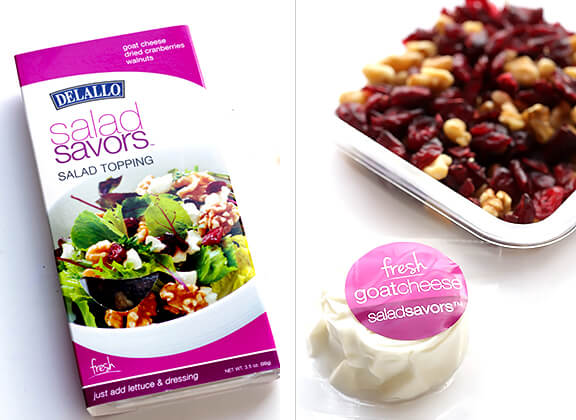 Then whip up your salad to serve with the chicken.  It will literally only take a minute or two.  Just toss some fresh greens with the SaladSavors toppings — I went with the "fresh" variety here which includes goat cheese, dried cranberries and walnuts — and then top the salad with your desired dressing.  I chose a light Italian vinaigrette for this one, but any sort of light Italian dressing or vinaigrette would work.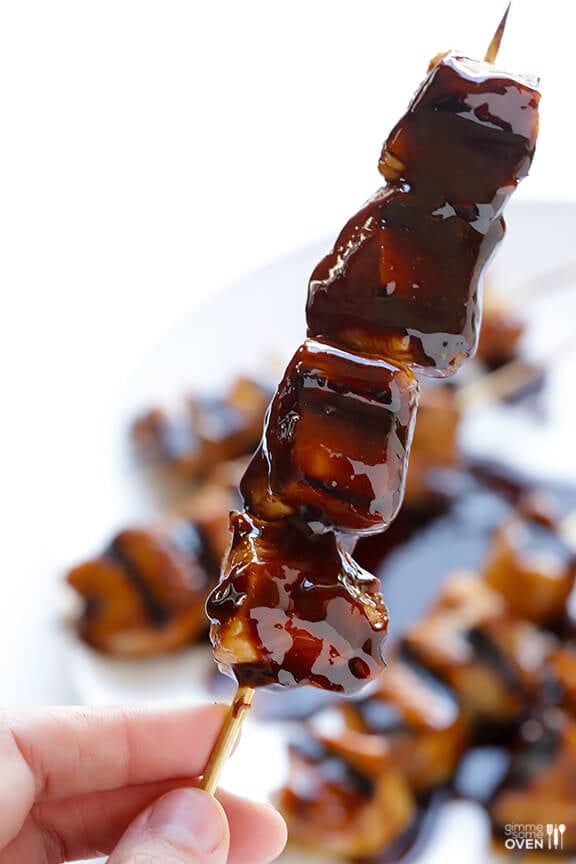 Then grab those beautifully glazed chicken skewers…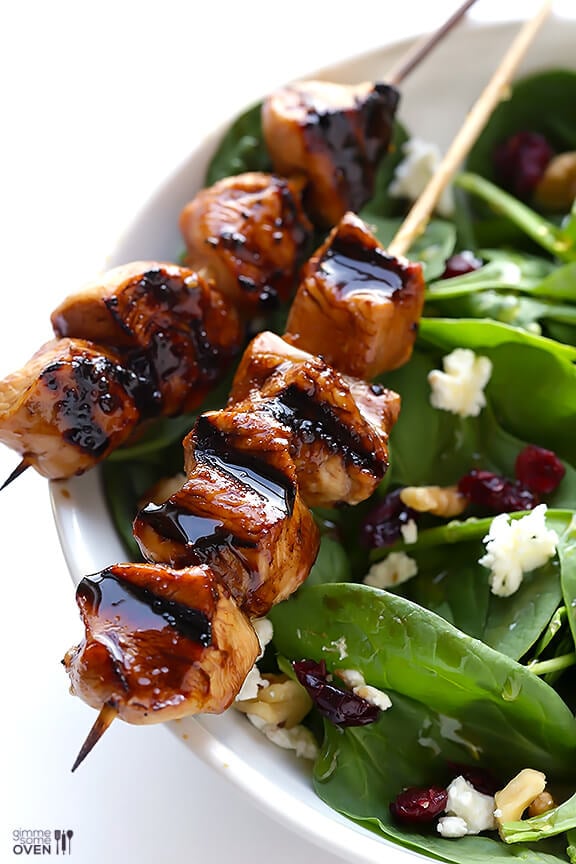 …and serve them along with the salad.
Easy.  Simple.  Delicious.  And when I served them at a grilling party outdoors a few weeks ago with my neighbors, they all said to pass on word to you that the combination was a definite "winner".  I agreed.  :)
So check out the recipe below, and then be sure to keep scrolling to check out our amazing summer giveaway.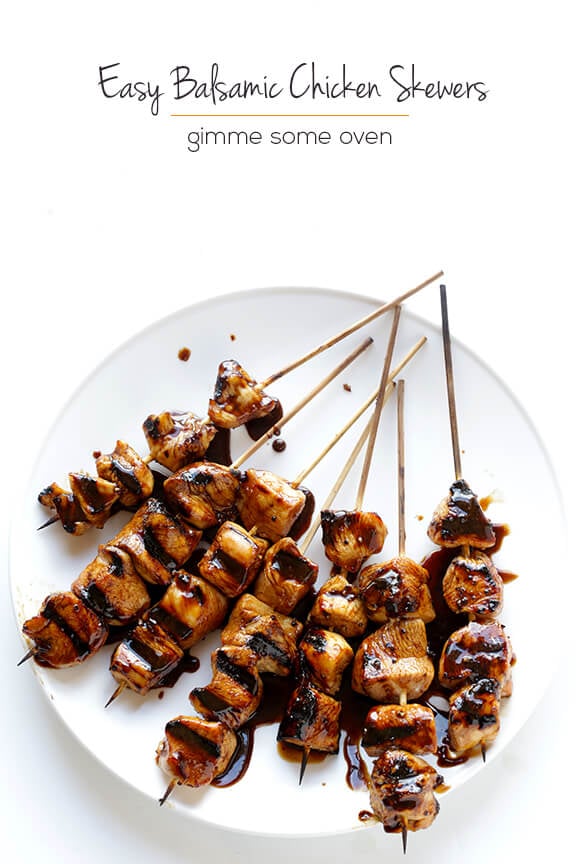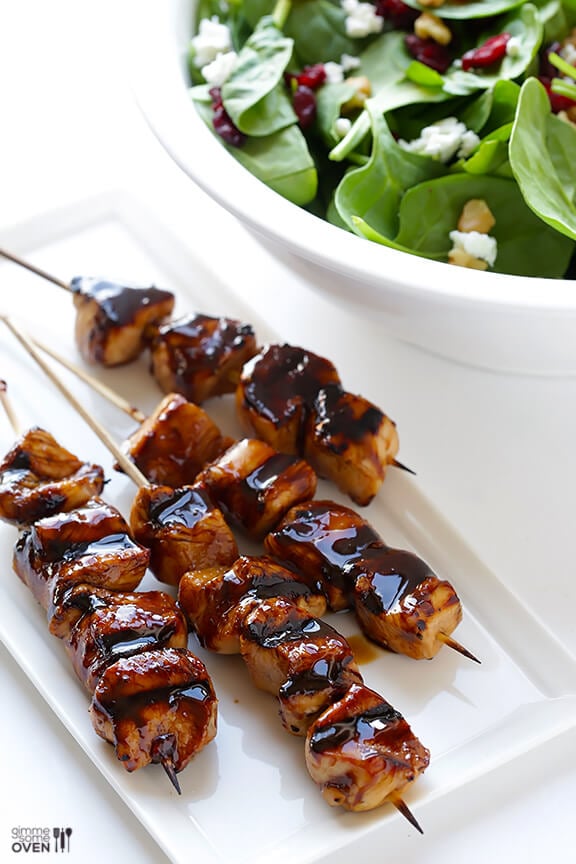 Easy Balsamic Chicken Skewers
All you need are 5 ingredients (including salt and pepper!) to make these delicious easy balsamic chicken skewers. And be sure to check out our incredible giveaway at the bottom of the page.
Ingredients:
2 cups DeLallo balsamic vinegar
1/4 cup honey
2 pounds boneless, skinless chicken breasts, cut into bite-sized pieces
kosher salt and freshly-ground black pepper
wooden or metal skewers
Directions:
Whisk together balsamic vinegar and honey until combined to form your marinade. Add the marinade and chicken pieces to a large ziplock bag or mixing bowl, and toss until combined. Seal/cover and refrigerate to marinate for at least 10 minutes, or up to 8 hours. Also, if you are using wooden skewers, set them to soak in a pan of water for at least 10 minutes so that they do not burn.
When you are ready to cook the chicken, heat a grill to medium-high heat. Remove the chicken pieces from the marinade, reserving the marinade for later, and thread chicken onto skewers. Season the skewers generously with salt and pepper. Place on a grill that has been lightly greased with cooking spray. Cook the chicken skewers for 3-4 minutes per side, turning once, until the chicken is no longer pink inside and cooked through. Remove chicken skewers from grill and place on a serving plate.
Meanwhile or after, pour the reserved marinade into a small saucepan and bring to a boil over high heat. Reduce heat to medium-low and simmer for about 12 minutes, or until the mixture is reduced by half and is thick enough to coat the back of a spoon. (The glaze will thicken even more as it cools.) Remove from heat, and brush the glaze onto the skewers until they are all evenly coated. Serve warm.
For a shortcut, you can also marinate the chicken in 1/2 cup of DeLallo's pre-made balsamic glaze. Then once the chicken has been grilled, brush (a separate) 1/2 cup of balsamic glaze onto the cooked chicken skewers.
All images and text ©
If you make this recipe, be sure to snap a photo and hashtag it #gimmesomeoven. I'd love to see what you cook!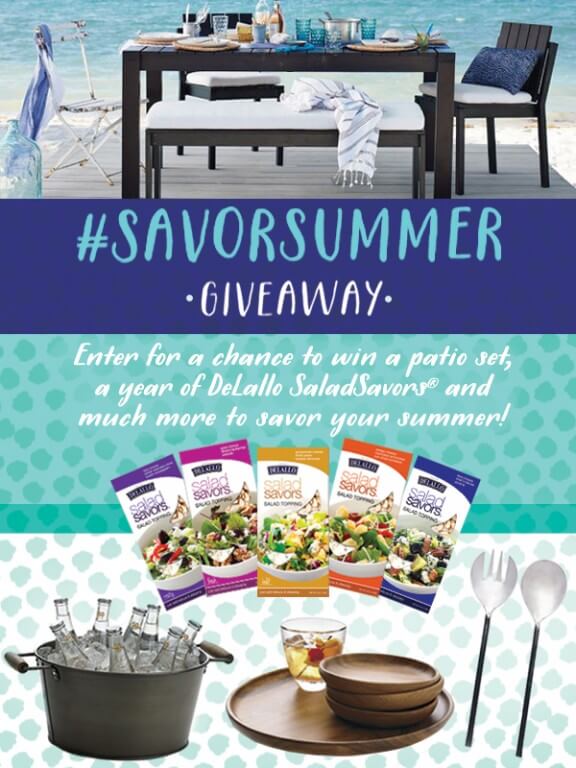 SaladSavors Giveaway (#SaladSavorsGiveaway)
In honor of a summer ahead full of patio parties featuring SaladSavors, we are kicking off an awesome entertaining giveaway today — valued at $3000 — that DeLallo has pulled together to help make your entertaining all the more lovely.  Each of the bloggers participating also contributed to the party planning, so check out the deets:
Giveaway Prize:
One winner will receive a beautiful Al Fresco Dining Experience Set, worth over $3000.  It includes:
Outdoor Patio Set (table, 4 chairs, 1 bench)
Year of SaladSavors (10 SaladSavors® sent monthly)
One hand selected item from each blogger (six items total)
An assortment of entertaining items:

Dining flatware, drinkware, etc.
Accessories, décor, and much more to create the perfect atmosphere for an al fresco dining experience!
How To Enter:
Follow the Rafflecopter instructions below. Giveaway will be open through June 22.
Be sure to also check out my friends' blogs for other great recipes to go with your SaladSavors!
Disclaimer: This is a sponsored post and giveaway from DeLallo.  I am thrilled to be partnering with DeLallo to bring you tasty Italian recipes this year, but all opinions are 100% my own as always.  Thanks for supporting the brands that I love that also help make this site possible.