Beef Stroganoff
This easy Beef Stroganoff recipe can be made in about 30 minutes, it's full of savory steak and mushrooms, and it's absolutely delicious.  Feel free to serve over noodles, rice, quinoa…you name it!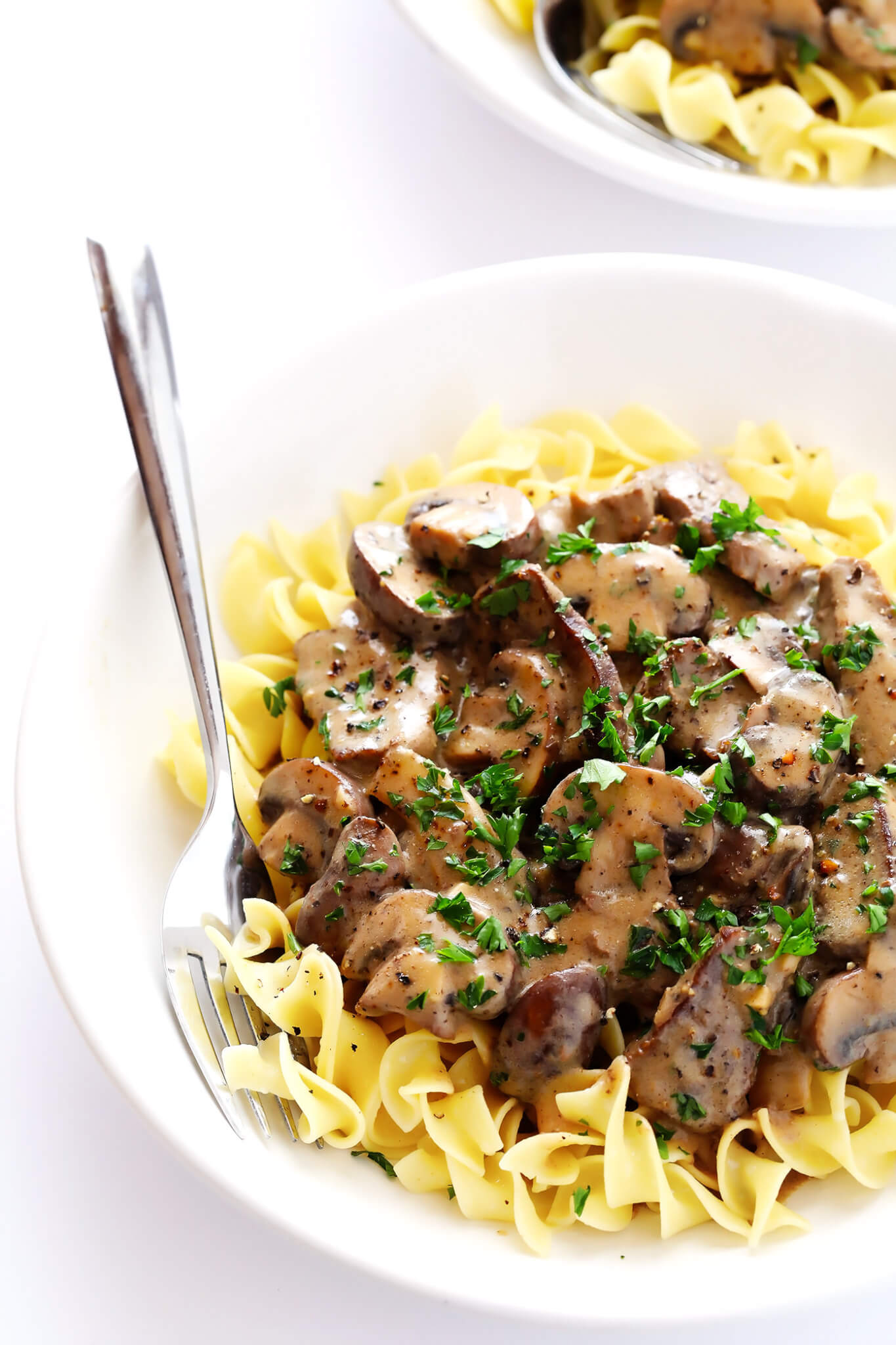 Man, I must be in a nostalgic food mood lately, because all I seem to be craving are classic comfort food dishes from my childhood.  I'll get back to coming up with more creative recipes soon, I promise.  But for today, it's beef and noodles, baby.
Beef stroganoff was a definitely a staple in our house when I was a kid, which I loved partly because I am hopelessly huge fan of anything involving steak.  (I know, it seems like everyone around me is going vegan, but I still get giddy over a good sirloin.)  I think I have always secretly loved this dish, though, because the name reminds me of one of my favorite books as a kid — Strega Nona.
Did you ever read this book?!
Strega Nona was one of the books that our family checked out from the library again and again.  Basically it's the story of this elderly woman who is responsible for making pasta to feed her entire village in Italy.  But then one day her assistant tries to take over and cast the spell to make the pasta while Strega Nona is away and…well…you'll have to read the entire book to find out the answer.
But the thought of getting to spend day after day cooking up delicious pasta to serve to friends in my community?  Yep, Strega Nona was kind of living out my dream.  Feeding friends just about any kind of food is the best.  :)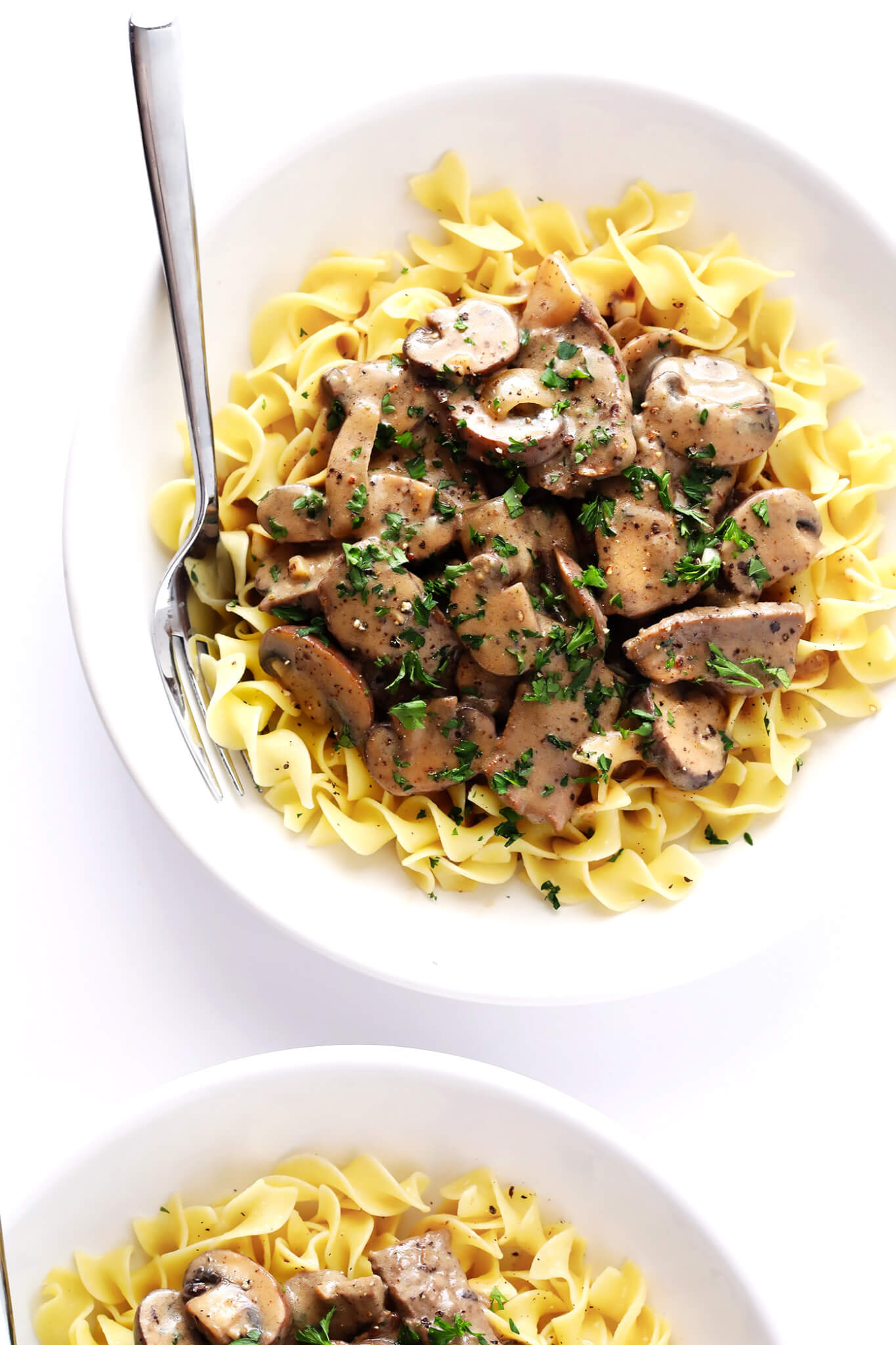 So yesterday I decided to whip up a batch for myself and take it around to give to my neighbors, Strega Nona-style.  And they all agreed — this dish will always be comfort food at its best.
Bonus?  I also lightened it up a bit with less butter and Greek yogurt, and it can be ready to go in 30.  Here's how to make it: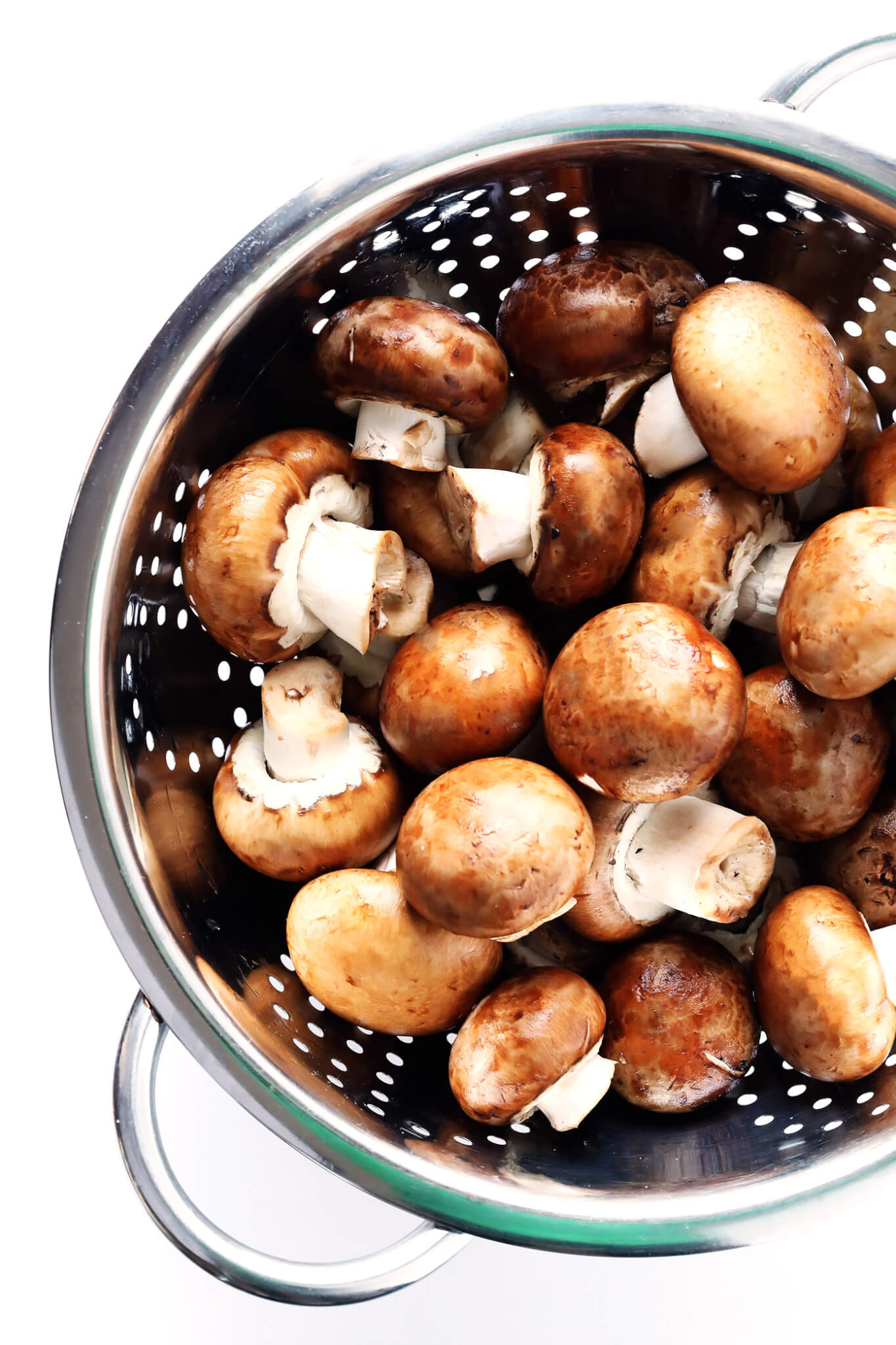 We begin with a very important ingredient – mushrooms!!
I admit, I was extremely anti-mushroom as a kid.  But times have changed and now I can't get enough of 'em!  If you have any mushroom-wary members of your family, though, feel free to puree the sauce once it's cooked if you'd like to sneak them in!  :)
But if you want to make it the traditional way, slice those babies up.
Then comes the other main ingredient — mmmmbeef.  It's what's for dinner.
I used a top sirloin steak for this recipe, but feel free to use any beef you'd like.  Ground beef will even work.
Start by browning it in the pan and giving it a good sear over high heat.  Then remove the beef with a slotted spoon and transfer it to a separate plate.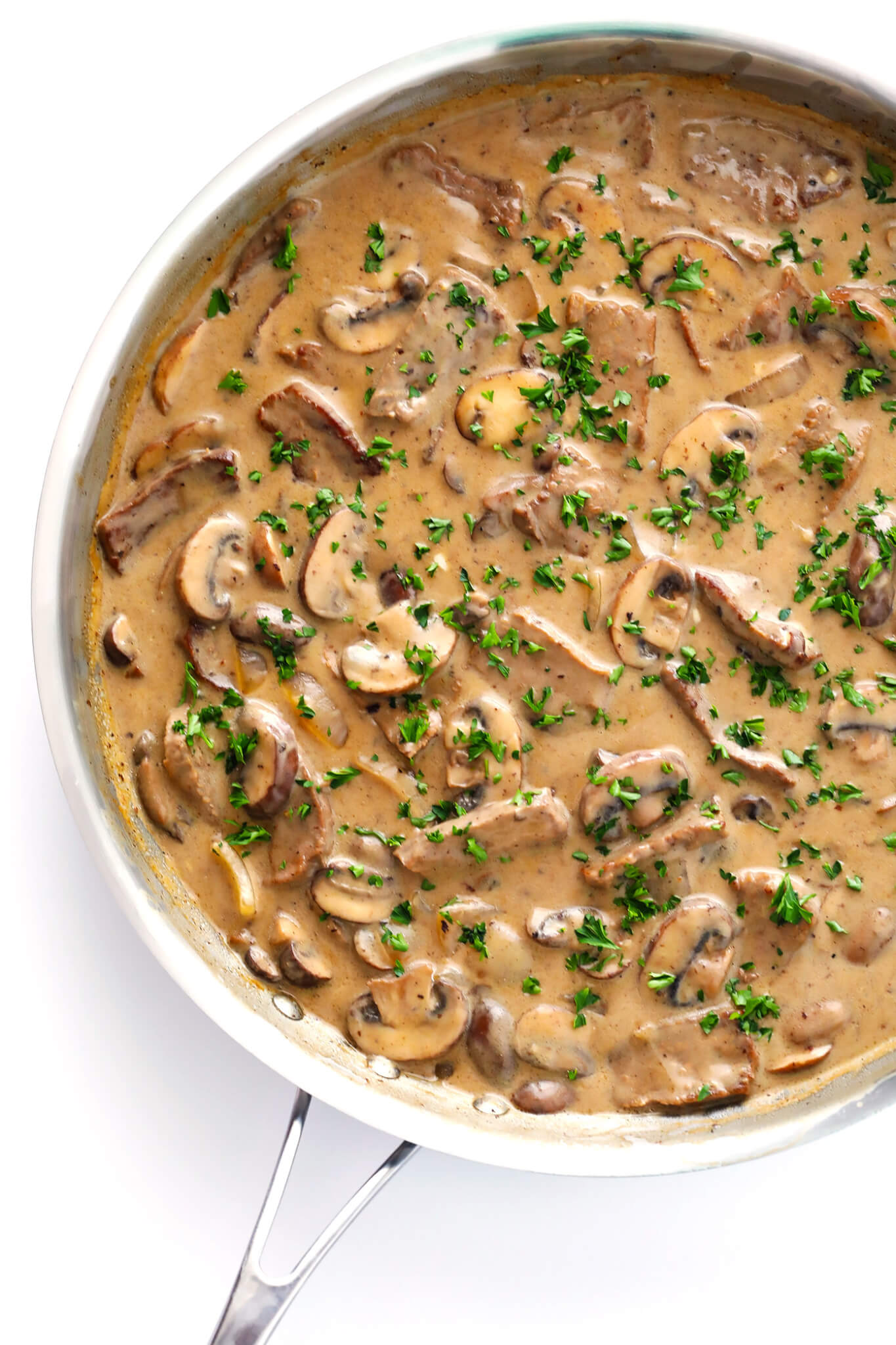 Then back in the pan, saute up some onions, garlic, and all of those mushrooms until they are nice and cooked.  Follow the instructions to add in the remaining ingredients, including some beef broth, a hint of worcestershire, and Greek yogurt (my healthier substitution, but you can use sour cream)…
…then stir the beef back in, and you're ready to go!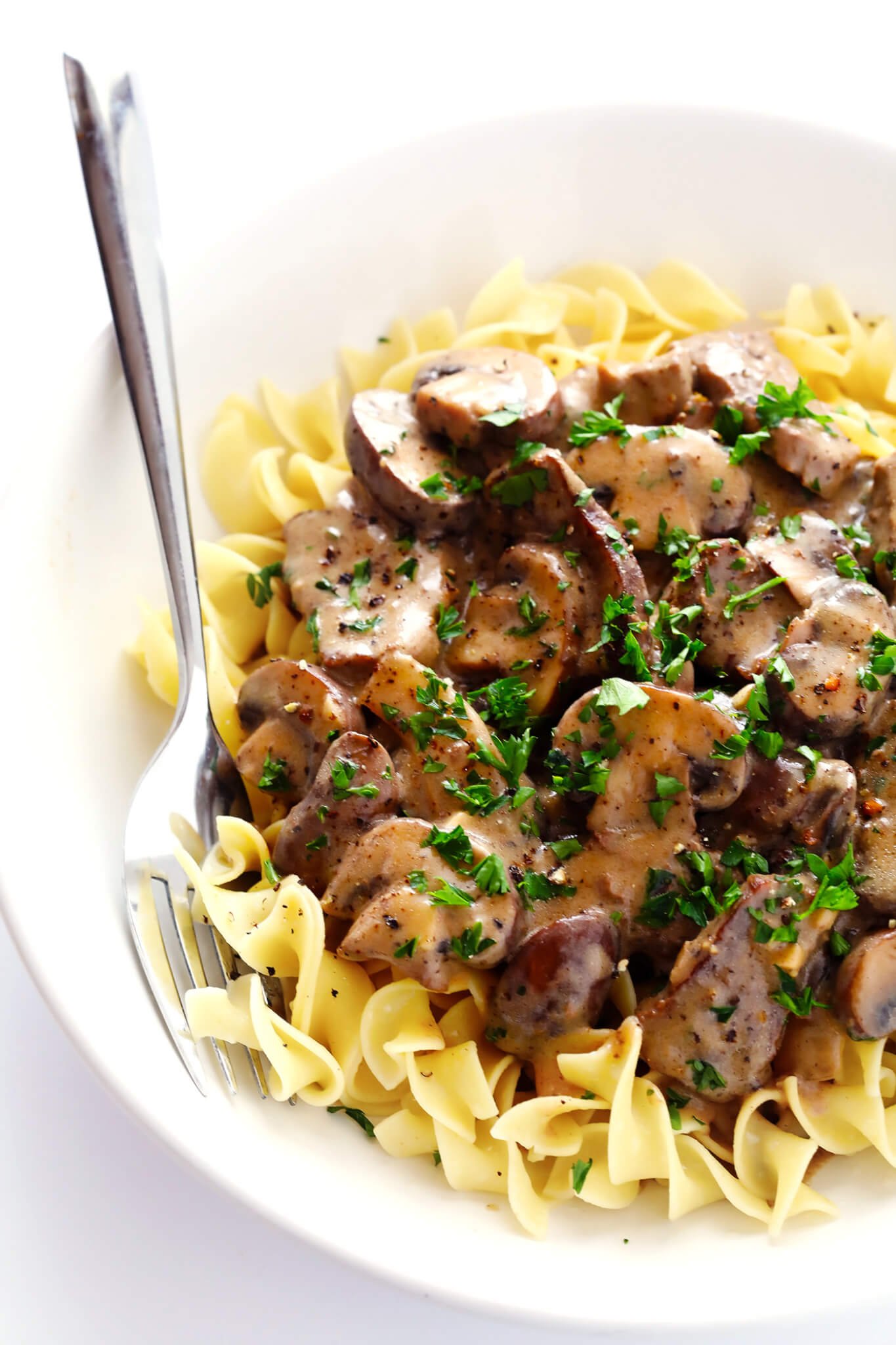 Ladle the sauce over some egg noodles if you want to go traditional.  Or this would also be great over quinoa or other cooked grains.  Then sprinkle with a little fresh parsley for some color, and dive in!
This is the perfect quick weeknight dish to make for your family, make for your friends, or even share with your neighbors.  ;)
Enjoy, friends!
30-Minute Beef Stroganoff
Classic beef stroganoff is cooked with an amazing creamy mushroom sauce and served over egg noodles. And it all comes together in under 30 minutes!
Ingredients:
1 pound wide egg noodles
4 tablespoons (1/4 cup) butter, divided
1.5 pounds thinly-sliced steak (I used flank steak)
Kosher salt and freshly-cracked black pepper
1 small white onion, thinly sliced
4 cloves garlic, minced
1 pound sliced mushrooms (I used a mix of button and baby bella mushrooms)
1/2 cup dry white wine (or you can substitute in more beef broth)
1.5 cups beef broth
1 tablespoon Worcestershire sauce
3 tablespoons flour
1/2 cup plain Greek yogurt or light sour cream
optional garnishes: chopped fresh parsley, extra black pepper
Directions:
Cook egg noodles al dente in boiling, generously-salted water according to package instructions. (For optimal timing, I recommend actually adding the egg noodles to the boiling water at the same time that the beef broth is added to the stroganoff.)
Meanwhile, as your pasta water is coming to a boil, melt 2 tablespoons butter in a large saute pan** over medium-high heat. Add the steak in a single layer, seasoned with a few generous pinches of salt and pepper, and let it cook undisturbed for about 3 minutes to get a good sear. Flip the steak, and cook on the other side until browned, about another 3 minutes. Then remove steak from pan with a slotted spoon, and transfer to a separate plate. Set aside.  (**If your pan is not big enough to fit all of the steak in a single layer, then add just 1 tablespoon of butter to the pan and cook half of the steak. Then repeat with a second batch.**)
Return pan to heat and add the remaining 2 tablespoons butter. Once it has melted, add the onions and saute for about 3 minutes. Add garlic and mushrooms, and stir to combine. Continue sauteing for an additional 5-7 minutes, or until the mushrooms are cooked and the onions are soft. Add the white wine, and deglaze the pan by using your cooking spoon to scrape the brown bits off the bottom of the pan. Let the mixture cook down for an additional 3 minutes.
Meanwhile, in a separate bowl, whisk together the beef broth, worcestershire sauce and flour until smooth. Pour the beef broth mixture into the pan, and stir to combine. Let the mixture simmer for 5 minutes, stirring occasionally. Then stir in the Greek yogurt (or sour cream) until combined, and then stir the cooked steak back in. Season with additional salt and pepper if needed.
Serve over the egg noodles, garnished with parsley if desired.
All images and text ©
If you make this recipe, be sure to snap a photo and hashtag it #gimmesomeoven. I'd love to see what you cook!