Easy Cheesy Breakfast Casserole
My mom and I were talking the other day about how different life would be if we lived a little closer to one another.
Right now, we live about 3 hours apart — close enough to definitely be able to drive and visit fairly often, but just far enough away that you can't exactly grab coffee together on a whim.  But that's what we were talking about.  It would be so fun to just be close enough to grab lunch together spontaneously!  Or pop over for a glass of wine on the back deck.  Or bribe her and my dad with cookies if they'd come help me unload a new sofa.  Or do our grocery shopping together.  You know, the random everyday things…together!
Sure, our time hanging out when they're here or I'm there is great.  But we usually see each other over the course of a weekend or a few days back-to-back, and you can't help but feel the pressure to squeeze in All The Things while we're in the same city at the same time.  It's like that with any long-distance relationships.  And we both have major roots in both of our cities, so I don't see that changing anytime soon.  So we talk a lot on the phone, enjoy our time together in person when we can, and make the most of it.  You know, as you do 3 hours apart.  :)
Sadly, I am tied up in Kansas City this Sunday and won't be able to make it to Wichita for Mother's Day this year.  But you can bet your bottom dollar that if I lived there, I would love to sneak over to their house early in the morning and make her a surprise to start the day — this cheesy, sausage-y, potato-y, indulgent (and easy to prepare the night before!) easy breakfast casserole.  She would be a little surprised, and she might make some comment about how it's not quite the light and healthy breakfast she usually eats, and then she would dive in.
Because that's what moms do.  :)
Easy Cheesy Breakfast Casserole Recipe | 1-Minute Video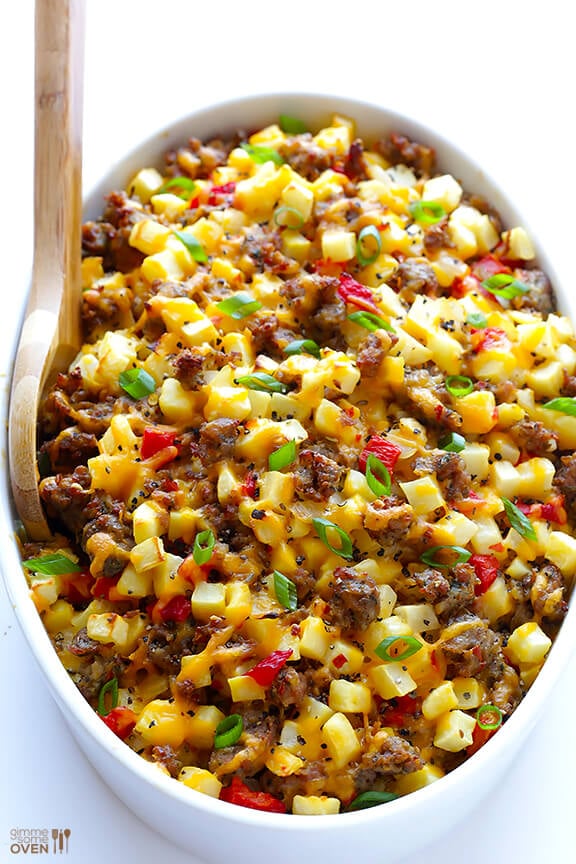 Yes, this casserole probably falls a little more on the "indulgent" side.  But I have had sooo many requests over the years for a basic breakfast casserole.  And on special occasions, or even just any ol' day when you feel like a hearty breakfast, this classic recipe is guaranteed to start your day off with a smile.
I have made it (or a version of it) countless times over the years whenever I need a quick and easy meal to serve a crowd.  And I can attest that while it's a definite crowd-pleaser, it's also a cook-pleaser because it is super easy to make.  If you don't want to wake up really early for breakfast, you can also prep it the night beforehand and then pop it in the oven the next day.  Win for you, and a win for your guests (or your mama!).
The steps to make it are simple.  Just brown up some sausage.  (I highly recommend using "hot" Italian sausage, as it will help flavor the whole casserole.)  Then saute some onions, garlic and a red pepper.  (Or you can use a jar of roasted reds.)  Add those together with some whisked eggs, milk and cheese, and toss it all with the potatoes until combined.  Then pop it in a baking dish and cook until the potatoes are tender.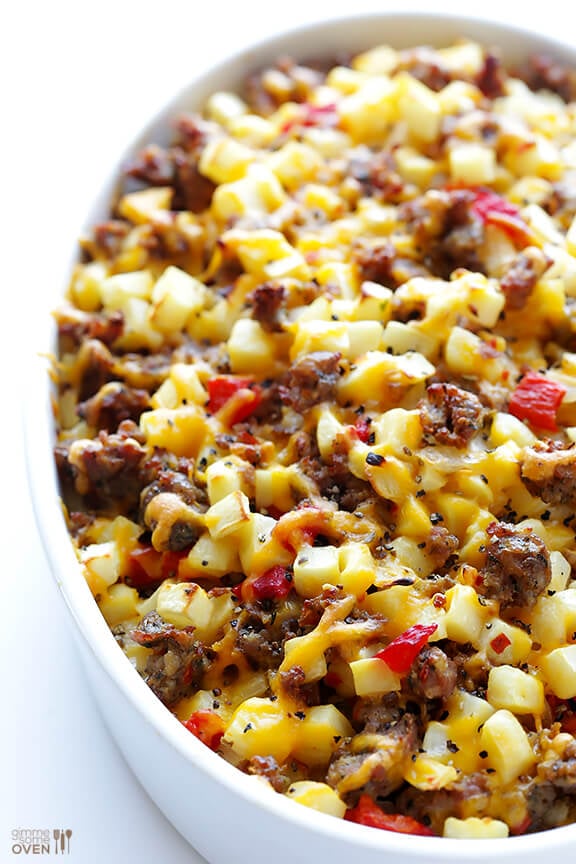 Then once it's nice and hot and bubbly and melted-cheesy, pull it out.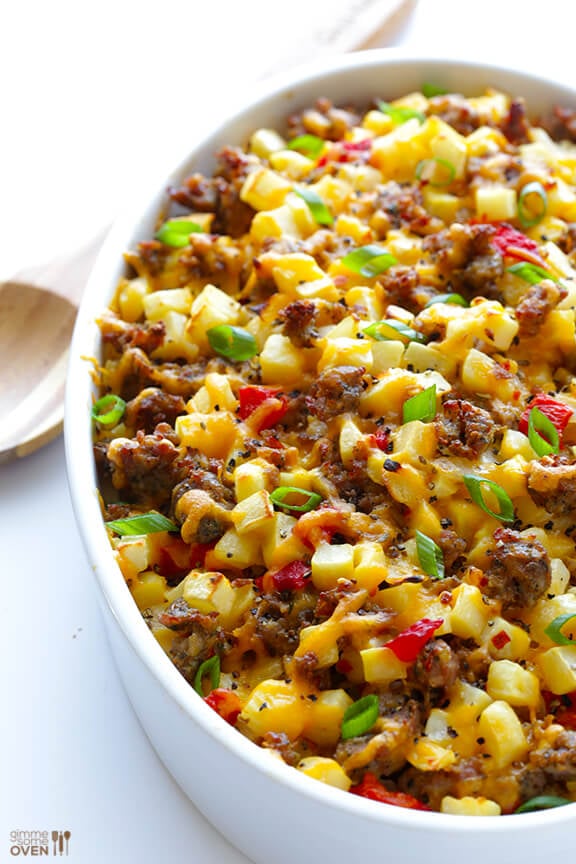 And top with some green onions, if you'd like some extra color.  Or diced avocados would also be lovely.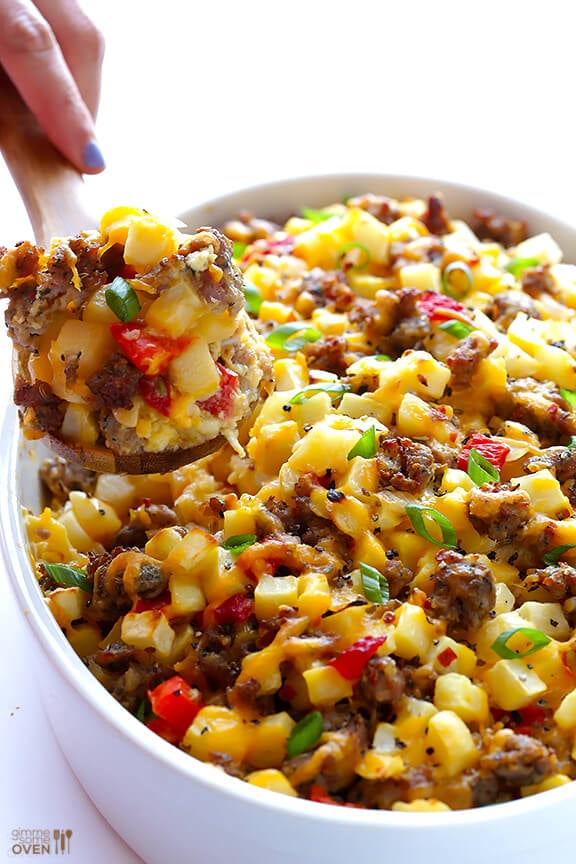 Then dish it up (and discover those eggs that have settled to the bottom and baked).
And dive in, just like my mom would.  ;)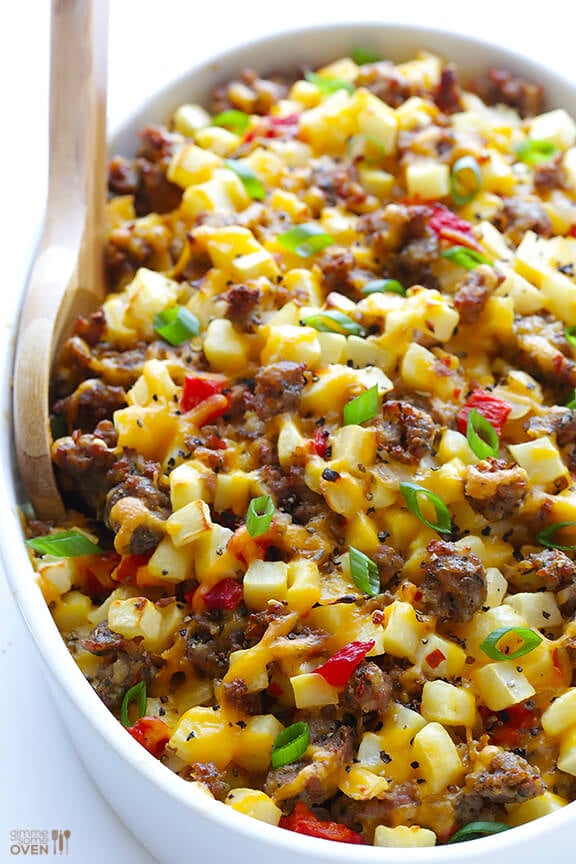 So to my mom (who reads my blog faithfully each morning), happy early Mother's Day!!!  I love you, and think you're still my #1 Mom, and will make this for you (for realz) the next time I see you.  :)
And to all of you other mothers out there, my warmest wishes to you for a happy Mother's Day as well!  You are changing this world every day, and we're all better because of you.  Big hugs from KC to wherever you may be!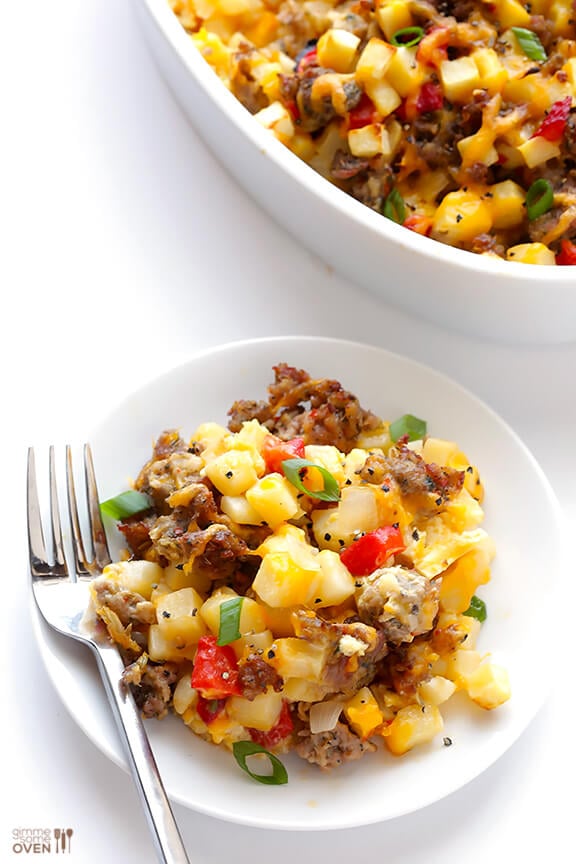 Easy Breakfast Casserole with Sausage, Hashbrowns and Eggs
This easy sausage, egg and hash brown casserole is simple to make, and always a crowd-pleaser!
Ingredients:
1 pound Italian sausage (I prefer hot, but mild or sweet also work)
1 medium white onion, peeled and diced
3 cloves garlic, minced
1 red bell pepper, cored and diced (or 1 jar of roasted red peppers, drained and diced)
6 eggs
1/3 cup milk
1 (20 ounce) bag frozen hash browns, thawed (I used the cubed kind)
2 cups shredded cheddar or mozzarella cheese
1/4 teaspoon freshly-ground black pepper
(optional topping: thinly sliced green onions)
Directions:
Heat oven to 375°F.
Add the sausage to a medium saute pan. Cook over medium-high heat until browned, crumbling the sausage with a spoon as it cooks. Remove sausage with a slotted spoon and transfer to a large mixing bowl. Reserve about 1 tablespoon of sausage grease in the saute pan, discarding the rest. Add the onion and red pepper* to the saute pan, and saute for 5 minutes until cooked. Add the garlic and saute for an additional 2 minutes until fragrant. (If using the jarred roasted red peppers, wait to stir them until after the garlic.) Pour the vegetable mixture into the mixing bowl with the sausage. Add the hash browns and 1 1/2 cups cheese to the mixing bowl with the sausage and veggies. Stir to combine.
In a separate bowl, whisk together the eggs, milk and black pepper until combined. Then add them to the hashbrown mixture, and stir to combine. Pour the mixture into a 11×7-inch or a 9×9-inch baking dish (a 9×13-inch dish will also work), and top with the remaining 1/2 cup of shredded cheese. Cover with aluminum foil and bake for 30 minutes. Then remove the aluminum foil and bake for an additional 10-15 minutes until the potatoes in the center are cooked through.  (I recommend just using a fork to pull out one of the potatoes in the center of the casserole, and test it to see whether it's tender and cooked through). Remove and let the casserole rest for 5 minutes. Sprinkle with green onions and serve!
*Update: Some of you have reported back that your casserole took closer to 45 minutes (total) to bake, so I've updated the recipe instructions accordingly.  In general, just keep an eye on the casserole while baking, and once the potatoes are tender, it's ready to go!
All images and text ©
If you make this recipe, be sure to snap a photo and hashtag it #gimmesomeoven. I'd love to see what you cook!