Easy Rum-Soaked Grilled Pineapple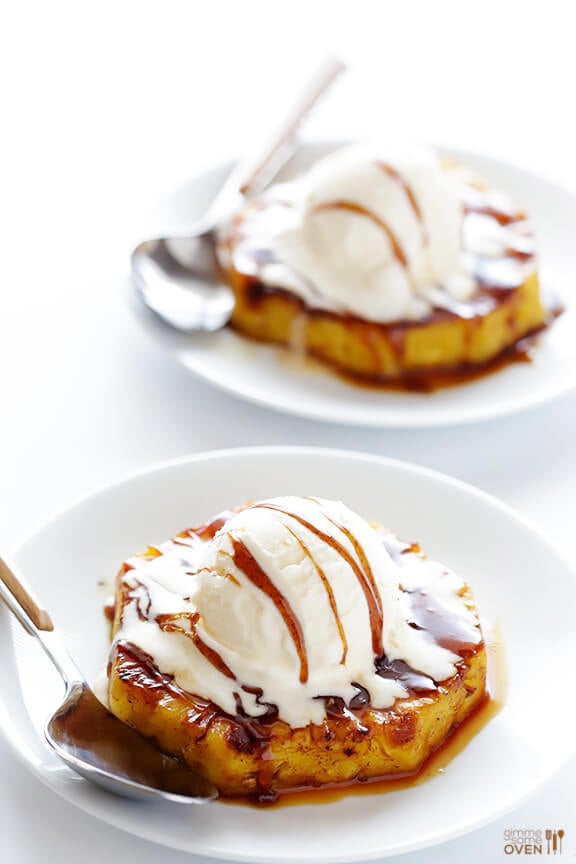 Today I'm bringing back another golden oldie from the Gimme Some Oven archives that is one of my absolute favorite dessert recipes to make in the summer.  I had initially entitled it "Flameless Pineapple Foster" when I first posted the recipe back in 2010.  But after receiving many puzzled looks and "pineapple what-was-that-again?" inquiries when I served it to friends this weekend, I decided to rename it with a better description of what this delicious dessert actually is:
Easy.  Rum-Soaked.  Grilled Pineapple.
Oh, and then top this heavenly grilled goodness with a big scoop of vanilla ice cream.  Reduce the rum+cinnamon+brown sugar marinade into a caramelized sauce, and drizzle it on top.  And then maybe even sprinkle on a pinch of cinnamon, if you're feeling extra fancy.
Oh, and it only takes about 20 minutes of total prep time.
Oh, and no pineapple "foster" flames are required.
Oh, and it's positively delicious.
I actually "learned" how to make this dessert by accident years ago when I was visiting my friend Courtney in Denver.  She's one of my friends who loves to experiment in the kitchen.  And when we found ourselves one evening with a big pineapple begging to be used for dessert, we decided to try just soaking it in rum and making our own version of "pineapple foster" — kind of like bananas foster.  Although we realized halfway into it that we didn't have a grill or any kind of kitchen torch or flames available.  So we just marinated the pineapple in a rum sauce and cooked it on a grill pan, and then served it with ice cream.
And if I do say so myself, it was a flaming success.
And I have thus made it countless times since, including this past weekend for a group of friends I had over for a "nacho night".  I was a little concerned that everyone was going to be too full for dessert after pounding plates upon plates of nachos.  And when I mentioned "pineapple foster", I thought that might be true.  But then I rephrased it as "rum-soaked grilled pineapple", and all of a sudden everyone was eagerly hungry again.
Thankfully, they loved it!!!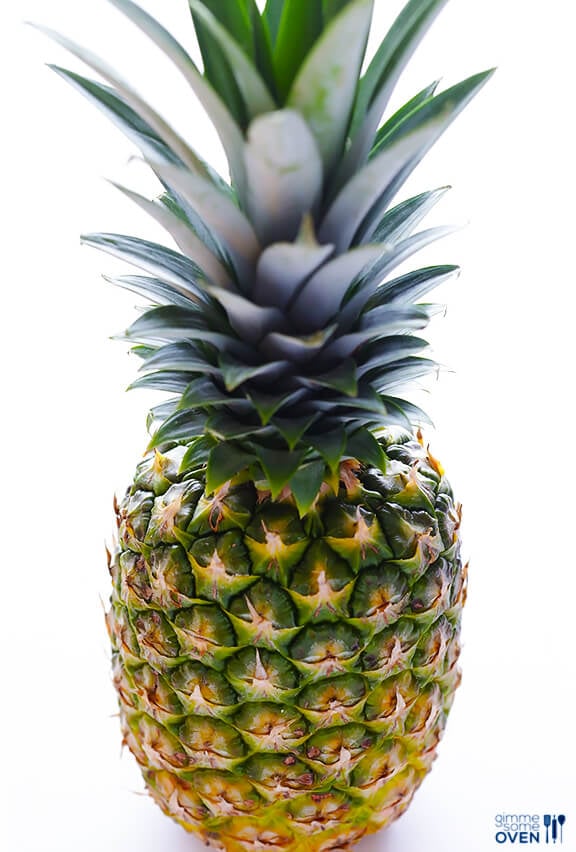 Granted, the selling point may have been the rum.  But in my mind, the joy of this dish is mostly thanks to my favorite apple — pineapple.
I'm just gonna say it.  Don't even think about trying this recipe with canned pineapple rings.  This recipe is 5 million percent better with fresh pineapple, so find a good one (or even an overly-ripe one), and make it happen.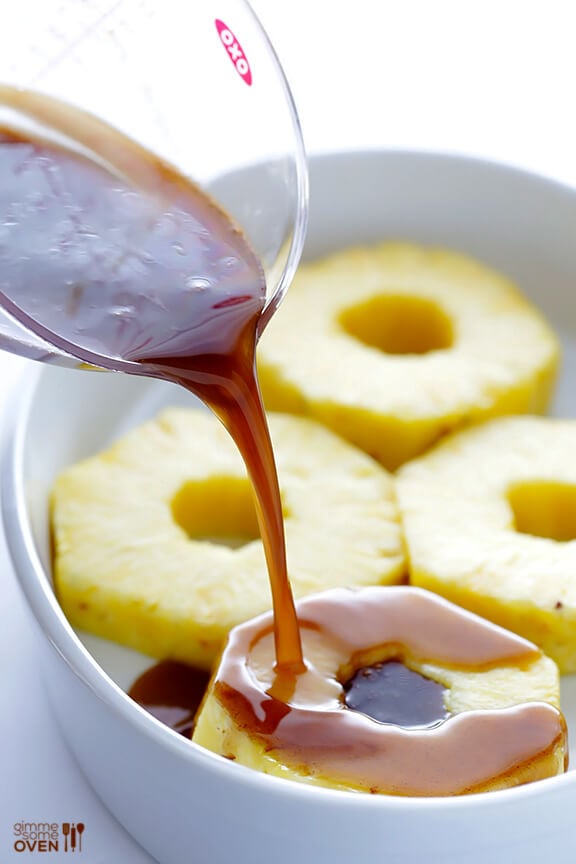 Begin by slicing the pineapple into rings, and using a corer or paring knife to cut out the core in the center of each ring.  Place the pineapple rings in a large baking dish, and then pour the whisked rum/cinnamon/brown sugar mixture on top of them to marinate for between 10 minutes to 4 hours.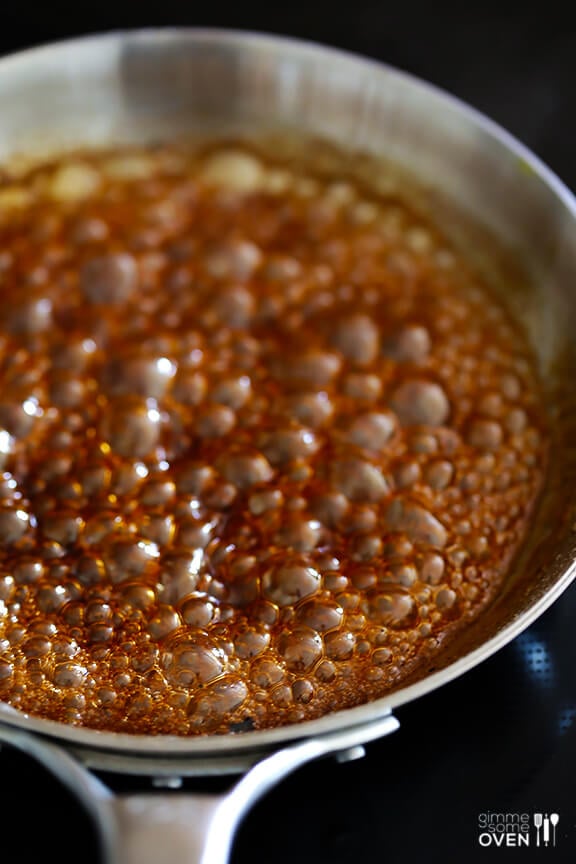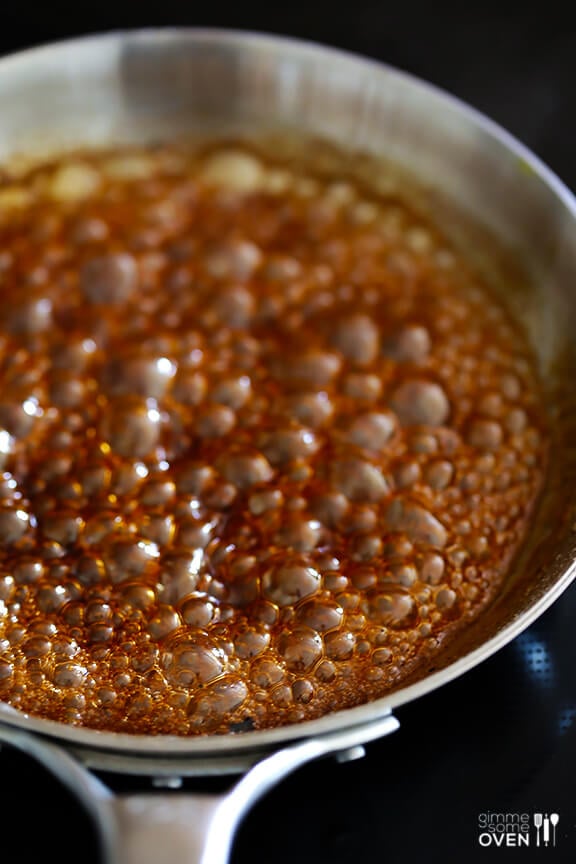 When you're ready to grill the pineapple, first drain out the rum marinade from the baking pan and pour it into a saucepan.  Bring the sauce to a simmer, and then let it cook until it is reduced by half to make a super yummy and caramelized sauce for drizzling.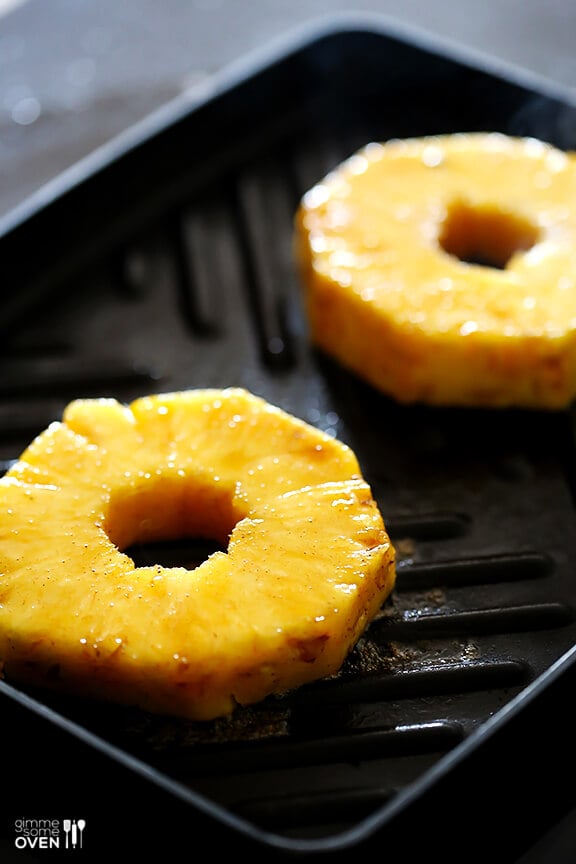 While the sauce is cooking, pop those pineapples on the grill!  I like using a grill pan for this one, but you can also use a saute pan or even an outdoor grill.  (Heads up — this one may smoke up your kitchen just a bit.)
Simply grill the pineapple rings for about 1-2 minutes per side until those golden grill marks appear.
Then transfer the pineapple rings to serving plates, top with ice cream, drizzle with the rum sauce….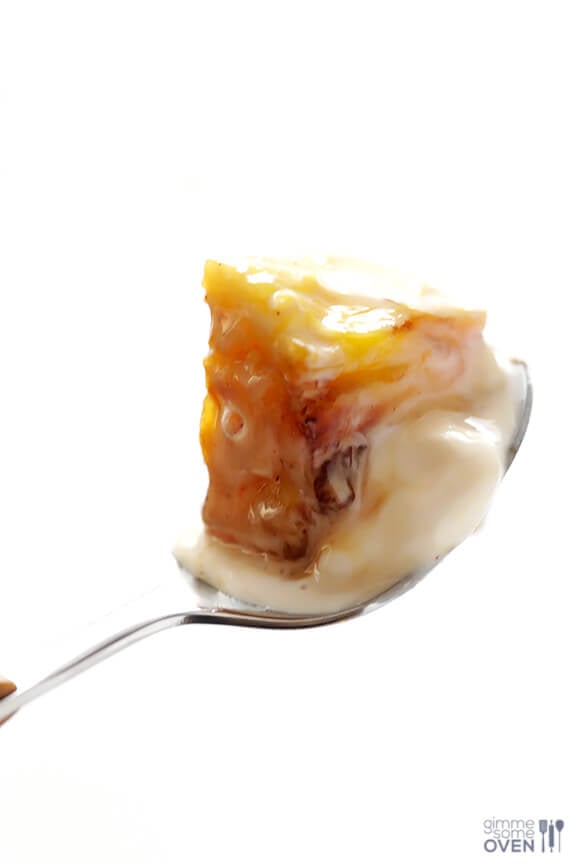 …and dive in.
See??  I told you this recipe shouldn't be hiding away in the archives.  :)
How To Cut A Pineapple | 1-Minute Video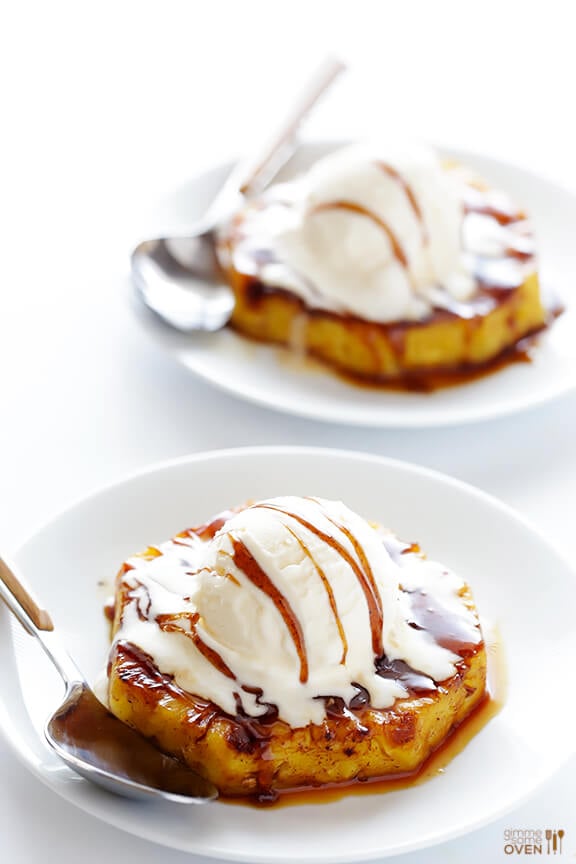 Easy (& Flameless!) Pineapple Foster
This easy take on pineapple foster doesn't require any flames! Just soak your pineapple in this delicious rum, cinnamon and brown sugar mixture, grill it up, and top it with vanilla ice cream. Delish!
Ingredients:
1/2 cup dark rum
1/2 cup packed brown sugar
1 tsp. ground cinnamon (plus extra for dusting)
1 pineapple, cored and cut into about 6-8 rings (choose desired thickness)
cooking spray
favorite vanilla ice cream
Directions:
In a small bowl, mix together rum, brown sugar, and cinnamon. Then in a glass baking dish (or other container), lay out the pineapple rings and pour the rum mixture over them. Toss to coat, then let soak for at least 15 minutes, flipping the pineapple midway through.
When you are ready to cook the pineapple, strain out the extra rum sauce from the pan of pineapple, and transfer it to a small saucepan. Bring the sauce to a simmer over medium-high heat, then reduce heat to medium-low and simmer for about 6-8 minutes, or until reduced by half. Set aside.
While the sauce is cooking, heat a grill pan or saute pan over medium-high heat until hot. Lightly grease the pan with cooking spray. Add pineapple slices in an even layer (you may need to do this in multiple batches) and cook for 1-2 minutes per side until browned and grill marks appear. Transfer to a serving plates, and set aside. Repeat with remaining pineapple.
Top each pineapple ring with a scoop of ice cream and drizzle with rum sauce. (If desired, you can also lightly dust the pineapple with some extra cinnamon.) Serve immediately.
All images and text ©
If you make this recipe, be sure to snap a photo and hashtag it #gimmesomeoven. I'd love to see what you cook!